Can you guess what the 2014 Global Language Monitor "Word of the Year" was?
It wasn't word at all. It was this symbol: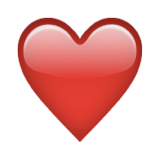 Warms your heart, right? :)
Yep, that little "Word of the Year" up there is the Heart emoji.
Emojis are symbols used to convey feelings (like emoticons or smileys). The term comes from Japanese and means "picture letter".
How do you use emojis on social media to get more engagement on Instagram, Facebook and the rest?
Good question! That's exactly what I'll cover in this post. :)