How to Use Facebook for Business
Brand Your Business
If you want to create a memorable brand on Facebook, you must clearly articulate who you are, what you do and how you help your fans and customers.
Not only that, you must keep your branding consistent. Better branding equals heightened awareness -- and that translates into better engagement.
From your Facebook graphics to your logo, videos, and cover image -- create a seamless look and feel that's a direct representation of your company.
One of the first things people will see is your cover photo. It's a perfect place to brand your business and tell your story.
But don't just stop there. Use it to promote your products, share what's happening within your business and talk about upcoming events.
Kim Garst with Boom Social does a great job with this!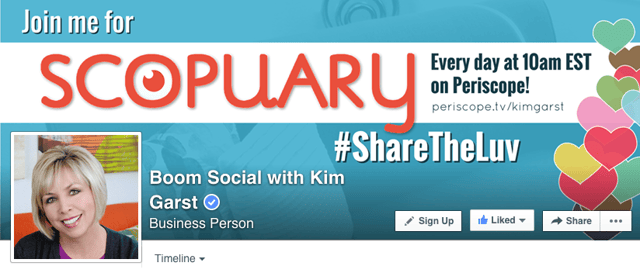 And make sure you change out that cover often!
Need some more tips? Check out 5 No-Brainer Tips for Branding Yourself on Facebook.
Welcome to Day 23!
Share the Love!


Tell your friends and get them in on the fun.
Did you know @PostPlanner is giving you 30 days of step-by-step tips to build a thriving Facebook page? Sign up here bit.ly/20Qs9LG

Click to Tweet