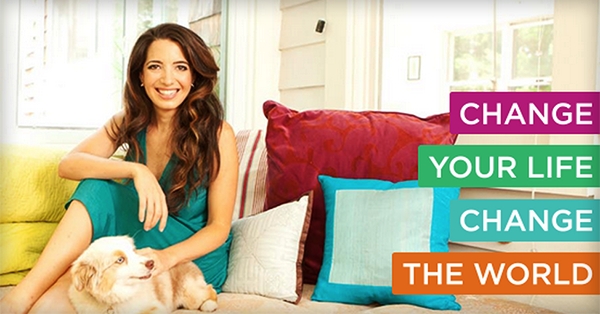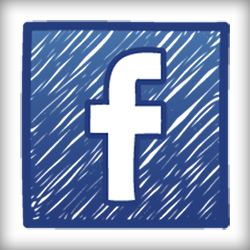 More than a billion people use Facebook every single day.
So the social media website is not only a great place to stay in touch with friends -- it's awesome for branding, too!
For a small business, Facebook is much more than a message board for posting status updates.
It's a lead generating, web-traffic driving, customer engagement machine!
In this post, I'll show you 5 things you can do when branding yourself on Facebook.
5 No-Brainer Tips for Branding Yourself on Facebook
1. Listen
Before you pound away & start sharing stuff on Facebook, first practice listening & interacting with others. This should be your top priority in the first few months of building your brand.
The relationships you create during this time will serve as a strong foundation for years to come. Skip this step & you probably won't be able to build a dynamic brand on Facebook.
Fans ALWAYS come first!
>> Click to Tweet <<
2. Use Powerful Visuals
First impressions count.
Customize every image on your page to reflect your brand. And remember, the devil's in the details.
Pay attention & brand every aspect of your page: profile photo, cover photo, etc.
>> Click to Tweet <<
The colors & fonts should match. Here's Marie Forleo doing it right: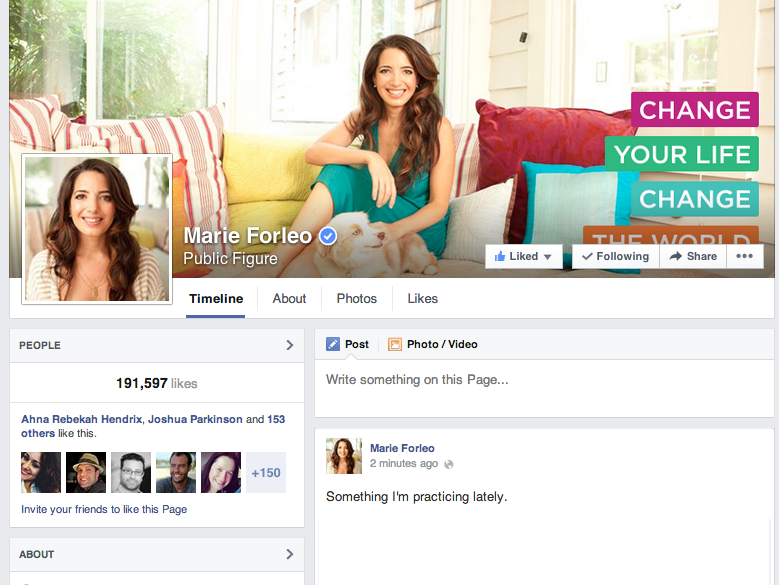 She does an amazing job branding her Facebook page -- every image is consistent with her vision.
And you can now use Post Planner's Canva button to create images like this on the fly.
Make sure to keep your visuals fresh -- and update them often.
3. Have a Strategy
Your posting strategy is next. Most importantly: HAVE A STRATEGY.
Create posts that reinforce your brand & will appeal to your fans.
>> Click to Tweet <<
Don't post inspiring quotes or funny memes just because they may get more Likes, comments & shares. Instead, stick to updates that bolster your image & what you want your company to represent.
Establishing a strong posting strategy takes time -- but it's so worth it. Use the 3 P's of posting (personal, purpose & promotional) as a guide.
And keep the messaging in your posts consistent.
4. Showcase Your Work & Expertise
Don't be afraid to brag a little bit on Facebook. Everybody does! Heck, that's part of the reason you even have a business page. And your fans expect it -- just don't be too boastful.
>> Click to Tweet <<
Too often people hold back & don't show off their best work.
In the beginning, don't worry about sounding too promotional. Practice makes perfect! The right mix of content will fix that every time.
5. Reinforce Your Brand
Remind people of your brand almost every chance you get. Powerful visuals are some of the best ways to do this.
And it shouldn't be hard to maintain your authentic personality -- just be YOU!
>> Click to Tweet <<
Key Takeaway
The best parts of Facebook are fueled by conversation.
Listening & responding should be top priorities before you start aggressively branding yourself on Facebook.
What's your best tip for a newbie who is struggling to build a brand on Facebook?