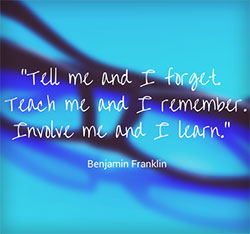 The time has come for creativity to reign supreme on social media!
There are too many boring Facebook posts out there getting no engagement in the news feed -- or disappearing from it completely.
It's getting harder & harder to stand out!
But don't worry... Post Planner & Canva have you covered!
Today I'm going to show you how to use these 2 apps together to create a WORLD-CLASS visual Facebook post.
In 3 minutes!
Yes, that's all it takes. And the cool thing is when you follow the instructions below, you're almost guaranteed to blow up your engagement like never before!
Ok, let's get to it.
How to Design a WORLD-CLASS Visual Facebook Post in 3 Minutes
Great FB posts often start with great texts -- whether a quote, question or interest fact.
If you're stuck finding a great text, Post Planner's Status Ideas engine can be the springboard for your posts.
Just click "Status Ideas", choose a category, and shuffle until you find a text you like. Then click it into the Post Planner composer box.
You can update your text & add hashtags as you see fit, then share immediately or schedule the post in your queue.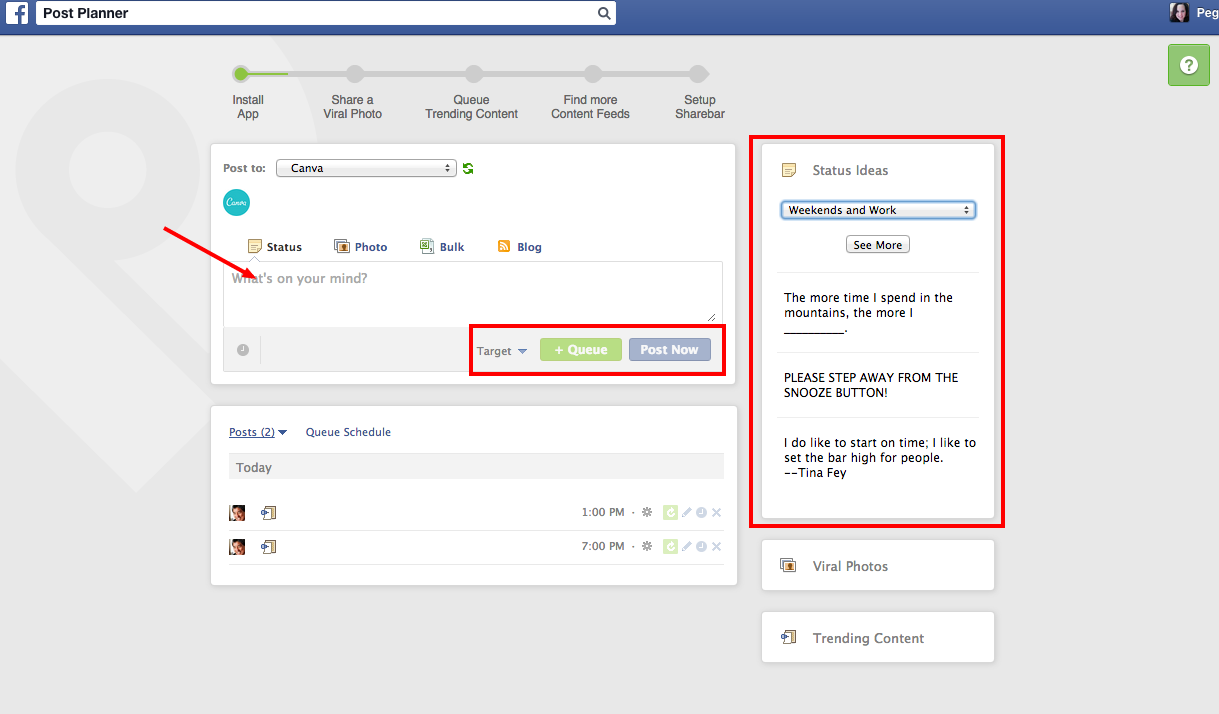 That's all pretty basic. But how do you take a great text and turn it into a world-class image that will get tons of shares?
Good question.
Here's a 7-step winning formula for an enticing Facebook post to make this easy for you!
Find a proven idea that fits your brand & Facebook page style
Design a graphic
Craft a power headline
Summarize your post
End with a question or call to action
Hashtag it!
Schedule
1. Find a proven idea
Post Planner is the perfect place to get a scientifically-proven post idea -- and then to put your own design spin on it.
The Viral Photos finder is amazing! You can use it to find images that have already been tested.
But what if your brand has its own colors & style?
No problem. Just recreate the photo to meet your brand style guide! You can do this easily within Post Planner.
Here's an example of a viral photo from Post Planner:
Here's the recreated photo from Canva & posted on Guy Kawasaki's Facebook page. You can see the new post did very well!
2. Design a graphic
In my opinion, every Facebook post should have a graphic, unless you're creating an occasional text-only post.
>> Click to Tweet <<
According to MDG Advertising, "content featuring compelling images averages 94% more total views than those without."
Use photos & graphics that you have permission to use on your Facebook page. One of the biggest misconceptions is that just because the photo is online that you can post it anywhere. That isn't true. Don't do it.
There are guidelines for using other people's intellectual property. One way to make sure that you have permission is to use Canva graphics that you design yourself right inside Post Planner!

Post Planner has made it ridiculously easy to create your own graphics right within the app using the Canva design button.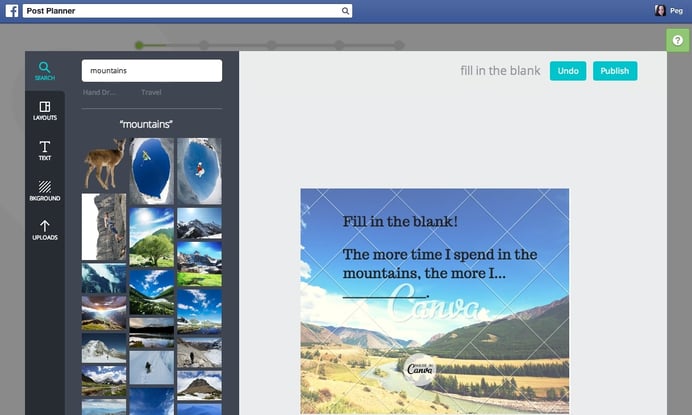 3. Craft a power headline
Short, sweet, and to the point! Use an action word to start your text & keep it to a minimum.
Here's an example of a successful post on the Post Planner Facebook page.
4. Summarize your post
Don't drop a link & run! This isn't Twitter.
Facebook fans need a little more wooing to click through, comment, or share. Kim Garst added a quick question on this post & got great engagement.
If you're witty, try a quick one-liner but make sure it's appropriate for your Facebook audience. We can't all get away with posting what George Takei does. ;)
5. End with a question or call-to-action
Don't forget that you want your Facebook post to make a difference in your social media strategy.
A question gives people the opportunity to respond to you -- this is a call-to-action or CTA. Another type of CTA is asking people to click through to read your article or maybe click to buy your product.

Why did you create this post? Is it an educational post on your blog?
Ask them to click through to read more.
Is it a photo for entertainment? Ask a question that goes with the photo.
You build engagement on your Facebook post by baking in all the essential ingredients.
6. Hashtag it!
Use one or 2 hashtags on Facebook for the best interactions. Choose hashtags that are relevant to your page & to the post that you're sharing.
>> Click to Tweet <<
Posts with 1 or 2 hashtags averaged 593 interactions
Posts with 3 to 5 hashtags averaged 416 interactions
Posts with 6 to 10 hashtags averaged 307 interactions
Posts with more than 10 hashtags averaged 188 interactions
7. Schedule your content
Being consistent is important on Facebook & part of that consistency is spreading your posts out a few hours apart.
Take the time to set up your schedule in Post Planner & then easily schedule your posts into the queue. This is time-saving & creates a wonderfully balanced Facebook page.
Whew! That was FAST!
Did you get done in 3 minutes? :)
If not, don't worry. After a few times practicing, you'll be creating world-class images in no time!
I really hope these tips help you to design some super engaging Facebook posts of your own!
Now it's my turn to learn from you. What tips have you found work best with your Facebook page?
Please let me know in the comments below.