Are you trying to get more Likes and engagement on your Facebook posts but not seeing the results you want?
Don't worry, it's easier than you think!
With a few simple tips, tricks, and know-how, anyone can create an engaging post that'll get attention quickly.
In this post, we'll give you the secrets to creating eye-catching posts on Facebook that'll increase Likes and engagement quickly. From choosing the right visuals to using relevant hashtags, these are tried-and-true techniques used by social media marketers worldwide.
So if you're ready to level up your Facebook game and get Likes and comments in record time, stay tuned for all the insider secrets!
How to Create a Facebook Post That Gets Likes FAST
Feel free to skip to the section that's most relevant to you: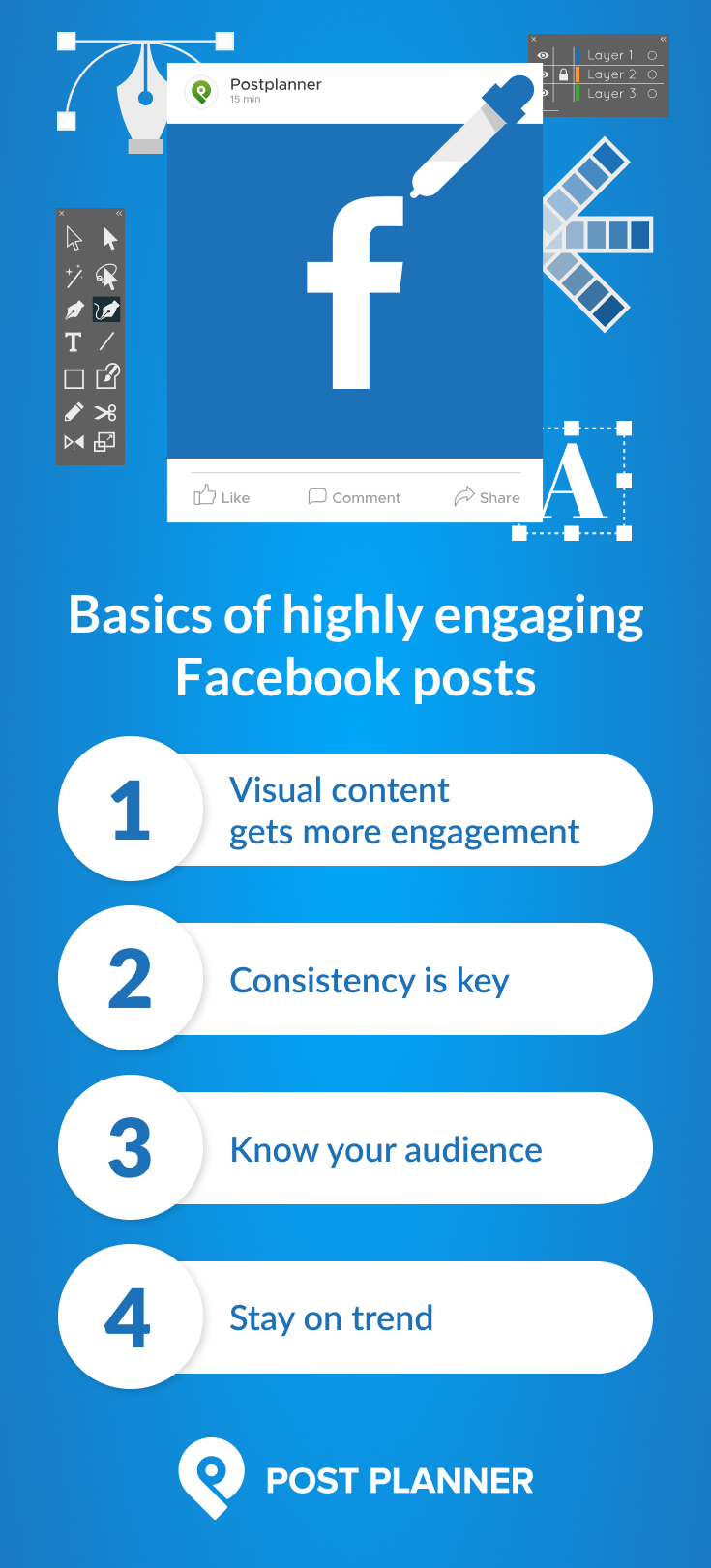 Basics of highly engaging Facebook posts
Many people just post whatever comes to their minds.
Sometimes it's a status update. Other times, it's a meme, some funny picture, or a link to an article.
While these posts may be entertaining, they often don't generate much engagement.
To get Likes and comments rolling in, you need to make an effort to craft a post that is both engaging and relevant. To do that, brands and influencers use these proven techniques that improve engagement.
Rule #1: Visual content gets more engagement
Rule #1 of Facebook engagement is that VISUAL content is KING.
How much more engagement does visual content get? You'll get about 2.3x the engagement by using visual content on average. That's a 230% increase!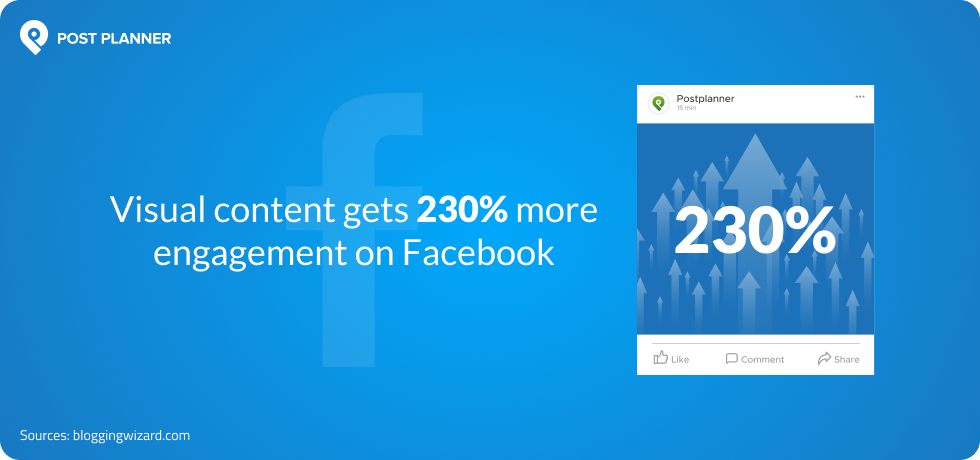 What does it mean to use visual content?
Put simply, visual content is any type of visual element that enhances your post. It could be
A photo

A video

An infographic

A meme




A GIF
In other words, get creative with your visual content — and try to include a visual element with EVERY Facebook post.
Rule #2: Consistency is key
If you're looking to grow your Facebook presence, consistently posting on the platform is crucial.
Not only does it keep your followers engaged with your content, but it also signals to Facebook's algorithm that your page is active AND relevant.
This helps increase your visibility and reach potential new followers.
Creating a content calendar or using an automatic posting tool can help you stay on track with your posting frequency and stay consistent.
When you post consistently, you can experiment with different types of content and see what resonates best with your audience.
So, if you want to GROW your Facebook, make sure you're consistent so your audience has a reason to follow you!
Rule #3: Know your audience
Want to connect with your audience?
Then you need to understand the demographics of your Facebook followers.
Knowing your audience can make all the difference in how you create and share content on the platform.
Which leads to higher engagement rates and stronger relationships with your followers.
For example, if you have a younger audience, you'll probably focus more on non-traditional forms of media and advertising.
So take the time to get to know your Facebook audience, and watch your engagement rates GROW in response to your targeted approach!
Rule #4: Stay on trend
What's going on in your industry?
If you don't know the answer to that question, you're missing out on engagement!
Your audience is following you because they feel like you can provide them with value related to your industry.
So if you aren't up to date on the trends in your niche, you probably won't gain followers and get engagement as quickly as you could.
Later in this article, we'll discuss how to stay updated on the most important industry news so you can use it in your posting strategy.
3 Types of Facebook posts that drive engagement
You already know how crucial engaging content is to your Facebook strategy.
However, creating content that genuinely resonates with your audience is easier said than done.
Most people get stuck in a rut posting content that doesn't resonate with their followers.
To help you out, we're going to explore 3 types of Facebook posts that are sure to drive engagement:
Interactive posts

Video media

User-generated content.
Interactive posts
Interactive posts are designed to get your audience involved and actively participating in your content. These types of posts can come in many forms:
They work well because they are highly shareable and generate significant interest among your followers.
One of the most straightforward ways to create an interactive post is by asking your audience a question or giving them a prompt that invites discussion.
A great place to find inspiration for these posts is on Post Planner's content tab.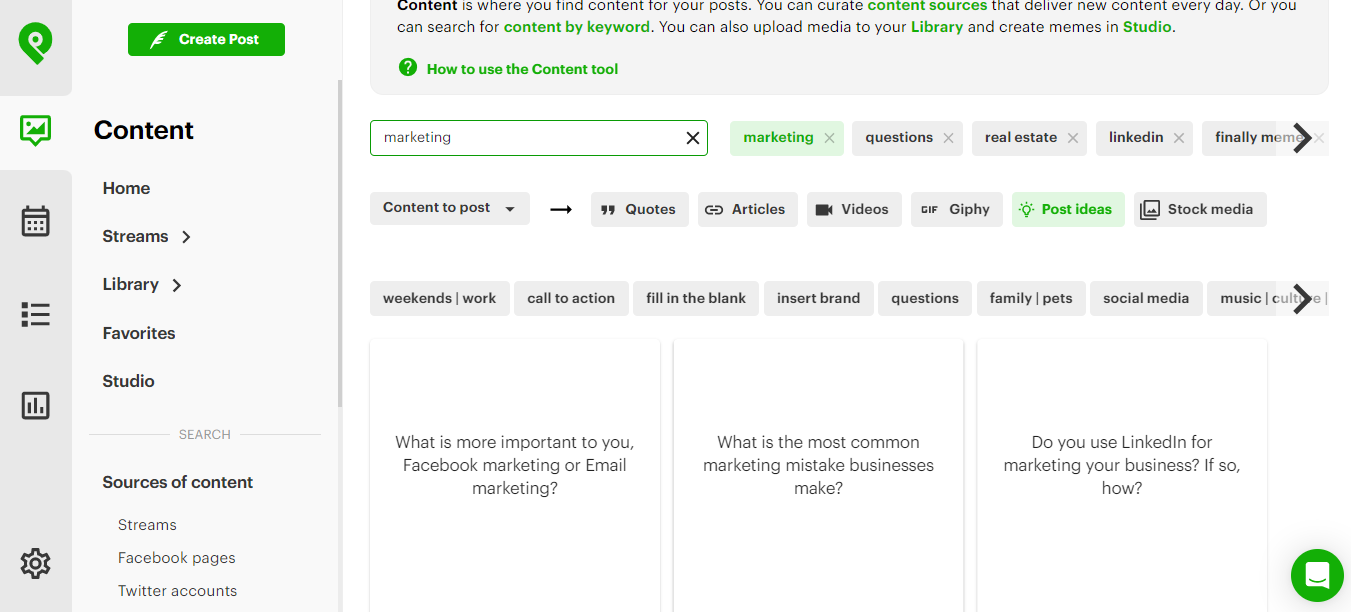 Video media
Video content is quickly becoming the go-to format for content creators on Facebook... and with good reason.
Videos are engaging, dynamic, and easy to consume, making them perfect for driving engagement.
In fact, 66% of social media consumers consider short-form videos to be the most engaging content on the platform.
When creating video content, keep it short and sweet. The recommended length for videos is between 15 seconds and a couple of minutes — enough time to convey your message without losing the viewer's attention.
Try the following video ideas:
Behind-the-scenes footage

Interviews

User-generated videos featuring your products or services

Product launches

Discount announcements

How-to's

Repurposed podcast clips
User-generated content (UGC)
User-generated content is any content created by your customers or followers rather than your brand. It could be anything from photos and videos to reviews, testimonials, or comments.
User-generated content works exceptionally well for driving engagement because it helps foster a sense of community and connection among your followers.
Just how effective is it?
80% of consumers say they use UGC to inform their buying decisions.
Encourage your followers to share their content related to your brand through a branded hashtag or social media contest. You can also ask them to leave reviews of your products or services on Facebook or feature their content on your page.
User-generated content will help increase engagement AND act as social proof for your brand.
It's killing 2 birds with 1 stone.
Copywriting for Facebook 101
If you're going to succeed on Facebook, you'll have to write engaging copy.
("Copywriting" is a marketer's term for how you write words. And "copy" is referring to the words. 😃)
For many people, their Facebook copywriting consists of whatever comes to mind when they sit down at their keyboard.
To take your Facebook posts to the next level, you need to follow some tried-and-true Facebook copywriting techniques:
Prioritize readability

Ask questions

Target keywords
Prioritize readability
In today's world, people scroll through their social media feeds quickly, and you only have a few seconds to capture their attention. If your copy is not readable, you risk losing your audience.
To create readable copy for Facebook:
Use a conversational tone

Break up long paragraphs

Use formatting options like bullets, headings, and bold text to emphasize essential points
Most people won't read your whole post, so good copywriting should be easy to scan and digest.
Ask questions
Remember when we asked you a question in the intro? That was on purpose.
Another way to engage your audience is by asking them questions. This technique is a powerful way of encouraging interaction and conversation around your content.
You can pose a question:
That your audience can answer in the comments section
Or...
To pique their interest and push them to your site
One of the best places to find engaging questions to ask your audience is on Post Planner's Post Ideas section of the content tab.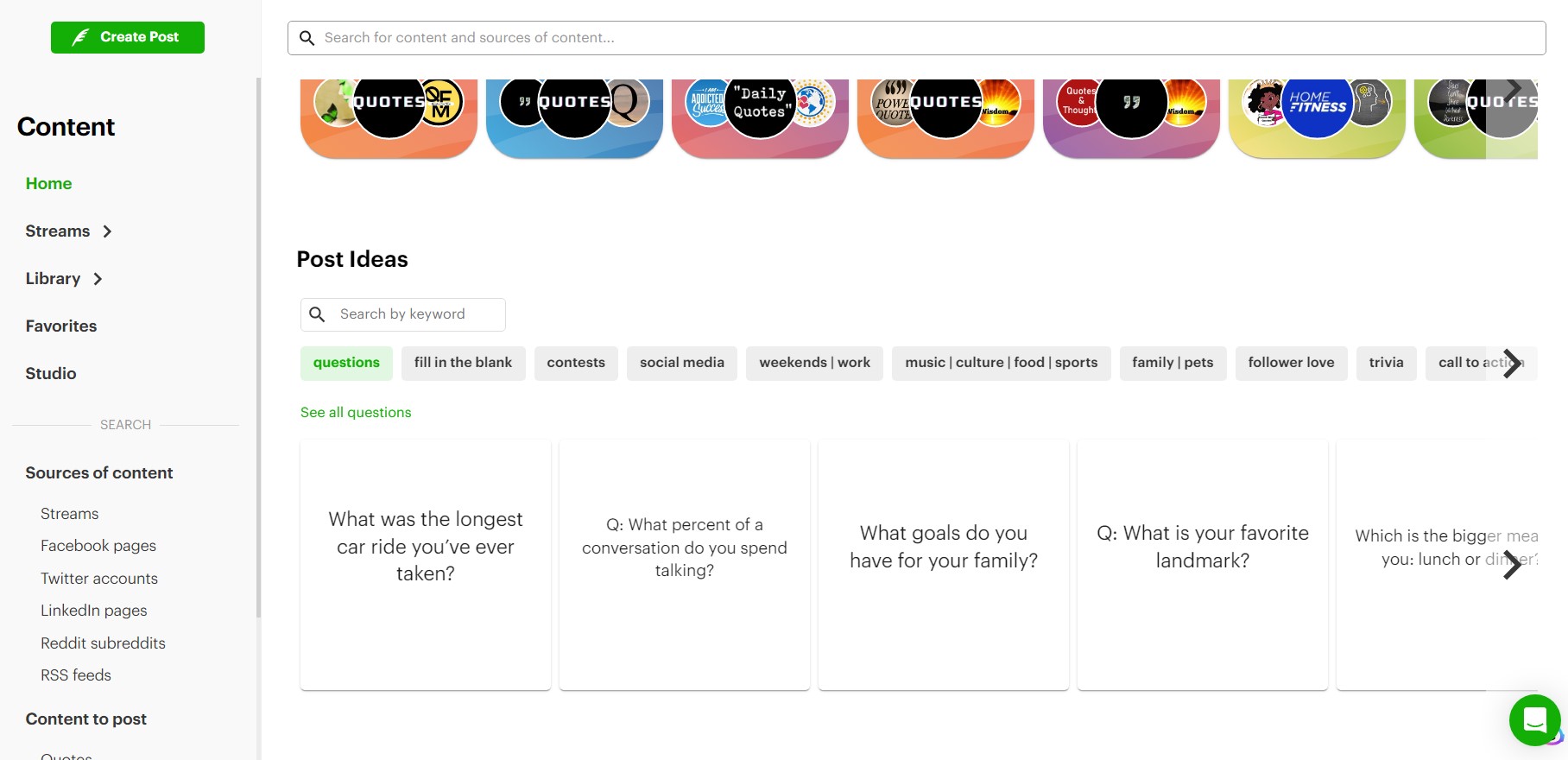 Make it a habit to ask intriguing and relevant questions in your Facebook copy to keep your audience engaged and active.
Target keywords
Keywords are essential in any copywriting, and Facebook is no exception.
Facebook functions as a search engine, so your content's keywords can have a massive impact on how many people discover your page.
If you want to increase the visibility and reach of your content, you need to include relevant keywords in your copy. Start by researching relevant keywords and including them in your copy naturally.
Think: What words is your audience using?
BUT be careful not to overdo it, as excessive keyword stuffing can negatively affect your Facebook page's algorithm and make your content feel spammy. Instead, use keywords that fit naturally into the copy and make sense to your readers.
9 Strategies to create a Facebook post that gets Likes and engagement FAST
With almost 3 billion monthly active users on the platform, it's not always easy to stand out and leave an impression on Facebook.
However, there are effective strategies that can help you create highly engaging Facebook posts EVERY TIME. Learning and executing these strategies can turn your dying Facebook page into a marketer's dream.
In this section, we'll share 9 foolproof strategies that you can use to create Facebook posts that get Likes and engagement fast.
1. Keep an eye on your industry's trends
The 1st step in creating engaging Facebook posts is to stay up-to-date with the latest trends and industry-related news.
Keeping an eye on what's happening in your industry will help you create posts that are informative and relevant to your audience. Use trending hashtags and keywords to improve your post's visibility on Facebook.
But how do you find the best content your industry has to offer?
Post Planner's Content Streams automate content discovery by sourcing the best content from around the web for you to choose from. It's a great way to follow the most prominent thought leaders in your industry.
2. Find a high-value idea to share with your followers
Another strategy to create highly engaging Facebook posts is sharing high-value ideas with your followers. This idea can be a hot industry tip or trend, a new product or service launch, or an inspiring story.
The key here is to keep your audience's interests in mind and create content they'd find valuable.
Post Planner's Content Streams is a great place to start if you're wondering where to find high-value ideas. The curated posts it suggests are ranked out of 5 stars based on how likely they are to succeed with your audience.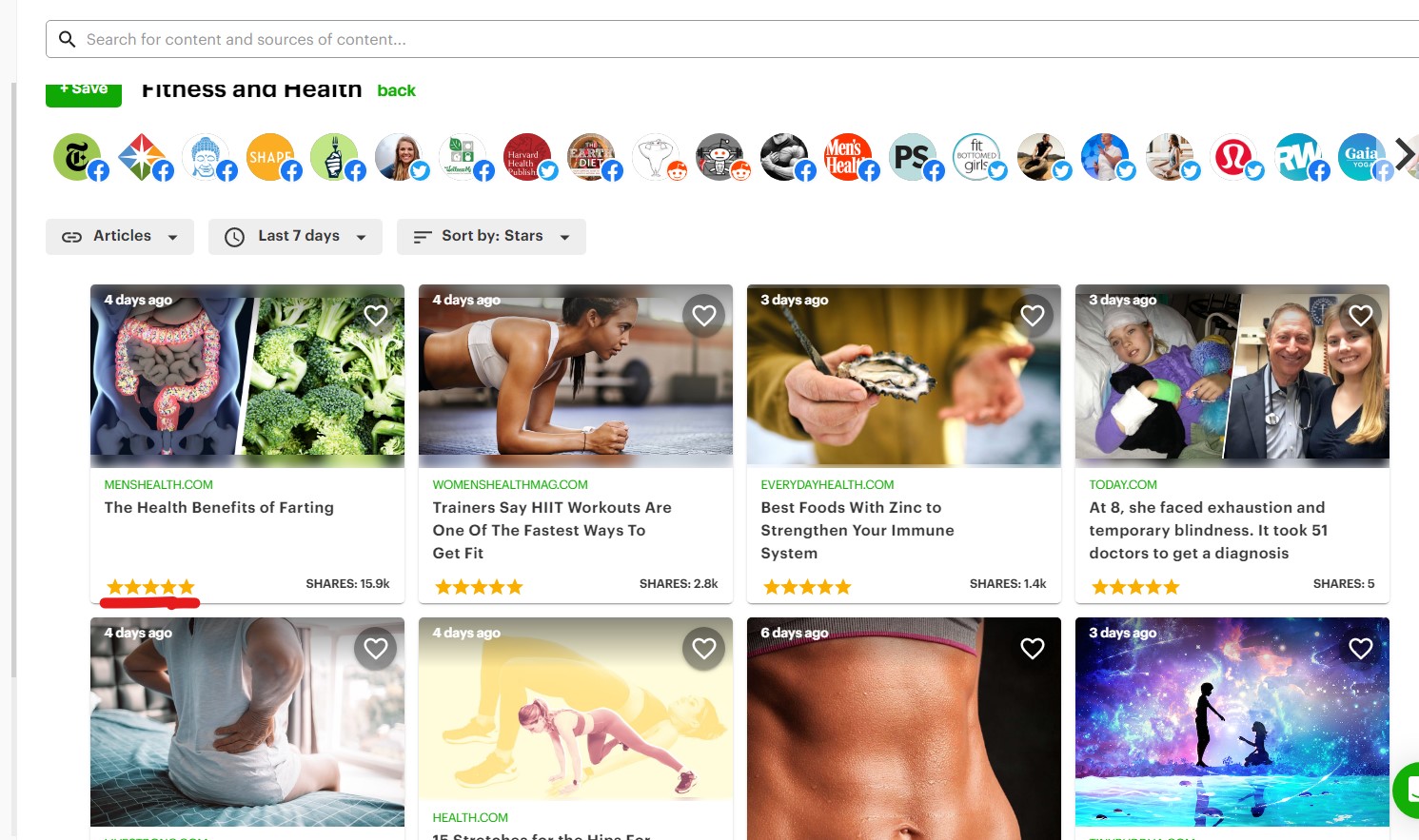 Using Content Streams makes it easy to find the highest-value idea in the shortest possible time.
3. Design a graphic
The saying "a picture is worth a thousand words" holds true for Facebook. Facebook content with images comes with over 200% more engagement on average!
Designing a graphic to accompany your post can help catch your audience's attention and improve engagement.
Use vibrant colors, clear text, and images to convey your message effectively. If you're not skilled at graphic design, consider using free online tools like Canva.
You can also use Post Planner to easily create great graphics in the Content Studio. It comes with every Post Planner subscription and comes decked out with:
Stock photos

Text design tools

Color editing features

Other easy-to-use design tools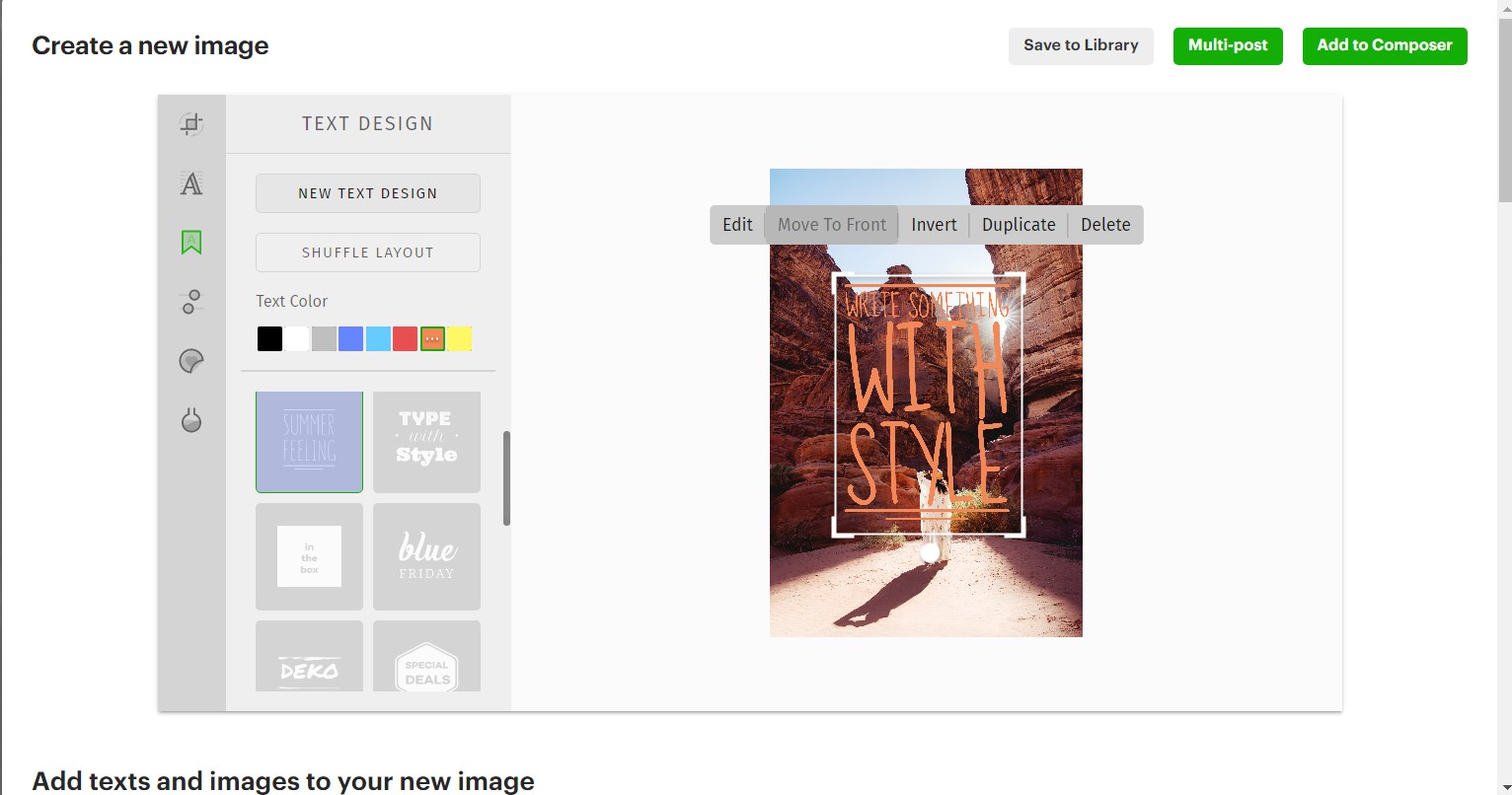 4. Ask an engaging question
Asking open-ended questions in your Facebook posts can encourage your followers to engage with you.
You can ask questions related to your industry, your products, or even personal questions. Ensure your questions are relevant to your target audience and designed to spark conversations.
As we mentioned earlier, Post Planner is a great place to find questions designed to drive engagement. Review the questions tab until you find something your followers would enjoy, then post it!
Or use it as a way to get your creative juices flowing!

5. Add hashtags
Using hashtags in your Facebook posts comes with some distinct benefits:
Increases engagement

Creates a community among your followers

Makes your posts more discoverable via search
Use relevant hashtags in your posts to increase visibility and expand your reach. However, don't overdo it. Using too many hashtags can make your post appear spammy.
How many is too many?
Posts with 1 hashtag typically get the most engagement, but using 2 to 5 hashtags still averages higher engagement than posts with 0. However, you should normally aim to use no more than 2 RELEVANT hashtags.
6. Interact with your followers
Responding to comments on your posts shows your followers that you value their input and care about their opinions.
Encourage your followers to share their thoughts in the comments section and respond to them promptly. This can help increase engagement and build your brand's credibility.
Think of it this way: How likely are you to comment again if you comment on some business's post and they never respond
Avoid this problem with your own brand by getting to know your followers in the comments!
7. Recycle your posts
If you've created or curated a Facebook post that received great engagement in the past, consider reusing it!
Not all of your followers are on Facebook every time you post.
That means some of your followers might have missed your best posts!
Fix that issue by adding your best content into a recycling schedule that reposts them every couple of months.
You can accomplish this in Post Planner simply by clicking the recycle button — Post Planner will take care of the rest!

Recycling your best-performing posts saves time while still generating engagement.
8. Monitor your posts' success
Tracking your posts' engagement metrics can help you identify what's working and what's not.
Keep track of Likes, comments, and shares your posts receive, and use this information to refine your social media strategy.
For example, you might find out that your posts get more likes when you post at 3:00 PM, but you would never know that without tracking your posts' engagement metrics!
Using Post Planner, you can find these valuable metrics in the "History" tab. You can even add posts to your recycle list from this tab if you discover some posts that performed extremely well.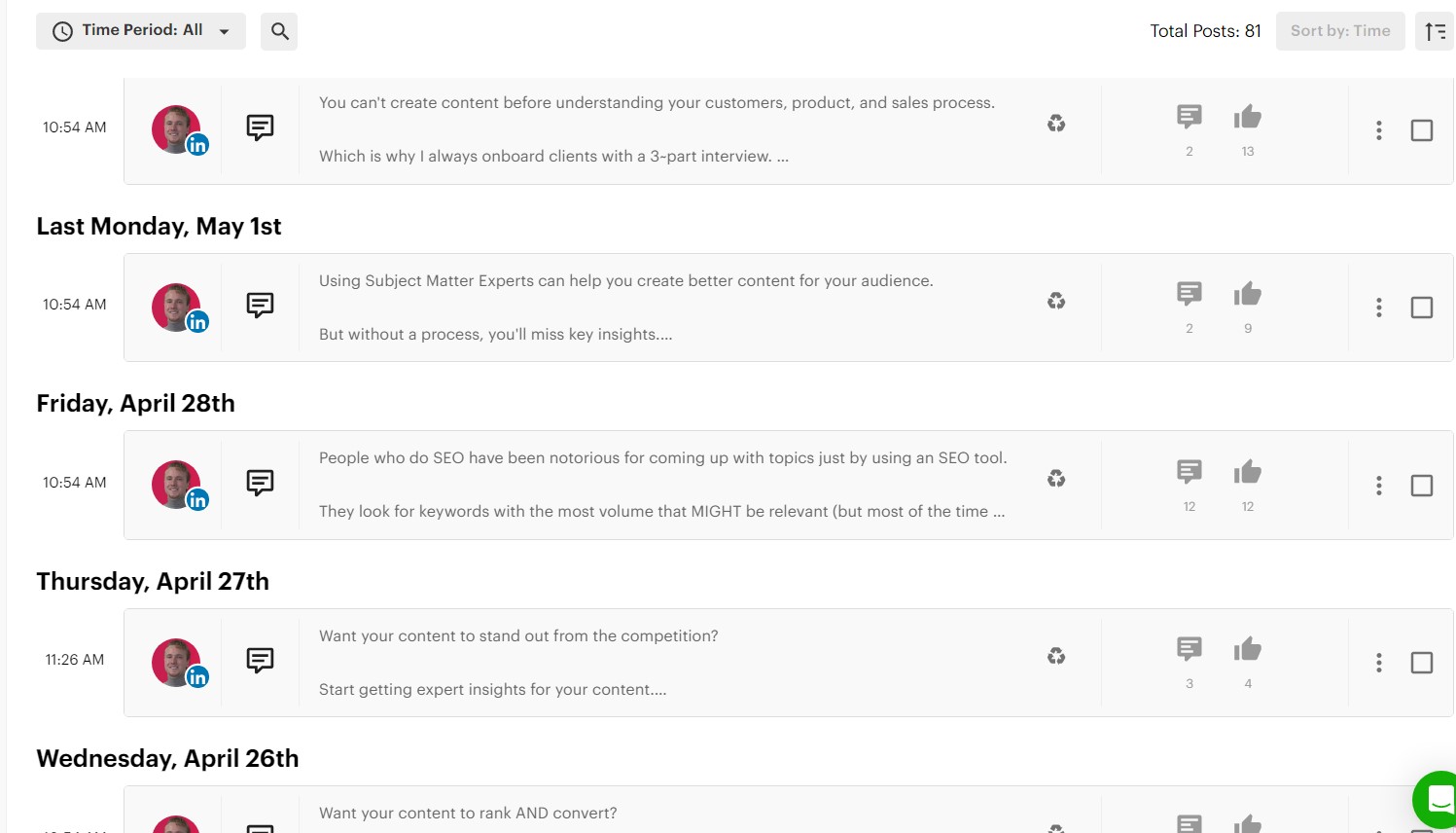 Aim to optimize your posts and test out different strategies to find what works best for your audience.
9. Repurpose old content
Repurposing old content can help you save time and still generate engagement.
Try the following ideas to reuse your old content and turn it into engaging Facebook posts:
Turn a podcast episode into an informative post or a short video

Condense a blog post into a text post or an infographic

Use AI (like ChatGPT or Jasper.ai) to repurpose old content quickly and effectively (make sure to proofread anything AI writes!)
How to use Post Planner to quickly create engaging Facebook content
Planning your Facebook posts can be a powerful way to reach more people with great content, but many people don't know how to get started scheduling their Facebook content in advance.
Post Planner allows you to:
Find the best content for your audience

Create highly engaging and creative posts

Schedule your content to post automatically.
In this section, we'll show you how to get the most out of Post Planner to improve your content and save time.
We highly recommend following along by signing up for a 7-day free trial.
Automate your posting calendar
Creating a posting calendar is the 1st step to improving your content with Post Planner. Set up your schedule to dictate days and times you want content published, plus which types of posts should fill each slot.
To set up your automatic posting calendar, go to the "Posts" tab, then click "Queue Plans."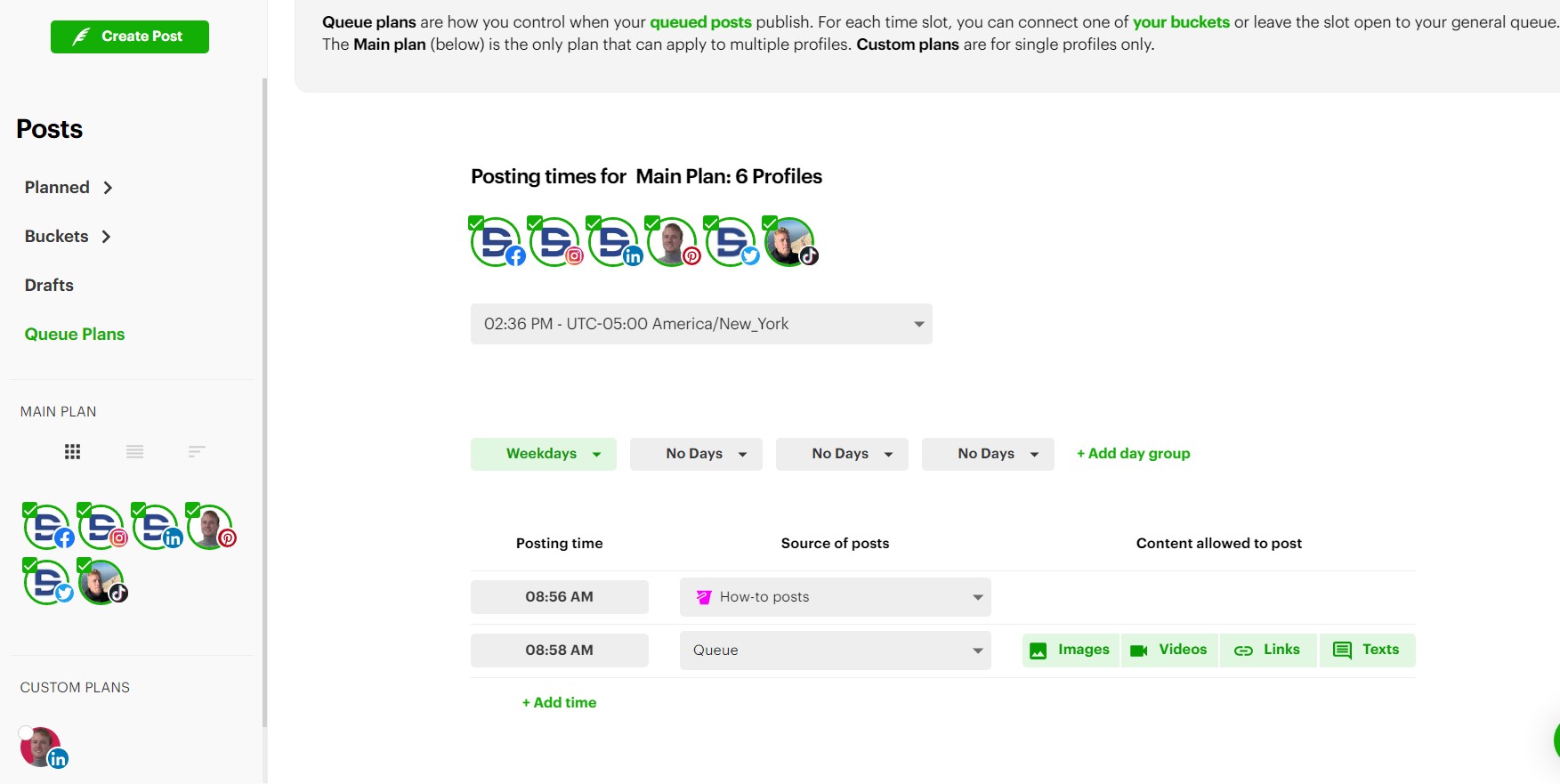 From here, you can select:
Days and times when your content will post

What types of content are allowed to post in each time slot

What sources of content each time slot will draw from (called buckets)
After setting up your calendar, it's time to fill it up using Content Streams.
Content Streams
Let's use Post Planner's tools to fill your calendar with proven content!
Start by navigating over to "Content" and search for keywords relevant to your niche.
When you find something that works, click "Add Content." Keep adding content like this until you've gathered as many posts as you want. Then, click "Create X posts."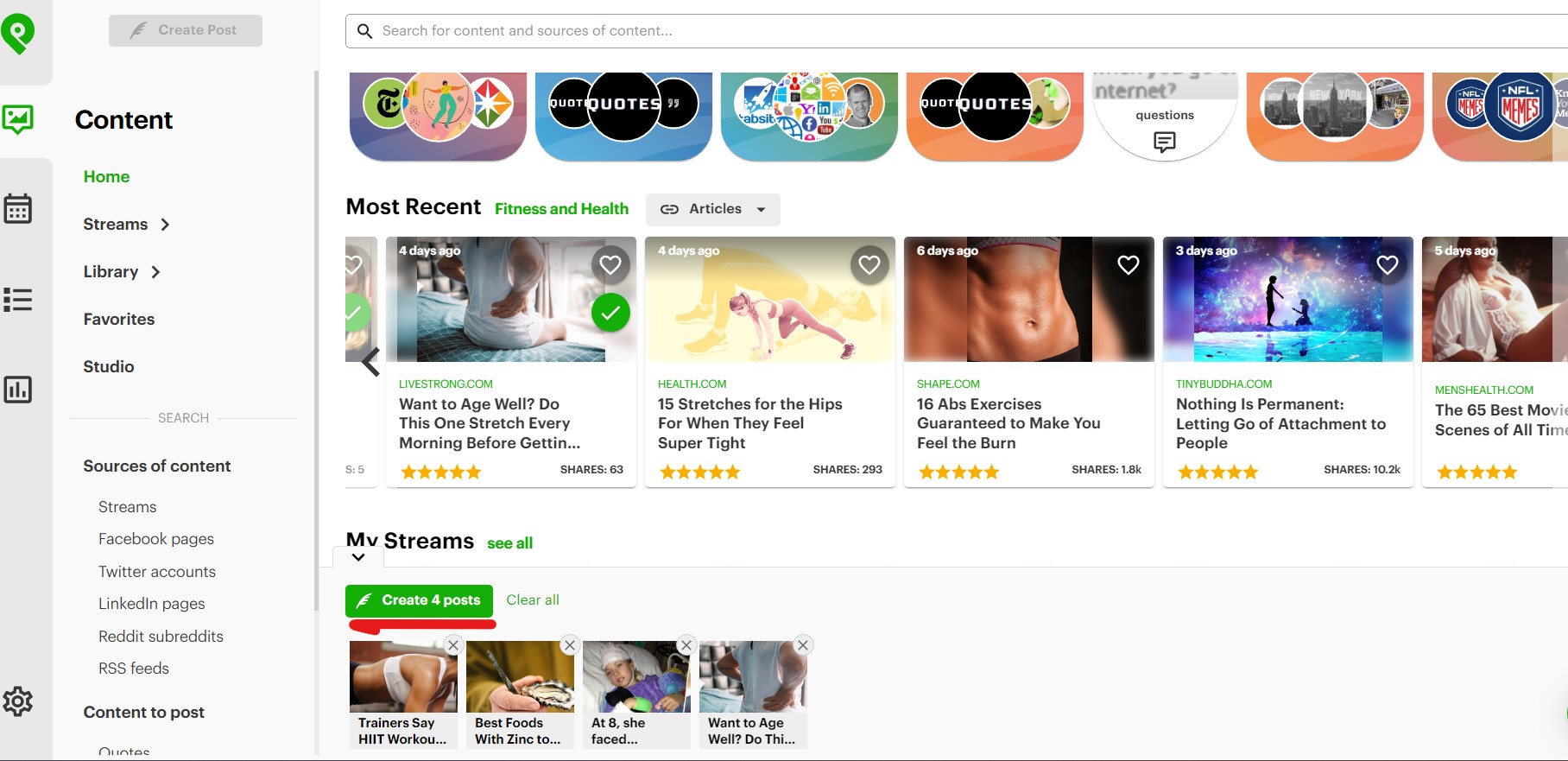 Fill out the details to optimize these posts for your Facebook and any other channels you want to post them, then click "Add to Queue."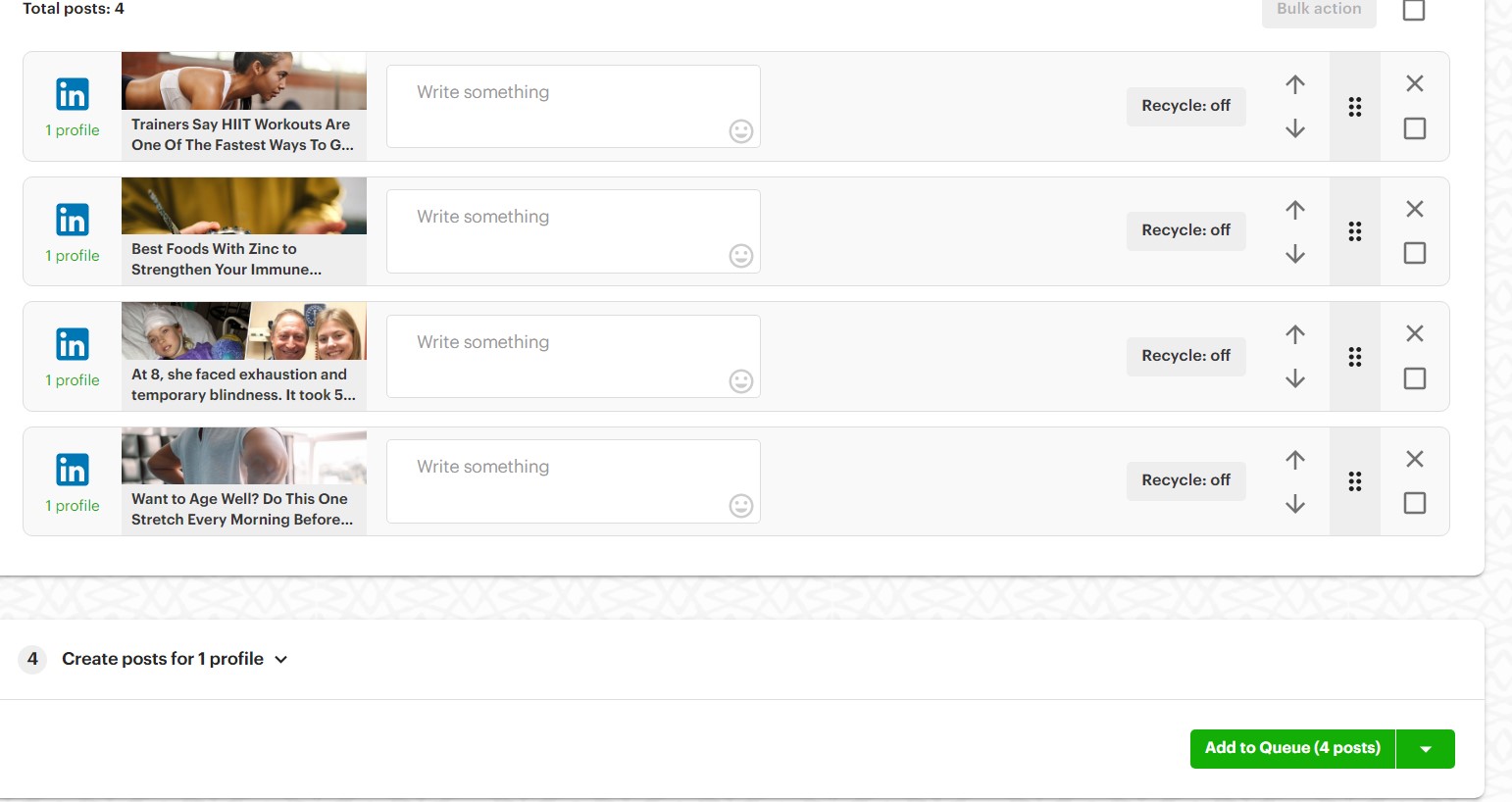 Repeat this process to fill your calendar up with engaging content quickly!
Content Studio
If you're like me, design isn't something that comes easily to you. Content Studio provides easy-to-use tools that allow anyone to create high-quality visuals to go with their Facebook posts!
When creating a post with Post Planner, click "Content Studio."
Then, you'll quickly have access to design tools that enable you to design infographics, memes, or just visual text posts.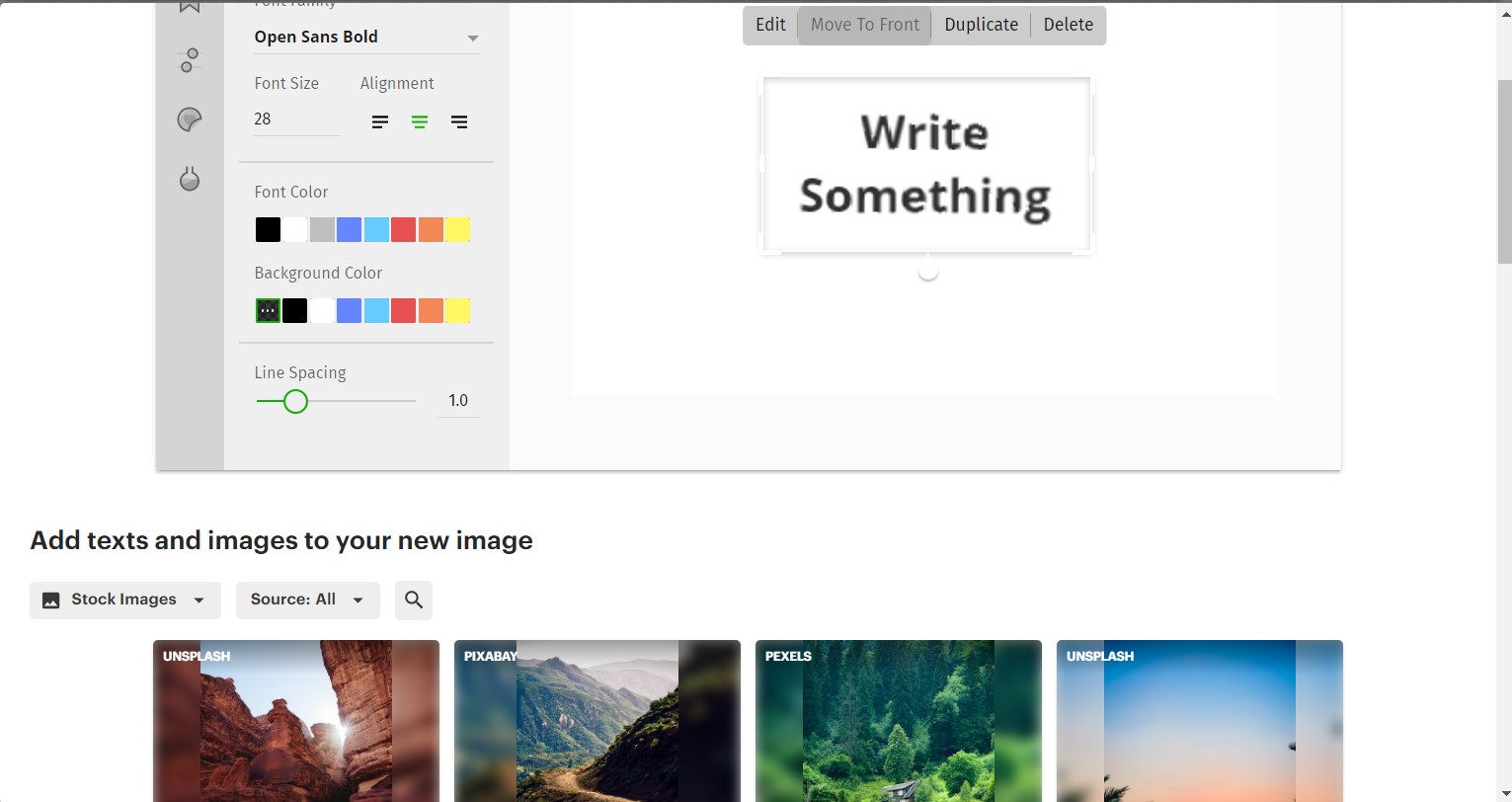 My favorite feature of Content Studio is the high-quality stock photos that you can quickly add for free to your design. They're a great way to give quotes and questions a more eye-catching format without too much additional effort.
Frequently asked questions
How do I make my Facebook posts look good?
Use visual elements!
Infographics, pictures, videos, and other well-designed visuals catch people's eyes and improve engagement. Try using Post Planner's Content Studio, as mentioned above, to create stunning visuals quickly.
Can I use Canva for Facebook posts?
Yes!
Canva is an excellent tool for creating Facebook posts quickly and easily. Also, Post Planner offers its own Content Studio to give you multiple options of where to create your visual posts.
How do I add a template to a Facebook post?
Canva offers Facebook post templates. Find something you like and edit it to your liking.
You can also find pre-made posts on Post Planner and edit them to fit your style, voice, and followers' preferences.
Ready to get more Likes?
Creating highly engaging Facebook posts takes effort and a little bit of creativity.
The strategies we've discussed above can help you optimize your posts and increase engagement.
Remember to keep your audience's interests in mind, experiment with different strategies, and track your posts' engagement metrics to refine your social media strategy.
What other strategies have you used to catch your audience's attention? Let us know in the comments!