How to Use Facebook for Business
Boost Your Posts... Wisely
Many have heard (and you might be one of them) that boosted posts are a waste of money.
Our response? Not true!
At least not when boosted posts are targeted and specific.
Want to see what this looks like in action?
Scott Ayres, author of Facebook All-In-One for Dummies recently shared results from one boosted post campaign.
By spending only $65 on Facebook, his boosted post results were:
Reach — 13,166

Actions — 466

Photo Clicks — 163

Page Likes — 44

Post Likes — 212
So how did he do it? Here's his explanation…
When you boost a post, you need to be careful how you do it or you may end up wasting your money.
Clicking the "Boost Post" button on a post will show you something similar to this: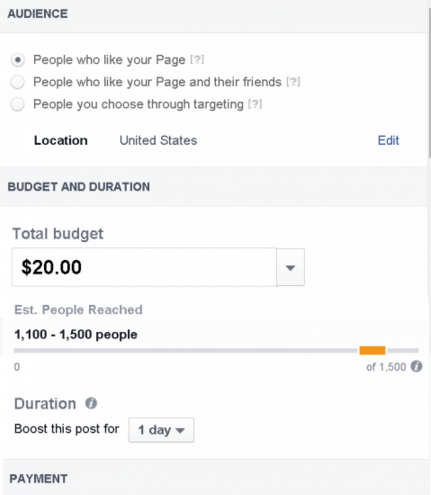 NEVER choose the "People who like your page and their friends" selection -- unless your page/product is a global product.
Choosing "People who like your Page" is great for reigniting engagement with people who may not have interacted with you in some time.
I tend to use the "People you choose through targeting" selection most often.
Facebook targeting allows me to choose a specific audience -- which means a mix of existing followers and new prospects.
I get the most return on my ad spend when I target the ad by demographics.
Want to learn more? Read this detailed breakdown of exactly how Scott uses boosted posts.
Welcome to Day 26!
Share the Love!


Tell your friends and get them in on the fun.
Did you know @PostPlanner is giving you 30 days of step-by-step tips to build a thriving Facebook page? Sign up here bit.ly/20Qs9LG

Click to Tweet