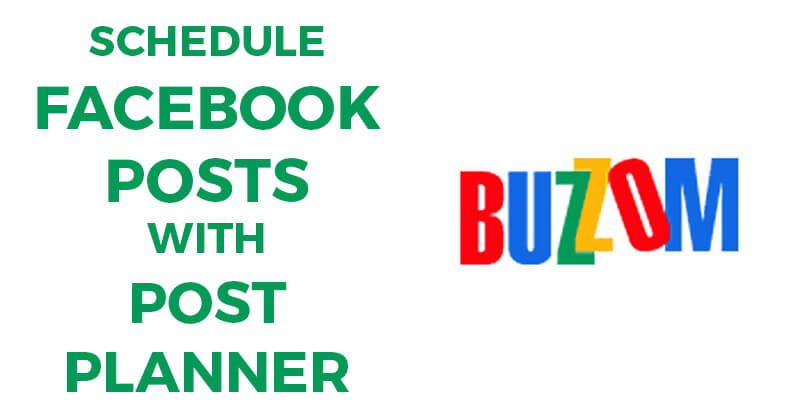 Awesome blog post from our friends at buzzom.com. Click here to read it on their site. Or check the text below:
Planning plays an important role when it comes to social media marketing. You must think before you post updates on your Facebook page, and schedule the posts in such a way that it gets maximum visibility from the audience. Post Planner, a social media app developed by San Francisco-based Go West Social, along with French partner, Julie Cros lets you do exactly that. With this app Facebook users can plan their posts and schedule it days, weeks, even years in advance.
Post Planner has over 1000 users and the number is growing day by day. "We are not meant to replace other tools like RSS. We are one among the many valuable tools available out there. I encourage my clients to use Networkedblogs, and post spontaneously as often as possible, but I also set them up on Post Planner to make things easy for them, says Joshua Parkinson, founder of PostPlanner.
"Post Planner is different from RSS Graffiti in many ways. With RSS, you can syndicate links to your Facebook wall from external sites and blogs. While this definitely helps in getting the posts out there on Facebook, these syndicated Facebook posts get very few or no comments at all. Post Planner simulates the Facebook posting interface and allows you to choose the date, time and repetition interval of the posts. This means you can not only syndicate links to articles and blog posts, but also schedule the normal status updates that generally receive more comments and likes", Joshua states.
The tool can help brands and bloggers that are so busy with their day-to-day operations that they don't have time to check and update Facebook page consistently. With Post Planner, they can set aside some time to brainstorm Facebook posts, and then plan the posts for the next one month in one sitting. Then all they have to do is respond to the comments and queries on the Facebook wall.
Here are some of the things Post Planner can do for you:
Schedule posts for multiple pages at once
Schedule posts that repeat at specified intervals
Select different time zones for different posts
Get email notifications when your posts publish
The "Suggestions" feature on Post Planner offers post ideas and tips that you can use to make your updates more effective and interesting.
Post Planner is free if you want to use it on your Facebook profile, and costs $4.95 per month if you want to use it for a Facebook fan page. You can have unlimited access to use Post Planner on all the pages and groups you manage.
It's advisable to post spontaneously as often as possible, to encourage interaction on your Facebook page, and Post Planner cannot replace spontaneous posts. But, the tool can surely boost your Facebook marketing and help you when you are having trouble posting consistently.
To learn more about this application and to start using it, visit the Post Planner site.
Thanks again to Swati at Buzzom!