Want to automate Facebook posts and streamline your social media marketing?
In this article, you'll learn how automated Facebook posting can TRIPLE your marketing results.
Question: Do you find yourself spending too much time throughout the day creating and publishing Facebook posts?
Then you DEFINITELY need to start automating your posts.
Business owners who automate social media posts save more than 6 hours per week and have more time and Likes to show for it!
So automation MUST be a part of your social media strategy.
(Want to try out Facebook post automation in just a few clicks? Create a FREE Post Planner account to increase your engagement!)

How to Automate Facebook Posts & Increase Engagement
If you're a marketer, you know what a powerhouse social media is for customer engagement.
When posted at the right time, Facebook posts can explode with likes, comments, and shares.
I created this guide on automating Facebook posts to help you maximize engagement on each automatic post.
In this article, you'll learn:
What is Facebook post automation?
Facebook post automation is the process of scheduling content in advance using a social media scheduling tool.
This is much more EFFICIENT than publishing posts the same day they're created.
With scheduling tools (like Post Planner), new posts can be added and scheduled into your content calendar.
Posts can then be scheduled to be posted on your Facebook page or profile at specific times and dates.
Ever forgot to send out a post on Facebook before leaving the office?
A social media scheduling tool will save the day!
Automating Facebook posts allows you to post content more consistently and at PEAK times.
It also helps marketers diversify their content by making it easy to mix in videos, gifs, and photos.
Diversifying your content is the perfect way to keep content fresh and pull in engagement.
But let's dive deeper into how automating your Facebook content is valuable.
Why YOU should automate Facebook posts
The short answer?
It's more efficient — which saves you time and money. Marketing on Facebook can be HARD.
Most companies fail to gain healthy engagement, even though Facebook has the most users of any social media platform.

This is why it's CRUCIAL to have an in-depth content strategy.
Increasing engagement would be easy if you spent all of your time on Facebook.
But that's not realistic or practical!
By scheduling a content calendar, marketers can eliminate the day-to-day task of posting on Facebook and focus on more important things.
Automated posts are also easier to measure and track (which provides key insights to increase engagement).
You can discovery things like:
What time of the day is best to post?

What day of the week gets the most engagement?

Which type of content maximizes engagement?
Scheduling automatic Facebook posts will help fuel your reach and engagement efforts — while still giving you the biggest bang for your buck AND saving you hours of time.
Are there any risks?
Some marketers are hesitant to use 3rd-party posting apps.
Why?
They think Facebook will filter out their content.
However, according to Facebook, posts created using 3rd-party apps (like Post Planner) are treated the same in the news feed as manual posts.
When to automate Facebook posts
Here are 5 things you can do with automatic posting:
Schedule recurring posts

Share your blog posts

Share & re-share an event (multiple times leading up to the event, for example)

Run & share a Facebook contest on your page (at different times so all followers can participate)

Spread out your posts, so you don't flood your followers with tons of updates at once
When you should NOT use Facebook automation
Although it's extremely efficient, here are a FEW scenarios when you shouldn't use automation on Facebook.
Friending or following of pages or people

Commenting on posts using 3rd-party apps

3rd-party Facebook messenger bots (that do outreach)

Cross-posting incompatibly, i.e., from Facebook to Twitter to Instagram or any other combination (content on one site doesn't always work on another)
When people interact with your brand, they DON'T want to deal with a robot.
They want to see the human side of your brand.
Don't squander the opportunity to interact with your community and potential customers by automating your conversations.
Facebook post automation for beginners: Getting started
Getting started is often the most difficult part.
If automation is new to you, consider these tips to help accelerate your learning curve.
Define your goals
Before you start automating Facebook posts, you need to clearly define goals so you can measure success and improve your marketing efforts.
A few of your goals could be:
Get more likes, comments, or shares

Become a thought leader in the industry

Increase engagement with customers

Drive traffic to your blog or website

Drive sales
No matter what your marketing goals are, it's essential to define them so you can track your progress.
Choose a content scheduling tool
A content scheduling tool is an ESSENTIAL piece of the puzzle to automate Facebook posts.
Before you start creating and scheduling out content, you should find a tool that's easy to use AND aligns with your goals.
Bottom line, here are a few qualities to look for when choosing a content scheduling tool
How easy is it to use?

How far can you schedule in advance?

Can you post at specific dates and times?

How is your content stored?

Can your team collaborate on content?
Don't know where to start? Try ours FREE!
Create a content calendar for your posts
Facebook shows pages you enjoy the most on your newsfeed.
BUT no one wants their feeds flooded — by even their favorite page in the world.
So when looking to automate your Facebook posts, think of a posting frequency that maximizes engagement potential while STILL minimizing "annoyance."
Social media experts recommend you post on Facebook at least 3 times a week and up to once a day.
Pages experience a 50% drop in engagement per post if they posted more than once per day (Hubspot).

But one of the best ways to tailor your approach is by analyzing your Facebook Audience Insights to see the days and times your fans are MOST active.
Create and adopt engaging content
Creating content is the most important piece.
Decide which types of posts you want to create.
What's hot & trending? How can you tailor your content to that fad?
Look at competitors and think:
What is working for them?
What's not working for them?
How can you improve on their work?
An easy way to create engaging content is by recreating successful content that competitors put out and putting your own spin on it (emphasis on "putting your own spin on it").
Keep content fresh
Don't post the same type of content every time.
Keep it fresh.
Mix in photos, videos, blogs, etc.
Diversify your content as much as possible initially.
Then, refine your strategy once you see what works and what doesn't.
Maybe you find that you get much more engagement when posting videos compared to other posts.
You should tailor your content to capitalize on these insights.
Also note: Always remember to keep your audience's peak online hours in mind!
R
efine & repeat
Once you have automated your Facebook posts, it's important to track progress and improve efforts.
Just because you automated your Facebook posts doesn't mean your engagement will skyrocket.
Moving the needle takes time.
And odds are, you aren't going to hit the jackpot right away.
Instead, you'll need to evaluate and refine your strategy to achieve your goals.
Also, don't forget to engage with your audience in your comment section, as it will invite more discussions.
Facebook rewards engagement.
So the more you have, the higher the likelihood that Facebook will recommend your content to more people.
Automating Facebook posts:
How to schedule Facebook posts in Post Planner
Step 1: Start a new post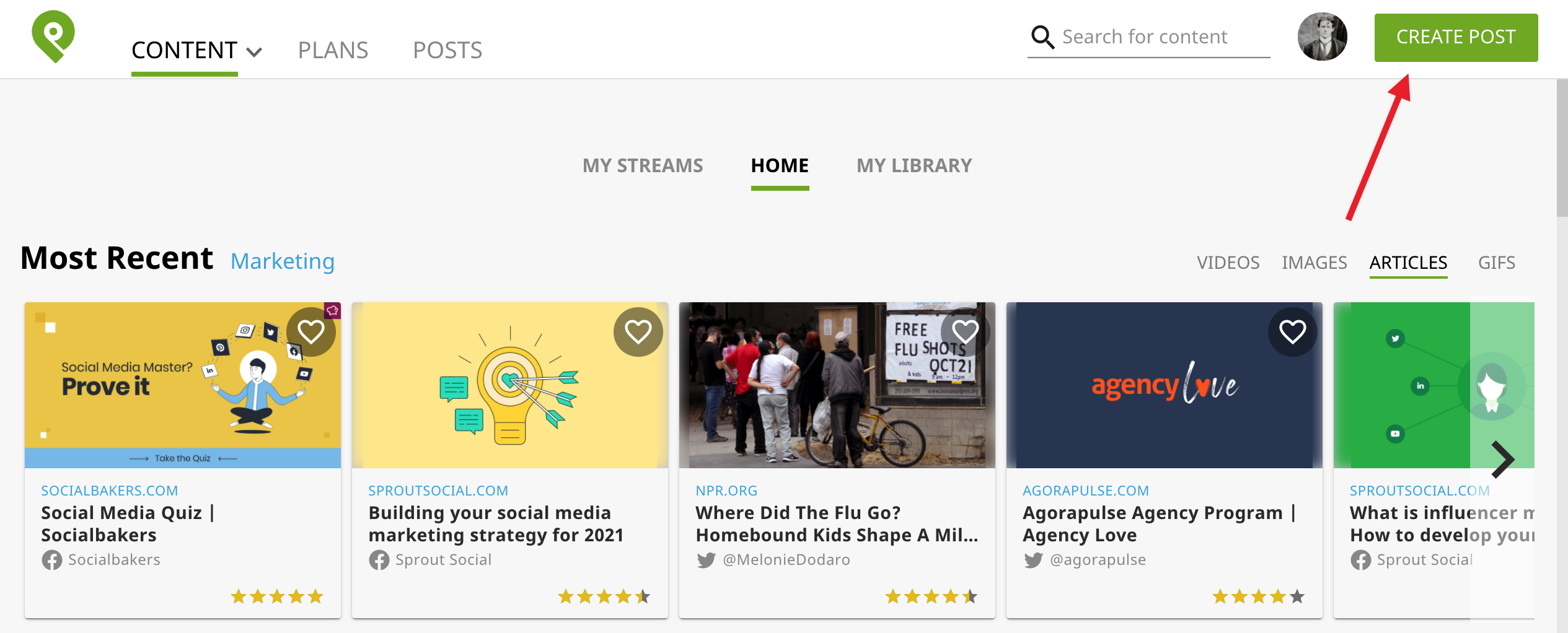 After signing up for a Post Planner account, open your Post Planner dashboard.
Then, navigate to your Post Composer by clicking on the create post button or making a post from content.
Step 2: Decide where you're posting
Select the FB profile or page the post will be published on.

Step 3: Customize your post & add it to the plan
After customizing your post, click on the down arrow next to the "Add to Plan" button.

Step 4: Schedule the post
Once you select "Schedule post" you should see a dialog box to set your preferred posting time and date.
Once you have the time and date, click "schedule" and your post is ready to go!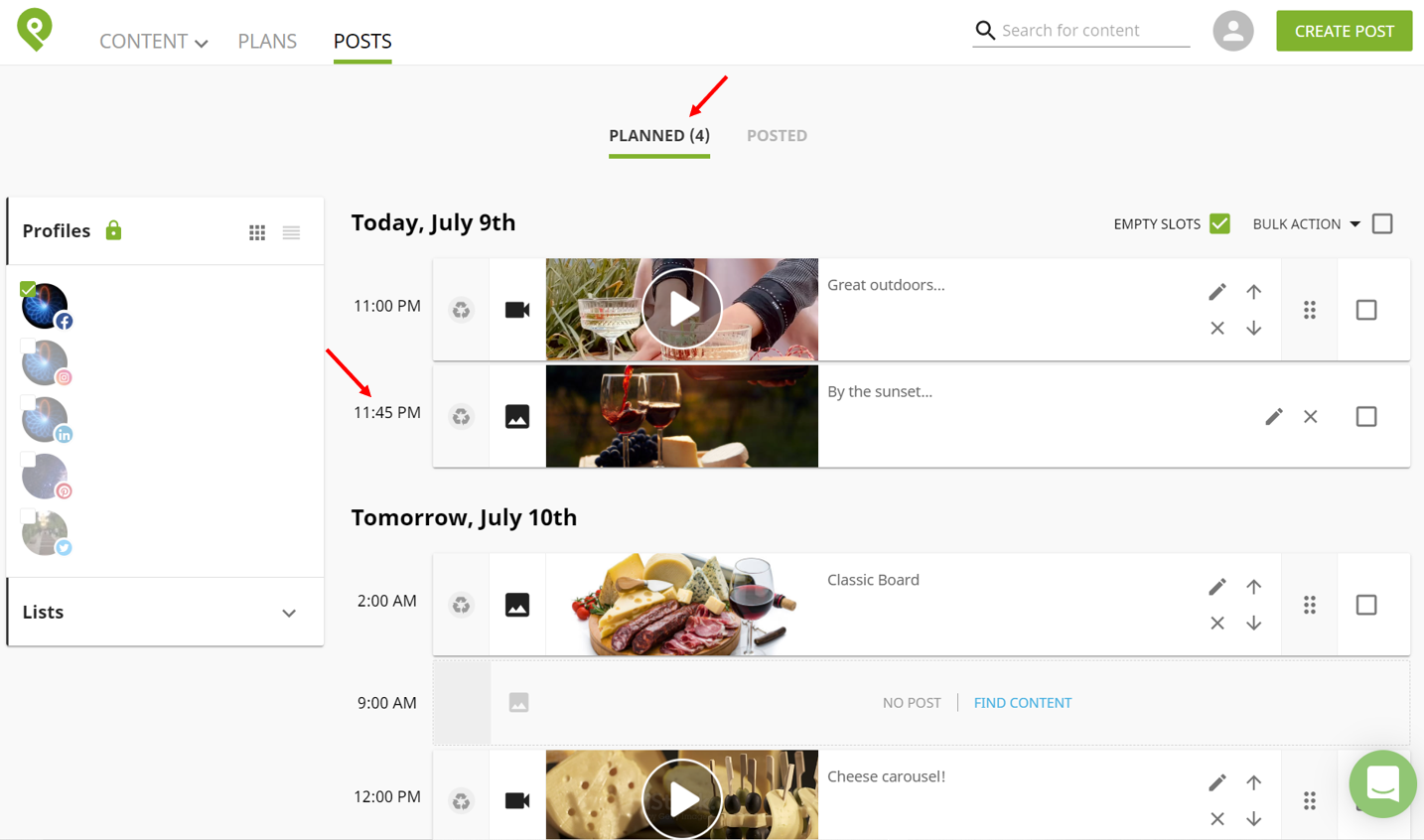 Finding a post planner that's right for you
Post Planner makes scheduling Facebook content easy because of its east-to-use scheduling tool and vast content library of multimedia.
Sure, there are a ton of other apps out there to help with automation…
But you'll need to do some research to see what works best for your needs.
Consider these questions before investing in ANY social media scheduling tool:
Can I connect all of my pages & groups to the app?

How many posts per day can I make with the app?

Does the app allow me to choose the exact posting times, or do I have no control?

Can I set up a queue schedule that decides exactly which times of the day the app will post different post types (photos, links, or text updates)?

Does the app allow me to post evergreen content? (i.e., can I schedule a blog post once & then have it repost again & again throughout the month/year?)

Will the app supply me with 1000s of Facebook status ideas to help me figure out what to post?

Does the app help me find high-quality content from around the web & then schedule it to my pages?

Can I organize my own streams of content into folders to access at any time?

Does the app allow me to target different demographics & timezones easily?

Is the price per month, per year, or one-time?

And is it reasonable for what you get?

Can you cancel at ANY time?
These are some big questions to consider because — after all — not all scheduling apps do the same.
Always keep in mind the power of knowing your Facebook insights.
Why?
It'll help you post the right content at the right time and maximize engagement potential.
Post Planner allows you to browse a vast content library of multimedia and automate your content with ease.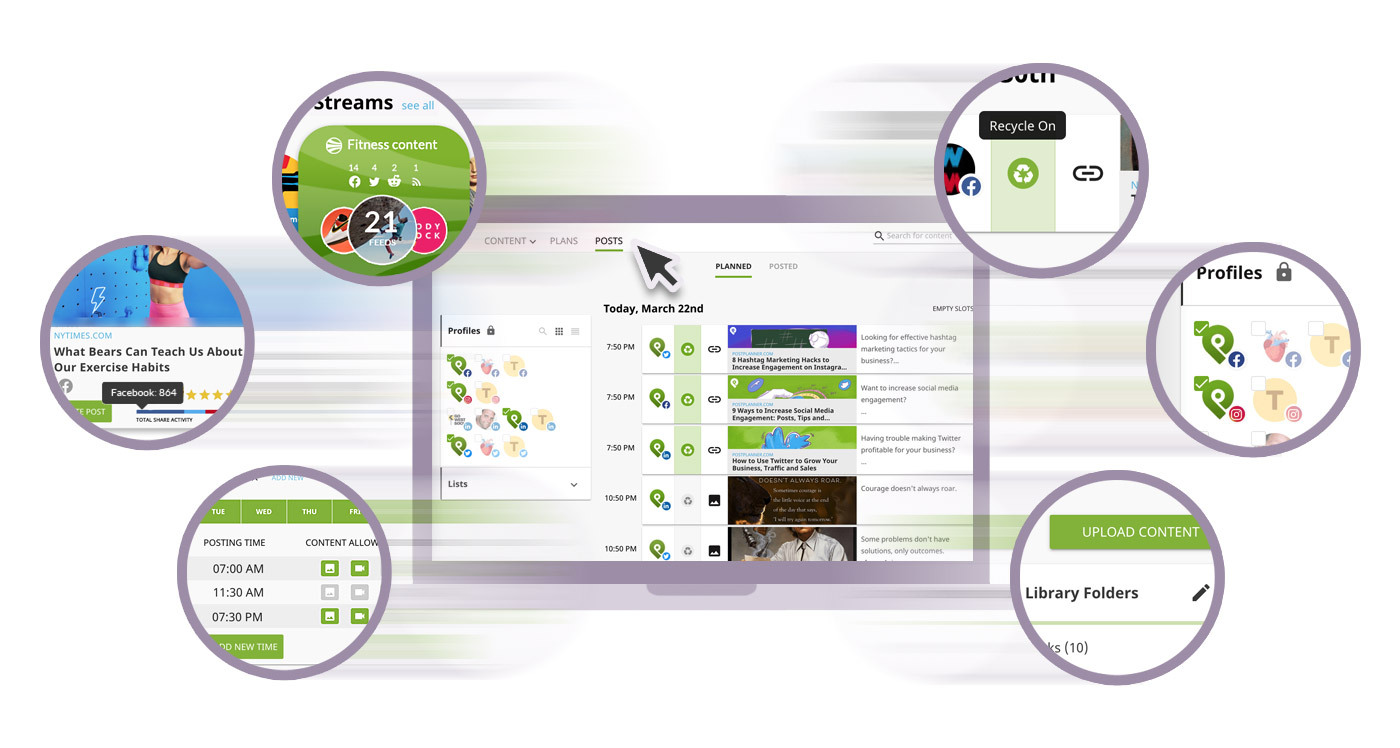 Influencers, businesses (small and large), marketers, and many more are using it for their Facebook content as we speak!
Try Post Planner today by creating a FREE account!