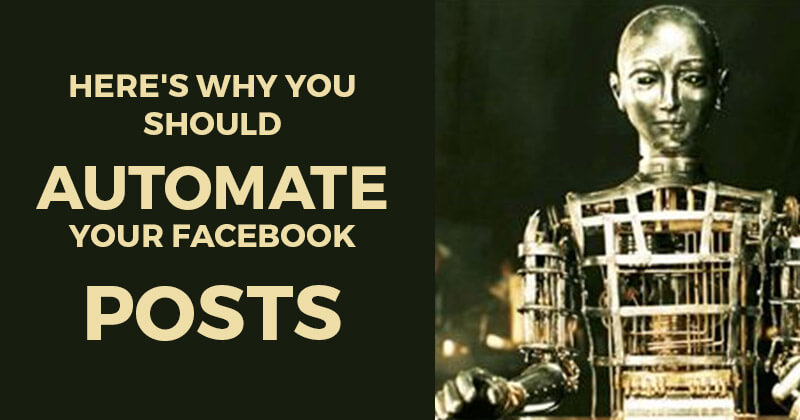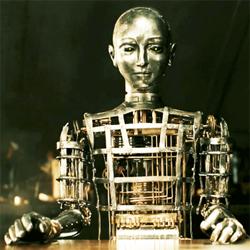 Is automating Facebook posts a good thing?
My answer => sometimes Yes, sometimes No.
It all depends on why & what you're automating.
Why Automate Facebook Posts?
The obvious answer here is to help with your marketing.
Marketing on Facebook can be a big job -- and it's important not to miss a beat.
One way to keep on top of things is to stay on Facebook 24/7, constantly reaching out to customers & engaging in discussions with them.
Since that's basically impossible, you need productivity & automation tools to ensure you're getting the biggest bang for your buck in terms of reach & engagement.
Keeping Your Goals in Mind
You can't be online ALL THE TIME to post updates, respond to comments, add friends, suggest likes, etc.
You HAVE to automate some Facebook tasks.
But before you start automating, you should take a moment to consider why you're marketing on Facebook in the first place.
Think about your goals.
If you're a marketer, you probably want to achieve some of the following goals:
Get more Likes on your page
Deliver quality content to followers & friends
Maintain engagement with customers & followers
Drive traffic to your blog or website
Monitor the public use of keywords
You won't accomplish any of these goals by simply "setting it & forgetting it".
That's because most of these goals require continuous creativity, adaptation & adjustment.
They require you to be human!
So When Should You Automate on Facebook?
Some tasks on Facebook require that you do them manually, as a human being.
Other tasks can be effectively automated. For example:
Scheduling posts to decrease the time you have to be on Facebook
Scheduling recurring posts -- ie. content that is "evergreen"
Sharing your blog posts
Sharing & re-sharing an event (multiple times leading up to the event, for example)
Running & sharing a Facebook contest on your page (at different times so all followers can participate)
Spreading out your posts so you don't flood your followers with tons of updates at once
According to Facebook, posts by 3rd party apps (like Post Planner) are not treated differently in the news feed than manual posts.
So as a page owner, there's no reason NOT to use a tool to schedule your posts.
Doing so will free up time & help you be more organized than you'd be if you were posting whenever you felt like it -- or whenever you happen to be on your page.
What Not to Automate on Social Media?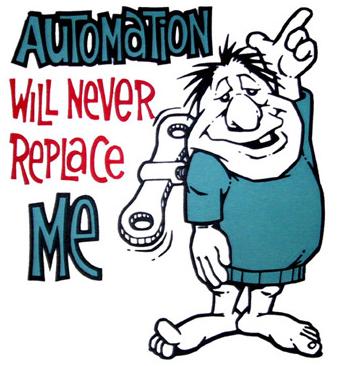 Obviously, I'm not a fan of automating everything when it comes to social media.
These are some things you should never automate:
Friending or Following of pages or people
Commenting on posts -- some 3rd party apps let you do this (and everyone knows it's fake!)
Sending Direct Messages on Twitter
Following accounts on Twitter
@ Replying to Tweets
Auto-Posting blog articles from 3rd party sources (what if they post something you disagree with or find offensive?)
Cross-posting from Facebook to Twitter to Google+ or any other combination (content on one site doesn't always work on another)
The worst thing I've seen happening recently is lazy marketers using tools to automate replies to comments or tweets.
C'mon, guys! This is so obvious to your followers -- and it just makes you look phony.
I get this more on Twitter than Facebook. I'm sure you've seen the same thing: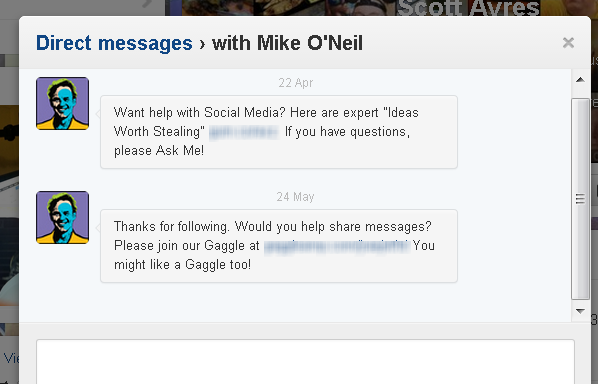 I don't know who Mike O'Neil is -- and maybe he's a good guy. But he's obviously using some Twitter tool that lets him auto Direct Message (DM) people that have either followed or tweeted him.
For me this is pure spam. And when I get a DM like this, I immediately stop following the person & block them.
There are also some tools out there -- I won't mention any names -- that allow page owners to automatically send a reply to posts, comments and/or messages on pages.
This is a horrible idea!
I've seen pages post the same exact regurgitated response on their page to 5 people in a row -- completely turning everyone off & exposing them for the fakes they are!
So please don't do that!
Schedule your posts -- YES.
Schedule your responses to posts -- NO.
What Tools Can You Use to Automate Your Posts on Facebook?
Well, duh!!!
I'm obviously going to recommend Post Planner to achieve this!
But I know there are also a ton of other apps out there to help with automation.
You'll need to do some research & see what works best for your needs.
But take these items into consideration before purchasing:
Can I connect all of my pages & groups to the app?
How many posts per day can I make with the app?
Does the app allow me to choose the exact posting times or do I have no control?
Can I set up a queue schedule that decides exactly which times of the day the app will post different post types (photos, links or text updates)?
Does the app allow me to post evergreen content? -- ie. can I schedule a blog post once & then have it re-post again & again throughout the month/year?
Will the app supply me with 1000s of Facebook status ideas to help me figure out what to post?
Does the app help me find high quality content from around the web & then schedule it to my pages?
Can I organize my own streams of content into folders to access at any time?
Is there a way to access the content folders of other users who have organized folders based on their different niches?
Does the app allow me to easily target different demographics & timezones?
Can I schedule a single post that says "good morning" during the morning hours of every time zone across the world?
Is the price per month, per year, or one-time? And is it reasonable for what you get?
Can you cancel at any time?
Does the customer support kick ass?
Do Scott Ayres & Josh Parkinson work at the company?!?!
Ok, so maybe that last one isn't exactly paramount.
But hopefully you see there are tons of options to consider before buying any old scheduling app.
They don't all do the same thing.
Sometimes Post Planner will be the best fit, sometimes it won't.
And that's ok. We have no plans to be all things to all people.
Our app doesn't do everything -- and that's how we'd like to keep it.
We want to offer the best Facebook publishing app on the market, period. If that means not diluting the product by making it post to Twitter, LinkedIn, Google+ and every other social network, then we won't do it.
Sometimes less is more. :)