How to Use Facebook for Business
Add a Call to Action to Your Page
Today you're going to create a unique call to action.
Facebook has a really cool feature called the "call to action" button. Here you can direct fans to a product, service, your latest webinar or even a book.
1
Begin by brainstorming. What's that next step you'd like your fans to take?
There are 7 call to action buttons:
Book Now
Contact Us
Use App
Play Game
Shop Now
Sign Up
Watch Video
Here's What It Looks Like: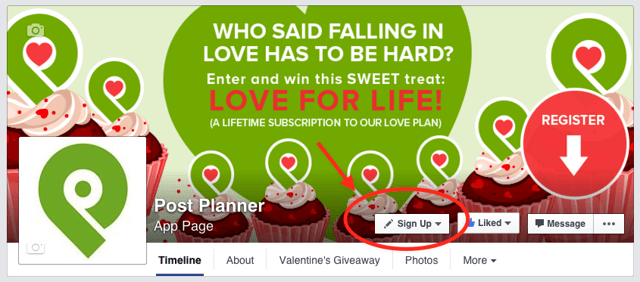 2
Here's How You Can Use It:

Book Now: For consulting calls or intro appointments
Contact Us: For brick-and-mortar businesses to grab local customers
Use App: For app companies that want to attract new users
Play Game: The best way to get people hooked on your game is to get them to play it!
Shop Now: For any online store (ie. drive business to your Etsy business)
Sign Up: To grow your essential email list (this should be the default button!)
Watch Video: Could be the gold-standard choice to tell your story
Read more at: How to Use Facebook's Call to Action Button to Bring in the Benjamins.
Here's How You Can Add It:
To add a call-to-action button on your page that directs people to your website:
Go to your page's cover photo and click Create Call to Action.

Choose your call to action. Then enter the URL for the page on your website where you want your visitor to go.
Click Create.
Welcome to Day 4
Share the Love!


Tell your friends and get them in on the fun.
Did you know @PostPlanner is giving you 30 days of step-by-step tips to build a thriving Facebook page? Sign up here bit.ly/20Qs9LG

Click to Tweet