How to Use Facebook for Business
Post Fun Content
There is nothing wrong with posting content that's not related to your field, as long as it's fun and engaging.
In fact, it's a step you can take to boost your Facebook engagement. Your audience will love quirky comments, funny pictures, and interesting questions.
This kind of content will attract attention, get your audience engaged, and may even create a long and engaging conversation under your post.
Just take a look at this post on our Facebook page. WOW!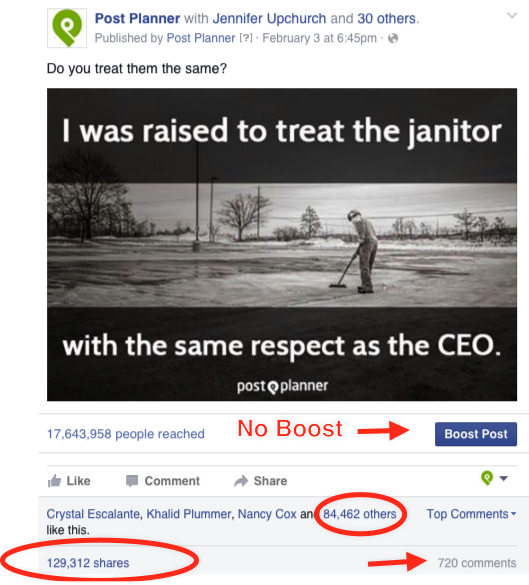 Now think about how that type of engagement could help increase awareness around your business. Pretty cool, right?
You can read the story about how and why this image was created at How to Create Engaging Images for Social Media.
Make it easy to find and post fun content by setting up your Post Planner account.
> IMPORTANT: click "Okay" on ALL permissions
> IMPORTANT: make sure "Public" is selected for visibility of posts
Our user guide provides awesome tutorials for every Post Planner feature -- and you receive badges as you complete each level!
Welcome to Day 22!
Share the Love!


Tell your friends and get them in on the fun.
30 days to a thriving Facebook page?! YES - it's possible. Join the 30-Day Facebook Challenge - bit.ly/20Qs9LG via @PostPlanner

Click to Tweet