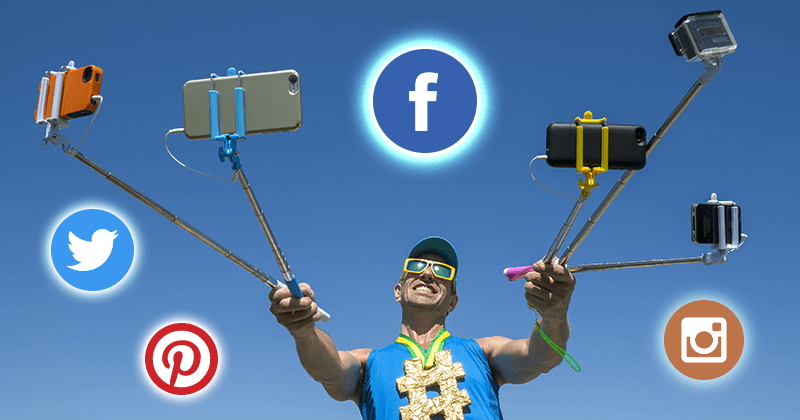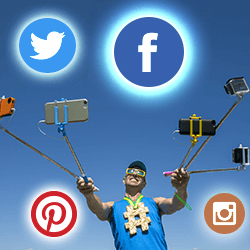 Tired of low social media engagement?
Have you tried everything to get those numbers to go up -- but they're not budging?
We have one sentence that might fix it all for you…
Start creating engaging images for social media.
What? You were expecting something complicated?
Social media engagement can seem like a tough nut to crack -- but sometimes all you need are some audience-tested images to draw people to you like bees to honey.
Still not convinced?
Click over to HubSpot and read 37 Visual Content Marketing Statistics You Should Know in 2016 -- and you'll start to understand how important engaging images are in your social media strategy.
So how do you create engaging images for social media?
That's where our most recent Post Planner Bootcamp training comes in.
During week 5 of our training, I took the ideas shared in the first 4 weeks and expanded on the idea that you can make smarter and more accurate social media decisions by using audience-tested content.
It's all about using that idea of being data driven to get down and dirty with creating images.
How to Create Engaging Images for Social Media
How to Create Engaging Images for #SocialMedia - bit.ly/1QeIBug (by @Yessayer on @PostPlanner)Click to Tweet
First let's talk about our main takeaway from our past 4 webinars.
You can get the recaps from those trainings at these links:
Why Data-Driven Social Media is Smart Marketing (week 1)
How to Find the Best Content to Post on Social Media (week 2)
How to Plan Your Social Media Posts to Get More Engagement (week 3)
Top Ways to Manage Social Media (and Avoid Burnout) (week 4)
The main takeaway...
Since past social media performance often predicts future performance -- it's all about not recreated the wheel. Instead, use content that has already been proven to be successful so you can be data driven.
Stand on the shoulders of giants!
Once you do this, you'll remove the guesswork from your social media strategy.
If you find a quote image that's done pretty well on one page (in comparison to the other quotes images on that page) -- you can be pretty sure it will do well on your page too.
Let's talk about this as it relates to creating engaging images for social media.
You already know that if you want to get a lot more engagement, you'll need to start posting some engaging images.
When you find an engaging audience-tested quote image you'd like -- why would you take the time to recreate it?
Because you want the branding benefits of course!
After all, the original page doesn't own that quote on the image.
If you brand that image -- and if it goes viral -- you'll get the rewards since your brand will be exposed to a lot more people! The end results will be more engagement and reach.
This will then help you when you post a link to your blog or website since Facebook will show that post to more people based on the engagement you got on your image.
And this of course this means more opportunity for you to turn those blog or website visitors into customers!
It all comes down to using audience-tested content so you can make better decisions about the engaging content you post.
So how do you go about this?
There's no need to come up with stuff to test from scratch since the internet is filled with content that has already been tested.
Do what we talked about in our previous trainings -- stand on the shoulders of giants.
That's the foundation of this entire strategy.
Once you start seeing your engagement go up -- social media will become a lot more fun.
There's a certain joy to watching your fans and followers react and engage with your content.
I'm going to show you the most predictable way to go about this.
What's the first thing you gotta do?
You gotta find an image that has already been proven to be successful.
You can do manually -- but it will take a lot of time.
That's why we created Post Planner. It'll allow you to do this in just a few minutes.
Come on in and you can immediately choose images from tons of pages -- some of which almost exclusively share quote images.
We rate the images in Post Planner based on engagement.
You can get ideas from all of our audience-tested content -- there's data with each one.
In the video at the bottom of this page -- I show you how to choose your image, and then brand it as yours so you can post it on social media with confidence, knowing that it will most likely do well.
I demonstrate how to modify the image using 2 tools: Photoshop and Canva (from within Post Planner).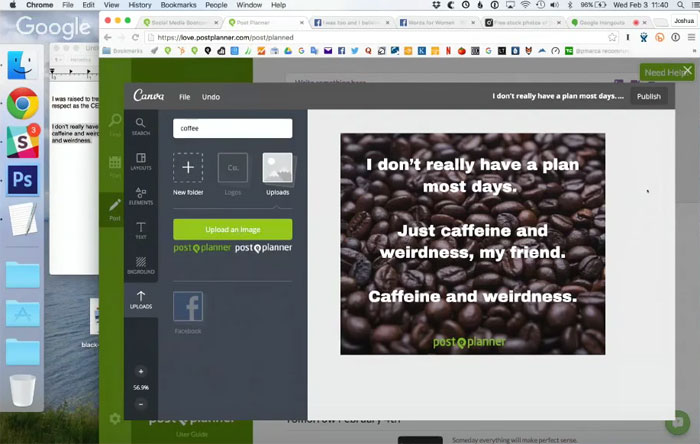 There are a lot of tools you can use though. If you aren't a fan of Photoshop or Canva, click over to 13 Must-Have Marketing Tools for Engaging Facebook Images to find a tool that you like better.
When you look inside Post Planner, you'll see that the images that do well all have 5 things in common. Keep this in mind when you're creating your images.
These are the 5 things: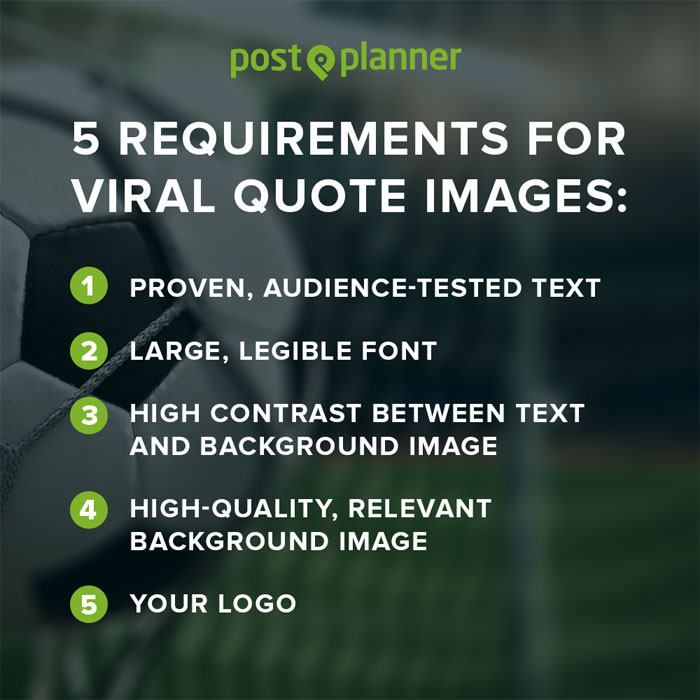 Remember, the truth is in the numbers - the DATA.
Everyone has a personal opinion -- don't be closed off by an example that kicks ass yet doesn't look like something you thought would perform well.
Be willing to learn. Be data driven!
Use the images you create to engage with people's hearts and their humor.
Then -- mixed in with your image posts -- post your links which drive people back to your blog or website.
This is the strategy that works well for us here at Post Planner -- and it can work well for you too!
Join us every Wednesday for our Social Media Bootcamp training by clicking the orange "Reserve My Spot" button below. We'll see you there!
Watch the Full Training Replay