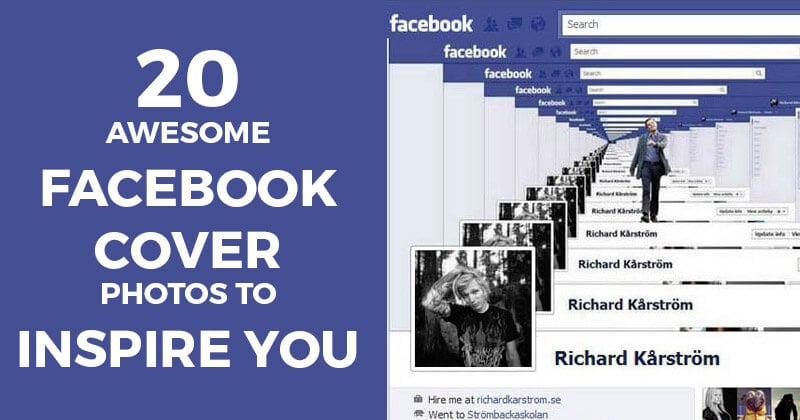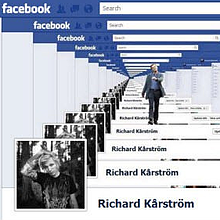 Your cover photo is THE largest piece of real estate you have on Facebook to show off your branding.
In this blogpost, I'd like to share 20 examples of pages using cover photos in effective & creative ways.
But before I get to the examples, I need to mention something:
While researching this post, I noticed that most cover photos out there (and possibly 1 or 2 below) are violating Facebook's new Cover photo rules -- that Cover photos can't contain more than 20% text.
If you haven't heard of this new rule, I wrote a blog post on it last week. Go read it... NOW!
There are other rules you must follow when it comes to cover photos as well. From Facebook:
Cover photos must be at least 399 pixels wide and may not contain:

Price or purchase information, such as "40% off," "Download it at our website," or "Free Sunglasses All Summer."

Contact information, such as web address, email, mailing address or other information intended for your Page's About section.
References to user interface elements, such as Like and Share, or other Facebook site features.
Calls to action, such as "Get it now" or "Tell your friends."
Lots of guidelines to follow -- and let me tell you, soooo many are breaking these rules.
But there are many who are obeying them as well -- and I wanted to show off a few of these awesome Facebook Cover photos below.
Hope you enjoy.
The cover for Oreo is perhaps one of the simplest, yet greatest cover photo I've seen. Very impactful and full of meaning and emotion. They didn't overdo it -- and they displayed their product without a lot of unneeded fuss.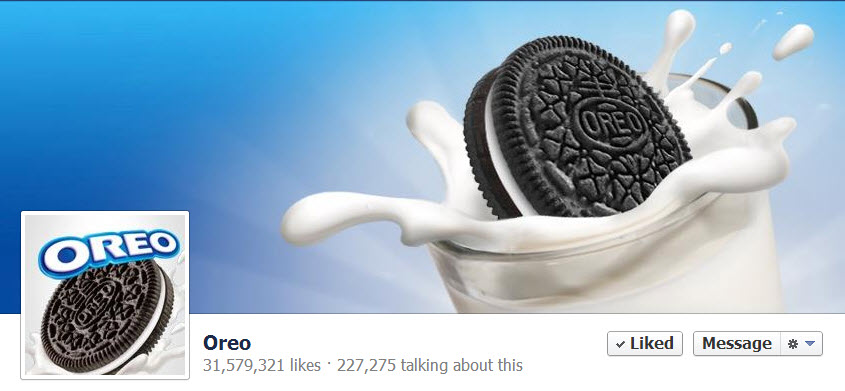 Social Fresh's cover photo is another great example of a page keeping it simple. The super high quality image shows a texture and their logo -- and that's it.
The photo makes its' point without using tons of unnecessary text -- just like Oreo.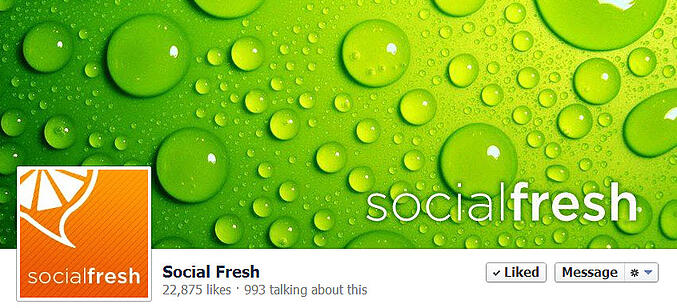 If you don't know Amy you should follow her ASAP. She's managed social media for the likes of Tony Robbins and several other high profile companies. I love her cover photo because it's very simple, but it has some playfullness to it. This is a great way to show off Amy's personality -- while still remaining professional.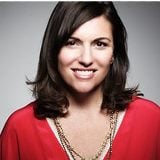 One of the best things to do with your cover photo is show off your staff. It helps people connect to your company in a personal way -- which is the whole point of being social. Hearsay does a great job of this in their cover.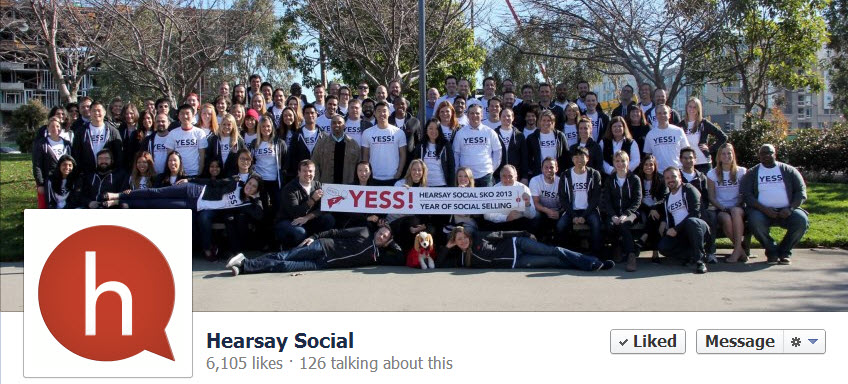 Another great example of using a cover photo to show a personal side is the Today Show. Instead of a clunky logo or some text, they just showcase the current hosts of their morning show.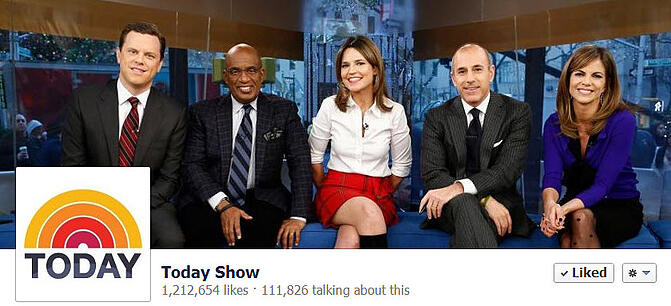 I love what Red Tricycle has done with their cover. The company is geared towards parents -- so by using these images of kids having fun, it conveys their message -- and just makes you happy.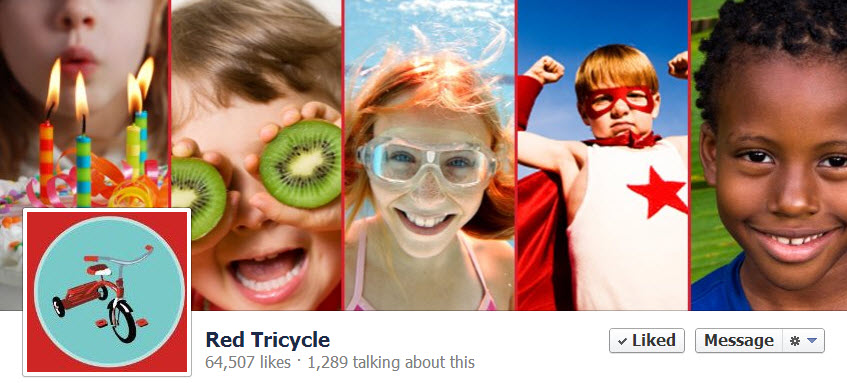 Some companies overdo it when it comes to their cover photo. Trulia -- a real estate related company that helps connect buyers and sellers -- does a great job of conveying that their app is fully tech focused.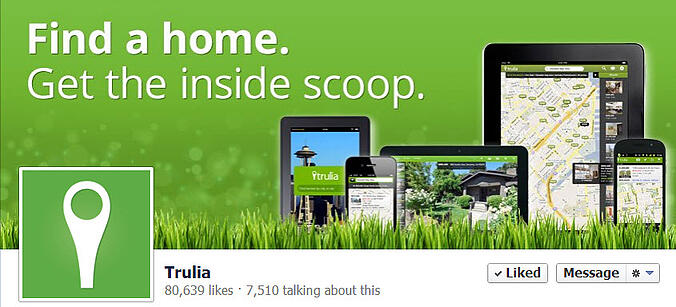 I'm finding that TV shows in general are doing a great job using their cover photo to add branding to their pages. The Soup from Comedy Central is a great example of that. Their photo is simple, yet informative -- while not overdoing it.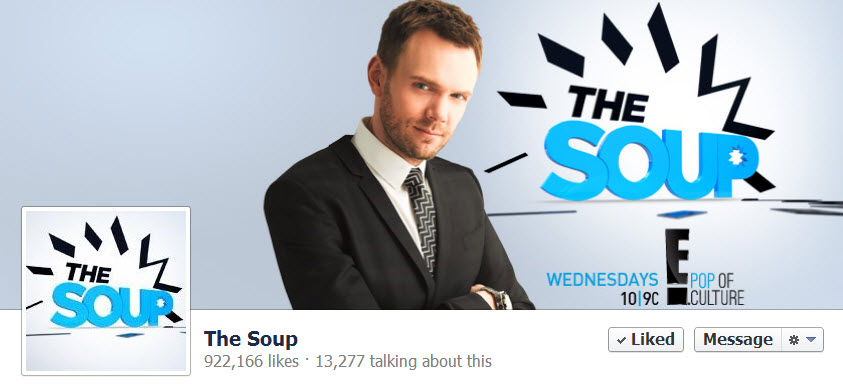 Instead of stuffing your cover photo full of logos, text and images -- sometimes it's best just to put your name on it. This is what AllFacebook has done. But... with the new rules from Facebook (that your cover cannot contain more than 20% text) I wonder if/when this cover will be removed or considered in violation.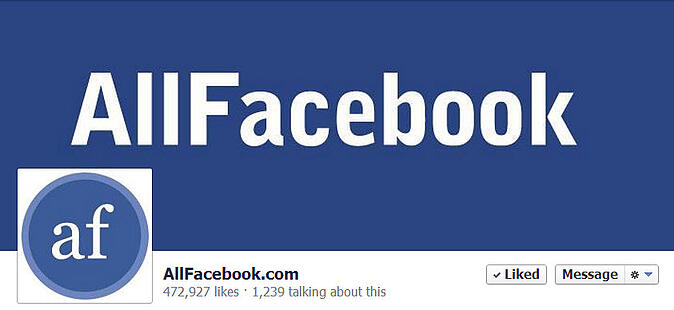 Like Hearsay Social, Likeable Media uses a photo of their staff in their cover photo. But they take it a step further by mentioning a reward they received. The result is they both connect on a personal level AND communicate their authority in their niche. Smart move.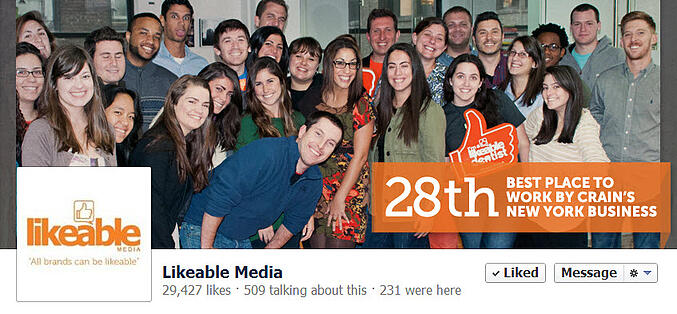 I love how simple, yet powerful the cover photo by Instagram is. Hopefully you're starting to see a trend here -- yep, my theory on cover photos is "less is more."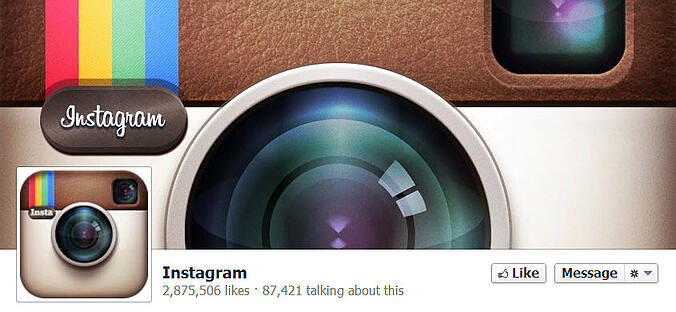 I'm becoming a bigger fan of Jon Loomer every week -- and his cover photo is another example of why he's becoming a force in the Facebook Marketing world. Since his brand is him, he uses a professional photo of himself along with his logo and slogan. Great job, Jon!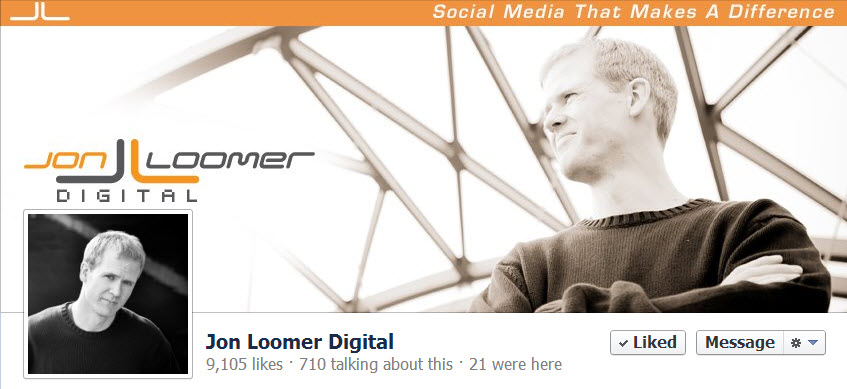 Humor beats being serious all the time -- and the Grandma Mary page is a prime example of this.
Grandma Mary is the character created by social media guru Andrea Vahl to teach social media in a fun way. The page is full of humor, but also shares great content. Her cover incorporates Grandma in a humorous pose along with an indication of the subjects covered on the page.
Again I wonder with the new 20% text rule if this cover would be considered a violation. Even if it is I don't care because I love it!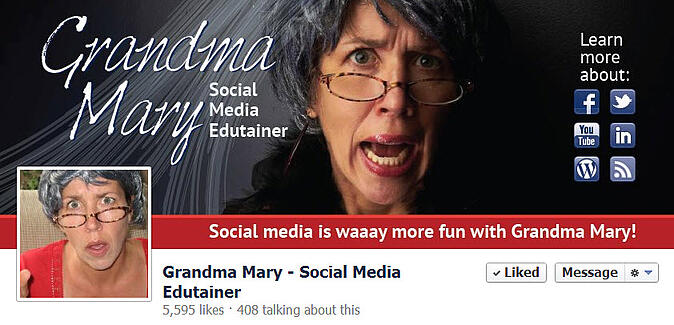 Another fantasticly simple and powerful cover is that of KISSmetrics. They use their logo in a refreshing and vibrant way and then show off some icons of different apps that people can relate to and understand. The bright colors are very appealing and just make me feel happy.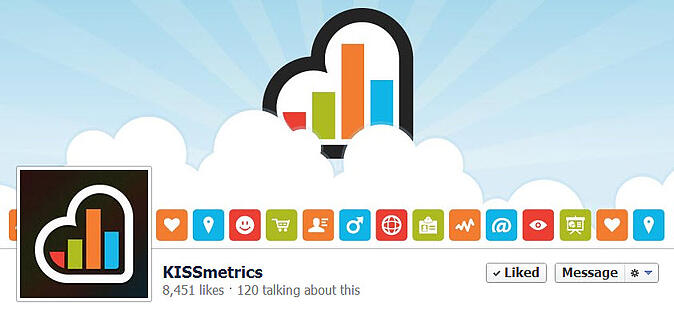 Boom Social's cover photo changes quite often. Kim and her gang do a great job of leveraging this space to show off their work, staff or an upcoming event. Below is their current cover photo which again is a great example of making your page personal. (Seeing another trend here, I hope -- make your page personal!)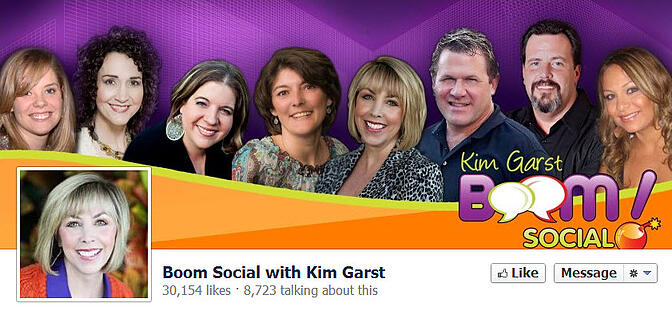 What I really dig about Wildfire's is that they used a white background -- which makes their name and images pop in a great way. Without being overly markety (is that a word?... it is now!) they show us what they're all about by showing the different social platforms their apps support.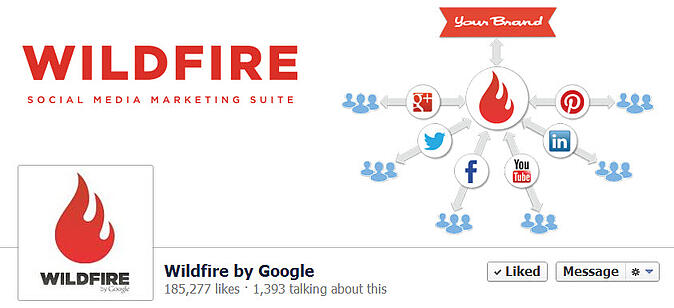 I love when a page does something with their cover that makes you think. In Crowdbooster's case, it's no logos and no text -- just a simple photo of a crowd at a concert. This makes me relate to the emotions and excitement of a concert, which leads me to relate Crowdbooster's name and business to that same excitement. Pure Genius!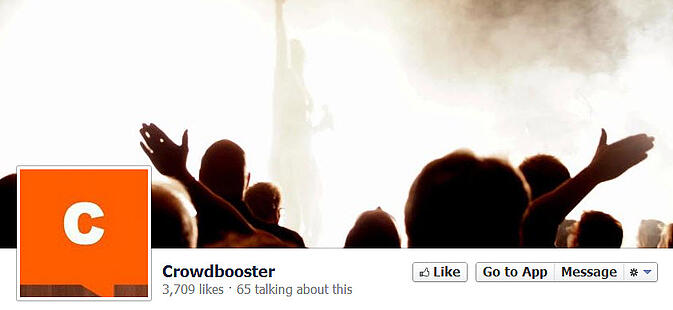 When adding a cover photo don't be shy about showing off your personality in it. The cover by FanPage Competitions does just that. Donna Hamer shows off her flare with this very pink cover photo.
She also uses easily recognizable elements like the Like thumb and the "easy" button. Both are symbols we've seen a million times so we get the message. Super smart.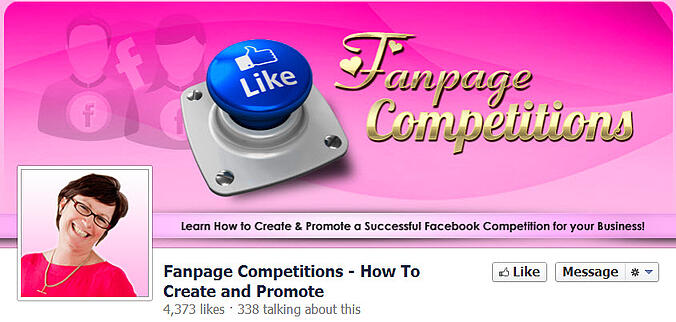 19. The Social Networking Academy
Jo Barnes hits a homerun with this cover photo for her training website. The comic-bookish photo tells a kind of story, the text logo is super dynamic, and the slogan stands out with its different color transitions.
Her use of a superhero cartoon character is relatable and invokes good memories for those who have grown up with comic books and cartoons. The photo makes me feel like she is there to rescue me -- if I need help with social media -- or even help me become a superhero myself. (No tights required I hope!)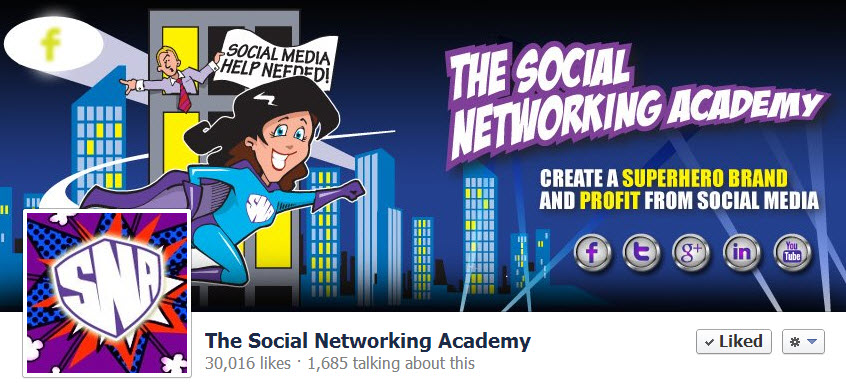 Ok, I'm showing you this one last because it's easily the oddest cover photo ever, or perhaps the greatest. InsideFacebook has just posted a blue image as their cover photo.
Are they trying to make a statement that they don't like the Timeline? Is there a hidden message in this image? or are they just too lazy to make a cover photo?
I don't know the answer to these questions but it's certainly the oddest use of a cover photo I've run into.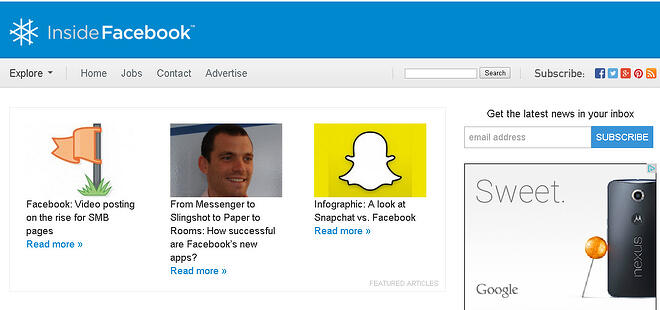 Voila!
So there you have it! These are 20 of my favorite cover photos currently on Facebook.
I realize there are tons more awesome ones out there, but my goal was to show you a growing trend hopefully of keeping it simple and adding in personality.
What are your favorites? Post them in the comments below.
***Update: Facebook as of July 1, 2013 has removed the 20% text rule from the Page Guidelines. Based on this you could have as much text as you want on your cover photo. Although I would advice against that and still keep it to a minimum.