Looking for a tool similar to Hootsuite?
Hootsuite is the biggest social media management app in the market.
But it's not for everyone...
Which is why there are plenty of Hootsuite alternatives on the market.
Post Planner offers a very similar app with a much (MUCH) smaller price tag.
So if you're looking for a tool to:
Schedule posts

Boost engagement

Manage social media accounts

Find the HOTTEST content in your industry to share
Then you're in the right place.
Best Hootsuite Alternatives: Save 92% Off Your Bill
This post will cover the best Hootsuite alternatives to help you manage your social media at a low cost.
If you like the features of Hootsuite, but:
It's too expensive

Your team doesn't need all the integrations

You're looking for a simpler tool that focuses on social media scheduling & content
Then the Hootsuite alternatives below might be for you.
In this post, you'll learn:
8 Things to consider before investing in a social media management tool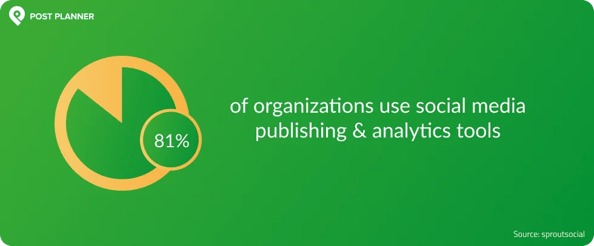 Social media management tools are essential for success on social media.
81% of organizations use social media publishing and analytics tools.
You need to be in that group.
But let's start by asking a few questions related to your goals.
1. What social media platforms are you using?
What social media platforms do your clients use?
There are over 100 social media sites (and that number is constantly growing).
Social media management tools are doing their best to keep up.
You and your clients need a management tool that integrates with the biggest players in social media.
These platforms are a MUST:
When researching social media management tools, the options can be overwhelming.
Not all social media scheduling tools can integrate with all social networks.
For example, apps like Planoly only post to Instagram — and apps like Later don't include integrations with LinkedIn.
So make a list of which social media platforms you and your clients use.
Then rule out the tools that don't support your favorites.
2. How many users & accounts do you manage?
Consider how many users are on your team and how many accounts you'll be managing.
SMM tools price their products in tiers. And the price increases after a certain number of users.
Think of your client roster and your goals.
You can always upgrade later when your team grows.
But make sure the plan structure makes sense for your team and clients.
3. Features & capabilities
What features and capabilities will work best for you and your clients?
What do you need your social media management and scheduling tool to do to make your life easier?
Are you investing in a tool to save time and boost social performance (and business results)?
You don't want a tool that's going to take more time and work to manage. The goal is to save you time, so consider each tool's capabilities.
For example, do you want to add industry specific content to a bucket and automatically distribute the content at certain times of day?
Do you need your management platform to have a built-in analytics feature?
Think about what features you need to help you get things done quicker.
4. Ease of use & user experience
At some point, we've all had a bad user experience with a tool or product.
Friction in user experience leads to frustration. Afterall, there's a reason why 70% of customers abandon a purchase because of poor user experience.
While some tools have a beautiful and intuitive interface, others are harder to learn and maintain.
Consider which ones are easiest to use.
Some platforms have features that focus on larger teams. Those platforms might prove to be too much to maintain for smaller teams as you don't need all those specific features.
It also comes down to personal preference.
What do you like using? What does your team like? How do you work?
5. Analytics & reporting
Data is key to knowing what's working and what isn't.
If you have clients, they're likely measuring their success by their ROI from your service.
Even if your clients don't know what metrics they're shooting for, insights can give good reason to keep working with you.
Make sure your social media management tool has analytics capabilities that help measure your key performance indicators (KPI's).
Look for the tracking of metrics you need.
6. Customer Support
Does the platform have an educational library of learning materials?
Does it have video tutorials?
Does it have information that's easy to search and understand?
Does it have a support team that's easy to reach?
Having access to good customer support can remove a lot of the typical roadblocks that stand in your business's way.
7. Customization
Can you customize features the way you need them?
Can you create custom streams of shareable content for your industry?
Can you create custom posting plans?
It might take signing up for a free trial to see whether the platform has the customization you need.
8. Pricing & Value
It's GREAT when you find a product that fits your budget AND gives you amazing value, right?
In the world of social media scheduling and content curation tools, you'll find options anywhere from $548/month up to $1000s per month.
And a higher price doesn't necessarily mean better value.
In fact, let's discuss one of the highest-priced tools on the market: Hootsuite 😉
And let's talk about a super valuable and low-priced alternative: Post Planner
The best Hootsuite alternative: Post Planner
Efficient companies and small teams are always looking to cut costs.
The plethora of amazing tools and technologies coming to market make these easier every day.
Post Planner is one of those tools.
Post Planner gives businesses the features and support they need — all at an unbeatable price.
You don't need to spend hundreds (or thousands) each month on a social media scheduling tool for a small team.
Ok, but...
Is it worth the risk to switch from a reliable but costly tool like Hootsuite?

Are there free alternatives to Hootsuite?

Are they any good?
You don't want to get used to a new tool only to find out you lost time and money on worse support, features, dependability, and usability.
Why is Post Planner better than Hootsuite?
Let's stick to the facts — comparing features and acknowledging reviews about Post Planner.
For example:

(Side note: Post Planner includes Instagram as of 2021)
Post Planner is similar to Hootsuite in a few ways.
It offers comparable features, functionality, support, and gives you control over automation for social media content curation, planning, and scheduling (which saves you time).
Hootsuite is geared toward medium to large businesses.
So if you're a solopreneur or small business, you might not use only half of Hootsuite's extensive features.
Post Planner offers the most sought-after features and functions that Hootsuite offers — but at a fraction of the cost.
If you manage 20+ social accounts or need 3+ users, you'll need their Business plan, which costs $7,188 (plus applicable taxes) per year.
The month-to-month plan will cost you even more.
Is there a free alternative to Hootsuite?
For the software experts out there, there are alternatives to Hootsuite that are open source and very technical.
But for most entrepreneurs and SMBs, you probably want a tool that's ready to "plug and play."
Most platforms offer free plans, but you're limited to only a couple of profiles, posts, and features.
Because of the limitations, most businesses choose to invest and get a better value option.
If you want to try an affordable tool, try Post Planner's basic plan — it's $5/month (billed annually).
The best bit?
You get the best scheduling features, much of Hootsuite's value, and extra features (like content streams) — at a fraction of the cost.
Features comparison: Hootsuite vs. Post Planner
One of the most popular features of Hootsuite is scheduling and automating posts to multiple social media platforms and accounts.
You connect your accounts, set your schedule, choose the types of posts you want to publish, and set up your automation. The tool does the rest.
But Post Planner does all of this and more (for less $$$ than Hootsuite).
With Post Planner, you get all the main features that made Hootsuite one of the biggest names in social media management.
Here's a features comparison between Hootsuite and Post Planner.
See if the platforms cover the features you need to run your business optimally.
Publishing & scheduling features
Post Planner
Hootsuite
Networks:

Facebook
Twitter
Instagram
LinkedIn
Pinterest
Google My Business

Facebook
Twitter
Instagram
LinkedIn
Pinterest
Google My Business
Youtube

Scheduling & automated posting

Flexible options for content distribution

Recycle top-performing content

Easy custom formatting for each network

Shuffle posts

Upload posts in bulk

Visual content calendar

Repeating scheduled posts
Content features
Post Planner
Hootsuite
Basic content curation

Content streams (collections of content feeds from public social media accounts)

Content streams from industry experts

Viral content

Content sources

Facebook
Twitter
Reddit
Google
RSS feeds

Facebook
Twitter
RSS feeds
YouTube

Content types

Stock media
Viral images
Brand mentions
Viral GIFs
Viral videos
Viral articles & links

Images
Brand mentions
GIFs
Videos
Articles & links

Filter content by age, type, source

Quotes & questions library

5-star scoring of content (to help you choose top-performing content and predict post success)
Analytics & reporting
Hootsuite
Hootsuite offers an Analyze platform to analyze your performance across social platforms.
It gives you customization opportunities and custom reports. However, you'll have to upgrade.
It costs an extra $49 or $75/month, depending on if you're paying yearly or monthly.
Want to measure ROI, campaign performance, and gain a deeper understanding of audience engagement?
You can, but you'll need to opt in to another product, called Hootsuite Impact.
Post Planner
Post Planner offers an analytics dashboard with post engagement metrics and the ability to sort posts by performance — and then easily re-post to the same or different profiles (in one click).
While supporting overall business goals is one of the main challenges social marketers face, Post Planner helps you use social analytics to post better content and improve engagement and reach.
Support
Hootsuite's support
Most review sites list hundreds of 1-star reviews saying Hootsuite's customer service is severely lacking.
Not being able to get your issues resolved promptly is not fun! And it damages your business.
Post Planner's support
You get a helpful library of Q&A's and 24/7 live chat and email support, no matter which plan you choose.
If you read reviews on Post Planner, you'll find a many comments about the high-quality and personal customer support offered by Post Planner's team.
Content Curation
Hootsuite's content
With Hootsuite, you can curate content by platform, hashtag, keyword, and other factors.

It has integration capabilities with apps like HubSpot, Mailchimp, Salesforce, and the most popular social media channels.
Post Planner's content
Post Planner's recommendation engine scrapes the social web constantly and surfaces top-performing content that will resonate with your industry and audience.
Enter a keyword — or any Facebook page, Twitter account or Reddit subreddit — and Post Planner will pull all the top-performing content from those sources — to get inspiration or share to your social profiles.
Social media managers know that finding and repurposing content is a huge time-saver and the key to raising engagement.
Post Planner helps you find high-performing content in your niche that your fans and followers will love.
Post Planner makes content curation easy with:
Content Streams: these allow you to aggregate 10, 20 even 50 social media feeds into a single stream — and then cherry pick all the top performing content from those feeds. And you don't have to build all these streams yourself. Over the years, our customers have built thousands of industry-specific streams which you can save to your own library of streams

Quotes & Questions Library: this is a library of status ideas, which you can search by name or keyword. So if you want hundreds of quotes from Gandhi, for example, just type in "gandhi" and voilà! You'll never run out of ideas with this library available

5-Star Ratings of Content: this rating algorithm shows you the top-performing content from any Facebook page, Twitter account, Subreddit or blog.
CLICK HERE to see a full breakdown of Post Planner's features.
Pricing comparison: Hootsuite vs. Post Planner
If 2 products offer similar functionality, features, user experience, and customer support, then the differentiator is often price.
This is especially true for companies tightening their budgets or for startups that don't have a load of cash to throw around.
You don't have to throw thousands of dollars to the "big name" tools to get results.
That being said — let's break down the price differences and plans between Hootsuite and Post Planner.
Hootsuite's Plans
Hootsuite offers the following plans and pricing based on their annual billing plans (before tax).
If you're looking for a month-to-month option, expect to pay up to 30% more.
| | |
| --- | --- |
| Professional | $49/month |
| Team | $129/month |
| Business | $599/month |
| Enterprise | Contact them for custom pricing (i.e. $$$$) |
And according to a Hootsuite competitor on Hootsuite Pricing, we're talking the $18,000/yr kind of expensive...
Each of these tiers comes with a 30-day free trial, but be prepared to spend at least $49/month afterward if you sign up for the minimum plan for a year.
Post Planner's Plans
Post Planner also offers 4 tiers of plans. All plans include 3 free months with an annual plan.
Here's the monthly cost breakdown for annual plans:
| | |
| --- | --- |
| Starter | $5/month |
| Solo | $19/month |
| Business | $29/month |
| Venture | $79/month |
Notice the difference in comparison to Hootsuite?
The Venture plan gets you:
50 social profiles

10,000 scheduled posts

36 posts per profile per day

8 users

Content discovery

Media library with 10Gb storage

Canva's design tool

Bulk scheduling

Brand mentions

and more...
The above features are more than enough for small to medium-sized businesses.
CLICK HERE to learn more about Post Planner's plans and pricing.
Other Hootsuite alternatives
Let's run through a quick list of 8 Hootsuite competitors that you may also consider using.
There's no one-size-fits-all tool. So be sure to look for answers to the questions we discussed above when considering these tools.
Find what's best for you.
1. Buffer
Free for 3 social channels and 10 scheduled posts, but 99% of businesses will need more.
The next tier up is $15/mo for 8 social channels and 100 scheduled posts.
Analytics plans are separate from Publishing plans.
2. Sendible
You can get 2 users and connect 12 social profiles starting at $49/month.
3. Eclincher
Basic plans start at $59/month for 1 user and 10 social profiles.
4. Heyorca
This is a pricier option at $84/month per calendar for up to 10 social profiles.
5. Loomly
After your 15-day free trial is up, the base plan is $25/month for 2 users and 10 social profiles.
6. Contentcal
The bottom tier plan is annual-only, at $204/year for 1 user, 1 calendar, and 4 social profiles.
7
. SocialPilot
You can get started with 1 user and 25 social accounts for $306/year if you go with the annual plan.
8. Agorapulse
There's a free option for 1 user and 3 profiles, or upgrade to 2 users and 10 profiles for $79/month, billed annually.
Why is Post Planner the best alternative to Hootsuite?
BIG name and BIG price does NOT equal BEST value.
Post Planner offers all the social media scheduling and curation features of Hootsuite at a fraction of the cost.
Post Planner offers one of the best deals on social media management tools on the market today: a Starter plan at just $5/month with 3 months free on an annual plan.
You get
3 social profiles

300 scheduled posts

12 posts per profile per day

1 user
Plus, you get extensive content discovery with the media library and tons of features.
Get started with Post Planner for just $5/month
Post Planner offers great value to solopreneurs and SMBs — at an affordable price.
With Post Planner, you'll have everything necessary to increase engagement, grow your accounts, curate content, post consistently, and report to clients.
Post Planner offers a 30-day 100% money-back guarantee, so there's nothing to lose.
Check out Post Planner plans to get started.