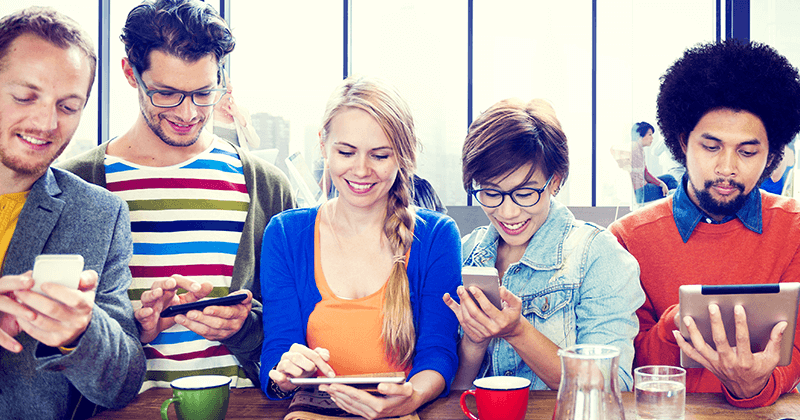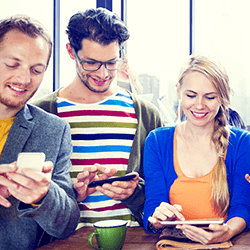 What is the best social media post planner for 2023?
Read on to find out!
This article gives you the 8 best tools to manage social media posts right now.
These tools will help you:
Save time

Find better content

Improve engagement

Increase brand consistency
Trust me. I know there are A LOT of options out there.
Which is why I tried and tested the top 8 social media post schedulers myself.
This post will let you know my findings and which I think are best for different types of marketers.
(Looking for a free option with the best all-around post scheduler? Try Post Planner today!)
The Best Social Media Post Planner: 8 Tools Compared
For a tool to claim the "Best Posting App" title, it needs to save you time WHILE drastically improving your online presence.
Is that even possible?
The short answer is "YES!"
Read on to figure out how to get the MOST use out of the best post planning apps on the market.
This post will teach you: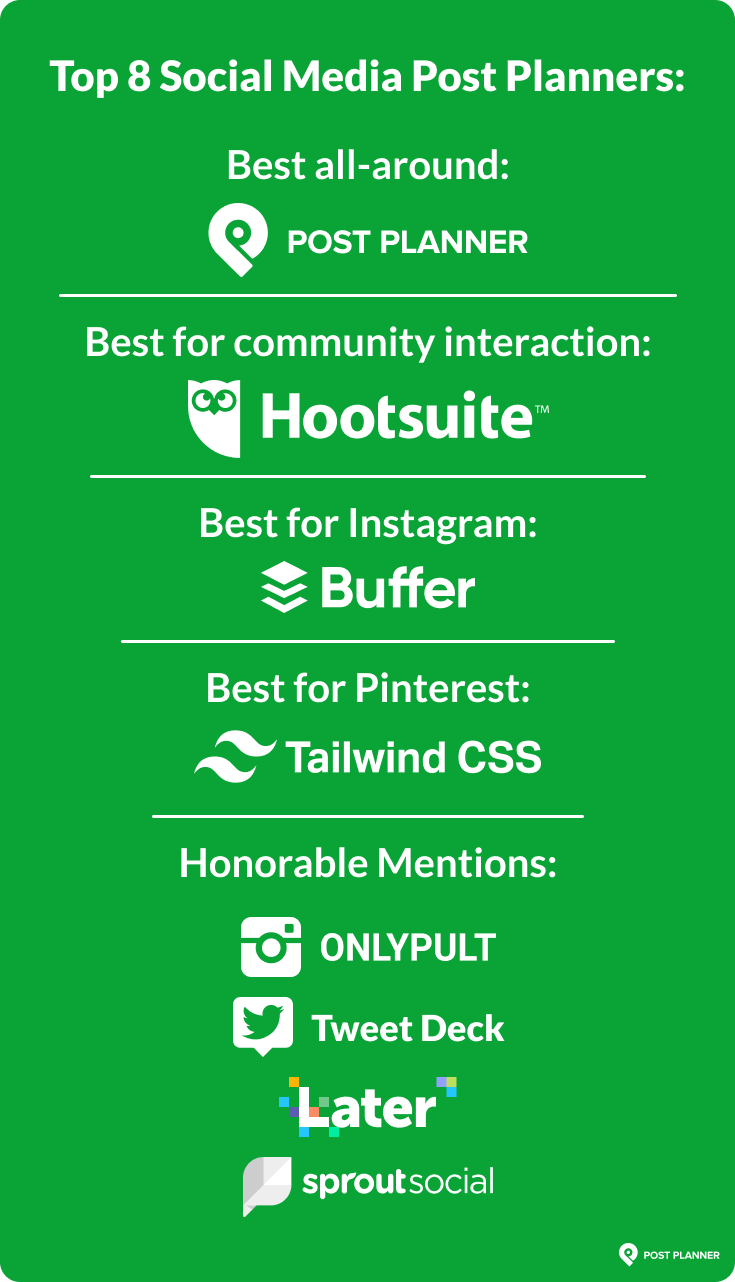 Why you need a social media post planner
Couldn't you just do what a social media posting tool does by yourself?
Won't you save money by just doing it yourself?
It's possible, but consider how much it'll cost you in the long run.
Your content will suffer because you can't scour the whole internet like a post planner tool can.

You'll sacrifice precious hours looking for content that you could have spent interacting with your audience.

You'll end up dreading the time you spend on social media, which will decrease your pages' quality over time.
On the other hand, think of these 4 benefits of using a social media posting planner.
1. Save time
Scheduling social media posts can save businesses owners 6 hours or more EVERY week.

The very first benefit that you'll notice is how much time you SAVE.
A post planning app can save you time in 3 ways:
It constantly scours the internet for the best content (even while you sleep).

It allows you to schedule content in advance instead of working on posts every day.

It posts your schedule posts for you, so you don't even have to log in to post your content.
Time is your most valuable resource as a social media manager.
So automate your social media posting to save time so you can work on other tasks.
2. Find better content
Most people notice an IMMEDIATE improvement in their content when they start automating their posting.
For example, think about everything you have to do to find good content for Facebook manually:
Log onto your Facebook.

Search for keywords in the search bar.

Spend hours looking through dozens of pages (most of them are worthless) before you find anything good.

Repost the content for your followers.

Repeat the process every single time you want to make a post.
On the other hand, consider how easy the same thing is on Post Planner.
Long into Post Planner.

Look at the curated content for your niche.

Add any post you want to your calendar.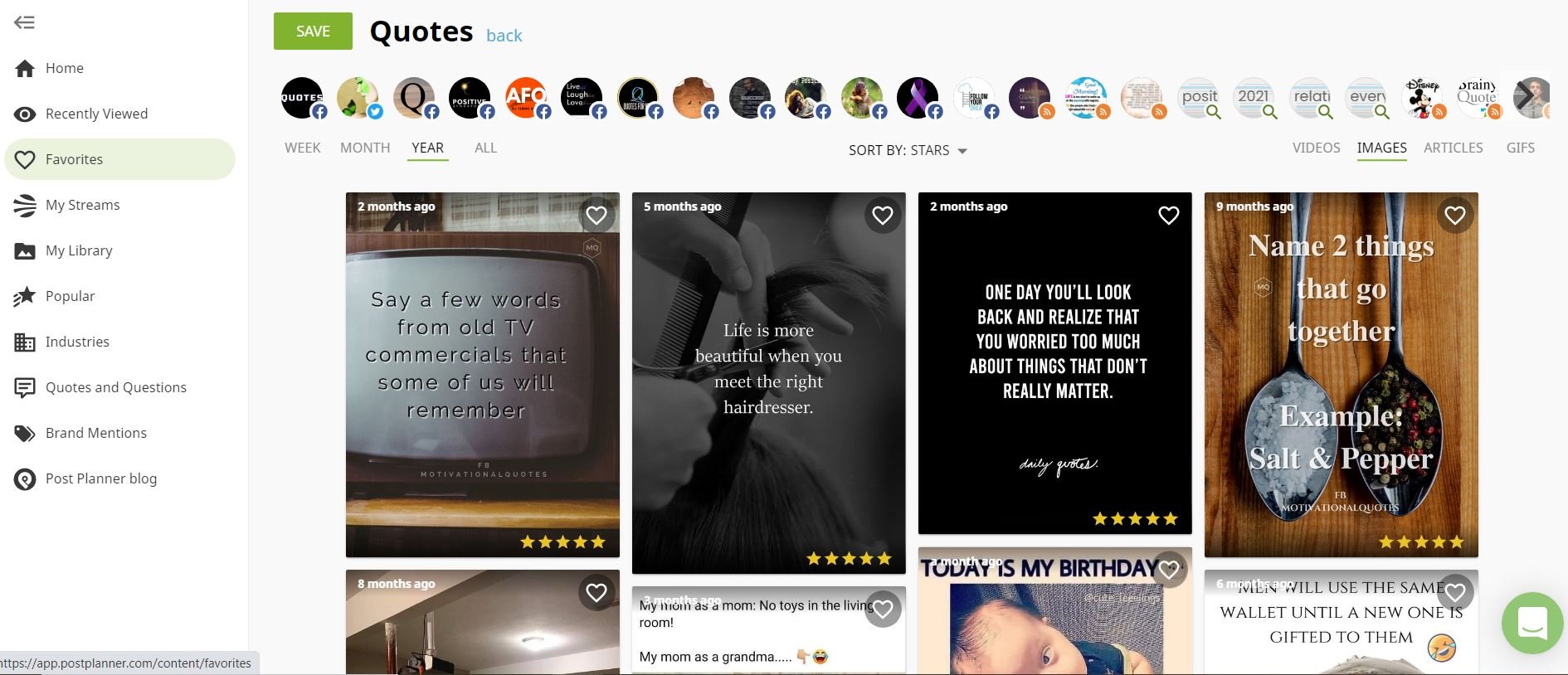 The wealth of content available makes it so easy to find BETTER content.
3. Improve engagement
When your content improves, so will your engagement.
Why?
Put yourself in your viewers' shoes.
How do you respond when you see lame, boring, and unhelpful content?
You probably just keep scrolling.
On the other hand, great content encourages viewers to like, comment, and share.
More shares equals more views, which equals more followers.
See the difference?
In other words, get ready to see your engagement explode when you start using a social media post planner.
4. Post more often
One of the worst things that can happen to your social media is for people to forget about you.
Unfortunately, it's easy for that to happen if you hardly ever post (because it takes you so long to find a good post).
Posting tools solve this issue by making it SUPER easy to post frequently.
Why?
Frequent posting keeps your content in front of your viewers, which keeps them from forgetting about you.
For example, I can quickly schedule 15 or 20 posts in a couple of hours using a post planning tool. Which means I can schedule a post for every other day of the month in a SINGLE sitting!
3 Tips for improving your social media post planning
Before we dive into our list, let's quickly look at HOW to plan the most effective social media strategy possible.
If you follow these tips, you should increase your engagement and grow your follower base quickly.
1. Vary your content
Nobody likes a page that constantly posts self-advertisements.
It's boring, unoriginal, and ineffective. Instead, you should be focusing on varying your content to keep your page fresh and engaging.
Particularly, focus on visual content like:
When making a text-based post, try using visual content to grab the viewers' attention.
2. Recycle your best work
When you make an awesome post, you shouldn't let that hard-won success go to waste!
Recycling your best content seems like cheating, but it's a widespread and highly effective strategy.
You should never create a social media campaign that is EXCLUSIVELY recycled content.
However, recycling great content on occasion will boost your engagement while still saving you time. (Especially, when you have tested content before.)
It's a win-win!
3. Find proven content
Finally, don't stress yourself out trying to reinvent the content wheel.
In other words, don't labor at making your own content every single day when there's so much great content already out there!
Instead, find content from influencers in your niche, then repurpose it for your own page (giving credit to your source!).
There are several advantages to repurposing content instead of making your own:
It saves you time (if you know where to look).

You know before you post whether that piece of content is successful or not.

You will be able to provide consistently higher-quality content compared to making your own.
Keep in mind, however, that you should always mix your own content with curated content. If you never generate anything original for your followers, they might get bored of your page.
8 of the best post-planning apps
If you do a quick Google search for "social media planning tools," you'll quickly see that there are TOO MANY tools to count.
We've tried the most popular social media post planners, and we've put together a list of the top ones.
In addition, we've categorized them by the uses that they accomplish best.
For example, we've categorized Post Planner as the best app for content curation and scheduling Facebook posts. We encourage you to read the whole list instead of jumping to any particular tool so you can get a feel for what's available.
1. Best app for content curation & scheduling social media posts:
Post Planner
Efficiency is key in social media management.
I look for efficiency when deciding on the best tools to manage social media posts.
And EFFICIENCY is the word I think of when I use Post Planner.
Originally, Post Planner was an app optimized for Facebook. It helped brands deliver the most relevant content to their communities.
However, these days, Post Planner is a tool for finding, planning, and posting content on:
Facebook

Instagram

Twitter

Pinterest

LinkedIn
Post Planner also has its own built-in Content Studio!
When you create a post, and you want to pair it with awesome visual graphics, it's easy to create a visual using Post Planner's Content Studio.
For example, let's say I wrote a post about coffee. All I have to do is:
Open Post Planner's Content Studio

S

earch for background images and quotes for "coffee."

Pick something out that I like.

Edit it, optimize the filters, crop it to be square, etc.
The example below took me less than 5 minutes and could SERIOUSLY increase my engagement on a social media post.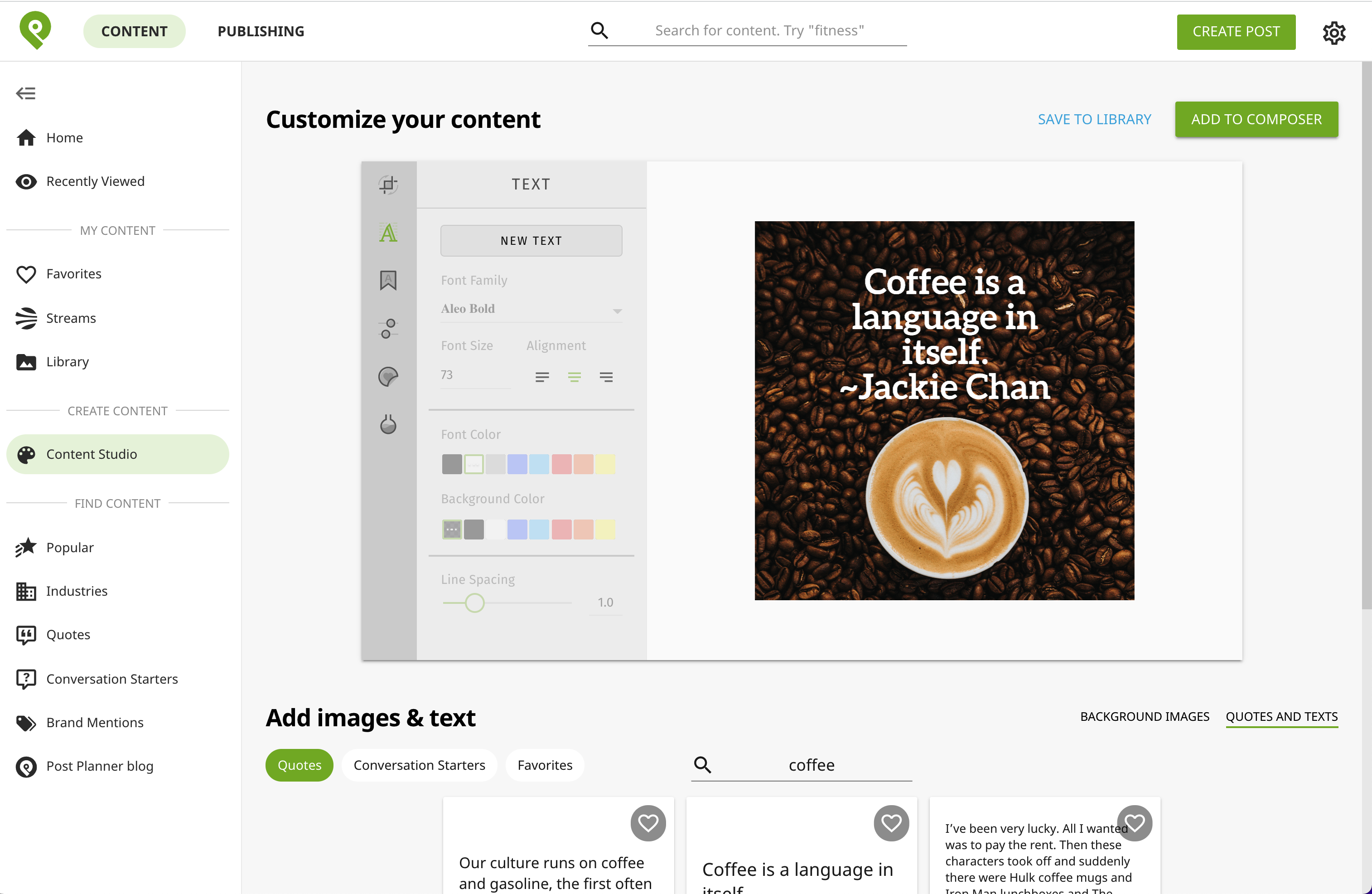 A few more things to like about Post Planner:
You can identify trending content for sharing.

You can recycle content for optimal sharing (great for evergreen posts).

You can do a competitive analysis by searching audience-tested content from other Facebook, Twitter,, and Instagram accounts.

The interface is simple and easy to use.

It's super easy and quick to schedule weeks of content in an afternoon.
2. Good app for community interaction: Hootsuite
Hootsuite is a tool that enables anyone to manage almost every aspect of social media posts. This tool offers social media managers the ability to:
Publish and schedule content, including auto-schedule

Research and identify engaging content

Engage with community

View many aspects of engagement with a multi-stream view

Analyze progress and analytics
One of the strongest points of Hootsuite compared to other tools is the ability to reply to comments on your posts directly from the Hootsuite dashboard.
What's Hootsuite missing?
Hootsuite doesn't have a content database full of the most engaging content on the internet for different industries.
In other words, it won't save you as much time as some of the other tools on this list (like Post Planner).
More reasons to like Hootsuite:
Another strong point for Hootsuite is social media analytics. With Hootsuite, you can check the important metrics for all your social media posts right from the app.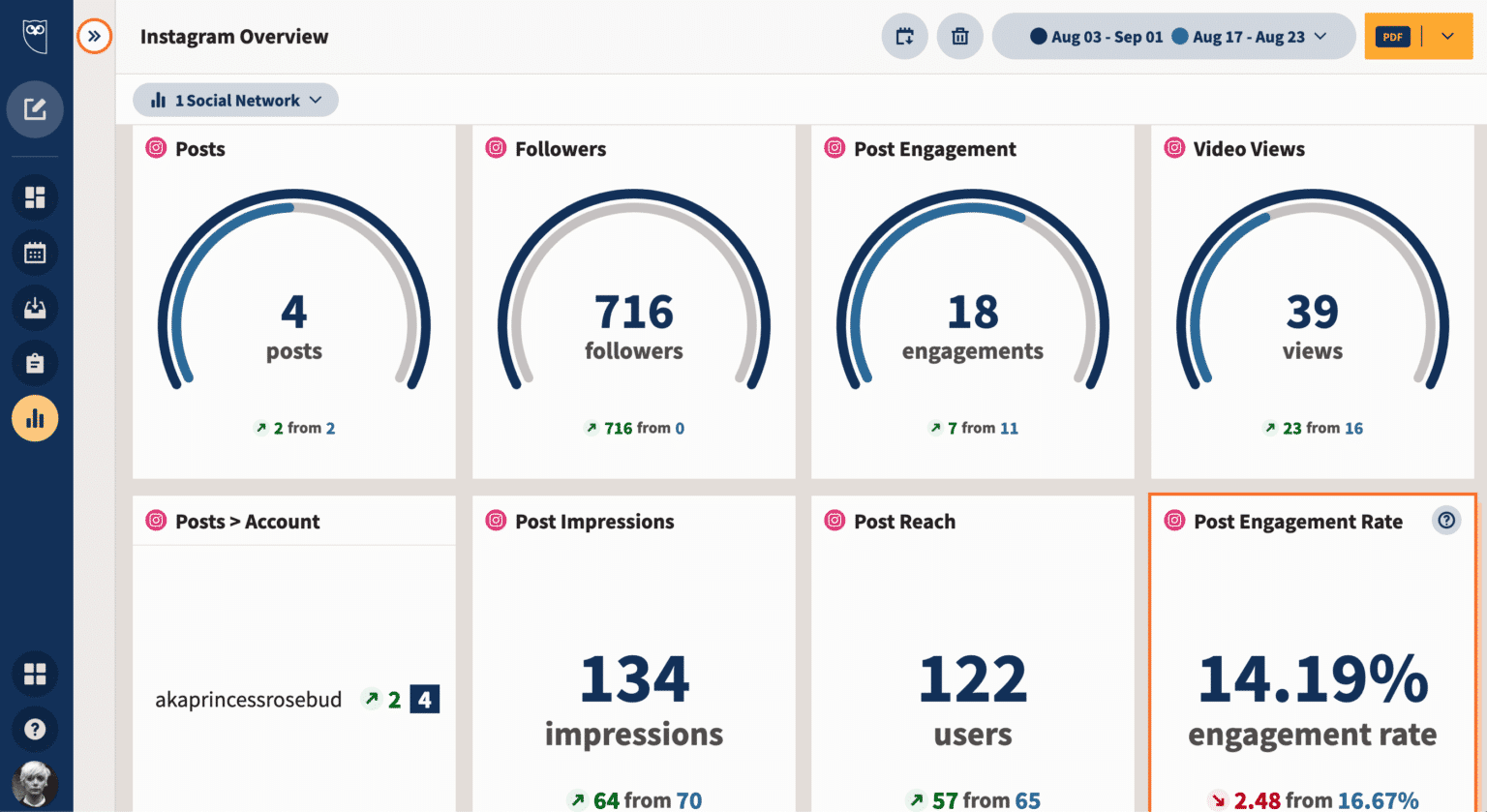 Plus, you can schedule your posts so that they'll automatically publish without you needing to lift a finger.
Hootsuite platforms Include:
Twitter

Facebook

LinkedIn

YouTube

Instagram
Hootsuite is a mature company. It's been around since 2008. They've developed, tested, and improved along the way.
All in all, Hootsuite is a good tool to manage social media posts, especially if you want to post and interact from the same platform.
3. Good app for scheduling Instagram posts: Buffer
Buffer's simple design and UX make scheduling, posting and collaborating an intuitive process.
Social media platforms that can connect to Buffer:
Facebook

Twitter

LinkedIn

Pinterest

Instagram
Even though Buffer can connect to all these platforms, Instagram is where it really shines. It's designed to connect to Instagram's platform with metrics that help you optimize IG strategies.
Buffer also provides scheduling tools that make it easy to plan ahead on your different accounts.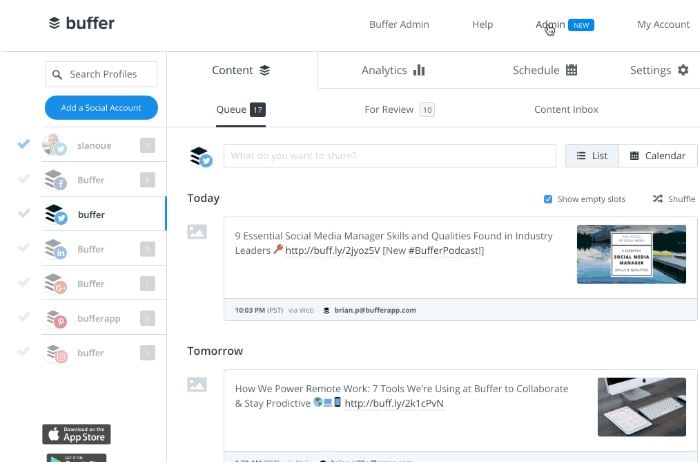 Another strong point for Buffer is the ability to work with a team. There are specific tools that make it easier to collaborate:
Draft a post for the team to see

Review team members' work before posting

Require approval before allowing a post to be scheduled
Simplicity makes Buffer attractive and easy to learn.
What I don't like about Buffer
Similar to Hootsuite, Buffer suffers because it doesn't provide the user with a solution for finding posts. Its suite of tools is excellent for planning and scheduling, but it doesn't allow the user to quickly and efficiently find the top posts in their niche.
Buffer is heavily focused on teams and analytics. If you're just looking for something to help you provide better content for your followers, it may not be for you.
4. Good app for posting on Pinterest:
Tailwind
If you've been on social media for very long, you know that Pinterest is the oddball. This is because almost none of the "standard" social media rules apply to Pinterest.
In other words, it takes a different focus to succeed on Pinterest. Tailwind is designed to give you an advantage on Pinterest.
Like Post Planner, Tailwind lets you 'spy' on your competition and see trending content. Which is valuable because repurposing content from influencers in your niche is one of the best things you can do for your page.
With Tailwind, you can also identify influencers, so you can then use that data to target your content.
There are 2 ways that Tailwind helps you succeed on Pinterest:
1. It saves you time
Whiz through pinning on multiple boards.

Drag-and-drop content into the calendar.

It'll automatically post when it's scheduled.

Use the shortcuts baked into the platform to save time.
2. It maximizes your reach
This optimized system detects the times when your Pinterest audience is most engaged.

Then, just set your posts on autopilot for the best times.

It measures your success

.

It provides deep insights into your published content.

In addition, this info provides data to make future content even better!

The browser extension lets you create multiple pins from any site with one click (pretty nifty!).
The Tailwind dashboard makes it easy to interpret your Pinterest data. It provides info about followers, likes and dislikes, and even trends of pinning habits.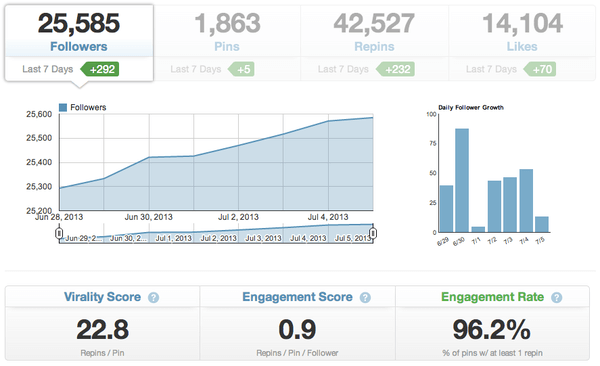 It's all right there on the interface. It's easy to understand exactly how your pins are performing with this detailed data.
Social media marketers can use this data to learn what resonates with their audience (from keywords, to topics, to types of images).
What I don't like about Tailwind
Tailwind has excellent resources for Pinterest, but it's only compatible with 2 social media channels:
If you want to use your posting tool with other social media channels, you'll have to have a subscription to another service as well. This could be cost-prohibitive for many users.
At the very least, it's a pain to have multiple apps just for social media planning.
Honorable mentions
Sophisticated Twitter marketers know it's necessary to manage multiple Twitter conversations across many accounts. But, even more importantly, they know that they need to manage them all from the same place.
That's where TweetDeck shines!
It allows you to control multiple Twitter channels from one dashboard. That means you can stay in complete control over all of your Twitter conversations without having to log out complicated navigation.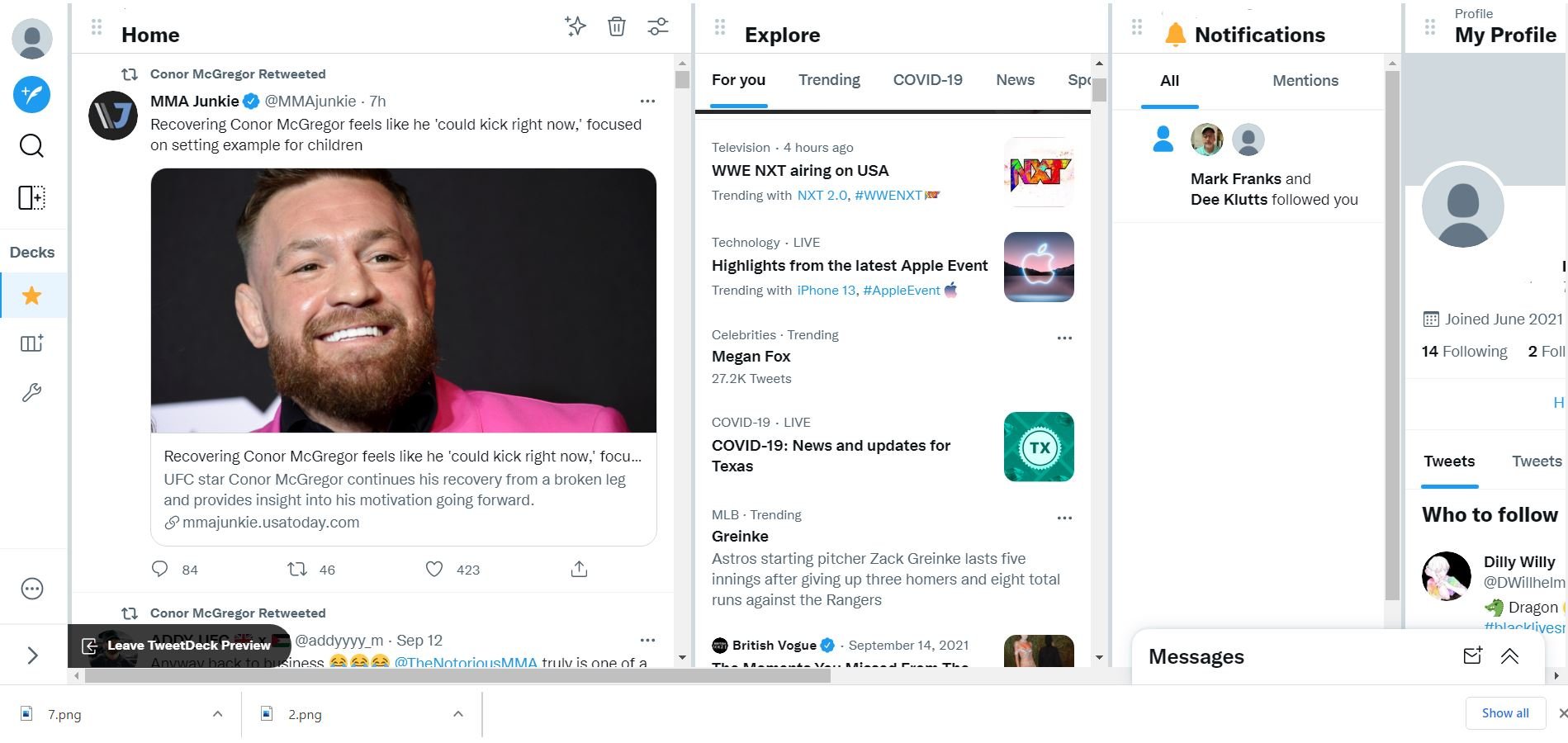 One major advantage of using TweetDeck is that it's free.
Yep, you read that right. It's FREE!
Plus, the scheduling feature on TweetDeck is very intuitive.
All you have to do is type out your tweet (include a link to your website!), then click "schedule."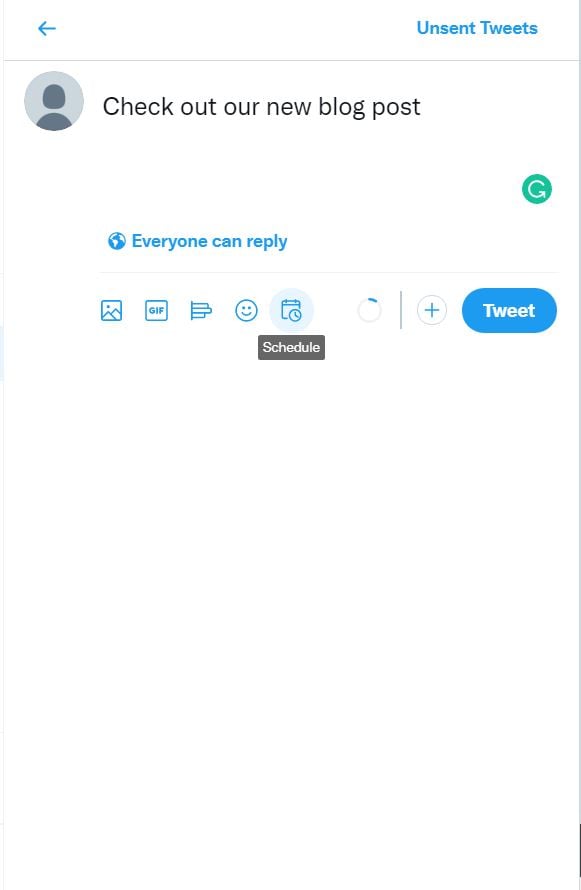 A major advantage of Tweetdeck is its RT/ Quote RT feature. You can retweet tweets from any of your connected accounts.
In other words, if you see a tweet that you want to retweet, you can choose which of your accounts to retweet it from. If you have 5 accounts, you may only want to retweet it on 2 of them. TweetDeck makes this very easy.
Every social media pro finds content on one stream and looks for its relevance to another — so this option on Tweetdeck adds a ton of value.
What I don't like about TweetDeck
TweetDeck is the perfect tool for keeping up with your Twitter feed and being able to keep up with conversations better. However, it doesn't provide much as far as content discovery goes.
For example, I can't search TweetDeck to look for content about certain keywords. If I want to see content, I have to follow the people that I want to see.
In addition, TweetDeck only deals with Twitter, which is a bummer if you work on various platforms (which most of us do).
Later is currently one of the most popular post planner tools for Instagram. Some of its standout features are:
Drag-and-drop style scheduling

In-depth Instagram analytics

Content research to find the best posts to repurpose for your pages

Personalized insights to help you improve your content and engagement
Using Later as an all-in-one solution for Instagram is a massive help for Instagram-focused marketers.

What I don't like about Later
Even though Later is compatible with TikTok, Pinterest, and LinkedIn, it's more heavily focused on Instagram. That means some of the features are only going to work on Instagram, even if your other social media accounts could benefit from them.
Also, Later is Instagram-focused, which is a visual platform, but they don't offer any graphics integration like Canva. That means you're going to have to use another software or design your own posts.
Onlypult allows you to spy on your competitors' social media strategies so you can refine your own.
One of Onlypult's best features is that it allows you to manage multiple social media channels from a single platform. It's incredibly easy to switch back and forth between multiple platforms so you can keep your whole strategy in front of you.
Onlypult will also analyze your followers' patterns and help you decide on optimal post times. That means your social media strategy will just get better and better with time.
A final benefit of Onlypult is that it offers an app so you can continue to keep up even when you're not near a computer.

What I don't like about Onlypult
Even though Onlypult allows you to follow your competitors' strategies, it doesn't offer a full-blown content discovery system.
One of the most important things about a social media planning tool is how much time it can save you. If you're looking to save as much time as possible, you'll have to subscribe to another tool to discover reusable content.
Last but not least is Sprout Social. Sprout Social has been around since 2010, so it has the experience to make your social media strategy much better.
Some of Sprout Social's standout features are:
A content discovery tool

Teamwork features like shared calendars and content approval

Scheduling and suggested posting times

C

anva integration URL tracking
Sprout Social can be used with:
Twitter

Instagram

Facebook

LinkedIn

Pinterest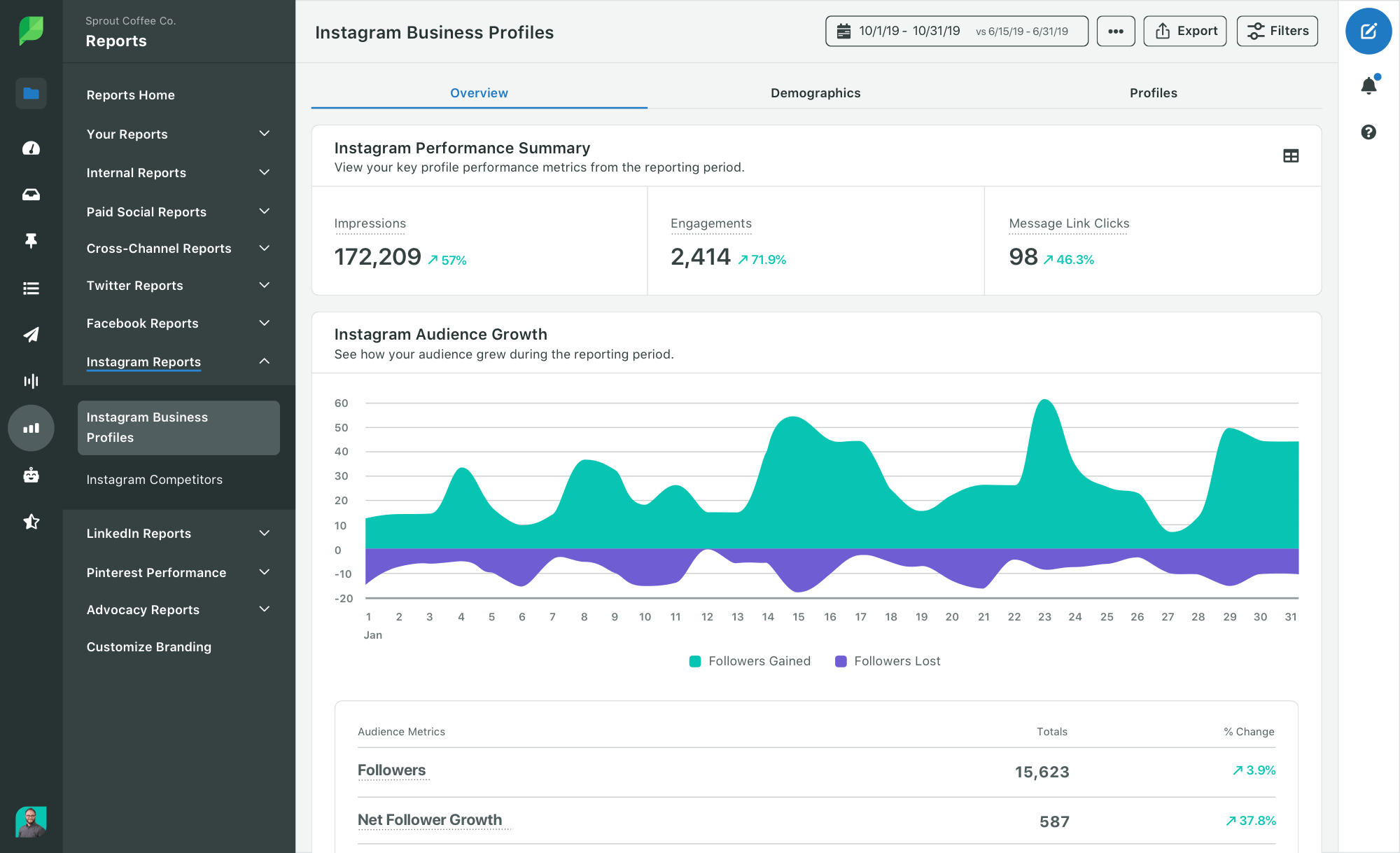 My favorite thing about Sprout Social is how comprehensive it is. It offers a wide variety of tools that can help you improve your social media posting in almost every way.
What I don't like about Sprout Social
One of the drawbacks of Sprout Social is the cost. It might be cost-prohibitive for smaller businesses that can't afford a large subscription fee for social media management.
Second, even though Sprout Social offers some content discovery capability, it isn't the focus of the program. This might not be an issue for some people, but many users will find that it's a drawback for them.
The all-around best social media post planner
So now you're familiar with 8 of the best social media post planner tools on the market.
How do you decide which one is for you?
For most people, we feel like Post Planner offers a great blend of value, features, and time-saving awesomeness. That's why we're humbly naming it our top pick for best posting app.
Let's take a deeper look at some of Post Planner's features that make it so valuable.
How to get the most out of Post Planner
A social media tool is only good if you know how to use it, so we're going to look at how to get the most out of your Post Planner.
We recommend signing up for a free trial so you can test these features out for yourself.
1. Create schedules
The core function of Post Planner is the scheduling feature.
It makes it easy to put all of your social media channels on a schedule.
To set up a schedule, click on the "Publishing" button, then click "Posting plans" on the left-hand toolbar.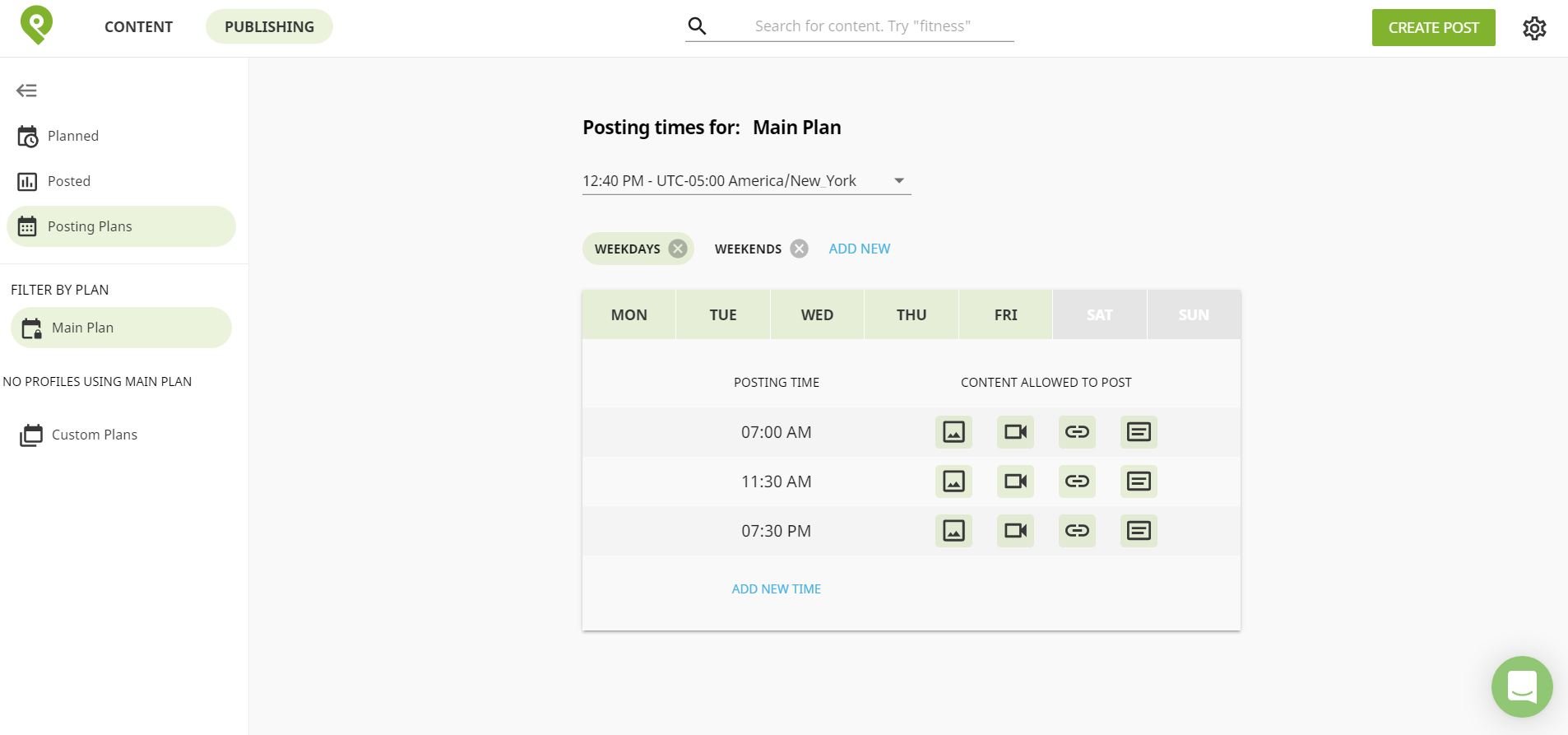 Then, just follow these steps:
Decide which social media accounts will be on which schedules.

Choose different posting times for different days of the week.

Select the types of media that will post on each day and time.
That's it!
As you find content to post, your calendar will automatically fill up with no further action on your part.
You won't even have to log into your social media accounts to post!
2. Find or create content streams
Your posting schedule won't do you much good if it's not full of content, so that's our next step.
Navigate to the "Content" tab on the top of the page.

Look through popular content like quotes, best of Twitter, etc.

Search for niche content using the search bar at the top of the page.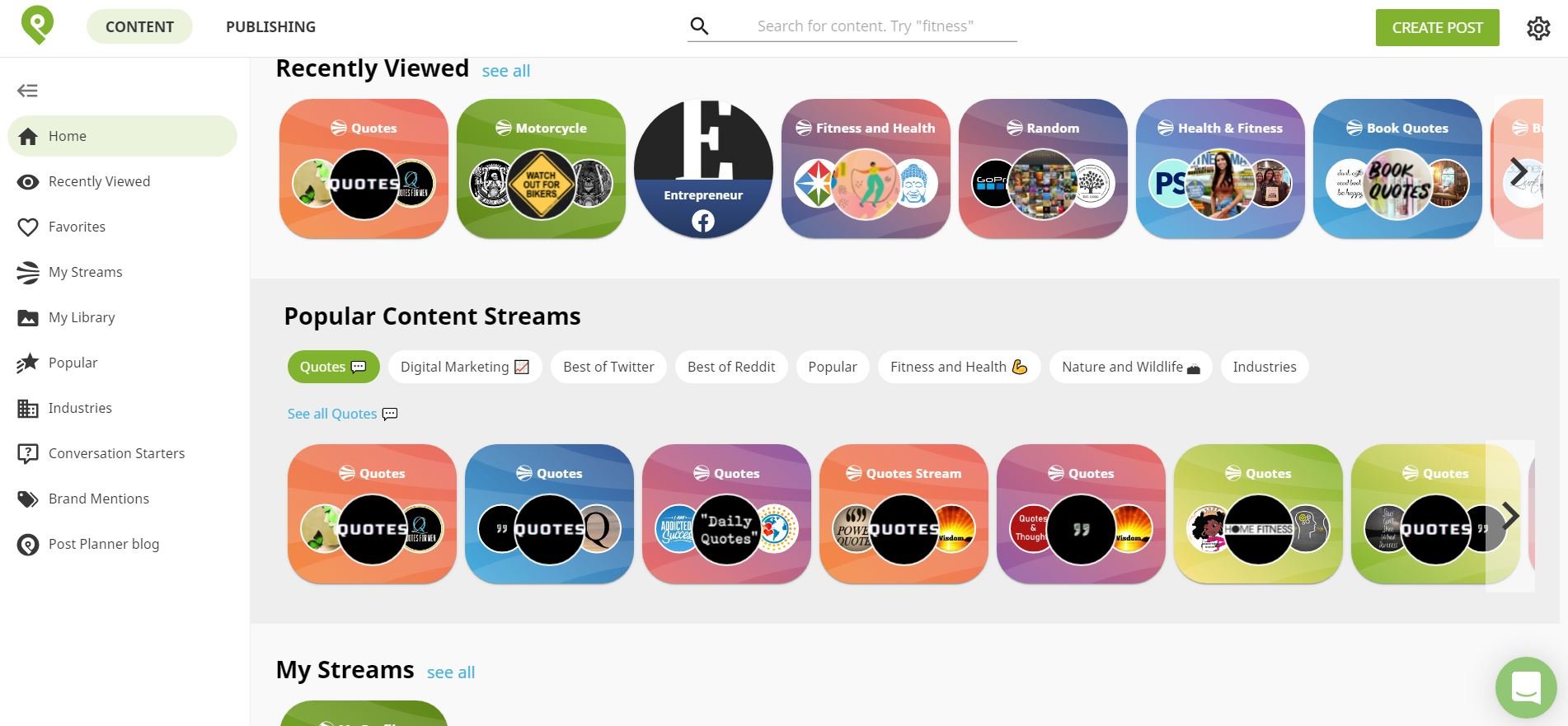 Once you find the perfect content stream for your niche, it's incredibly easy to go through it and add posts to your schedule.
When you find a piece of content that you think your followers would enjoy, just click "Create Post."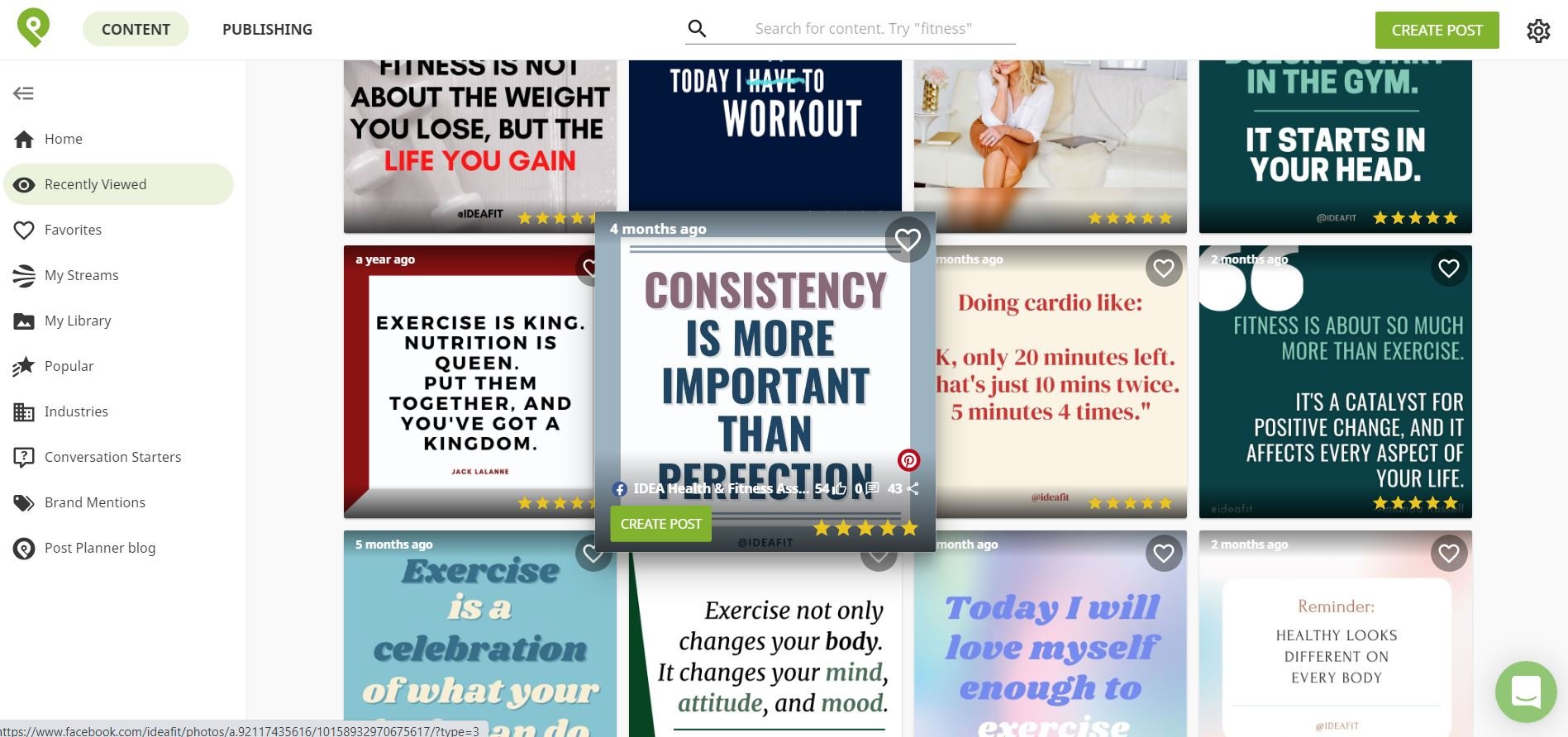 Create a caption, then add it to your calendar.
3. Automatically recycle your most popular content
So, what do you do when a piece of content knocks it out of the park and gets incredible engagement?
There are 2 things you should do:
Find more content like that.

Recycle it so that it reposts every now and then.
Recycling content is easy and effective with Post Planner. When you're creating a post, simply toggle the recycle button. Now, that post will automatically be recycled in your calendar.
Final thoughts
So there you have it — a review of the 8 best tools to manage social media posts, as well as our top pick.
Ultimately, the ones you decide to use will depend a lot on what your goals are — along with some personal preferences sprinkled in.
Regardless of your industry, you probably want tools to be able to:
Switch between platforms easily while engaging with users in a meaningful way

Find proven, engaging content to post without spending a ton of time looking for it

Track, analyze and tweak your strategies with easily accessible data
Doing all these things often requires a combination of tools. Try all of them, then pick your favorites to make sure that you stay on top of your social media game.
It's important to remember that saving time on your posting will give you more time to interact with your audience, which will increase engagement and grow your followers.
A social media post planner will help you save time, increase engagement, and turn your page into a lead-generating machine. How have you used a scheduling tool to improve your social media presence?
Let us know in the comments below!