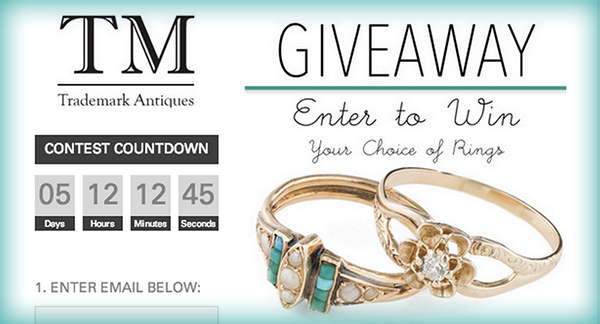 Trademark Antiques is a family-run business.
It was launched by passionate entrepreneurs during the 2008 economic disaster.
Today, they spend a lot of time curating Victorian & Art Nouveau era jewelry -- along with work from later periods.
They have very little time to do much else.
One of the things hobbyists love most about antique & vintage jewelry is that it connects people with their past & invites conversation about a different time & place.
Trademark Antiques wanted to use social media to drive more conversations online.
Time for a Facebook Contest!
Jessica is the head of social at Trademark Antiques. She wanted to use the company's Facebook page to capture emails from 50 to 100 fans.
She knew a Facebook contest was the best way to do it, but she didn't have the time or know-how to set or contest -- or any data on what type of contest would convert.
That's when Jessica turned to the Heyo Sweepstakes Template.
The Results:
In 7 days, the Facebook contest attracted 557 views & 257 new email leads for Trademark Antiques -- a 53% conversion rate.
Jessica added 600 new Likes to the page -- bringing the total fan count to 1,700.

Our Facebook campaign exceeded our expectations. We gained nearly 600 new Facebook fans in the first week, which translated into many new visitors to our online store. We are very excited about the results of our campaign and we're already planning our next promotion.
The success of the Heyo Sweepstakes Template was not a mistake or accident.
It was the result of some important Facebook contest best practices that Jessica followed.
Here are some awesome social media contest ideas & tips that could help make your contest as successful as Jessica's.
How a Small Facebook Page Almost Doubled Its Likes with a Facebook Contest
1. Offer a Strong incentive
Give away something that is directly aligned with what your potential customers & followers are interested in.
The incentive in Jessica's contest was an antique ring.
>> Click to Tweet <<
2. Use Prominent Brand Recognition
By adding the Trademark Antiques logo to her sweepstakes template, Jessica made sure the brand was highly visible.
This branding is critical to quickly build trust with potential contest entrants.
3. Provide a Sense of Urgency
At any point in time a Facebook user could get distracted by a new notification or other social distraction.
Jessica was smart to include a countdown in the Facebook contest to drive users to take immediate action.
This was necessary for getting the more than 50% conversion rate.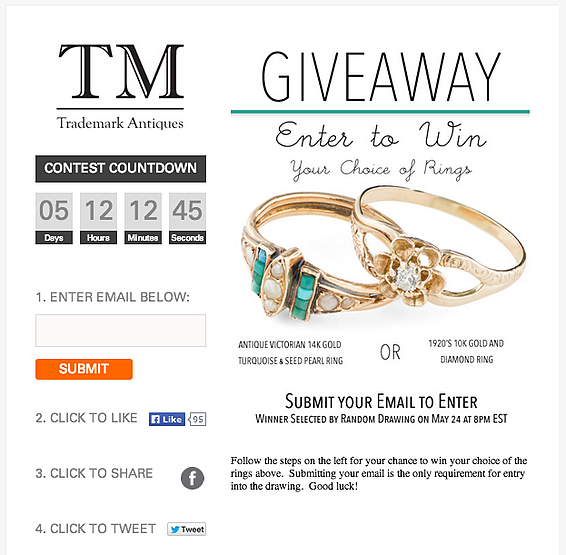 Pro Tip
Don't run your Facebook contest for longer than 7 days.
If fans see they have 45 days to register, they'll leave the contest & may never come back.
4. Make Opt-In Form Easy to Use
This is where most folks screw up.
Making sure your email form is highly visible & easy to use is key.
Most sweepstakes templates (including Heyo) let you link the opt-in form with ConstantContact, Mailchimp, Aweber & other email marketing platforms to easily manage contest signups.
Pro Tip
Put contest registrations in a drip campaign to build deeper, lasting relationships with contest participants.
5. Clearly Explain Rules & Entry Steps
Jessica made it crystal clear how to enter her Facebook contest.
Using the a text widget, she told people that in order to enter they needed to follow the 4 steps on the left side of the form.
Make sure your contest is easy to enter & the rules are easy to understand.
6. Create a Smart URL
Heyo automatically created a Smart URL for Jessica so that when Trademark Antiques fans saw her Facebook contest update on their mobile app, they could easily click & enter.
You may be missing out on half your conversions if you don't make sure your contests work on mobile devices.
>> Click to Tweet <<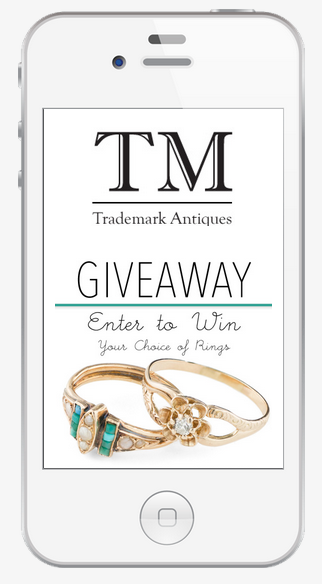 Pro Tip
By asking your fans to Like, share & tweet your contest, you'll get free traffic from their social networks.
>> Click to Tweet <<
Sign Up for our Webinar!
Leveraging Facebook as a key part of your marketing plan doesn't have to be a mystery.
Follow these 6 steps & like Trademark Antiques, you'll be well on your way to finding new fans & capturing emails.
And if you want to learn the secret Facebook Contest Layout that increases Conversion Rates by 10% (with no ad spend):
>> CLICK HERE to Sign up for our Webinar THIS WEEK <<
It's FREE!