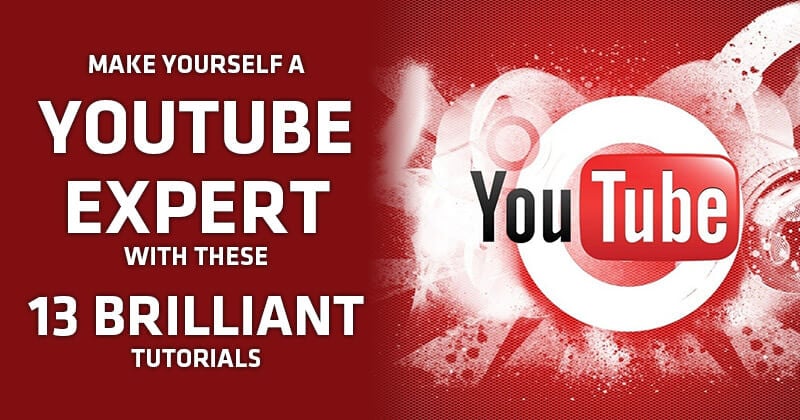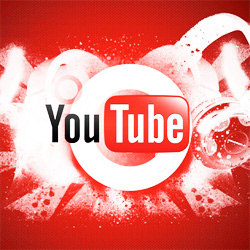 Do you consider YouTube a social media site?
If you're like me, you probably don't.
But guess what? We're both wrong.
In fact, YouTube is the 3rd largest social media site on the planet. And its activity makes up about 20% of all social media activity.
YouTube is also the web's 2nd most popular search engine -- behind parent company Google!
Here's a great graphic by Emarketer showing the number of active users (as a percentage of internet users) on the top social sites during Q1 2013: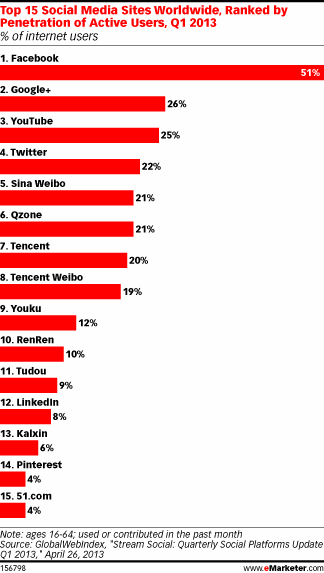 Stats like this make it obvious -- YouTube cannot be ignored.
I mean, we all know YouTube's great for funny videos -- especially cat videos. But it's also probably one of the most important social sites for your business.
Yep, it's up there with Facebook -- and probably more important than Twitter.
So how do you use it as a business?
How do you get started?
What videos should you upload?
How do you upload videos?
What are annotations?
What about ads on YouTube?
These are tough questions. And the answers can be complex -- which is why most of us don't leverage YouTube properly for our businesses.
It's time to change that!
Let's Make You a YouTube Expert
I scoured the web & found 13 articles from leading YouTube experts to help YOU go from novice to expert.
My advice: don't just skim these summaries & move on. Click on each & read them, bookmark them & comment on them.
If you don't take the time to learn from these articles, you're business will suffer.
via SocialMouths
In this article, Francisco shows you how YouTube is essential to a successful content strategy -- and backs it up with solid stats. Go read it!
via How To Make My Blog
Marko gives you some very easy-to-follow tips on how to optimize your YouTube channel. This is a great article to read if you're just starting out on YouTube -- or if you need a refresher.
via Social Media Examiner
In this podcast by Michael Stelzner, he interviews Steve Spangler on how posting free content to YouTube catapulted his career. More importantly, they discuss how YOU can use YouTube to build a brand & business.
via 60 Second Marketer
Once you're on YouTube, you shouldn't just post random videos with no plan in mind. You need to have a branded channel -- but what does that mean? You'll find out in this blog post about video trailers, design & more. Go read it!
via Social Media Explorer
It's not enough just to post a video & then expect people to watch it -- it won't happen. In this post Jason Falls gives you solid tips on how to post videos with SEO & Social Media in mind. Definitely an art to this!
via Heidi Cohen
Heidi offers some very intriguing research about "Generation C" & why so many businesses are failing at reaching them. Read this post & hopefully you'll no longer be one of them.
via Think Traffic
As a business owner, you're on YouTube for 1 reason -- to drive traffic & make money. Gregory Ciotti crushes it with this post showing you how he got 7,000 newsletter subscribers with 1 video -- and the steps involved. Don't skip this one!
Here is the video called "The Science of Productivity" -- I so needed this!

via Content Marketing Institute
Excellent article by Mark Walker that you can read over & over! Mark offers tons of data on why video is so important -- and then gives a bunch of ways to achieve amazing results with it. As a follow up, he gives us 8 steps to execute your video marketing strategy.
via Deliverability
YouTube recently made some changes to Subscriptions that you need to know about. This article will make sure you're updated.
via VidYard
Here Mitch Solway focuses on generating traffic from YouTube -- specifically, on using teaser videos & YouTube annotations. It's probably one of the most effective 1-2-3 punches you can use to convert views into website traffic & conversions.
via Social Media Examiner
Once you have videos up on YouTube & you're getting views, how do you track performance? Brian Honigman shows you how to access insights on YouTube & which metrics are important -- I didn't know YouTube even had Insights!
via Maximize Social Business (formerly WindMill Marketing)
It's been said that those who don't learn from the past are doomed to repeat it. And even though video on social media is still relatively new, the internet is littered with brands that messed it up. Fortunately, they give us the opportunity to learn from their mistakes! Here are 6 mistakes to avoid.
via Casey Zeman
My "GoTo" YouTube expert is Casey Zeman -- hands down. The dude just knows YouTube backward & forward. In this post, he shows you how to get a video to rank on the 1st page of Google! Awesome.
You're now a YouTube Expert!
If you read each of these blog articles, then CONGRATS!
You're now on you're way to becoming a YouTube expert.
If you didn't read them all, then scroll back up & get on it! And share this post with your people, so they can become experts too!