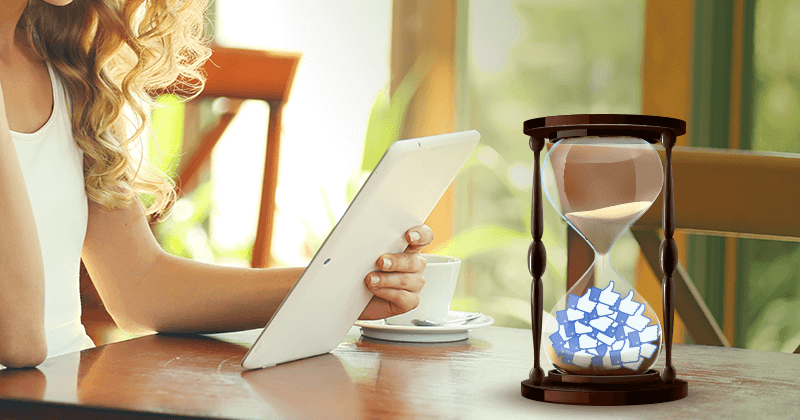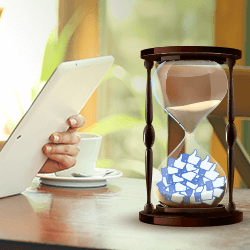 Have you ever gotten stuck in the swirling vortex of Facebook marketing where time seems to go by faster than anywhere else on earth?
We've all had it happen.
You jump onto Facebook for a minute to respond to a comment or check your news feed, and you come up for air 2 hours later wondering where the time went!
Savvy social media marketers know the importance of getting more done in less time.
And when it comes to Facebook marketing -- the fastest way to get better results is to work smarter.
In this post, I'll share 13 quick tips to save time on Facebook.
The key is to combine these tips for a more streamlined, efficient Facebook marketing experience.
13 Quick Tips to Save Time on Facebook Marketing
13 Quick Tips to Save Time on #Facebook Marketing - http://bit.ly/1Vqkxg5 (by @scottayres on @PostPlanner)

Click to Tweet
The Dreaded Facebook Algorithm!
Before talking about how to save time on Facebook, let's briefly touch on why it's such a time suck in the first place. (aside from all those funny pictures in your news feed!)
It's important to understand why brands are having a rough time getting noticed on the platform.
In 2015, Facebook's algorithm update made significant changes to the news feed. This was an effort to enhance user experience and ensure advertisers only reach relevant contacts (and at a price).
The platform utilizes an algorithm (formerly known as EdgeRank) to determine which of your posts are seen by fans on their news feed.
The algorithm uses over 1,000 factors to determine what's shown on the news feed. The idea is to provide fans with an optimal experience by showing them what they want to see.
If you focus too much on selling on Facebook -- your organic reach will be very low.
Promotional posts such as content that pushes people to buy a product, install an app or enter a promotion or sweepstakes have very low organic distribution.
Overall, Facebook changes have made reaching out to customers a lot harder. Businesses are forced to focus more on pleasing their fans as opposed to promoting their products and services.
It's important to understand what kind of organic content resonates most with your audience. Avoid posting too much sales-driven content. Post content that has been proven to be successful and provides your followers value.
Now that you understand these changes, the next important step is to help you manage your Facebook campaign, save time and reach a growing audience.
Let's dive into my 13 quick tips to save time on Facebook. (these are going to come in handy!)
1. Decide When You'll Allocate Time to Facebook (and stick to it!)
One of the easiest ways to avoid spending too much time on your Facebook marketing is to allocate a specific schedule for this type of work.
You may not need to post on your page every day if it doesn't add value. In fact, a single post a week can be enough if that post is good enough to generate engagement from your fans and followers.
Before coming up with a schedule, know which time of the day or week your audience is likely to interact with your content. You can do this by going to your page's Insights. Then click on Posts to see the times your fans are on Facebook: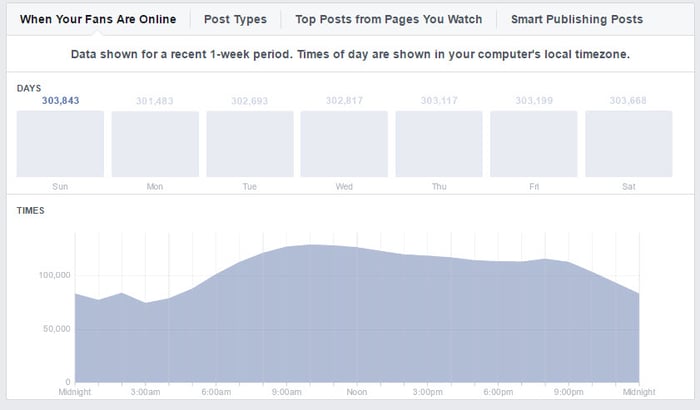 You should also take a look at your previous posts and take note of the times when people are interacting the least. Just because lots of your followers are on at 9am doesn't mean they're interacting with you.
I personally prefer to post before and after the peak times to get my posts on a less crowded news feed.
Schedule a specific time of day or week to handle customer inquiries. Avoid engaging in random tasks at random times. Do this by setting aside time to handle specific tasks.
It's also best to calendar a time each week to plan all of your posts through Post Planner so you don't have to do it every day. Getting a week ahead makes a world of difference.
2. Brainstorm Content Ideas with Team Members
Create a time (ie. once a week) when you sit down and discuss content ideas with other employees or team members.
If you're working on your Facebook marketing alone -- sit down and research some of the ideas for blog posts, status updates and pictures or videos. Think about what's likely to encourage the most engagement.
This is going to eliminate the wasted time (and stress) it takes to come up with content on the spot.
If you do this from week to week, you'll always have something to post instead of coming up with random pieces of content that don't generate enough engagement.
3. Use Facebook's "Save" Feature
If you come across posts that you like on your news feed, you can save them and reuse them on your own page.
It's easy to save a link on Facebook and access it later.
When you get to the post you want to save, you'll see an arrow on the top right corner.
Simply click on it and select "Save…"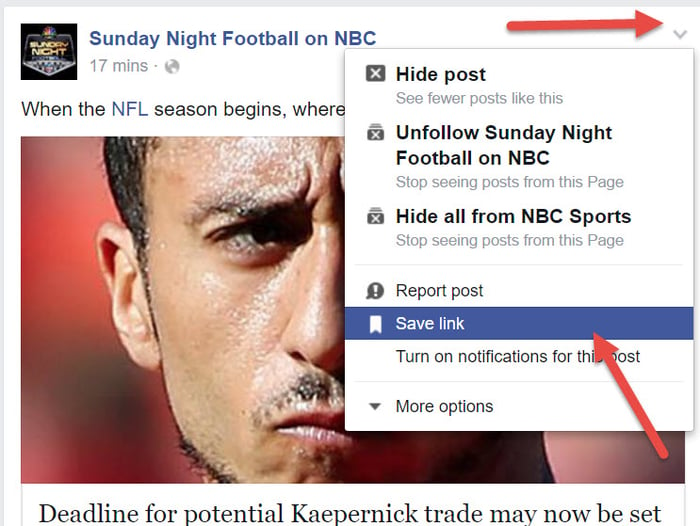 Whenever you run out of content ideas, go to your saved posts, tweak them a bit to resonate with your audience and then share them!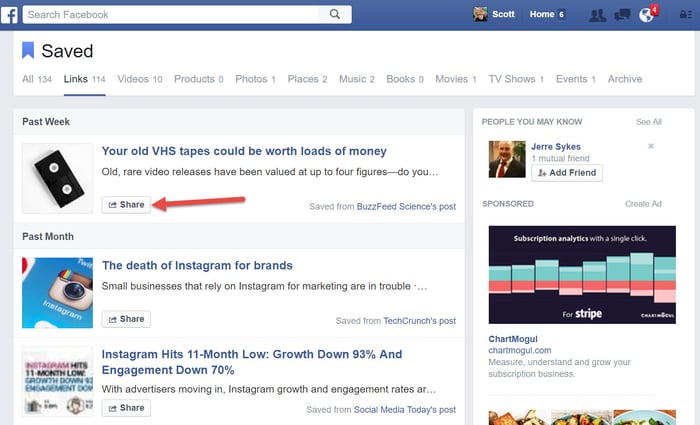 4. Monitor Your Competitor's Content
Facebook Insights provide a lot of valuable information that can help you save time on Facebook. (and get great content ideas too)
One of the features you can use to save time is the "Top posts from Pages You Watch."
On the Facebook Insights section, click on Posts -- then select the "top posts from pages you watch" section.
This can give you an idea of what kind of posts your closest competitors are sharing and the engagement they get.
Another way to do this is inside Post Planner.
Simply click on the Find tool on the left sidebar. Then you can add any Facebook page URL and save it as a source.
From there, Post Planner will rate the posts from this page so you can see what is performing well for them and what isn't.
5. Mark Facebook Notifications as Read
Going through notifications can be overwhelming -- especially if you manage lots of pages.
Whenever someone likes, shares or comments on your post, you'll receive a notification.
It's impossible to turn off notifications, but you can always mark them as read.
Simply go to the page setting, click on the notifications section and select "Mark all as read" on the top right corner.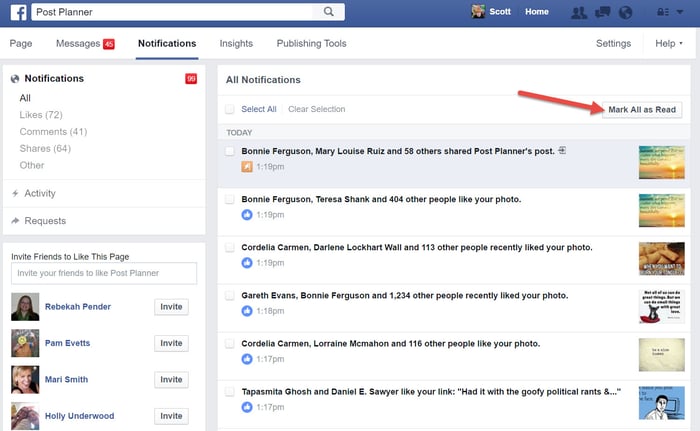 Once you do that -- don't forget to actually engage and reply to people's comments!
But someone liking a post doesn't warrant any interaction on your part -- so doing this is a great way to save time and get rid of distractions.
6. Reuse Your Own Content That Has Performed Well
Perhaps there's a video you shared, and it got a lot of engagement.
Consider recycling and reusing that same post by transforming the video into a podcast or an infographic. Consider repurposing it in a way that the info is easy for your audience to digest and share on Facebook.
You don't have to spend time finding and creating new content.
Repurposing content you've already shared will save you a lot of time. Choose the pieces of content that have performed well for you.
Remember that people engage differently with different kinds of content.
Some of your fans may prefer infographics as opposed to video, which means you'll reach a wider audience as you continue to recycle your content.
Another way to reuse your content is to use the recycle feature within Post Planner.
This feature allows you to set a post to recycle. Once you do that, it will post and then get added back to your Plan at the next open slot. It will post again and then continue this process until you delete it or turn it off.
I suggest that you have at least 10 or 15 posts set to recycle in your Plan before you start. That way, it won't look like you're just reposting the same content. This strategy works especially well for evergreen content.
So think about all those links you're always posting. Add them to your Post Planner app and set them to recycle. Now you don't have to remember to add them again! That's a big time saver.
7. Leverage Trending Content for More Engagement
If you're running out of content ideas -- you're in luck!
Post Planner was built to FIND trending content! Using the content in the Popular section of the Find tool is super easy.
Our 5 star rating system takes the guesswork out of what is performing well and what isn't. It allows you to become data-driven -- which is how you can work smarter in less time.
You can pick between categories such as:
Quotes
Engaging
Interesting
Funny
Business
Marketing
Top News
Random
Each of these categories contains 10 - 20 different sources. These will provide you with photos and articles to share to Facebook (and Twitter). Just choose your favorite ones!
Here's a quick video that explains how to use the tool:
8. Monitor Multiple Accounts from One Place
If you have other accounts like Twitter and Pinterest, a tool like AgoraPulse can provide a single dashboard. That way, you can manage all your accounts at once. This saves a lot of time!
Some tools will also allow you to monitor the activity of certain customers or media contacts in real time. You can schedule posts to be released automatically and make edits when necessary.
Link each one of your profiles so that when you post on one platform (say on Twitter) -- that post is also sent to your Facebook page and the others.
Don't forget to go back and check your posts, respond where needed and interact with your fans.
9. Save Time Creating Facebook Ads
This is a big way you can save time on Facebook! The secret to spending less time on ads is to plan ahead.
First, prepare your elements (text and images) beforehand. Have several images that you can use to test. That way, you can see which one gets the most response. (again... be data-driven!)
Also, prepare long and short posts so you can use both. Check your data to see which your audience engages with the most.
Remember that images can only have 20% text in order to be accepted. You can use the Facebook grid tool to create images for your ads.
One way to avoid wasting time creating ads is to find your post IDs (located in the Manage Page Section of your page) and save all of them on a separate Excel sheet for future reference. Assign names to each post ID to help you identify an ad faster.
Always name each ad set after your audience. This will make it easy to identify it later on. You can also duplicate your ads and just replace the post ID. This allows you to use the same settings and create new ads.
Always rename the new ads so you can identify them and monitor how your audience responds to it. When ads are approved, Facebook is likely to send you a list of emails which can be overwhelming.
On the Settings section of Facebook Ad manager, go to the Ads Email Notifications section and select only the notifications you want to receive.
For example -- you can choose to only receive emails from Facebook when your ad is rejected or paused. You'd want to get that email since it means there's an issue that needs to be resolved.
Take advantage of Facebook's relevance score feature to take note of under-performing ads. Either eliminate them or make changes to boost their engagement.
Facebook allows you to put up a new ad -- and it will create a relevance score after 500 impressions. That relevance score will show you how effective it is in reaching your target audience, and how well they responded.
10. Filter Page Posts by Type
You may want to look at some of the image posts you've used for several reasons. Perhaps you want to check what images you've used, the copy that went along with those images, and the time at which you posted it.
Sifting through thousands of posts on your page can be a headache. To save time on Facebook in this situation, you can filter your page posts.
To do this, go to the Page Settings and click on the Activity Log on the left sidebar right at the bottom. Then select the appropriate post type.
You can filter posts of particular categories such as image posts, video posts, notes, events and offers.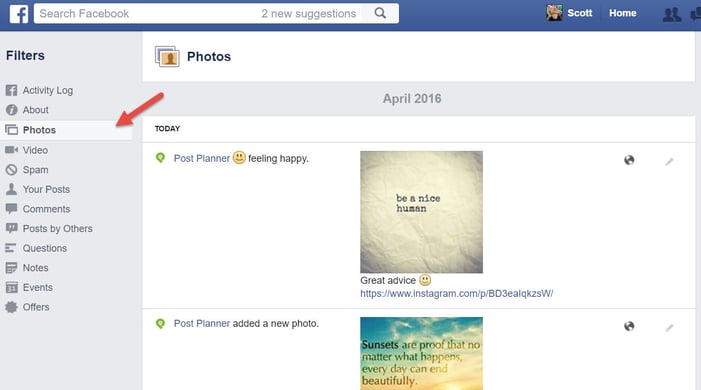 11. Pin a Post to Increase Visibility
Do you want certain posts to remain visible on your page for a specific period of time? One way you can do this is by pinning them to the top of your timeline.
Click on the arrow on the top righthand of each post and select 'pin to top.'
It's that easy!
Remember you can only pin one post at the top at a time.
It can be a recent promotion or an offer that's about to run out.
Use the pin post feature to make the post more prominent on your page to new visitors.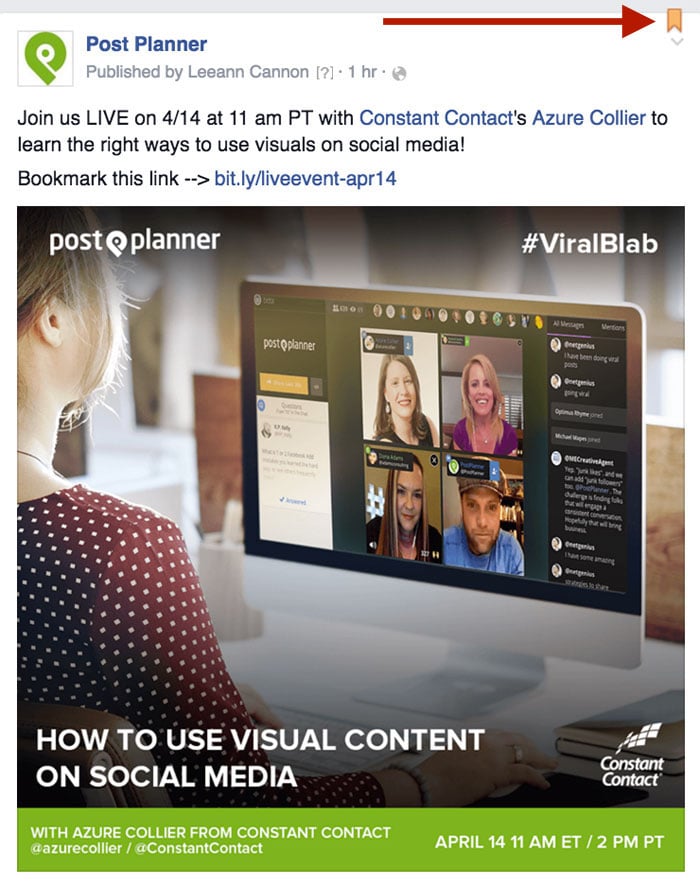 Once you pin a post, you'll notice the little ribbon on the post (as seen above). People who view your page will see that it's a pinned post.
12. Monitor, Track and Measure Your Results
Tracking and measuring your results allows you to spend less time developing a strategy that works for your audience.
There are so many tools you can use to monitor and track your activities on Facebook!
Start with Facebook Insights. Check what kind of posts are getting the highest reach. You can also tell what time of the day your audience is most active.
Other tools such as Google Analytics can help you to obtain more data on your social media campaigns. This info will help you develop a better strategy that brings better results.
It's common to assume you know what your audience wants -- but it's much more effective to gather data so you have the facts. If you want to save time on Facebook marketing, take the guesswork out of your equation. Make decisions based on data.
Once you learn what kind of content drives the most engagement, you should create more of that kind of content to boost your reach.
13. Monitor People Who Mention Your Brand
Keeping track of everyone who mentions your brand, product or service on Facebook (or various blogs) is important. This helps you track what's going on. It allows you to interact with the people who are talking about your product.
A tool that makes it easy for marketers to monitor their brand is Mention.
There's a free and paid version. You may want to start with the free version to see how well it works for you.
With this tool, it's easy to monitor mentions of certain keywords across the web. Enter the keywords that target your brand name or product and respond accordingly.
But don't just see who's talking about you!
Reply to them whenever they mention you -- whether that be on a blog or social media post. And don't just reply to the good mentions either. Reply to those bashing you as well!!
Wrap-Up
As you can see, these are all quick and easy steps you can take to save time on Facebook marketing. Even the ones that might seem like a no-brainer can make a huge impact on your Facebook campaign.
The more data you can collect about your customers and your audience (and the kind of content they like to engage with) -- the more time you'll save on Facebook. You'll become a much more effective marketer in less time.
Automate mundane tasks to make your work easier. Use that extra time to interact with your audience. And remember to monitor and measure your results frequently. What worked yesterday might not work next week. Continuously collect your data to fine-tune your strategy.
Hopefully these tips will simplify your Facebook marketing efforts!
Did you like what you read here? Ready to dive deeper?
Grab your copy of our Facebook infographic below. Learn even more simple tips to take your Facebook marketing to a whole new level!