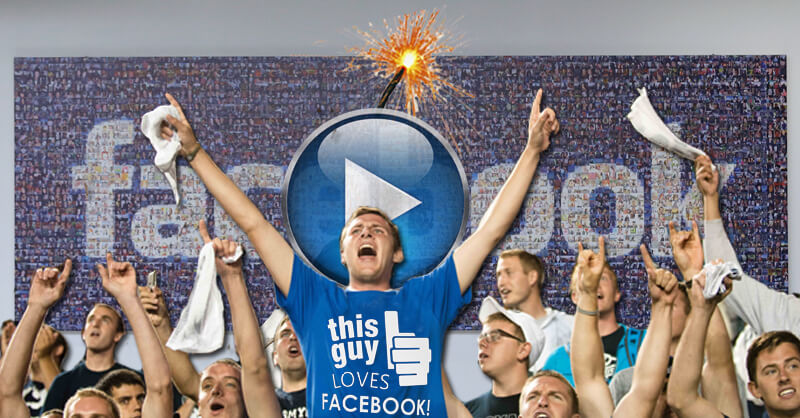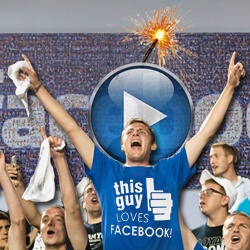 Have you ever uploaded a video to your Facebook page?

Yes -- cat videos count!

Did you get the results you were expecting?

With thousands of brands making the shift to video marketing -- it can be a tough battleground.
Especially when you're trying to stand out and engage your fans in the newsfeed!

I'm going to show you the top 5 ways you can use video to engage, entertain and empower your fans to take action.
>> Click to Tweet <<
5 Bomb-dot-Com Facebook Video Tactics that Will Send Your Fans into a FRENZY
1) Share Your Company's Story
Storytelling using video is a great way to bring your brand to life.
This not only entertains your fans, but it gives them insight into your brand's journey, values and vision.
The easiest way to do this is to share an experience with your fans that lets them know what they can expect if they use your products and services.
Take them from where they are now to where they want to be!
Let your fans know how your product or service can benefit them -- and what action they should take.
This will help your fans connect the story to taking a specific action -- which means higher engagement and leads for your business.
There are many different ways and styles in which you can share your company's story using video.
To stand out -- don't be afraid to add a layer of emotion and even humor to entertain and engage your fans!
Here's how Chobani Greek Yogurt highlighted their values by sharing a story about how they founded the Shepherd's Gift foundation:
2) Q & A with Your Fans
Creating a question and answer style video is another great way your business can provide value and interact directly with Facebook fans.

Not only will this build trust with your fans (since they will see you through video answering their questions) -- but it will make your fans feel valued.
They will see that you've taken the time to answer their questions and give feedback about their suggestions.

Hosting a Q & A on Facebook isn't as simple as asking your fans for questions and hoping for the best.
Here are some things to consider in order to prepare for your brand's Q & A video:
Plan ahead for the Q & A -- this means coming up with a topic beforehand so questions are not off topic and stay relevant to your audience.
Anticipate questions your audience may ask.
Clarify any questions you are unsure about before preparing the answer on video.
Be honest! Admit when you are unsure of an answer and let the fan know you'll do some research.
Simplify complex answers into manageable segments -- the last thing your fans want is to hear a 30 minute response.
Showcase your personality! Don't memorize answers. Feel free to add your own flair and personality!
Spotlight your fans. This is an easy way to boost engagement and loyalty. If a fan asks a question, simply read their name on video or even give a welcome message. This helps to connect your audience to your message. It adds that layer of authenticity.
Now Facebook Mentions offers live video streaming on your fan page.
If you are lucky enough to have this feature -- be sure you are still prepared using the steps above before hitting that "live stream" button.
The last thing you want is for your business to come across as unprepared
Here is how Gary Vaynerchuk uses Facebook video to showcase his Q & A every week.
I'm back with 󾓶󾓶󾓶󾓶 for episode 135 of the #AskGaryVee shooooooooow#AskGaryVee Episode 135: When Is It Time To Get A Personal Assistant?

Posted by Gary Vaynerchuk on Tuesday, September 8, 2015
3) Customer Testimonials
Creating video testimonials on your Facebook page gives your business the opportunity to showcase the benefits of your products and services.

Compared to a traditional ad -- a video testimonial showcases the benefits of your product or service from a third party point of view.
A good testimonial helps to increase word-of-mouth and even sales since others begin to see the benefits your business has to offer.

Using video helps to add an emotional layer to the message compared to a written message.
It adds an extra layer of credibility since you can see and hear the person delivering the message.
This also acts as an effective gateway for those who are unsure about your product or service.
It can persuade them to take action.
Video testimonials can provide your potential customers with answers to questions they have.

Here is how business coach Rosh Khan used a video testimonial to add that layer of authenticity and social proof to his business on Facebook:
4) Showcase Expertise (but not Always YOUR Expertise)
Showcasing expertise on video lets you entertain and educate your Facebook audience.

It's important to note that the expertise does not always have to come directly from your business.
Another effective way to showcase expertise (and to reach a wider audience) is to interview other experts in your niche.

This not only opens your fans up to fresh content -- but your content will most likely also get shared with the guest's network.
The added benefit is that you're now able to interview other experts to share their knowledge -- and to expand on topics where they may have more expertise.

This is also nice since you won't have to create all the video content yourself!

Here is how Kim Garst used this approach to showcase expertise in her niche by interviewing Ted Rubin (another influencer):
SO excited to share with you the first video in my new "Will the Real You Please St& Up" interview series all about showing up, being authentic (#BeYOU) & profiting in todays social world. My first guest is Ted Rubin & I think you are going to LOVE his take on authenticity, building relationships & ROR or "return on relationships"!

Posted by Boom Social with Kim Garst on Thursday, January 22, 2015
5) Offer Customer Support
Personally messaging your Facebook fans or replying to comments is still a great way to provide customer support.
But nothing beats the interaction of a video!

Showcasing solutions via video is a great way to visually show your fans step-by-step how they can overcome their pain points or solve a query.

If you have a product-led business -- you can always use video to highlight how users can take advantage of your product's features, and how they can overcome common issues that other users face.

If you have a service -- you can offer support based on concerns potential customers have before hiring your service (or even the key steps they need to consider before choosing a service like yours).

Here is how we at Post Planner have used this approach to offer customer support.
We did this by showing our fans how they can use our tool to create lists of pages.
Summary
Using video on Facebook offers your business a more dynamic way to interact and engage with fans.
The key is to remain consistent with your video marketing strategy and mix up the type of content you share with video by using the above techniques to stand out in the newsfeed.
Teaming up with others to produce video content (whether it's other team members or outside experts) is a great way to add variety.

Lastly -- don't forget to add tons of personality and to enjoy the process!
Your fans want to get to know the people behind the business as much as they want to learn about your knowledge and experience.