Ever wonder why one online course succeeds while another fails?
Or how certain training courses amass a huge amount of sales in a short amount of time while the next falls flat?
The difference is in the promotion!
If you've wondered how to market your online course, I'm here to show you how easy it can be.
Below are 9 ways you can use social media to promote your online course and wow your audience.
9 Ways to Use Social Media to Promote Your Online Course
1. Use Social Media to Cross-Promote Other Course Creators
Who out there is providing awesome courses that complement yours?
A simple but powerful question.
Spend an afternoon researching all top online course platforms. Then get in touch with those course creators and ask if they'd like to do a joint venture. Try their course and sincerely recommend it to your followers.
Talk about them every now and then in your Tweets, posts and videos, until you've grabbed their attention by the jugular. And you will!
Even the big boys will perk up their ears to learn of a loyal new fan singing their praises. It's the simple, awesome power of influencer marketing.
Help other course creators out and many of them will be happy to do the same for you. You'll soon be noticing posts about your course too.
Here are a couple of course platforms to help you start your search.
Kajabi
Kajabi is loved by its course-creators, for it's easy interface and course-presentation systems. It's already made its teachers over $400 million and is growing fast.
Search for partners and get your course on there too; it's a one-stop shop (excuse the cliche) for running, managing and promoting your course.
From personal trainers and life coaches to beauty experts and home improvement, with a platform like Kajabi, any expert can build their own online course business.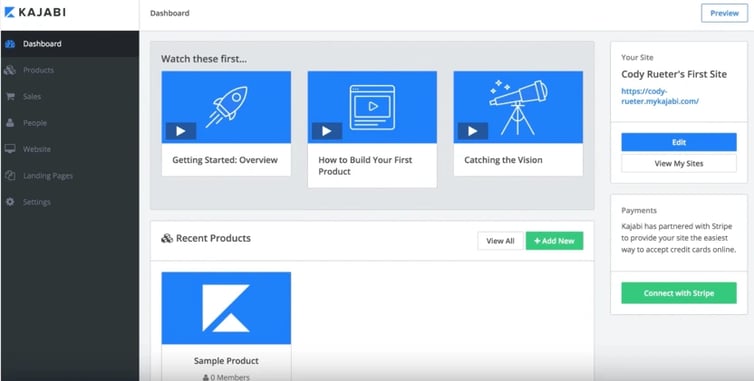 Skillshare
Skillshare has a membership model for students. So course creators get paid only per minute watched of their course.
Still a great place to find teachers who want to partner and help boost your course.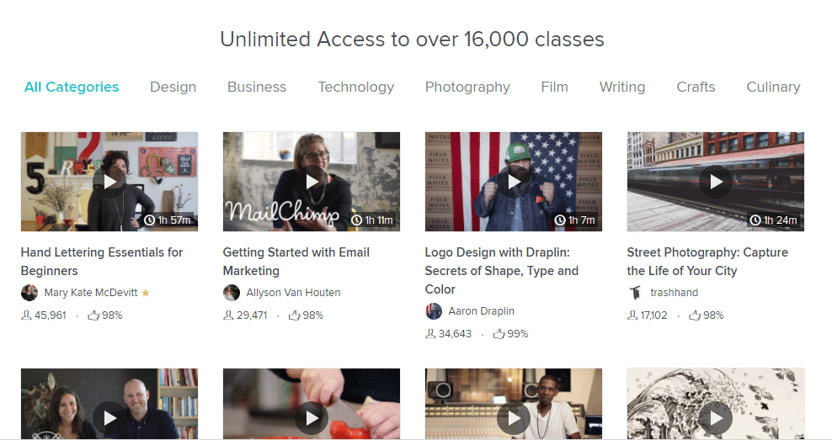 How should you start finding partners?
Get out there and say hello! You'll be amazed at how many course creators will be happy to work with you through cross-pollination on social media. Really, people love being social. And there's power in numbers.
Don't forget Google too, for those rare on-their-website-only teachers (go and say hi, they must be so lonely).
2. Invite Course Creators Into Your Course
A deeper level of this kind of cooperation is to invite other course creators to teach a lesson or two on your course.
You can create a section that's devoted to their area of expertise. Your students will appreciate the extra value and wisdom. And the other teacher will likely follow that beautiful law of reciprocity and share your course across their social channels.
You can offer the same for them and get face time with thousands of potential new students.
The highest-level of social media promotion is working with others - hence the word social. So work with them as much as you can. This, in turn, will grow your own audience rapidly.
It's a wonderful cycle of mutual back-scratching. Or long-spoon feeding. Whichever analogy you prefer.
3. Share Resources From Inside Your Course
When you need to recommend good resources or extra detail on various topics for your students, link out to other high-quality courses and their Facebook or Instagram pages. Then let the creator know you've done it.
You shouldn't expect some reciprocal linking and sharing every time you do this, but over time you will have people talking about you on their social media channels and sending students to you too.
It's the reciprocal nature of people. We love to make and help friends, especially with those who are helping us already.
Be bold, take that first step. Be the guy or gal at the party who breaks the ice.
4. Give a Special Offer to Social Media Followers
When you talk to other course creators, make it crystal clear that you have a special deal for their students and followers. This will help their audience save money and (crucially) that creator will make money.
How?
Every time they spread the word about your course across their social channels – and this leads to a sign up – you'll send them cash. Cold, hard cash.
Yep. A referral marketing program like RewardsStream can help you streamline this.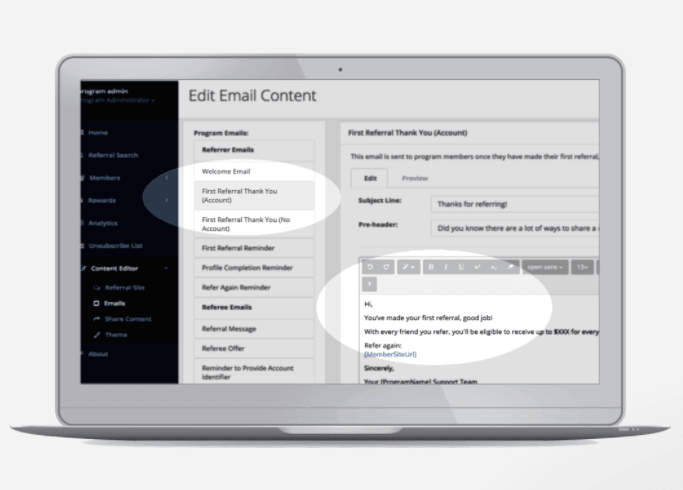 A good way to win them round is by painting a picture. Describe the potential revenue that one tiny 140 character Tweet could bring them. Make their mouths water.
And once you've gotten this affiliate-type system set up once, use that first partner as an example to help others see sense.
Just be generous and pay on time. If you're wondering how much to offer as your referral commission, think about the lifetime value of a new student. How much money does an average student spend with you over their entire lifetime?
If you have multiple courses, it might even be worth offering the entire cost of the first course as the referral fee. You will get people sending you students.
Make an offer that's down right impossible to refuse! (In a good way, not the Godfather way).
Key note here: you must have a truly kickass course, so others are proud to promote you. That should be tip number one.
5. Create a Free Introduction Course
Put some of your very best content into a free 3-part, 5-part or 10-part course. Have prospects sign up for it and email it out daily, using a good autoresponder and opt-in page.
Tell everyone you know on social media about it, all the bloomin' time. Get a bunch of promotional messages on repeat with Post Planner and start sharing your news.
Not too frequently, mind you. Don't forget the Golden Ratio in social media.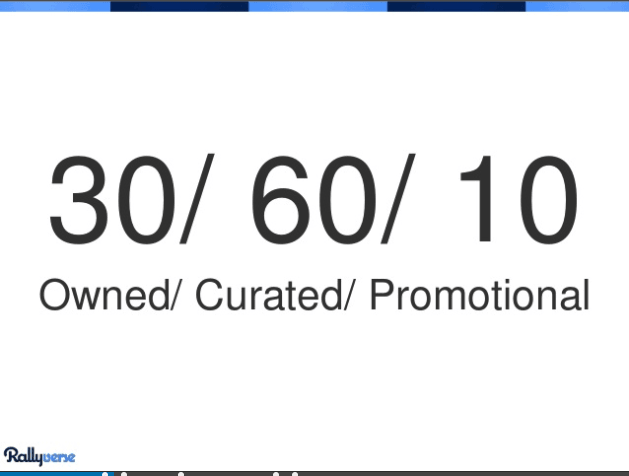 And when it comes to your free course, truly help people solve their problem. Don't hold back.
You have one goal with this free course – to gain a lifelong fan! Then, in your final email, offer your full paid course and watch those signups roll in.
Key tip: build your own list – social media is wonderful, but you don't really own your Twitter account, and you don't really own your Facebook page. You don't even really own your Udemy/Kajabi pages.
But you do own your email list.
For long-term security, use social media to build your subscriber list and enjoy a lifelong relationship with your audience.
Here's another BIG bonus tip: ask other course-creators to make a short video for this free course. You could even fill most or all of the course with tips from other course-creators.
Then, when you launch it, let them all know and they will happily share and promote it on their platforms, sending hungry students your way. Build your list with their followers; they're targeted, high quality and already trust you.
Just another awesome influencer marketing trick to put up your sleeve.
6. Use the 30X Facebook Ads System
Facebook ads are very powerful... when you do them right.
The 30X system was developed by Armand Morin – and it's all about being personal.
The idea is that you find many sub-groups of people who are interested in your course (up to 30) and you advertise to each one in a highly targeted way.
For example, if you have a course on English Language for Foreigners, you could find groups on Facebook relating to:
Business English
English exam prep
English for Italian people
English for Japanese people… and so on.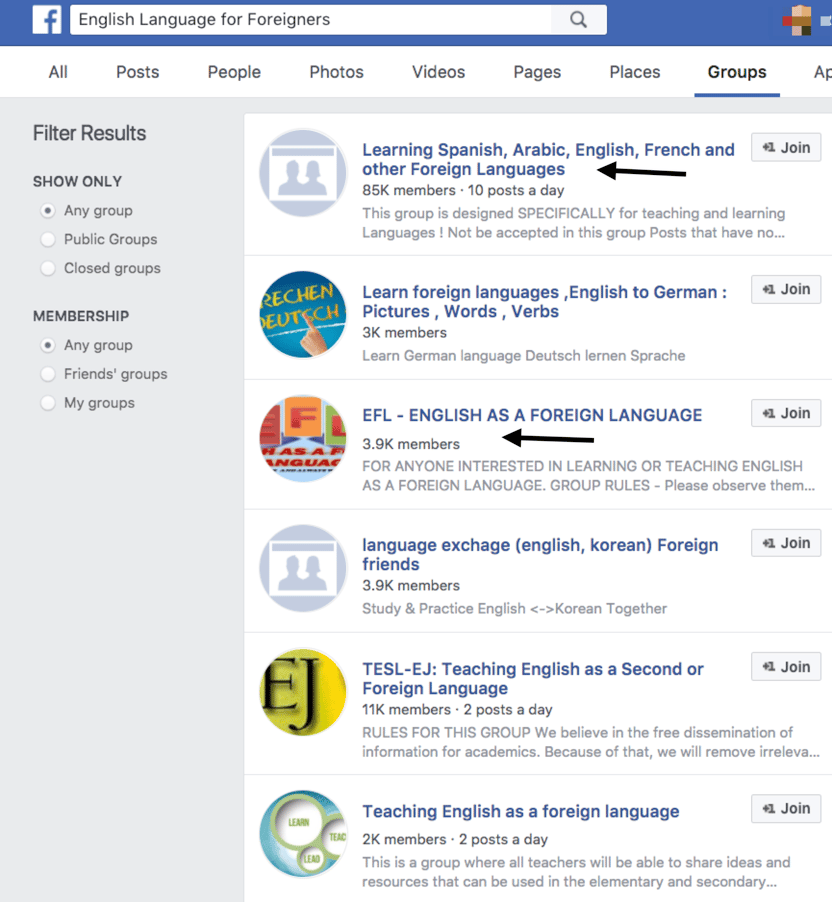 Gather 30 such niche groups.
Then, for each group, create a unique landing page, explaining how your course will help with their exact situation.
You're looking for that 'aaahh, he's talking about me' factor when they arrive. They'll enter their email to find out more and on the thank you page they are then sent to your course sign up page.
That landing page you created made it very specifically geared to them, so your conversions will be higher. A lot higher.
Phew, did you get all that?
Give it another read.
The best thing about this strategy? You get their email (to send them your free 10-part course, perhaps). Make sure the advert they see in their Facebook group is carefully targeted to them too, that's the key.
And here are two extra tips to making Facebook Ads work for your course:
Test tiny – always start with just a $5 or $10 daily limit on your ads. Only expand your budget past that when you have an ad that is really working well.
Aim to break even – when you pay for a click, sending someone to your opt-in page, you can make money there and then by sending those who opt-in to your course on the thank you page. Because you can make immediate income this way, a great goal is to try and break even, so your adverts are paying for themselves right away!
How this might look is: you pay $50 for 100 clicks and visitors to your opt-in page. 30 of those visitors opt-in. On the thank you page they see your course offer. One of those 30 signs up there and then. Let's say you make $50 for a course signup.
Boom; you broke even! Next 100 please.
7. Offer Your Followers an Amazing Bonus
If your course is very new (or very high ticket) why not offer an incredible bonus, like a free 30-minute online lesson, with you, one-on-one.
Now, who could resist that?
This is the sort of thing online teachers rarely do, and students will love the personal touch. It's giving so much extra value. Of course, only do this if it makes financial sense.
Do the math first.
8. Offer a Free Lesson Before They Sign Up
Another powerful marketing strategy is to offer a free lesson to everyone on your social media, and the audiences of other course-creators too, if possible.
This could be a 15 or 30-minute lesson. Then at the end of the session, make an assumptive close, like so:
Spend the full 15 or 30 minutes identifying all the areas they need help in, make an effort to really understand them. Really, really understand them.
Find out all they want in a course
At the end, repeat back to them all their problems and wants and say 'based on what we've talked about today, the best thing to do is take my course, then follow up with private lessons' or something along those lines. It works!
See how many convert and if the figures add up, keep on going...
It may even be worth doing Facebook Ads for this. Who knows? Test and see.
Again, this is of course for those just starting out (hungry for your very customers) or for very high ticket courses.
It has to be worth your time.
9. Gamify Your Course Posts
Don't you just love those special challenges that shoot around social media every now and then? Not just to try them, but seeing the shared results of others who have dug right in too?
Why not set a challenge that your ideal prospect will love, and link it to your course.
It could be a 30-day challenge or a week-long challenge, or any kind, really. Just make it the kind of challenge where they share their results online.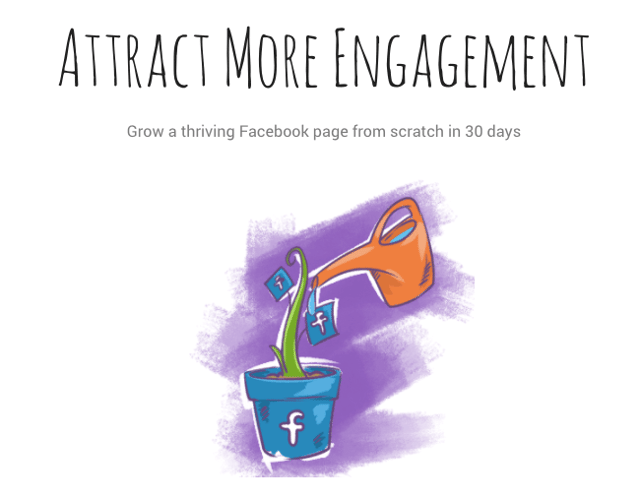 For example, if your course relates to fitness, they could do a certain sequence of exercises every day and share their results. If your course is cooking, give them a kitchen challenge to master a particular skill.
Make it fun. Make it effective. Make it positive (so it gains you fans). Demonstrate it yourself, and spread it out there across all channels.
Better yet, ask other course-creators to get involved and make one with you!
Be a long-term, success builder extraordinaire.
Over to You...
So go ahead, try out all these ideas, scratch your neighbors' backs. And let me know how it goes!
Do you have more novel ideas to add to this list? Don't be shy, share below.