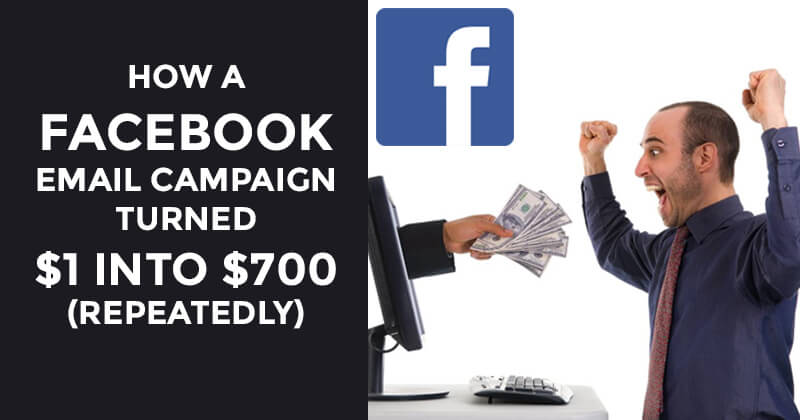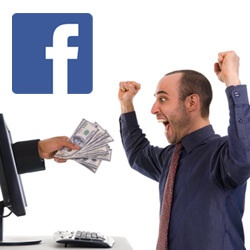 Would you invest $1 to earn $700?
I've done it, and I can show you how to do the same.
No brag. Just fact.
You'll see how a Facebook email campaign - one designed to grow your subscriber list via Facebook ads - can turn your dollars into 1000's of dollars.
You may have already tried Facebook ads. But did you generate a sufficient return?
You might even be ready to give up on ads altogether.
But DON'T QUIT - not until you read this.
I'm going to take you step-by-step through an actual project and show you the REAL numbers.
And I'll give you a glimpse of the thinking and the science behind the process.
I don't get any commission from this. There's no affiliate links involved. I'm trying to sell you on one thing only: Possibility.
Here are 8 tips you can use to get real results from a Facebook email campaign.
>> Click to Tweet <<
How a Facebook Email Campaign Turned $1 into $700 (repeatedly)
My client wanted to sell a product for $700, but despite best efforts his email subscriber list wasn't large enough (or focused enough) to draw the right attention to his offer.
Our plan was to grow the subscriber list -- and begin moving those new subscribers through his sales funnel.
How much did we want to pay for new (but hyper-targeted) subscribers? As little as possible, of course.
Through trial and error, we were able to get the cost down to $1 + change each -- and the conversion rate from the revamped list made it well worthwhile.
I can't cover the entire project in this post, but I WILL show you the steps we took to get an ongoing stream of the RIGHT traffic presented with the RIGHT offer to realize the desired RESULTS.
>> Click to Tweet <<
Get your landing page and offer ready for business
1. Use the highest-converting property you have for your landing page
Traffic without conversions is a waste of money. If all your store gets is visitors, but no buyers, you won't be in business long. That's why you want to use the page with the best conversion rate as your landing page.
In this project, we kept tweaking until our sign-up form was converting 30% of our visitors into subscribers.
Just for the record: That's pretty good!
To determine which page performs best for you, you'll need to take a look at the analytics data for email subscribers.
Here's my favorite way to find out via Google Analytics:
Go to "Conversions" > "Goals" > "Reverse Goal Path" on the left sidebar (see the screenshot).

The URL listed under "Goal Previous Step - 1" is the highest converting page on your website!
If you haven't set analytics up to provide subscribes as a goal, then you'll want to do it ASAP. Depending on traffic, it can take a little time to collect enough data to get significant results. Here's an excellent tutorial: Google Analytics 102 by ConversionXL. You can scroll down to the Goals section directly and skip the rest of it for now.
Chris Hexton, co-founder of Vero, does a good job of providing examples and talking about landing page optimization in his article, Get Subscribers Like Crazy.
>> Give Chris Hexton a Shout-out <<
2. Test multiple offers for attracting subscribers
We not only worked on page design, we also tested multiple offers to see which would deliver the best ROI.
For example, we compared the results from conducting a live webinar to that of holding a video-recorded workshop.
Even though the live webinar drew more attendees, the difference in conversion rate did not justify the increased commitment in time and cost. Instead, we set up an automated (evergreen) series of workshops that roll out to new email subscribers.
Other potential offers are ebooks, white papers and such. These are incentives for your target audience. They give you a way to create value for your visitors -- to GIVE them something (rather than to just ask for something) in return for their contact information.
Use ads in your campaign
3. Combine targeting options
Be careful here. You can find a ton of advice that presents the different Facebook audience targeting options as a matter of choosing the ONE correct method for you. I used to do the same -- until I discovered how they could be combined. I now use COMBINATIONS of the targeting methods to sharpen my results.
In this case, we found success with both lookalike audiences and interest targeting. We created lookalike audiences based on our email list and combined them with specific interests.

This was EXTREMELY IMPORTANT in getting our cost per email signup down to the ground! See the screenshot for the comparison based on the cost for each Facebook email campaign targeting method.
Here's the takeaway: Always look at how you can narrow your audience to make your reach as RELEVANT as possible!
4. Experiment with different lookalike audiences
Here's what it looks like when you're creating lookalike audiences on Facebook (see the screenshot).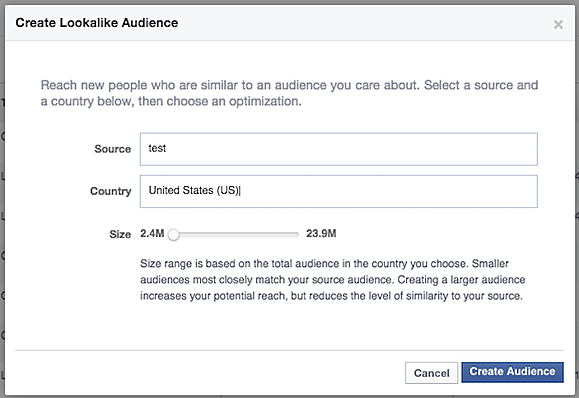 Using the slider, you can choose between reach and relevance.
The logical choice is to favor relevance over reach. After all, the more targeted your audience the better the results.
However, you may miss out on considerable pay dirt if you choose the extreme end of the scale! After all, Facebook's algorithm is not foolproof. And the data you uploaded on Facebook to create this lookalike audience is not perfect either.
So I recommend that you create a number of lookalike audiences using the same data, but different points on the scale. I like to create audiences ranging from 1% to 5% of the total available just to make sure I cover my bases.
Here are the results we found for this project:

After spending about $150, we found that the lookalike audience 1%* performed the best, while 2% performed the worst and 3% came in second among the 3.
PRO TIP: When targeting lookalike audience 2%, 1% was excluded to prevent overlap of audiences. Likewise, both 1% and 2% were excluded when targeting lookalike audience 3%.
>> Click to Tweet <<
5. Don't worry about competing ads
Some marketers worry about their own ads competing against one another.
Their assumption seems logical: If you have multiple ads in the same ad set and they're reaching the same group of people, wouldn't that create more bidding competition and drive the cost per 1,000 impressions (CPM) up?
Listen, you've got to hear this: Ad competition is one of your LAST worries!
You've enough to handle just trying to target the RIGHT people and design the RIGHT offer with the RIGHT messaging to CONVERT those leads into paying customers.
So don't worry about it. Cast those concerns aside until you're getting ample conversions!
>> Click to Tweet <<
6. Ensure that ad creative and landing page messages are congruent
When you're driving indirect conversions through Facebook ads, you need to remember that ads don't work alone! Just because people are clicking on your ad doesn't mean they're converting.
You must make sure your landing page fulfills the initial promise of the ad. There must be congruency.
For example, one of the messages we tested said "Learn from the largest ever study conducted..."
To reinforce the keywords used in the copy, we made sure to use screenshots on the landing page. That added to the sophistication, making it look extremely attractive.
The results? CTRs on all ads to that page performed above 4%, with some going up as high as 9%.
How many mistakes will a reader allow on your landing page? Check Demian Farnworth's answer to that question: 8 Things [You] Should Know...
>> Give Demian Some Love <<
Optimize your Facebook ad budget
7. Put the 80/20 Pareto Principle to work
The Pareto principle is one of my favorite decision-making tools for allocating budgets on Facebook ads. It says that 80% of your sales arise from 20% of your customers. (Really, the principle says a whole lot more than that. Check Yaro Starak's article on Pareto for more info.)
It's important to be FAIR when allocating a budget to each ad set initially. I keep the process in check by allocating budgets proportional to each configuration's audience size.
For example, let's say ad sets A, B and C have the following audience sizes:
A - 50,000
B - 30,000
C - 20,000
Then I would allocate each $100 of the budget as follows:
NOTE: This is just for the initial stage where you need to get the ads running in order to see how different ad sets will perform. After you collect sufficient data, you will want to adjust again by taking performance into account. The math here can get confusing, so keep it simple. The Pareto Principle says 80% of your results arise from 20% of your efforts. Keep adjusting by applying most of your budget to the ads with the most favorable return.
>> Yaro's in the USA - Give Him a Shout-out <<

8. Monitor the cost of different ad placements
Different ad placements -- desktop news feed, mobile news feed, desktop side bar, desktop homepage side bar, and partner mobile apps (Audience Network ) -- may vary in cost CONSIDERABLY.
Audience Network, for example, extends your campaigns "beyond Facebook and into other mobile apps." It is a default placement option if you're running off-site conversions (like website clicks and conversions as well as app engagement and conversion ads).
For this project (see the screenshot), Audience Network was NOT desirable. The cost per registration was more than a dozen times GREATER than our most effective placement.

The cost per website click was on par with other ad placement (about $0.24 per website click) but conversion rates were far lower on Audience Network than the desktop and mobile news feeds!
The more ways you can segment your ad results, the better job you can do of determining which configuration delivers the best ROI in YOUR situation.
>> Click to Tweet <<
Conclusion -- How a Facebook Email Campaign Turned $1 into $700 (repeatedly)
In this post, I shared 8 of the key tactics we used for the actual campaign. To date, this project has delivered about 500% return on the Facebook ad spend (and my consulting fees are included in the expenses).
Of course, every campaign doesn't work out so smoothly. It can sometimes get pretty frustrating trying to find the sweet spot. That's why I always look forward to the strategic planning and initial execution phase -- you never know what's going to happen until you launch the campaign.
Hopefully you'll find these tactics useful. More importantly, I hope you've gained insight to the way I think when I approach Facebook ad campaigns. Once the lights come on and you get the bigger picture, you'll get excited about Facebook's list-building possibilities too!
If you've a question to ask or points to make... comments are open!
Let's talk about it.