Pinterest has been busy rolling out new features over the last several weeks.
We recently shared the news about Pinterest Ad Groups, an update to the structure of Pinterest ad campaigns.
Today we're excited to bring you their most recent addition, Pinterest Search Ads.
So what are these magical ads and why should you care?
Below I share the details behind Pinterest Search Ads and how you'll be able to use them in your business.
Want to get more out of your Pinterest marketing? Join us to learn how you can easily FIND and PIN engaging content!
Your First Look at the New Pinterest Search Ads
What Are Pinterest Search Ads?
As Jon Kaplan, Pinterest's Head of Sales announced:
"Today, we're excited to introduce Search Ads on Pinterest: a new way to connect with people searching for your products and services." Kaplan went on to explain,
"We're rolling out a full suite of features, including Keyword and Shopping Campaigns that are shown in search results, along with powerful new targeting and reporting options. And we're continuing with our ongoing commitment to promote relevant content that makes Pinterest better for everyone."
Exciting news for marketers, small business owners, and Pinterest advertisers!
A New Take on Pinterest Search
Pinterest has been testing search ads with a few brands such as eBay, Walgreens, Garnier, Barilla, Target, and The Home Depot for a while.

Now the brand is partnering with Kenshoo to finally make this new advertising opportunity available to more brands.
While this might be a new take on search, Pinterest's goal remains the same.
"People love saving and searching for inspiration on Pinterest. Discovering ideas is easy here because everything's visual, including search results. Even when they can't put it into words, people know a good idea when they see it."
A Close Look at Pinterest Search Ads
Before this update, advertisers had to run ads by using promoted pins and could only do so using keywords, such as "Accessories."

There was a downside to this because these ads only appeared alongside relevant searches.

Now the ads will appear right after a user types in their search.

These search ads are automatically created from your product inventory, and will run like any traditional PPC campaigns.
You'll be able to manage the budget, targeting, and creative. 👍

And just like with any other search ad, brands will be able to purchase Pinterest Search Ads via a digital auction on a cost-per-click basis.

Pinterest will offer objective-based pricing, which means that advertisers can choose what they want to pay for:
Impressions
Pin clicks
Engagement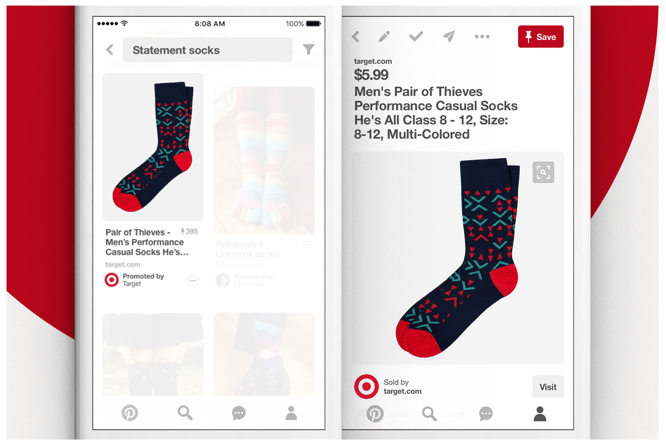 Source: Pinterest
The Reason Behind The Change
Previously, marketers used Pinterest as a way to build awareness around their brand, and not necessarily to drive sales.

BUT, the platform has been seeing over 2 billion searches a month, and most are for products and services people want to buy.

This means that the introduction of Search Ads is a very logical step for Pinterest as it looks to become a powerful advertising platform.

As Michael Akkerman, Pinterest's head of marketing partners, told Search Insider:

"People are coming to the platform with a large degree of commercial intent, and there's a big focus of being able to connect with brands, products and services."
Why Pinterest Search Ads Are a Big Deal
If you run a small business, Pinterest Search Ads can be a huge asset. Perhaps even more so than Facebook or Twitter Ads.

Why?
Because Pinterest Ads are on a commercial social media platform. And one that lets small businesses compete with the huge advertising giants.

Last year, 97% of Pinterest's top searches were non-branded. That means that it's the perfect place for your brand to get discovered and attract new customers.

What also makes Pinterest unique is that it lets brands reach potential customers while they're still deciding what to buy.

People on Pinterest start searching as much as 3 months before they make the actual purchase.

If you're still not convinced, just look at these stats:
Pinterest has over 150 million monthly active users who perform more than 2 billion monthly searches.
CPG brands that advertised on Pinterest saw 5x more revenue per impression.
When To Expect From Pinterest Search Ads
For now, Pinterest Search Ads are only available to a select group of advertisers.

But, Pinterest will be making Pinterest Search Ads available to more partners in the coming months.

Moreover, looking at the direction Pinterest is going, it's safe to assume that at some point, the brand will introduce a self-service platform.

And that means that thousands of marketers will be able to purchase these ads, just like they can with Google.

If you want to know more about Search Ads and when they'll be available to you, you can contact Kenshoo or your Pinterest account manager.
Final Thoughts
This is a huge step in the right direction for Pinterest.

The platform is finally increasing its foray into advertising and proving it can play with the big boys.

Are you using Pinterest Ad's? If so, will this change your use and if not, does it give you enough incentive to get started?
Let me know in the comments below!