Want to start a viral Instagram contest?
Below are 11 Instagram contest ideas that will overwhelm you (and your business) with leads & potential customers.
Remember: 25 MILLION businesses are on Instagram.
And they're all competing for the attention for the IG's 1 BILLION monthly active users.
The solution?
Run an Instagram contest!
11 Instagram Contest Ideas for Businesses of All Sizes (with Examples)
This post has 11 Instagram content ideas that will BOOST your business...
No matter how BIG or SMALL yours is!
Why should ALL businesses run Instagram Contests?
Interactive content has always been popular among people.
Why?
Contests play on emotions.
People LOVE the idea of entering contests for a chance to WIN something valuable.
In fact, gamification is one of the most effective marketing strategies that encourage people to INTERACT with the business.
Just take a look at the numbers below: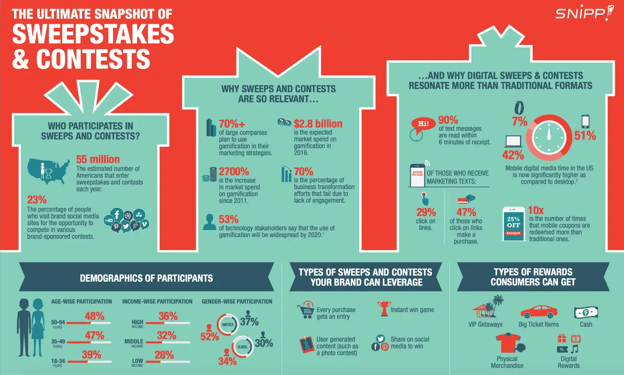 In other words, holding Instagram contests help businesses of all sizes and niches achieve the following 3 business goals:
Attract new social media followers:

It's no secret that social media contests are extremely popular among users. They play on emotions that encourage people to take part in your contest and they give your participants a chance to win something valuable for taking simple actions. As a result, a successful Instagram contest helps to grow your following fast.

Boost brand awareness:

Social media users who are happy to take a part in these contests and win something for free. Since contests attract many participants, they help your company stand in front of your eager target audience that pays close attention to your brand when taking part in a giveaway.

Increase engagement rate:

Practically every Instagram contest encourages participants to like, comment, and share the contest post as the entry criteria. It leads to a higher engagement rate that also helps beat an Instagram algorithm AND, therefore, make your content more visible to other potential customers.
Wouldn't it be great if your Instagram contest could give your business more than entries?
With a variety of creative contest ideas, you can find the right solution for your business.
Here are 11 amazing Instagram contest ideas for businesses of all sizes:
1. Hold a tag-to-win contest
Here comes the truth:
People don't want to invest much time or effort to take a part in your Instagram contest.
(No matter how good your prizes are!)
Thus, it's a good idea to make your participation requirements simple and straightforward.
Holding a tag-to-win contest is when you ask participants to tag a friend in the comments section as the entry criteria.
It doesn't require much time or effort, so this contest attracts A LOT of participants.
A tag-to-win contest is also a great way to improve organic reach.
Why?
When someone tags a friend in your Instagram contest, the person gets a notification that encourages them to check out your post and profile.
Here's how Polerstuff uses this contest idea for its business profile growth:

2. Celebrate an Instagram milestone with a contest
You goal is probably to grow your business with the help of Instagram.
So to create an emotional connection with your followers, it's a good idea for businesses to celebrate specific milestones on Instagram.
(Even if you're small.)
Have you ever heard about the sense of belonging?
Psychologists have proved that people have a human emotional need to be a part of a group or community.
So when you congratulate your following on being a part of an Instagram milestone you:
Provide them with a sense of belonging.

And you give your loyal fans a solid reason

to take part in your contest and win prizes.
Here's how Made.com made a giveaway in honor of its milestone of 1 million followers: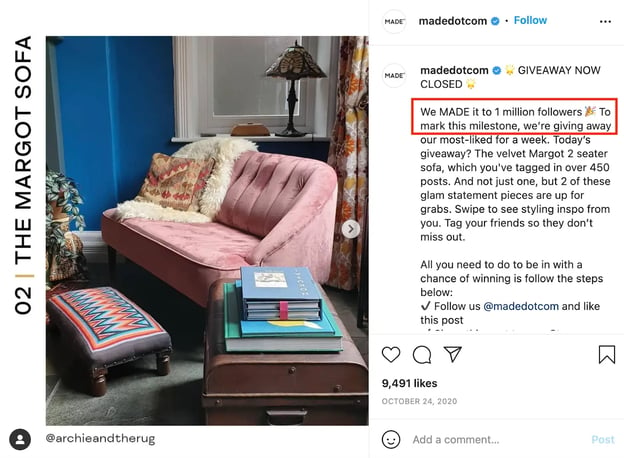 3. Ask participants to create fan-made content for you
Do you know about the power of user-generated content?
The demand for fan-made content is on the rise.
According to the State of UGC 2021 report:
93% of marketers say that people trust user-generated content MORE than branded content.

Almost 60% of marketers agree that authenticity and quality of content are equally important.

Around 33% of marketers claim that creating enough content is one of their TOP challenges.
With the right entry criteria, it's easy to encourage more people to take photos or videos of themselves.
It helps businesses get more user-generated content to publish on their Instagram accounts.
Check out an example of this strategy in action: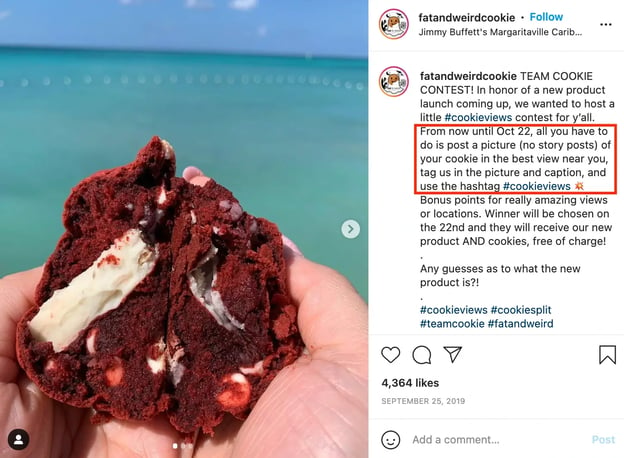 4. Generate leads with your contest
The process of converting Instagram followers into paying customers can take TONS of time.
It's important for businesses to increase their potential consumers' interest in your product with effective lead generation strategies.
With an Instagram contest, you can generate MORE leads for your business.
Why?
Hooked participants are more likely to become your leads in exchange for a chance to win something valuable.
Here's a great idea on how to organize a lead generation Instagram contest:
Ask your participants to sign up for your email newsletter, just like in the example below: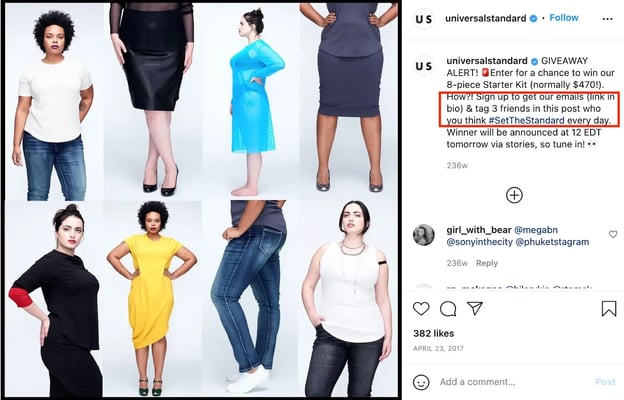 Note: If you use a lead management system for your business, it's easier to analyze leads. Therefore, you can track the performance of each of your IG contests!
5. Invite participants to write captions for you
Wouldn't it be great if your Instagram contest could attract the PERFECT audience of potential customers?
Make your participation requirements more complicated to get rid of participants who simply want to get a prize. #bye
A good Instagram contest idea that will attract the right audience to your profile is the "Instagram caption" giveaway.
This is where companies share an image and ask their following to come up with a creative description for it.
You invite participants to show off their creativity AND you get a chance to build relationships with your audience because people feel more involved.
Check out an example of this contest: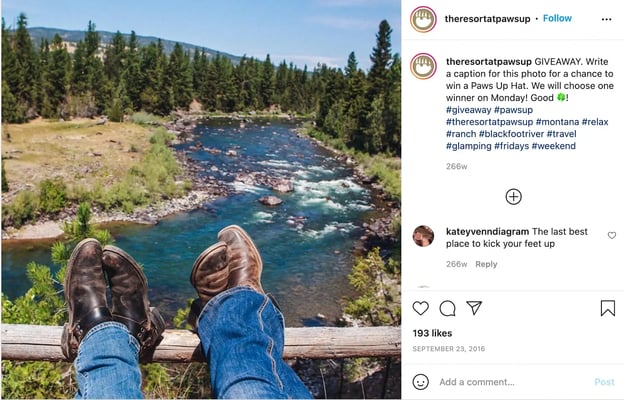 Want to increase the post's reach?
Tell your participants that a person who gets more likes for his or her caption will be a winner.
This strategy can motivate your participants to share your post with their friends and family.
6. Dedicate your contest to a new product launch
Having a variety of products is always a good idea.
When you launch a new product, you help your business acquire more customers and retain existing ones who seek out new creative solutions.
However, offering new products won't help you get new customers unless you know how to create a buzz.
Let's take a look at how FarmacyBeauty created their buzz.
With a teaser video, the company takes followers behind the scenes to tell them more about a new product. They also invite participants to guess the new product.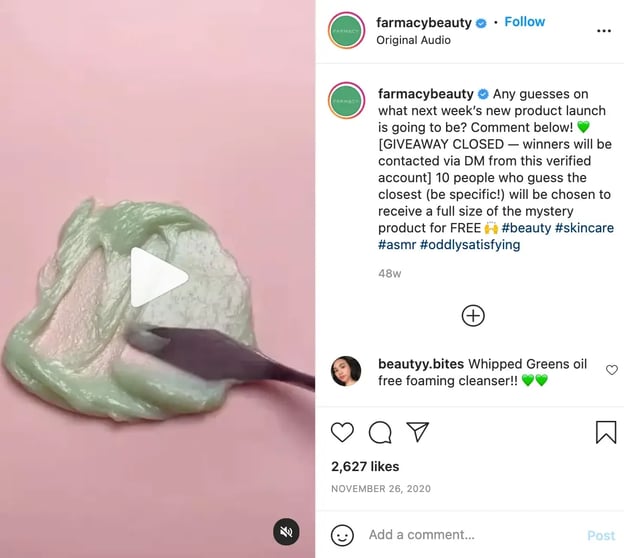 The best thing about this contest idea is that participants offered new product ideas, like launching new masks or cleansers.
Not to mention, this contest idea is valuable for businesses as it helps you UNDERSTAND your customers' needs.
7. Challenge your following
In the last few years, the popularity of social media challenges has grown rapidly.
Users LOVE to solve challenges.
Why?
They get to:
Be a part of something important

Test out their strengths and weaknesses

Get in touch with like-minded people
As a result, organizing a challenge contest is a great way to go viral online.
You can attract more participants without investing much budget into promotion!
Here's an example of this idea in action: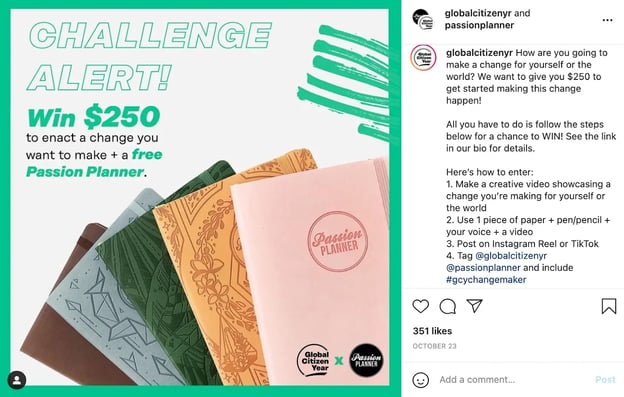 Pro tip: When choosing the hero image for your contest, it's important to remember about online image copyrights. It's better to create unique images that show off your products and provide participants with additional information, just like in the example above.
If you don't have an in-house web designer, you can use a graphic design tool like InstaSize (iOS) that helps people make stunning visuals on the go.
8. Co-sponsor an Instagram contest
Look:
There's no need to JUST organize an Instagram contest on your profile.
Have a small following on Instagram?
Simply want to reach a wider audience with your contest?
Easy!
You can co-sponsor an Instagram giveaway to provide BRANDED freebies or prizes.
For example, aspiring Instagram influencers who want to get more followers, often organize Instagram contests.
However, these influencers may want to collaborate with brands that can provide them with prizes.
For businesses, this means an opportunity to promote your brand in front of potential customers.
The best part?
You won't have to put much time and effort into running your own Instagram contest.
Here's what it can look like:

9. Collaborate with another business in your niche
Practically every business aims at increasing sales.
To create a cohesive sales funnel for your business, it's important to improve brand awareness.
An easy solution?
Working with other businesses in your niche!
It's one of the best ways to reach NEW potential customers.
When it comes to running an Instagram contest, you can team up with another business to:
Offer more valuable prizes,

Co-promote your giveaway

Reach a wider audience.
Fabletics, for instance, often works with partners to bring their contests to the next level:

10. Collect customer feedback with your contest
Customers are the lifeblood of every business.
If you know your customers' needs, you can create a product or service that SOLVES their problems.
This can increase customer acquisition and retention.
It's no secret that customer feedback helps to understand your customers.
Thus, businesses of all sizes should collect it!
For example, some companies train their customer service reps to ask additional questions about their experience with the brand.
Ask your followers to fill out a customer satisfaction survey to enter a contest that allows your participants to win something.
Zapcopy shows an example of this idea in action: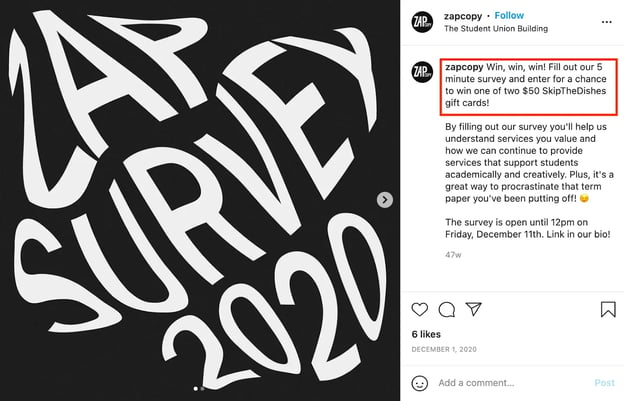 11. Create a seasonal holiday contest
The festive season is just around the corner.
If you're looking for effective holiday social media post ideas, think about creating a holiday contest.
Not only can you make your Instagram feed more creative, but you can also create an emotional bond with your followers.
The holiday season is all about giving, so your contest can reward your followers for their loyalty.
Check out how Rogers did it: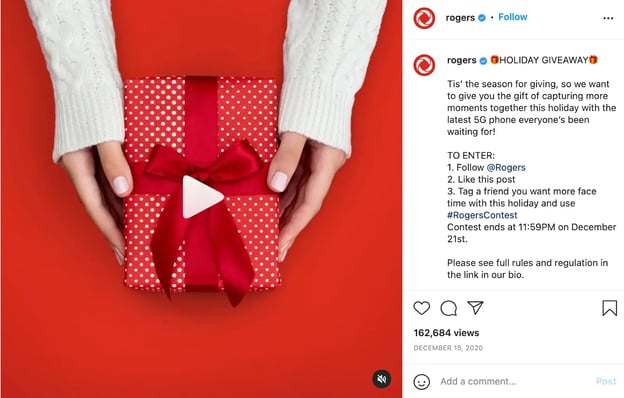 Holding a holiday season can help your business grow as you can promote your seasonal products or gift cards to boost holiday sales.
How to run a successful Instagram contest that leads to business growth
Here are several steps to take when planning and running a successful Instagram contest for your business growth:
Think about the primary goal of your contest: Every effective Instagram contest should have a goal, whether you want to attract more followers, increase engagement, or generate leads.

Plan participation requirements: Instagram users who are interested in being your contest participants should understand what actions they should take to enter your contest.




Use a branded hashtag:

Having a dedicated hashtag for your contest is a great way to spread the word about your giveaway and make it easier to find all participants on the platform. To get more ideas on branded hashtags, consider using an Instagram hashtag generator.
Choose the right prizes for your target audience:

It's no secret that most contest participants are interested in your prizes, not your business.

To make your contest effective for your business, it's important to attract the right audience, so your prizes should reflect your business goals and customers' needs. For example, it's a good idea to give away branded freebies to give your winners a chance to test your products.

Create an eye-catching visual for your contest: With a great number of Instagram posts people publish every day, it's important to hook the attention of your target audience. Since most people are visual learners, having a stunning image for your contest is a great way to spark interest in your giveaway.

Make up terms and conditions:

Modern people are concerned about their online privacy, so it's important to make up terms and conditions that both protect your participants and business from violations.

Promote your Instagram contest:

The more participants your contest has, the better. Thus, companies should promote contests with the help of various ways like push advertising, email newsletters, or influencer endorsements.
In a word...
Gamification has become an effective marketing strategy.
Have you participated in an Instagram contest before? Tell us about what made you want to give it a try in the comments below!