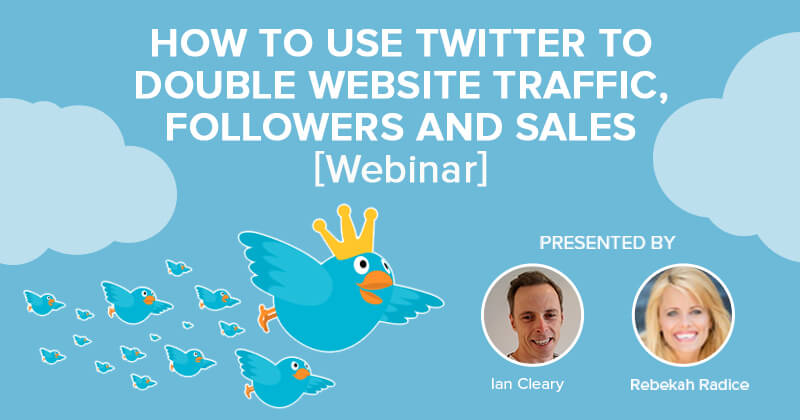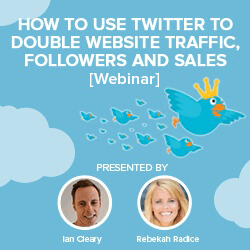 Struggling to justify your efforts when using Twitter for your business?
You aren't alone.
It can be tough to craft a Twitter strategy that moves sales leads off Twitter, onto your website and ultimately into your sales funnel.
It's definitely possible though.
And with 82% of all social media sales leads coming from Twitter, it's sure worth learning this valuable skill!
What if you could double the Twitter referral traffic to your website, double your followers and double the sales coming from Twitter all in less than 30 days?
With the holidays upon us, this is the perfect time of year to do it!
Join Rebekah Radice and Ian Cleary for a jam-packed webinar that will supercharge your Twitter efforts and skyrocket your Twitter ROI.
>> Click to Tweet <<
How to Use Twitter to Double Website Traffic, Followers and Sales [Webinar]
Let's admit it -- we've all seen how NOT to market on Twitter.
We've definitely seen our fair share of spammy tweets, automated replies, and unethical ways to grow followers (which ends up being a waste of time by the way).
Now it's time to learn how to market your business on Twitter the right way!
(the way that delivers real results)
Imagine turning your business Twitter page into a lead generating and follower growth magnet.
During this event, you'll learn...
Twitter tactics to ensure your following GROWS every single day
How to get 100 to 500% more traffic to your website from Twitter
A proven process for building a profitable Twitter presence
And best of all -- how to reduce the time you're spending on Twitter by 50% and double the value you're getting from it!
If you've struggled with monetizing your business Twitter page -- this exclusive webinar is for you.
Get the tips you need to make 2016 your best year on Twitter yet!
(and make your boss happy too)
Don't let this webinar pass you by.
Join us for this live event!!
Space for this live webinar is limited.
It's on November 17 at 11am PT | 2pm ET.
Reserve your seat by clicking the "Learn How" button below.
And don't worry if you can't join us live!
Everyone who registers will receive a copy of the replay and slides immediately following the event.
See you there!