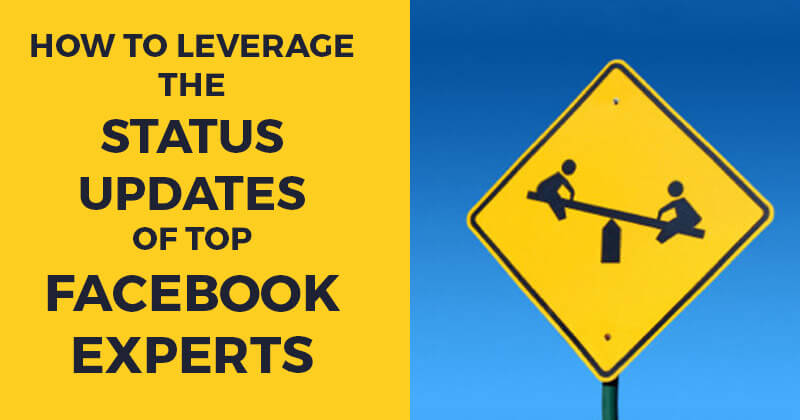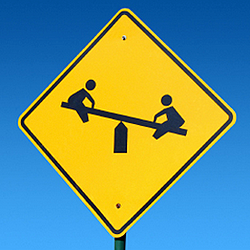 I have 2 goals with this blog post:
1. To list the Top 10 Facebook "Experts" currently online (in my opinion, of course)
2. To show you how you can quickly and easily leverage their status updates and use them to post better content on your own Fan Page.
Top 10 Facebook Experts
These are in no particular order -- but they are 10 people/companies you should definitely follow if you're looking for great advice on Facebook marketing.

Facebook page: https://www.facebook.com/jonloomerdigital
This dude just "gets it" when it comes to Facebook -- and especially Facebook marketing. You think I blog alot? Jon seems to post at least once a day.
He's quickly become a force to be reckoned with in the Facebook marketing world. He offers a mix of blog posts, podcasts and video tutorials. You won't regret following him. I promise!

Facebook profile: https://www.facebook.com/johnhaydon
John has a few different pages where he offers his insight on Facebook marketing -- Inbound Zombie and Non-Profit Facebook Guy.
On each of these pages -- and on his personal profile -- John shares great tips on how to best use Facebook for your business or organization. Definitely worth following.

Facebook page: https://www.facebook.com/marismith
You can never put together a list of Facebook experts without including Mari Smith! Even when you try not to include her you just have to!
Mari was one of the first on the Facebook marketing scene and provides consistently great content and tips about using Facebook -- both as a person (profile) and a business (page).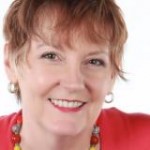 Facebook profile: https://www.facebook.com/phylliskhare
Phyllis Khare is a name you may not recognize -- but she is one of the brains behind the popular book "Facebook Marketing All-in-One for Dummies".
She is -- like the 3 people above -- someone who has more knowledge of Facebook in her pinky than most of us have in our whole body! Follow her and tell her Scott sent ya!

Facebook page: https://www.facebook.com/smexaminer
Ok, so this is a page, not a person. But it's certainly made up of people -- great people, in fact -- like Cindy King, Andrea Vahl and Michael Stelzner.
And it's the most popular Facebook page dedicated to Social Media Marketing by far. Social Media Examiner is the brainchild of Michael Stelzner -- and consistently pushes out some of the most valuable content you can find -- not just for Facebook marketing, but for all dimensions of social media best practices.

Facebook page: https://www.facebook.com/allfacebook
The AllFacebook blog, together with the Inside Facebook blog, tends to always make my lists of top pages to follow for Facebook marketing tips.
With serious journalists like Justin Lafferty and David Cohen, AllFacebook always has the inside scoop on all things Facebook (hence the name!). Whenever you need to find out the latest news about Facebook, they should be your first stop.

Facebook page: https://www.facebook.com/GrandmaMaryShow
Grandma Mary is the... um... mature and slightly cranky Social Media Edutainer of growing world fame. In fact, she's the alter-ego of Andrea Vahl, MVP of the Social Media Examiner crew.
Andrea is also the author of many Facebook marketing books and offers tons of free and paid training. Grandma Mary consistently posts funny stuff that gets you laughing as you learn about Facebook.

Facebook page: https://www.facebook.com/socialbakers
Social Bakers is out of the Czech Republic and was founded by Jan Rezab (follow him here on FB). It's all about analytics and stats. If you're a numbers person, you'll love the studies and reports they provide.
They discuss other topics than Facebook, for sure -- but Facebook definitely tends to be the main topic of conversation on their page. What I value in their posts is that they're based on real evidence (which they cite and present in their posts) and not just purely opinion.

Facebook profile: https://www.facebook.com/broganchris
Ok, Chris isn't known specifically for his Facebook expertise, but the dude does know how to run a business online -- and how to leverage social media.
I've only recently discovered Chris, honestly -- and it was more on a personal friend level than on a professional level. Funny thing is I had no idea he was "famous" in the business world... doh!
You may not learn specific Facebook tactics from Chris. But if you take note of the way he posts and the content he posts, you'll definitely improve your own posting skills.

Facebook page: https://www.facebook.com/gary
Want to "Crush It!" with Facebook and social media? Then follow Gary Vaynerchuk everywhere you can!
Sometimes I wonder if Gary can see into the future -- because the guy is always spot on when it comes to predicting trends. On Facebook his page shares a variety of updates, but almost always about social media. And sometimes his beloved Jets!

Hey, a little self promotion never hurt anyone, right? :)
No but seriously... I do think we offer some pretty good content on the Post Planner page & blog.
Yes, we're in business to sell you our (awesome) app. But when it comes to content, our #1 goal is to make you a better Facebook user.
...
Ok... Whew!! Quite a list, right?
Follow these people & pages ASAP if you really want to take your Facebook marketing knowledge to the next level.
Now on to my 2nd goal...
How to Leverage the Status Updates of these Experts
This is the fun part of this post -- and I hope it shows you the power of Post Planner!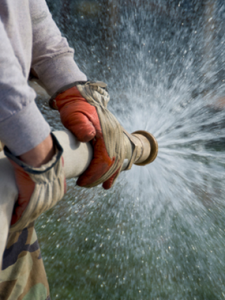 You see, inside of Post Planner, you have the ability to create folders and fill them with streaming content feeds -- RSS feeds, Facebook Pages or Twitter handles.
That's amazing enough -- I mean you can build an awesome folder for your own niche in just a few minutes. All you have to do is add 5 or 6 feeds from your colleagues... or competitors! :)
But on top of being able to build your own folders of streaming content, you can also access all -- yes, ALL -- of the content folders created by other Post Planner users.
Let me show you how it works in the video below:
How to Create a Folder in the Content Area of Post Planner
As you can see, it's SUPER simple to set up a folder with streaming content from your favorite blogs, Facebook pages and Twitter accounts.
And once you create your folders, they're always there waiting inside your Post Planner app -- ready to offer you the freshest new content from your sources!
How to Add a Folder from the Global Content Library
But... what if you can't find content?
What if you don't know any great blogs -- or don't have time to find their RSS feeds or copy their Fan Page URL's?
What if you just want to use the folders of other Post Planner users?
Well, you can do that too -- check out how in this video:
What Now?
Your challenge now is to go to your Post Planner app and add my "Top 10 Facebook Experts" folder to your own Content library.
Here is how to do it below:
Step 1: Click "Content"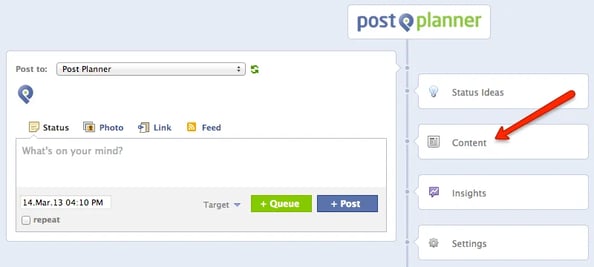 Step 2: Click "Open Global Content Library"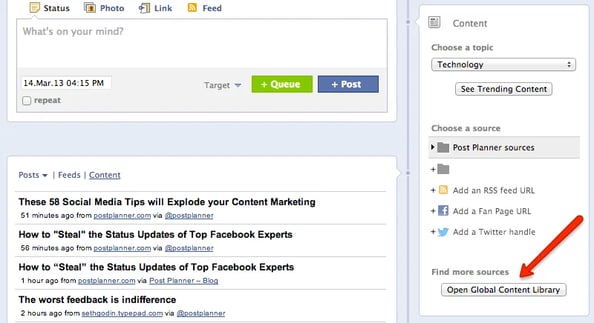 Step 3: Find "Top 10 Facebook Experts!" then click "Add to My Library"

And there you have it!
Once you do that, you can quickly leverage the status updates from the leading Facebook experts! :)
Easy as pie.