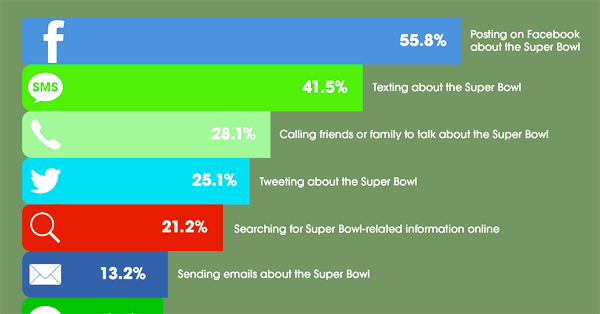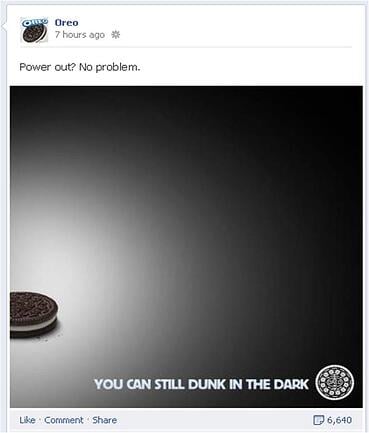 Could your business be this year's OREO?
The cookie giant made social media history last year after posting this Facebook post when the stadium power went out.
The message quickly went viral, garnering more than 15,000 retweets & nearly 20,000 Facebook Likes.
And a similar social media stunt could happen this year!
Facebook will definitely dominate viewer activity on Super Bowl Sunday.
People will post more often about the game on Facebook than they will text, call friends or tweet about it.
>> Click to Tweet <<
According to this new infographic by Crowdtap, 55% of Super Bowl viewers will post about it on Facebook during the game.
Others will chat about the game via:
text messaging (41.5%)
the telephone (28.1%)
Twitter (25.1%)
email (13.2%)
instant messaging (12.5%)
And they'll spend much of their time praising & skewering the ads.
But check out how else folks will use social media during the Super Bowl.
Here's How Many People Will Share Super Bowl Ads on Facebook
Pre-game
About a quarter of viewers will likely post about a Super Bowl ad before the game begins.
>> Click to Tweet <<
And more than 37% will look up a Super Bowl ad before the game starts. Here's why:
Interested in brand (59.1%)
Family member/friend posts about ad on social media (55%)
Family member/friend tells me about ad in person (47%)
Expect announcement from a favorite brand (46.8%)
Ad features popular celebrity (40.5%)
Brand's Super Bowl ads last year were some of the best (31%)
Game time
Once the game begins, more than 67% will use social media to post about the Super Bowl.
>> Click to Tweet <<
About 41% will be logged in for most (if not all) of the game. And they'll post about:
Player performance (56.3%)
Favorite ads (55.8%)
Halftime show (50.5%)
Opposing team (33.9%)
Least favorite ads (28.3%)
Watching game with friends (20.1%)
None of the above (11.5%)
Not surprisingly, most people will be posting on Facebook: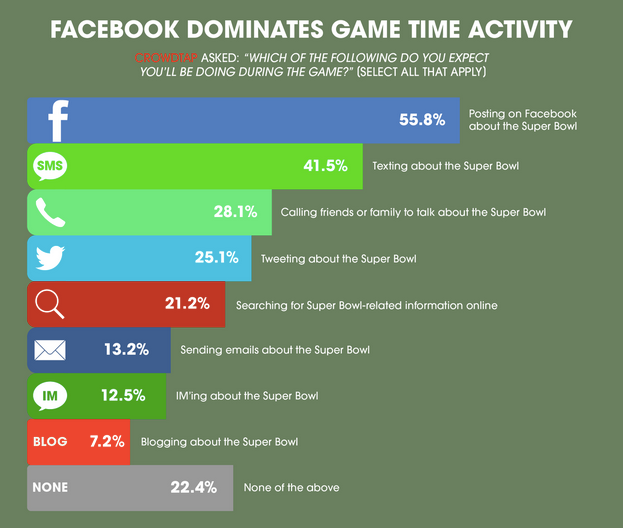 Post-game
More than 65% will post about the ads after the game -- and 62% will try to watch some of the Super Bowl ads again!
>> Click to Tweet <<
Businesses have a decisive edge in the post-game battle for Likes & followers.
About 73% of viewers will be more likely to Like a brand instead of a team after the game.
Vote for Your Favorite Ad Here
Some of the Super Bowl commercials have already been leaked: Arnold Schwarzenegger, Stephen Colbert, the "Full House" reunion?
Which ads are you most excited to see? Do you already have a favorite?