Updated: April 18, 2020
We're all a little desperate for Likes these days.
And there are many tactics you can use to get them.
In my opinion, the hands-down most effective way to get more Likes on Facebook in 2020 is through ads.
Yes, ads.
WAIT!... HOLD ON!... don't click "X" and close the tab just yet!
I know a lot of you are against Facebook ads -- or just plain scared of running them.
Don't be.
Facebook ads are actually super easy to create & use -- and if you're running a business, you should be spending money on advertising.
So in this post I'll show you how to use one of Facebook's most affordable and effective ad units (Like ads) to grow your page's fanbase and your business!
How to Use Facebook Like Ads to Grow Your Fan Page & Business
Let's start with the basics.
Just what are "Like ads" anyway?
What are Facebook Like Ads?
It's simple: Facebook Like Ads are ads that appear in the Facebook newsfeed for desktop or mobile users.
They showcase Facebook Pages and ask target audiences to Like the page.
If the targeted user has one or more friends who Like the advertised page, the user will see that their friends Like the page.
It creates a sense of trust if the targeted user sees multiple trusted family and friends also like a Facebook Page.
And it increases the odds that the targeted user will Like the page herself.
Why do Like Ads work?
They work for many reasons:
1. Great social proof
Like ads have great social proof, as mentioned above. They show pages your friends have Liked -- which makes you want to Like them too.
2. Easiest to set up
Yep, Like ads are the easiest ads to set up -- and tend to be the least expensive.
3. Instant exposure
Like ads get your page instant exposure to new fans, creating great brand awareness.
4. Increased engagement
Like ads increase your engagement during a specific timeframe. If you target the right audience, you'll also increase your content likes and comments as you increase your fans.
5. More visibility
As you increase your content engagement, you'll get more visibility in the news feed with your current fans. More engagement leads to more visibility leads to more engagement leads to… you see what I mean!
It's the never ending cycle of growth and virality (the good kind)!
How to Create a Like Ad
In the past, a lot of Facebook experts told people to use Facebook's "Power Editor" for ads.
This isn't necessary anymore. Power Editor was a great tool, but it has now been combined with Facebook's Business Ads Manager features.
So you can use the options I lay out below to create Like Ads on Facebook.
Remember: my goal is to make this super simple for you.
There are 3 main options for creating Like ads, depending on the size of your page:
"Promote" Option on Your Page
"Create Ad" Option on Your Page
"Engagement" Option in Ad Manager
I'll show you the step-by-step process for all three.
1. "Promote" Option for Creating Like Ads
Step 1: Go to Your page
The easiest step of all! Just head to the page you want to run a Like Ad for.
Step 2: Look at the Bottom of Your Sidebar Menu
If you see the blue "Promote" button at the bottom of the left sidebar menu, click that. If not, scroll down now in this blog post to the "Engagement" Option.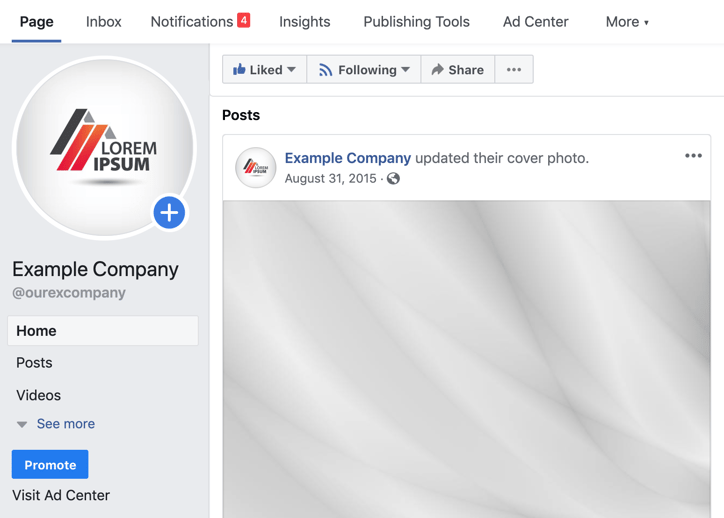 Step 3: Click Promote Page
In the following lightbox, click the Promote Page option to create a Facebook Like Ad for your Facebook page.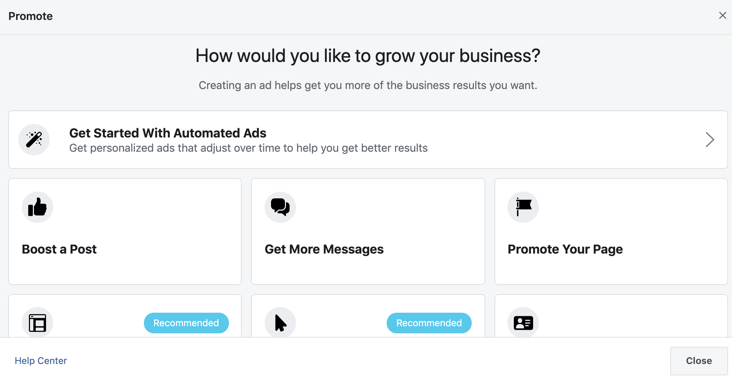 Step 4: Create an Ad Creative
Start by creating your ad creative that will appear in the newsfeed. As you edit your ad creative, you will see a preview of it in lightbox to your right.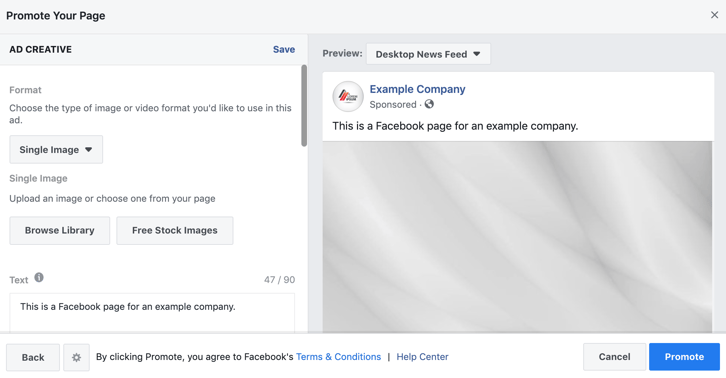 Step 5: Edit Your Audience
Who do you want to like your Facebook Page? Edit your target Facebook Like Ad audience in this section.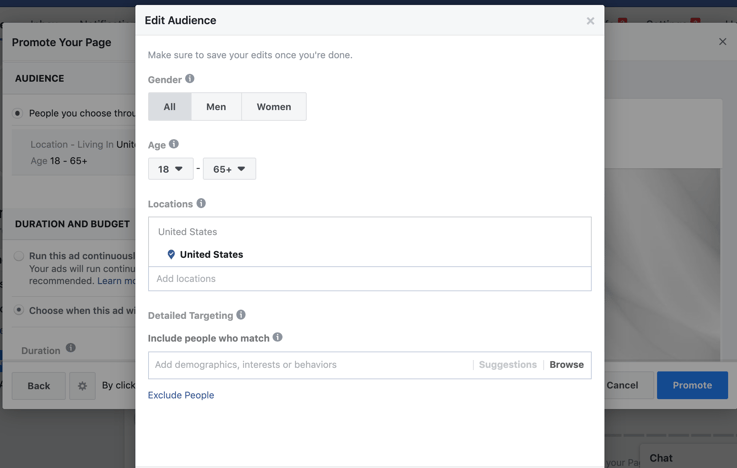 You can choose to target audiences by basic demographics, interests, or behaviors. You can also exclude audiences by the same targeting options.
Step 6: Set Duration & Budget
Next, you will set the duration and budget for your Facebook Like Ad. You can choose to run it continuously or for a set time with a daily budget limit.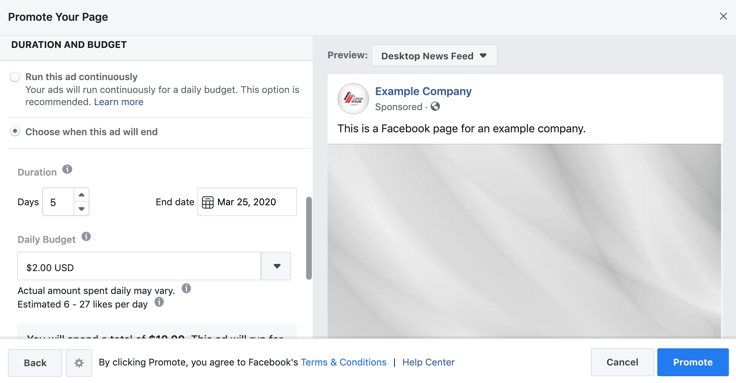 Step 7: Pay & Promote
Once you have configured your budget & duration, reviewed your ad creative, and reviewed your audience targeting, you can choose your payment method and click the Promote button.
Facebook will review your Like Ad and, once approved, start to run it based on your duration settings.
If your Like Ad creative breaks one of Facebook's Advertising Guidelines, they will let you know so you can update your ad accordingly. You may want to review their rules on prohibited content, text in images, and other information before launching larger advertising campaigns.
That's the "Promote Page" Option. Now onto the "Create Ad" Option.
2. "Create Ad" Option for Creating Like Ads
If your page doesn't have the "Promote" option, then you'll need to follow these steps to create basically the same ads.
Step 1: Go To Your Page
Pretty simple step -- just head to the page you want to run the ad for.
Step 2: Click "Ad Center"
Scroll above your cover photo and you should see an option for Ad Center.

Step 3: Click "Create Ad"
You may see one or more options to create an ad. Click on one of them.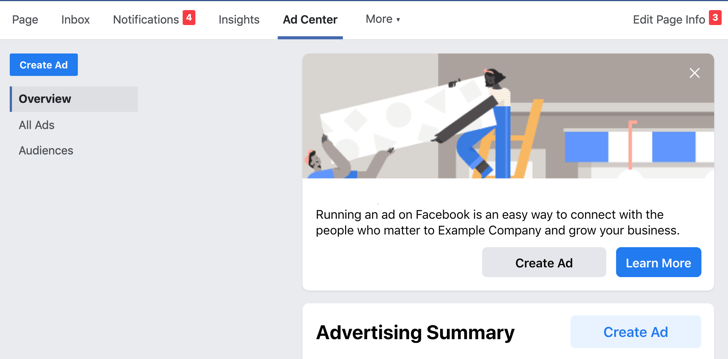 Step 4: Choose "Promote Page"
From here, it's the same as the steps above for using the Promote Page button under the sidebar menu.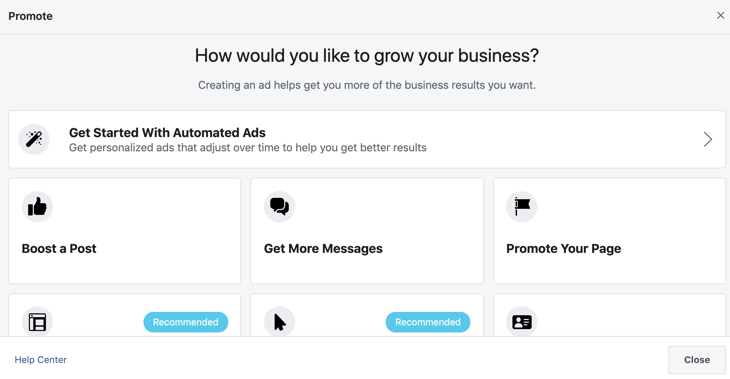 IMPORTANT! if Facebook gives you these two options, they're super easy to set up -- but REMEMBER: you need to go in & edit the ads to make sure they look correct.
I learned my lesson the hard way on this by letting an ad run with really bad text on it.
The funny thing about my ad was the title of "Grace Bible Church of Gatesville" is actually 7 characters too long. But since I created it through this "Get More Likes" option, it will post as is. However, once I go in and edit the ad, I have to shorten it.
3. "Engagement" Option for Creating Like Ads
The third option is the Engagement option inside Ads Manager.
Step 1: Go to Ads Manager
First, go to your Ads Manager.

Step 2: Click + Create
Click the green +Create button to create a Facebook Ad Campaign for your Facebook Page's Like Ad.
Step 3: Choose Engagement as Your Marketing Objective
The first step to setting up a Facebook Ad Campaign is choosing your objective. In this case, it is going to be the Engagement objective under Consideration.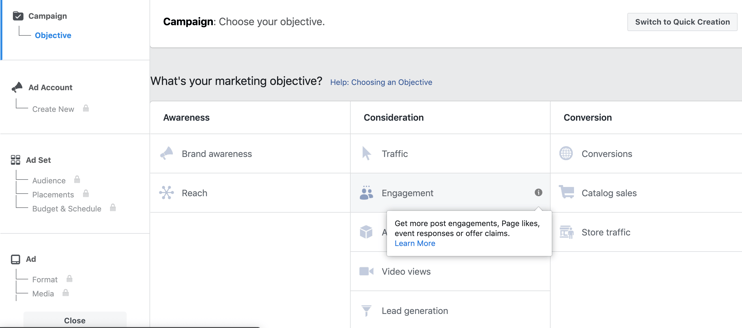 Step 4: Choose Page Likes, Name Your Campaign and Set Your Budget
After you select Engagement, you can choose Page Likes to create a Facebook Like Ads campaign.
You will then name your campaign and configure other details, such as A/B testing, total budget, and bidding strategy.
Advanced options include Ad Scheduling, Ad Delivery, and Delivery Type. These options are available if you change your campaign bidding strategy.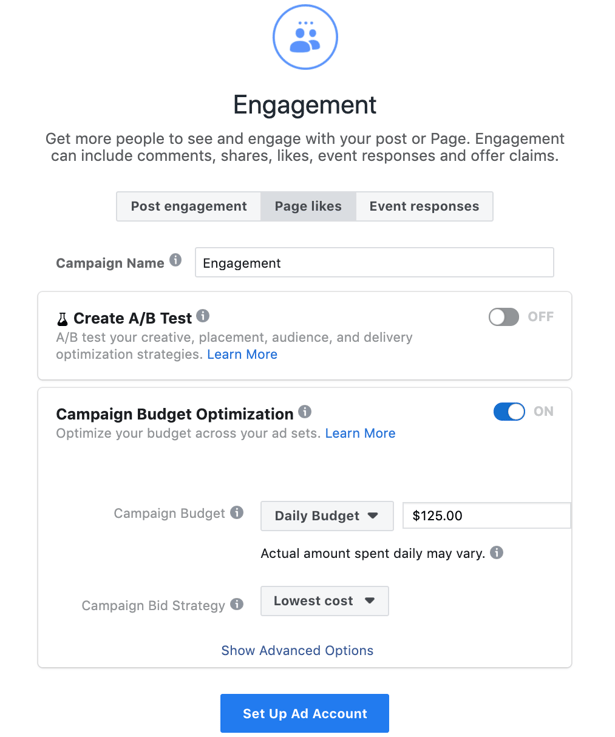 Step 5: Choose Your Page
Choose the Facebook Page you want to promote in your Facebook Likes ad campaign. You can choose one Facebook Page per Facebook Ad Campaign.

Step 6: Define Your Target Audience
Unlike earlier Promote Page and Create Ad options from your Facebook page, you have more options for audience targeting in Ads Manager. First, you have your standard demographics, interests, and behavioral targeting.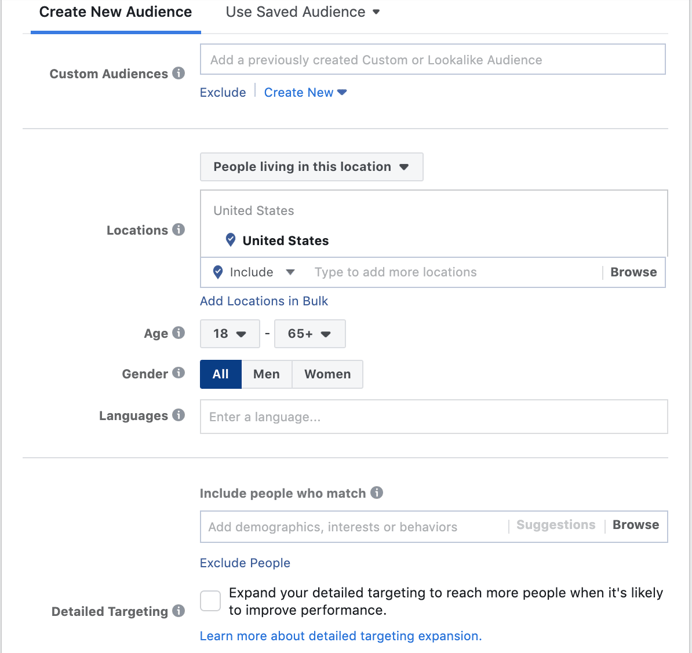 Depending on your page, you'll need to decide how you want to target your ad.
There are 7 settings to consider:
(1) Location
If you're a local business, you should target to a city or zip code within 20-25 miles of you.
(2) Age
If you have a product meant for a certain age, it's best to target by age. Again, this is totally dependent on your business and brand. For me, I always choose 20 & over at minimum -- because unless your product is teen-related, you might be wasting ad dollars.
(3) Gender
Choose All, Men or Women. Again this depends on your goal of the ad and how you are targeting it. No right or wrong selection here -- unless your ad text says "Hey Ladies!" or similar in it.
I do think it's best to segment your ads by gender just to see how each reacts to them.
(4) Precise Interests
This can be a bit tricky, but super powerful if used correctly. If your business is in the Automotive niche, for example, you may want to choose interests like "Nascar" or "Cars".
This will target your ad down to a smaller, interested audience. And it will save you lots of money.
(5) Broad Categories
Use these categories to target people that share similar interests as well. I can't stress enough how important it is to choose the right categories. This can make or break your ad.
(6) Connections
Here you can choose to show the ad to "Anyone", "Only people not connected to your page" or "Advanced connection". Select "Only people not connected to your page".
(7) Friends of People Who Like Your Page
This setting is a great one. From here you can choose to only show the ad to people whose friends have already Liked your page.
I highly recommend this. Again, it's all about social proof.
Custom Audiences
You also have the option to use custom audiences.
These are audiences created from lists such as your customer lists, email subscribers, SMS subscribers, app users, website visitors, engagement from Facebook/Instagram, and other sources.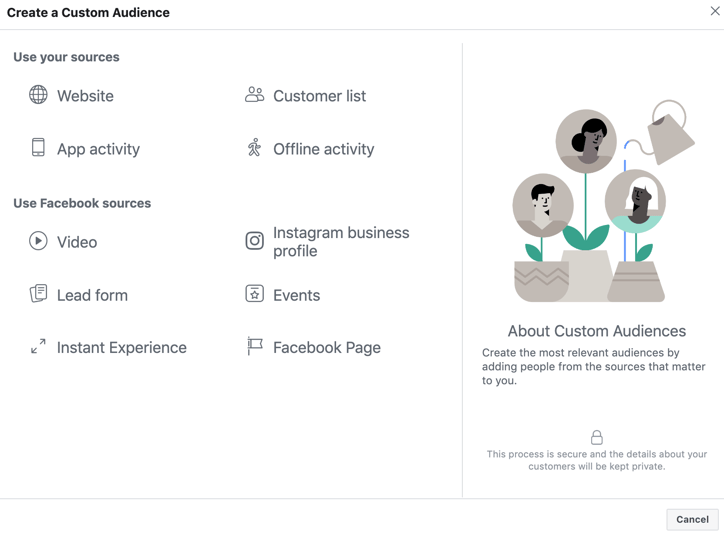 If you want to target custom audiences to get more likes for your Facebook Page, you will need to set these audiences up in advance.
Facebook has to match your custom audience lists to their members, and this can take some time. You will want your custom audience lists ready to go before you want to run your ad campaign.
This is especially important for your website visitors list.
You have to have a minimum number of website visitors matched to Facebook/Instagram users before you can use this custom audience for your Facebook ad campaigns.
Step 7: Choose Your Ad Placements
Facebook gives you two options for Ad Placements: automatic and manual.
If you choose automatic, Facebook will place your Facebook Like Ad where they think it will perform best and get you the most likes.
If you choose manual placement, you get to choose where your ad will appear on Facebook and Instagram to mobile and desktop users.
You will also get a preview of what ads in each placement option look like.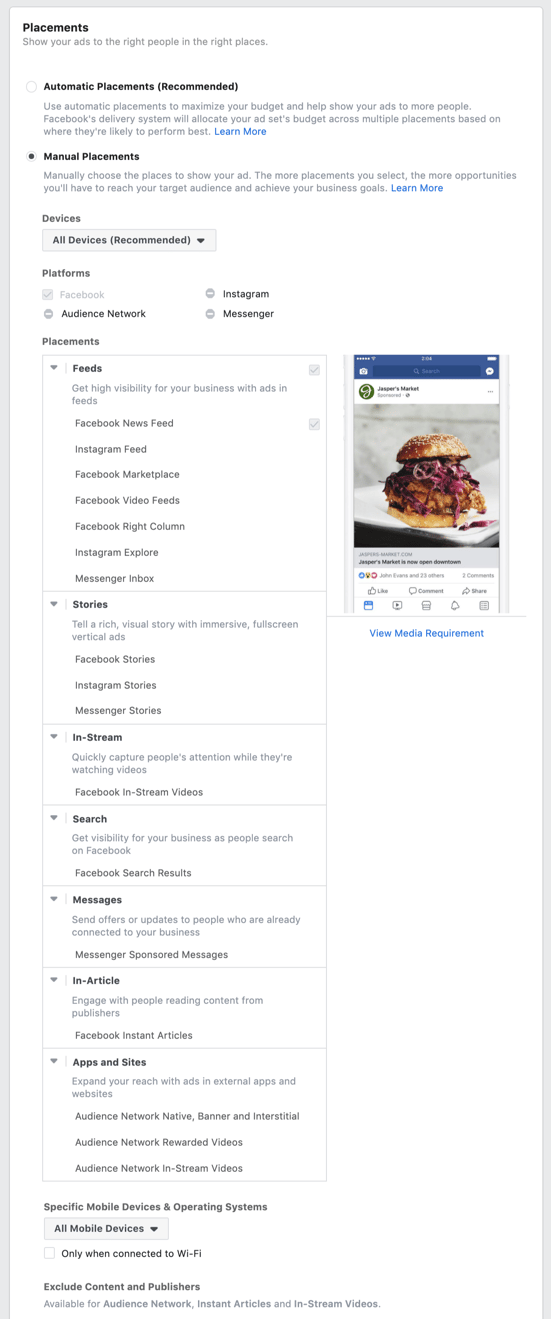 Since you are choosing a Facebook Page Likes campaign, you'll notice that even the manual placement options are automatically leaving off Instagram, Audience Network, and Messenger.
It shows that Facebook has done its testing and proved the best results for Page Like Ads come from ad placements in the Facebook News Feed.
Previously, the Facebook Right Column was a popular option for Facebook Like Ads, but this has now been disabled in the manual placements. It is no longer compatible with this particular marketing/ad objective.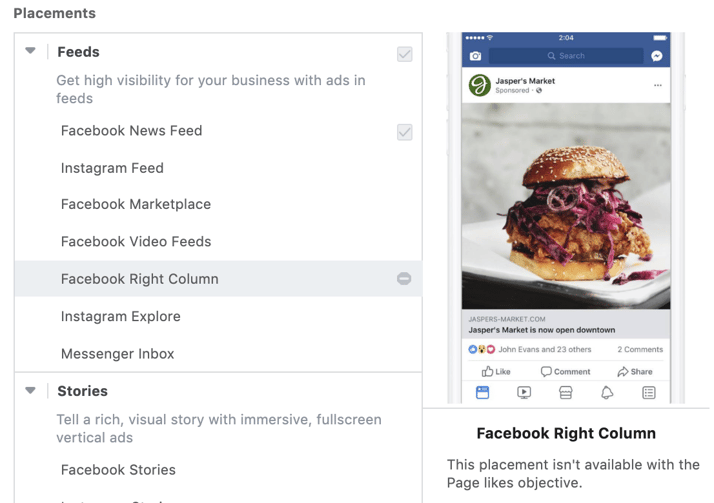 Step 8: Configure Budget & Schedule
By default, your ad will be optimized for Page Likes automatically.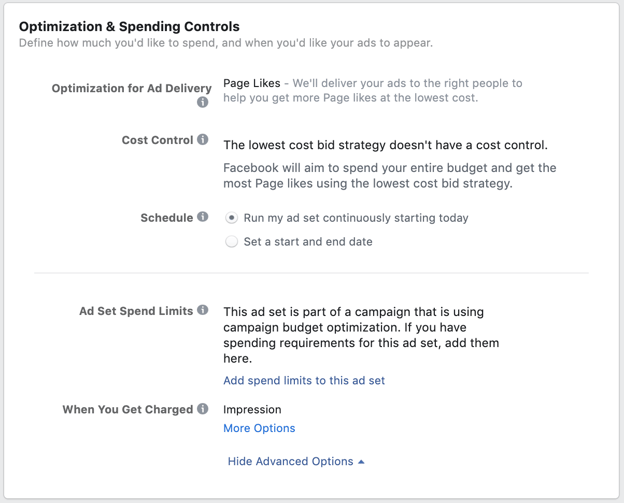 You can modify your schedule from here, and you can click on the more options to see when you will get charged.
You can also add spend limits to your ad set. Other bidding options are not available here because of the type of ad objective you have chosen.
Step 9: Create Ad Creatives
Last, but not least, you will create the ad that generates your Facebook Page Likes. First, you'll set your Identity (your Facebook Page) and type of media (single image or video is usually selected).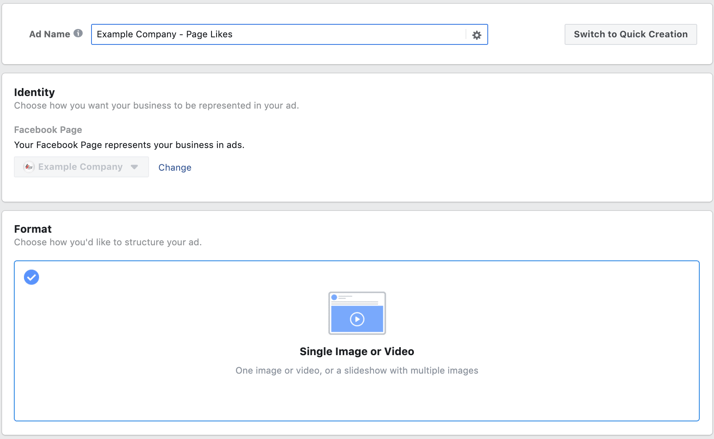 Next, you'll configure the actual image or video and text for your ad. This should compel your potential new fans to click the like button for your Facebook Page.
Step 10: Review & Confirm
Although there are additional tracking settings that can be configured, those are mostly saved for other ad campaign types to measure lead and sales conversions.
In this case, you'll want to review your ad's budgeting, scheduling, audience targeting, ad placement, and creative. If everything looks good, click the green Confirm button.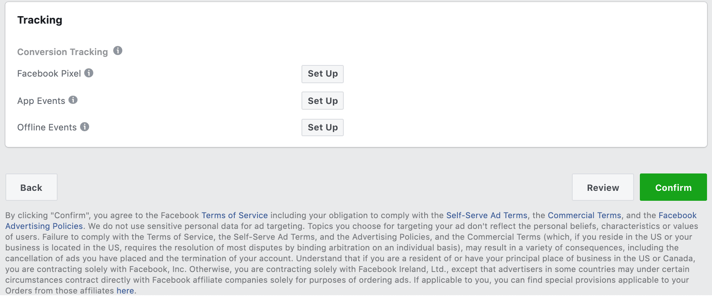 Facebook will review your Like Ad and, once approved, start to run it based on your duration settings.
If your Like Ad creative breaks one of Facebook's Advertising Guidelines, they will let you know so you can update your ad accordingly.
You may want to review their rules on prohibited content, text in images, and other information before launching larger advertising campaigns.
Result: watch the Facebook Likes pour in!
Yep, now you can sit back and watch your new fans arrive.
But don't forget to start engaging with them and turning them into customers.
In any case, congratulations!... You've now graduated from learning the basics of Facebook Like ads.
You're now smarter than 90% of your competitors marketing their businesses on Facebook.
I hope you found this useful and helpful.
Now please hit that Like button and share this post on Twitter & Facebook.