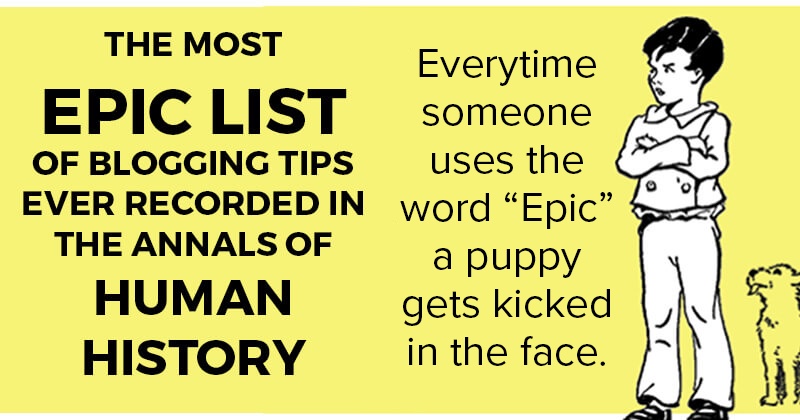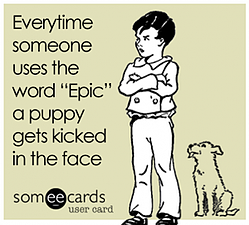 Are you a Blogger?
Do you want to be a Blogger?
Then it's time to pay attention... because I'm about to unleash the most EPIC list of blogging tips. Of. All. Time.
** Disclaimer: I cringe at the word EPIC like an incoming root canal -- but I couldn't find a better word to describe my legendary list.
Personally, I started blogging by accident. It was never my intention for it to become my main source of income.
And yes, I learned a lot of things along the way -- the hard way -- by full-on trial & error.
Epic mistakes & epic fails included.
And you know what?... I wouldn't change a thing about how I got to where I am today.
Trust me, I definitely learned more from my failures than from my successes.
Nevertheless, I hope that by sharing these tips about blogging (from some of the smartest minds in the blogging game) I can help you get a leg up on the competition -- and hopefully not fail as often as I did!
Behold: the EPIC Blogging Tips List
by Neil Patel
I listed this 1st because every blogger -- new & old -- needs to read it. If you read no other blog post, then read this one! Neil gives a complete run down of everything a blogger needs to know.
-- Tweet This --
by Marcus Sheridan
Marcus tells the story of a simple blogging exercise Kirk Drake did that generated over $1,000,000 in sales! You have to read this!
-- Tweet This --
by Derek Halpern
There are more than 164 million blogs -- most of which get less than 1,000 visitors a month. That means most blogs are, for lack of a better word, failures. Find out why & what to do about it in this post.
-- Tweet This --
by Crazy Egg
Headlines are probably the single most important component of your blog. Without good headlines, you can't catch the attention of busy readers. Here are 9 simple ways to create winning headlines!
-- Tweet This --
by Ian Cleary (via Social Media Examiner)
In 2012, mobile users spent 63% more time accessing mobile websites & apps -- and this is set to increase this year. And next year. And the year after that. In this article Ian discusses (1) the importance of mobile for your blog and (2) the different options available to optimize your blog for mobile devices.
-- Tweet This --
by Kristi Hines
One of the biggest questions businesses have about blogging is what they should blog about. Find out in this article how to find topics for your blog.
-- Tweet This --
by Ian Cleary
Here are 5 tools for a more interactive blog that you should consider.
-- Tweet This --
by Heidi Cohen
In this post, Heidi reveals 7 secrets to help you write content on boring topics -- and turn your blog posts into reader magnets.
-- Tweet This --
by Blog Tyrant
Some people think that when they start a blog things take off as soon they publish the 1st post -- traffic flows in, readers start handing over their emails, and your fame & wealth skyrockets. Unfortunately that's not quite how it works.
-- Tweet This --
by CopyBot
Really short blog post -- but it has some super powerful info on headlines that you shouldn't miss out on.
-- Tweet This --
by Andrew Davis
If you're creating valuable content for your target audience -- and you're sticking to a format -- then you have to have a hook. A format gives your content structure -- a hook gives it character.
-- Tweet This --
by Jay Baer
Is your blog costing you money or making you money? Find out via these 9 easy-to-follow steps.
-- Tweet This --
by Marcus Sheridan
Are you targeting keywords that get you traffic? Or are you targeting keywords that make you money? Find out the difference in this post by the Sales Lion.
-- Tweet This --
by Blogging With Amy
Blogging can be a full time job -- which can lead to burn out. But not if you learn how to manage your time wisely.
-- Tweet This --
by Contently
We're in a "Sue Happy" world these days. Bloggers need to be certain to avoid the pitfalls of being sued over content.
-- Tweet This --
by Social Triggers
If you're having a rough time getting people to read your blog, then you need to read this article. Or you can continue wasting your precious time. Up to you.
-- Tweet This --
by Marketo
Blogging is one of the best ways to connect with existing & prospective customers. So what happens when no one is interested in the company blog? What if you're spending time writing posts, but no one is reading?
-- Tweet This --
by Heidi Cohen
Besides writing, promoting your blog is the most important part of blogging. Without getting the word out, your content will never reach more readers. To this end, you should be leveraging Facebook & Twitter to boost your blog traffic.
-- Tweet This --
by Quick Sprout
Want to boost your conversions? Then start with your blog headlines. Neil Patel of Quick Sprout shows you 10 proven ways to do this in this post.
-- Tweet This --
by Blog Tyrant
One way to measure whether people are enjoying your content is to count comments. But today in our fast-paced social media era, people are commenting less & liking & sharing more. So how do you get more comments? Find out in this blog post.
-- Tweet This --
Quit Treating Your Blog Readers Like Second Class Chumps
Content is King. This is the rallying cry of many bloggers -- and for the most part, it's true. After all, without content, you have no readers. But what good is content when it's surrounded by craptastic design?
by Ian Cleary
Without a blog editorial calendar, you'll find it difficult to deliver consistent, varied content that's relevant to your audience. You'll also struggle to sell your products or services -- as you need to plan content to sync with your product launches, sales, etc.
-- Tweet This --
by Unbounce
It's safe to say that most of you blog to make money, right? Then you're going to love this blogpost. The folks at Unbounce show you 3 steps to turn your blog subscribers into paying customers.
-- Tweet This --
by Leslie Samuel
Just because your blog is online doesn't mean you should only promote it online. In this post, Leslie offers some great (and unconventional) tips on how to spread the word about your blog.
-- Tweet This --
I Triple Dog Dare You!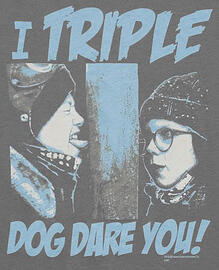 These are some seriously deep blogposts, my friends -- with tens of thousands of dollars worth of advice.
But only if you take action on them.
So today I challenge you to:
go read each of these blog posts
take one point of action from each
execute this point of action with your blog
Do this & I promise you will set yourself apart from your competition.
And one more thing...
Be sure to share this post with your closest colleagues -- so they can start crushing it too.