I've scoured the web and found a nugget that you NEED to bookmark ASAP!
One of the toughest things to do online is find relevant blogs to follow and subscribe to. Sure a Google search helps, but often Google results are simply creative marketers promoting something of no quality.
And once you find the blog, figuring out how to follow it can be a task too.
I ran across a really great tool called RSS Search Engine that makes finding and following blogs super simple.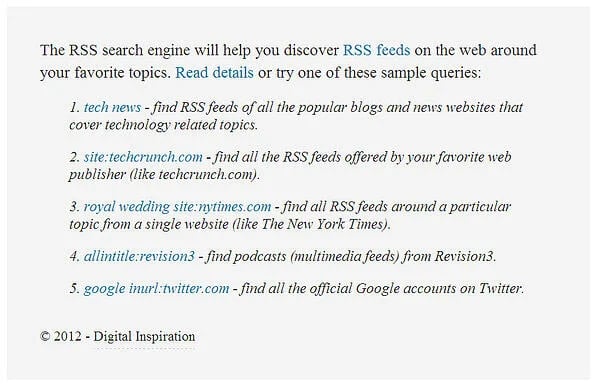 Basically you can do a search on any topic, niche or keyword and it will spit back links to (1) the actual blog, and (2) an RSS feed you can use to subscribe to the blog!
As you can see in the image above you can go directly to some of their sample queries to find popular blogs. Or you can do your own search. You can also do advanced searches if you're so inclined.
Easiness Rules!
I love when someone creates an easy to use tool!!
So let's say your niche is "auto shipping". Just add that term and hit search, like this:

What happens next is pure magic and genius!
The site kicks back a list of results and gives you a link to the blogs, the rss feeds and a simple way to "Subscribe" to the blogs: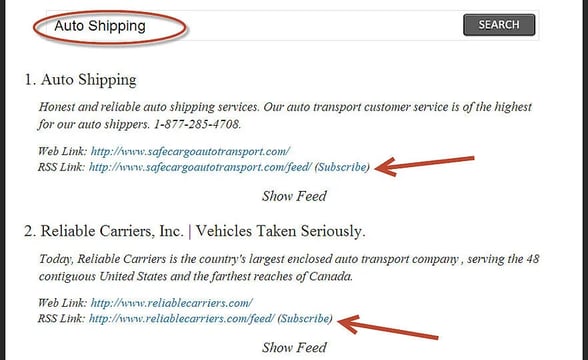 Here's the really cool part. When you hover over the word "Subscribe" a box appears listing all of the various ways you can subscribe to the blog. I prefer Google Reader, but you may prefer another service: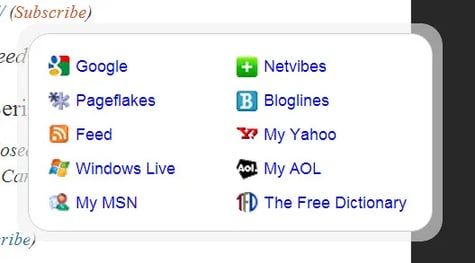 Once you click on one of those links a separate tab will open allowing you to subscribe to the blog on the platform you choose.
And you're done!
You can also click on the "Show Feed" link below each blog listed and see a recap of their latest posts -- to decide if you want to subscribe or not.
It only seems to show 10 results per search, so it's not an endless and all encompassing search result. But... this is one of the quickest and easiest ways I've found to find and follow blogs.
Brought to You By...
The tool is brought to us by Digital Inspiration and it looks like it's been around for over a year. I'm surprised I'm just now seeing it!
But it does explain why they have a link to "Royal Wedding" on their page. The site doesn't look like it's been updated in quite some time.
Here is a demo video they put out showing the tool in action. The music is extremely bad!!
What do you think of this tool? Will you use it? Let me know in the comments.