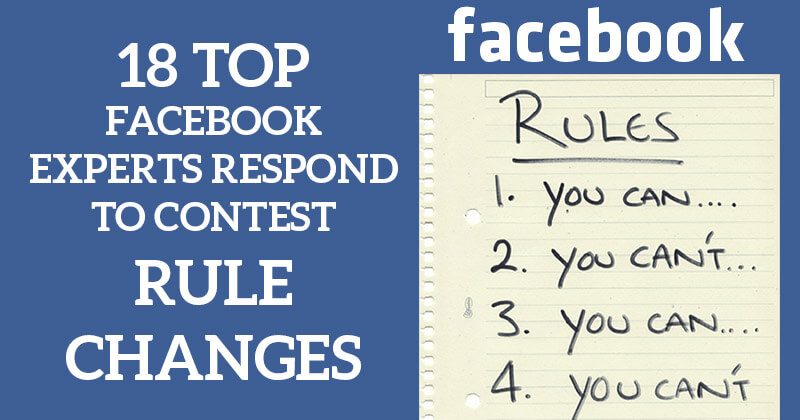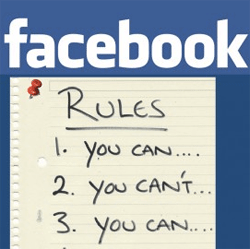 Facebook has announced a massive overhaul of the Facebook Promotions & Contests guidelines for pages.
Previously all Facebook contests had to be run inside a 3rd party app -- and could not just be done on your page.
That all changed with Facebook's announcement.
(I was one of the first to break this story in my post below.)
What Are The Changes?
Facebook -- We've removed the requirement that promotions on Facebook only be administered through apps
Now, promotions may be administered on Page Timelines and in apps on Facebook. For example, businesses can now:

Collect entries by having users post on the Page or comment/like a Page post
Collect entries by having users message the Page
Utilize likes as a voting mechanism
This means you no longer have to use a 3rd party app to run your contest! It can simply be a status update or photo now.
When the news came out, I made the claim that Facebook had just killed an entire industry of Facebook app providers -- especially those focused on contest apps.
That may have sounded a bit harsh -- and perhaps it was -- but I do feel this change will hurt all contest app providers.
Facebook App Providers Weigh in on the Update
To find out what they thought of this change, I reached out to many of the top app providers for pages -- those that provide apps to run Facebook contests -- and asked them their opinions.
I think this is great for small businesses because they can now quickly get engagement from their fans, no hoops to jump through.

Is this the end to 'apps' all together? No.

From what we've seen, micro to small businesses were already running "like/comment on this photo to win" contests and weren't turning to third party apps to begin with. When you have larger followings and hundreds to thousands of entries and comments, that's where apps can really help.

Savvy marketers know that a like or a comment is only the beginning.

The real work is done when you collect that data and then leverage it for ongoing marketing and communications.
Nathan Latka, CEO, Heyo
We're excited to see Facebook make these changes as it makes the lives of small and medium sized business owners easier. This is our mission at Heyo and its good to see that Facebook's mission is aligned.

The key to leveraging contests via status updates is going to be in how the update is worded, what the incentive is, and what media is attached (picture, link, etc). We've been working on something special that will auto-generate highly effective contests for status updates.

This, paired with third party app integration for email capture, increased virality, and selling paves the way for businesses to grow quicker using the social network as a top marketing channel.
Mike Gingerich, CEO, TabSite
Definitely an interesting development!

All those looking for a cheap and easy way, have a way to offer a giveaway now.

Though those Pages wanting a more complete experience such as a photo entry contest and who want to capture entrant email addresses and other form data will still want the power and control a tab app can offer I believe.

Time will tell us more!
The blog on Pagemodo points out some drawbacks to consider:
Drawbacks:

Low quality leads: Since you can't collect vital marketing information like email addresses and other contact information through the Timeline, Page Admins who are trying to collect leads for future marketing initiatives will still need to utilize 3rd party apps.
Time consuming and manual: With this update, Facebook did not release any new tools to help administrators manage such promotions. Thus, anyone that decides to run a contest via a post will have to manually moderate entries and manually choose winners. Depending on the success of your promotion this could be a daunting task.
Legal hurdles: The reality is that Facebook still requires that you operate the contest legally, abide by state and federal laws, and adequately release Facebook of any responsibility for your contest. Regardless of the method you choose to execute your promotion, it is vital to know your local, state, and regional guidelines when it comes to running contents and giveaways.
Francisco Rosales, Co-Founder, TabFoundry
The idea of bringing promotions to the front-end is good but to me, there are 3 main concerns today:

In marketing in general, you must remain in full control to be able to test, adjust and analyze your campaign, promotion or whatever you're running. In this case, I feel like I'm giving Facebook 50% of the control
The impossibility to gather any kind of data from participants kills the one and only goal for any business to run a contest. Unless you're Redbull or Starbucks…
People have been running contests on Facebook against the rules all this time, now the doors are opened to move into the Timeline and I'm afraid, this also opens the doors to lower quality promotions and even spam
Zsuzsi Szabo, Co-Founder, Antavo
We are not surprised by the changes. Facebook wants to help small businesses, and they don't hide that they encourage paid advertising of these wall contests. However, we can't see a long-lasting effect of Timeline contests.

We know from our customers that they aim for email leads and new fans, and Timeline contests still can't provide with this.

We think smaller businesses will use Timeline contests a lot (I am worried about my news feed though), but those businesses who have an email and social strategy will still use contest applications.
David Foster, CEO, Hubze
We at Hubze feel that this is a good thing. Facebook is now loosening up a bit and giving page admins freedom, that up to now, only 3rd party apps had.

They are making it so 3rd party apps, which will always look and function better, can work hand in hand with Facebook where you will no longer be required to use outside means to notifying winners, give deals, ask for contest entries and more.

You can get people to fill out their info OR like a post etc to enter, claim or win.

Also keep in mind with these options opening up, we app developers will have even more options to post on timelines on the apps behalf etc. Before you were bringing people to Facebook, but then facilitating all the actions outside. Now it can be seamless, and allow users to stay where they started in the first place.

This is great news in my opinion, because it solidifies the importance of contests, sweepstakes, and deals type applications.
Scott Linklater, Director, Fans2Page
Facebook's policy change to now allow contests and promotions on a Facebook page is clearly all about selling more ads.

This is a great move by Facebook to achieve that as you don't want to just run contests to existing fans, you want to use contests to build your fan base and gather new likes.

The best way to do that is to run a contest and then advertise to your target markets that are not currently fans of your page. This will make it easier for pages to get lots of new likes fast.

Facebook realised they couldn't police the numerous "illegal" contests so they found a way to make more money out of it.

The result will be a lot more offers and prize giveaways in your newsfeed and you will need to be offering attractive prizes to get the same level of attention that you do now. I also expect a lot of low quality contests that will be looked upon as spam and they could hurt the legitimate ones.

For Businesses marketing contest apps, I think the effects will range from nearly zero effect through to potentially "wiped out".

If you are marketing a straight sweepstakes basic app you could find it really tough now to get the lower end customers as your main selling point now will be the ability to collect emails.

This will be offset by the fact many businesses won't care about that and will do what is easiest plus with no permissions required the entry intake percentage will be far higher. Contests on your page are dead easy and easy wins every time!

For those businesses like my own at Fans2Page.com who have apps that perform specific tasks and are much more feature rich, the impact will be far less or not at all.

Serious businesses will still want to take advantage of these specialised features that allow them to do things like build a marketing database or promote their goods and services so you can turn fans into real customers.

As with any change on Facebook, there will be a period of wild speculation, and then things will settle down and level off and we will soon see where the watermark sits.

For small businesses this is a good thing. It will make it easier for them to get into the promotions side of things but to get really good results, ads will need to become part of their promotion campaign.

A seismic shift by Facebook today that will make their shareholders happy little campers no doubt! This is another timely reminder that we are playing in Facebook's sand pit and they make the rules.

A business reliant totally on them is always going to be susceptible to sudden changes they make, and they make them fairly often!
Easy fellas.... No need to pronounce a whole industry dead.

Those apps will just need to out-compete Facebook's app -- just like Post Planner must out-compete Facebook's scheduled posts.

But I do recognize that there's significant friction and hoops to jump through when creating a contest with a 3rd party app, and that FB's app may obviate this for the lay user.
As you can see -- and to my surprise -- all of these guys are embracing the change & many are welcoming it.
Probably because their apps will continue to appeal to larger pages & companies -- which are stronger & more loyal customers over the person running 1 small page wanting to do a contest every 6 months.
Social Media Influencers Respond
I also wanted to gauge the thoughts of many that train & "do" social media -- so I reached out to a few friends & scoured Facebook & the web to find out their thoughts.
I think a heap of Fan Page owners are going to rejoice for this!

Whether intentional or not, lots of Fan Page Admins have been deploying these types of contests anyway.

All in all, I think it's a good move on FB's part.

We now have the best of both worlds -- we can still use custom tabs for lead gen with the bigger prizes while PLUS use these 'like contests' for quick engagement.
This is a fantastic change!

Over 60% of fans admit to liking a page in the hope of discounts and offers!

Being able to run promotions directly on your timeline is exactly what your fans are looking for and will without doubt heighten and encourage increased engagement on your page (which is what we all strive for).
It still comes down to quality. If you push out junk it's not going to work. This goes along the same lines as the new feature offering free images from shutterstock in Facebook ads.

Seems they are really trying to empower the small biz. This is both bad & good.

It definitely sets it up more for spam as now the bar is much lower.

At the end of the day all that matters is where your bar is set and that you and your brand deliver quality. Don't follow the others including your competition.

Focus on the needs of your audience, period!
This is crazy. A bunch of thoughts here...

1) Totally shocked. Never expected this.

2) This has to be related to the recent algorithm change. We wondered why Facebook would suddenly focus on punishing brand posts that ask for comments, likes and shares. Really easy to connect the dots here.

3) It may be within the rules, but we're bound to be inundated with these contests now. See #2.

4) While it makes a lot of sense to now run some small contests this way, keep in mind the benefits of third party app contests that collect email addresses. Third party apps still have their place.

5) And, no, this doesn't kill third party apps. Well, it may kill those that focus only on contests. But other apps are still necessary/helpful for creating tabs that aren't contest related (landing tabs for ads, product features, ebook, newsletter signup, etc.).
Emeric Ernoult, CEO, AgoraPulse
In a nutshell, I'm not a big fan of the news.

I think in a lot of cases, as Facebook pages are not designed to handle contests or promotions, this will create a lot of problems.

How do you easily access all the likes on a post? How do you scroll through dozens or hundreds of comments? How can you make sure the winner is elected in a manner that will be perceived as being 'fair' by all other participants?

My main fear is that, at the end of the day, what may look like a 'simpler and cheaper' option may turn into being a nightmare — and a very expensive one.

It can be good for very small pages, though. But overall, I'm not a big fan.
Andrea Vahl, Social Media Coach, AKA- Grandma Mary
I am still recommending people use the Apps because that's the way you get the e-mail addresses.

That's the most valuable part of running a contest.

You could run small contests for an engagement boost that way but it's going to be a headache to pick a random winner from the Likes (if you truly randomized it)
I feel it's a good thing that Facebook's recent changes have now lowered the barrier to entry for competition's on Facebook.

Users are no longer limited to hosting within an app thus making it more mobile friendly and easier to setup.

However I would encourage admins to test this out and continue to use Facebook apps as they still provide great led generation opportunities for your business.
This is huge news! Wow.

Thousands of companies were already running contests on their Pages that didn't comply with the 3rd party rule. Now, they will be compliant!

This is all great news for increasing ENGAGEMENT!

Plus, with the message feature, companies can open up more dialogs with prospects via the Message feature.
OK...deep breath...REALLY? Did they really do this? Is this as awesome as it sounds at first glance?

This is only a good thing for those that were doing it right. The majority did not know the rules or did not care; either way they were fine with violating Facebook's rules.

But for those that have been trying to abide by the rules, this will make a difference.

You can now run a contest directly from your fan page timeline!

With Facebook's changes you will be able to simply write a post telling everyone about your contest, choose a winner and giveaway the prize.

The benefits of this simple approach are that...

You don't have to worry about which third party app to use
There is no cost outside of the cost of the prize
It's a great way to engage your fans and get them talking with you
You don't have to stress over whether it's mobile friendly or not

Sounds great right? Are there any hiccups that you should be aware of? Yes, just a few. While this sounds amazing there are a few disadvantages.

Not going to help you build likes to your page
Can't collect opt-ins for your list
How Should Your Page React?
Each page will need to decide what kind of contest suits their page & fans best.
For the small business page, this new way of doing contests will likely prevail:
Easier to run a timeline contest
No costs involved
Requires no additional software
Causes more engagement
For larger company pages, the use of apps will still be needed:
To administer a larger amount of entries
Gather email addresses
Easily meet legal conditions
Look more "professional"
I personally think a mix of timeline-only contests & app-only contests would be a good idea.
I also think app companies that have only focused mainly on contests will need to either immediately adapt & change, or die a quick death.
A great example of quickly adapting has been the reactions of Shortstack & EdgeRank Checker. They both introduced a feature/tool that allows you to export the Likes, Comments & Shares from posts.
ShortStack is calling theirs the "Like/Comment Importer" -- it lets you run a timeline contest & actually import the likes & comments, so you can pick a winner easier!
It is part of their paid membership & is housed inside their site -- and like all things Shortstack, it has a clean look & seems easy enough to manage.
EdgeRank Checker is calling theirs the "Contest Capture" -- it's a simple site that just requires you to connect to your pages & you can then download a CSV file that contains the Like, Comments & Shares of any specific post you choose. And it's FREE!!!
What are your thoughts on this change? Will you ditch apps & only run contests as posts?