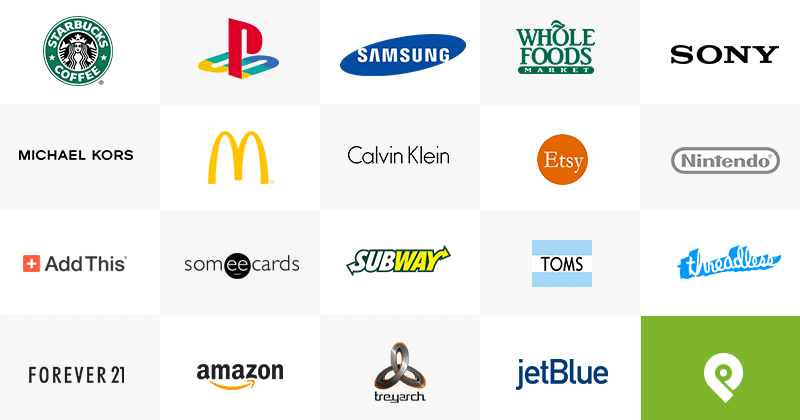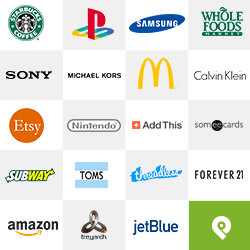 Twitter is still one of THE most active social sites on the planet -- 2nd only to Facebook.
Its fast-paced feed and real-time conversations make it one of the world's favorite networking sites for both individuals and businesses.
With over 1 billion registered users, an estimated 320 million active users, and 100 million users daily -- Twitter has earned its place as one of the top four social media giants (and the place to be if you want to network).
In order to knock it out of the park on Twitter, you will need to find or create valuable content in your niche, post consistently, engage with your followers and build relationships.
It's no wonder social media marketers want to leverage Twitter for business -- but the task of building a large, engaged following can seem overwhelming at times.
But here's the good news -- with a little determination and perseverance -- it can be done! (and probably faster than you think)
You can sharpen your skills and shorten your learning curve by studying what the top brands are doing on Twitter.
You don't have to have a big brand budget to get Twitter results. You just have to learn how to do a handful of things right -- and then repeat those things over and over again.
Here are 19 of the best examples of how top brands use Twitter (according to stats from socialbakers).
Let's get started!

19 Best Examples of How Top Brands Use Twitter
Socialbakers ranks Twitter pages based on follower count and category. But when I looked at this list carefully -- I also noticed these well known brands have all earned their followers.
What I mean is -- they didn't buy a bunch of fake followers to try and game the system.
They are solid brands, with a good follower count -- and they post great content!
Some of them don't get as much engagement as others, but I hope you can learn a thing or 2 from each of them as we take a peak into why they are on this list.
In order to gain top ranking on Twitter, a brand must consistently have recorded interaction with its followers.
Engagement is tracked by Twitter every time a tweet is clicked. Engagement can be replies, follows, favorites, links, cards, embedded media, hashtags, username or profile clicks or even tweet expansion.
Engagement measures how interested people are in what you are posting. It means people want the information you are providing!
You can read more about how engagement affects your brand's Twitter success at Yes, There IS a Science to Social Media Engagement (Here's How it Works).
One thing you will notice about all these brands is that they understand the importance of engagement.
I'll admit I'm not a coffee drinker -- but Starbucks crushes it on Twitter!

Not only because they have nearly 11 million followers but because they "get" social media.
Recently Starbucks has been in the news due to their red Christmas cup not being Christmas enough -- even starting a worldwide debate around the hashtag #merrychristmasstarbucks.
Starbucks has embraced this by showing off the cup in many different forms, even in their cover photo.
They also do a fantastic job of showcasing their followers by retweeting them and interacting with them.
Starbucks definitely understands the importance of engaging on Twitter!
Notice they effectively use many different types of media also. Whether it's a photo collage with a witty headline, a video or even a gif -- they are doing it often and doing it right.
Also take note that every tweet has a hashtag in it (which even further extends their reach).
Starbucks definitely gets an A+ on Twitter.
Maybe I'll start drinking coffee after all -- NOT!
The video game giant has nearly 9 million followers on Twitter and continues to crush it!

What I really dig about this account -- and why I think it does so well -- is they post a wide variety of posts (links, videos and texts).
PlayStation also engages with their fans, and retweets them!
Notice how they are leveraging a pinned tweet for their holiday promotion. Pinning a tweet is a great way to make your engagement soar!
You can read more about the power of pinned tweets on You Will Get More Retweets If You Do This ONE Simple Thing.
This video here caught my attention immediately:
As a Samsung only user -- it makes me happy to see Samsung towards the top of this list!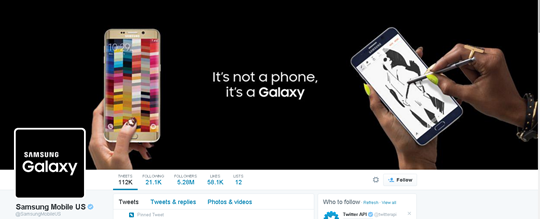 What makes their account so great is they do a few things really well:
Wide variety of content
Lots of retweets
Good use of hashtags (no more than 2 in a tweet, usually just 1)
Non-Apple users like me should make sure we give them props!
Nothing is better than grinding fresh peanuts in Whole Foods and eating it with organic celery! If you haven't done this you should.
You should also go follow their Twitter account!

What I love about this Twitter account is Whole Foods isn't always "selling" -- they are educating.
They do this by posting recipes and other tips on how to better cook with the food they sell.
We do this at Post Planner as well!
We have over 600 blog posts purely just to educate and help our followers use social media more effectively -- after all better social media users means better Post Planner users!
You can check out our social media posts on our Post Planner blog.
I don't think it's luck that Sony and PlayStation (a Sony product) are at the top of this list!

Until you look at the Twitter feed from Sony -- you don't realize just how many different things this company is involved in! Music, movies, electronics, games, etc.
And it's super smart that they use this account to retweet their "sister" accounts constantly -- thus increasing their exposure and Twitter footprint even more.
The lesson here?
Cross promotion on Twitter is huge -- whether it's to other Twitter accounts or other social sites (like Facebook or Instagram).
In order to get the most benefit from cross promoting on Twitter -- be absolutely sure the content you are sharing from other accounts is top notch (high quality, in your niche and eye-catching).
I'll admit I didn't know who this was until I found them on this list! But I can see why over 3 million people follow this Twitter account.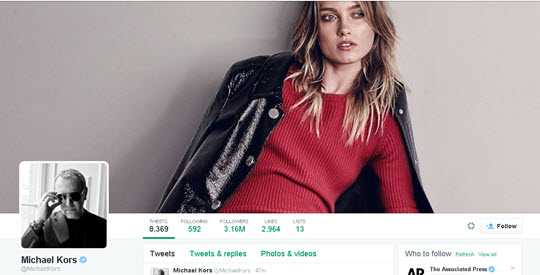 They do a great job of posting a wide variety of images to catch the attention and retweets of their followers.
As a brand, you have a huge opportunity to use you Twitter page as an extension of your messaging and culture.
The Michael Kors Twitter page perfectly captures the essence and sophistication of the brand itself.
McDonald's has a ton of followers -- over 3 million -- and does a great job of posting a wide variety of posts.
As a die hard Dallas Cowboys fan, one that really makes me laugh is this tweet with Jerry Rice wearing a Cowboys uniform!
McDonald's is doing a great job using their Twitter cover photo to promote having breakfast all day. They even created a hashtag for it.
I will admit McDonald's fails in posting frequency though with only a few posts per week. They should use Post Planner to schedule out their tweets better!

The clothing giant comes in at #8 on our list!

They don't tweet often, but when they do, they mix it up between "sales" type posts and simply mentioning celebrities wearing their clothes.
We predict that if they tweeted more frequently and consistently -- and if they added a hashtag to their bio (which would be searchable) -- they would have even more followers than they already do!
Honestly I didn't know Etsy even had a Twitter account! But they've amassed over 2.6 million followers it seems!

Etsy does a really good job of mixing up the types of products they tweet about -- and they don't just keep it about products women might buy.
They are also great at retweeting their followers when they are mentioned. Plus they have a great sense of humor!
Etsy is a perfect example of how quality Twitter content keeps people coming back for more. Once you start looking at their Twitter page -- you won't be able to stop!
Rounding out the top 10 Twitter accounts crushing it is.. Nintendo of America!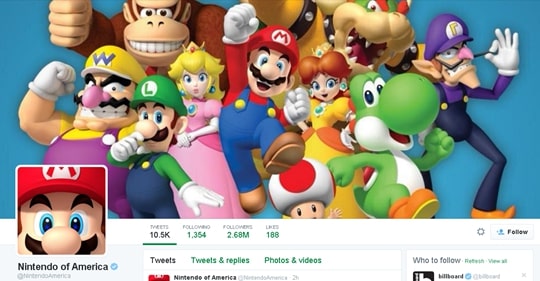 Although there isn't a whole lot of engaging on this Twitter account, they do tell people they are listening (in their bio).
They do at least retweet -- which is always a nice way to share the love!
They post a great variety of posts from images, to animated gifs, to videos, to text only updates, etc.
I really dig the humor and wittiness of this account: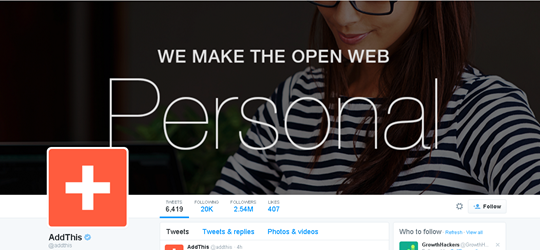 AddThis does a really great job of using their Twitter account to promote their product -- and they also to give helpful information to their followers.
They engage on Twitter a lot, which is a cornerstone of Twitter success.
You'll notice too that most of their tweets with links contain images also. This draws attention to their tweets even more.
What's the lesson here?
If you have an extra 45 seconds -- grab an image to accompany each one of your link post tweets (to your blog or website).
It makes a HUGE difference!
If you use Post Planner, it will automatically pull an image from the blog or website into the tweet for you!
I love, Love, LOVE what these guys do on both Facebook and Twitter!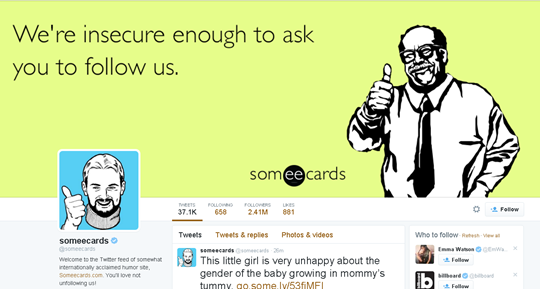 From their creative cover photo, to their funny description, to their hilarious tweets.. Someecards has got it going on!
They mostly posts links to their own content -- links that are both evergreen and timely. Such as the one below posted the day before Thanksgiving:
I don't know who is behind the curtain for @someecards but they know what they are doing!
The person who handles Subway's social media accounts likely needs a vacation after the recent Jared Fogle scandal -- Yikes!
But the Twitter account is still rocking and posting great content!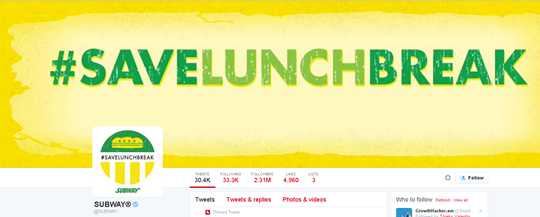 I love the user of colors in their cover photo and current avatar -- as well as in their posts:
I love the use of the animated gifs -- especially since it looks like a video and makes you want to click on it. Super smart!
You'll also notice they tend to stick to 1 hashtag in their posts -- usually based around their current campaign) -- which right now seems to be #savelunchbreak.
This is another company in the fashion world that is doing very well on Twitter.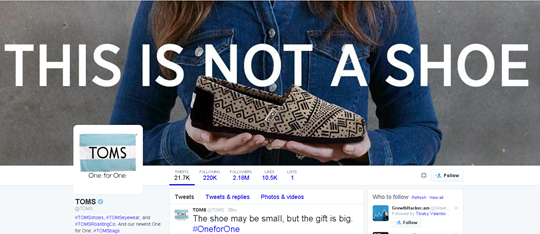 The cool thing about this Twitter account is how they showcase their cause (which is "You buy one, we give one").
They also do a great job of cross promoting their Instagram account to gain followers on that platform.
As we said before, cross promoting is HUGE on Twitter!!

Threadless is a very unique clothing company to say the least -- as can be seen by their cover photo.

This Twitter account uses super high quality, humorous images to showcase their products and get engagement. What a smat thing to focus on!

The Forever21 Twitter account uses their tweets to promote their products by showcasing them in great images.
They are also skilled at simply tweeting something funny or thoughtful purely to remain human and get engagement.
This is a great Twitter account to learn from!
I love how Amazon uses their cover photo to be current!

They of course tweet often about different products they sell, but they also tweet helpful blog posts they write to help their followers.
Am I the only one who didn't realize they had a blog?!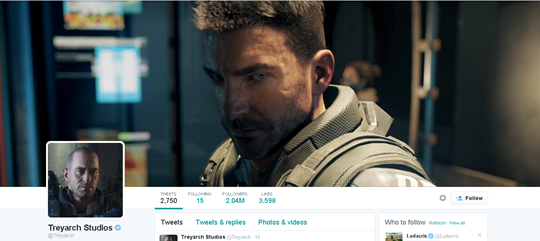 Not being a "gamer" -- I had no idea who @treyarch was until I went to their Twitter account!
For those like me who didn't know they are the creators of the game "Call of Duty" -- guess what? -- they do great with their Twitter account too!
Out of all the accounts I've mentioned so far, they might get more retweets and hearts (formerly favorites) than anyone!
They have rabid fans that follow their every tweet.
If you're a gamer you'll love that they also tweet out when they are experiencing problems with their game:
Great use of Twitter!
JetBlue is known for doing things differently than other old, boring airlines!
How they use Twitter is no different.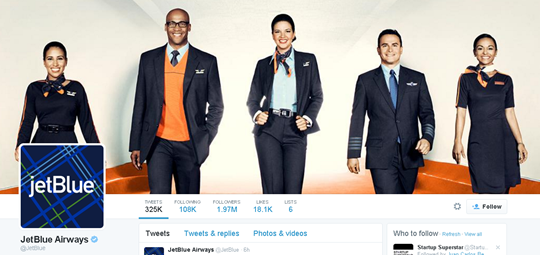 They don't take themselves very seriously at all on Twitter!
They constantly post contests and funny tweets to get the attention of their nearly 2 million followers.
This video they tweeted recently is a prime example of that:
Well done guys!
What Did You Learn?
While follower count isn't everything, I think it is interesting to look at these best examples of how top brands use Twitter to see what they are doing well.
And if you notice -- many of them have the same or very similar attributes.
Bottom line is... brands that are killing it on Twitter do these things which tend to get lots of engagement and followers:
Post great content
Post often
Be human
Post funny images and videos
Mainly post images (even with link posts)
Respond to mentions
Retweet posts from followers
Maintain a relevant (and fresh) cover photo and avatar
Now that you know what areas are most important and how they complement each other on Twitter -- you have some guidance for your own brand.
While these techniques are coming from major brands, anyone can implement them on Twitter.
Take these handy tips and use them as a launchpad for your own brand's Twitter success.
For even more Twitter tips, grab a copy of our latest Twitter infographic below.
You'll be glad you did!