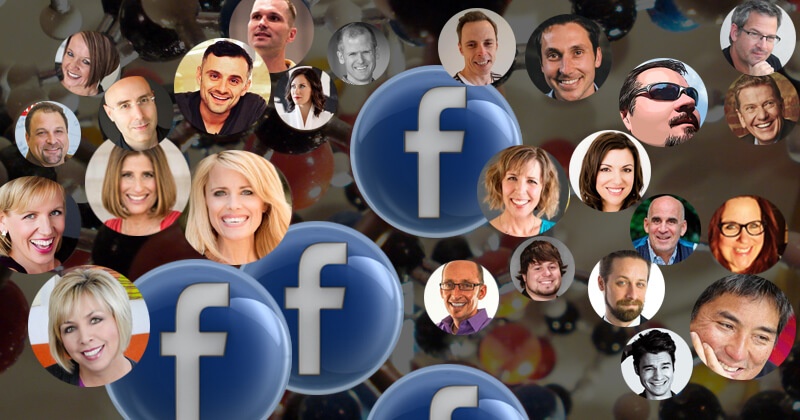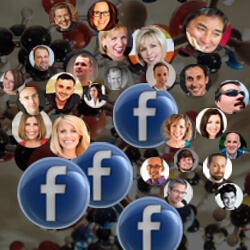 Have you ever wondered what makes social media content go viral?
Do you want to get your content shared hundreds (or even thousands) of times across social media?

If you answered YES -- then you've come to the right place.

The truth is -- going viral on social media isn't a secret formula you can just apply to all your content (unfortunately).
In fact -- going viral involves a number of factors (combined with good timing).

That's why in this post, we are going to learn from the social media pros.
We'll take a look at the best performing Facebook content from 25 experienced social media pros.
Then we'll break down the similarities in those posts so you can apply the same techniques to your own Facebook content.
>> Click to Tweet <<
How 25 Social Media Pros Went VIRAL on Facebook (and YOU can too!)
Manually analyzing the top performing Facebook posts from our social media pros would normally take me all day -- and even at that -- I can pretty much guarantee I would miss some posts as I scrolled through all 25 pages.

Instead of doing it manually, I'm going to analyze the top performing Facebook photo posts using Post Planner's Viral Photo tool.

The Post Planer tool will allow me to paste the URL of any Fan Page -- and in one click -- identify the top performing posts on that page for the week, month or all time.

In this case -- we are going to look at the "top performing posts of all time on the page" (so we have a larger amount of data to work with).

The pages I selected range in size from 2,000 to over 200,000 Fans. Here's an example of the tool in action.



Let's dive in and discover which posts have received the highest engagement from our social media pros.
Key Trends
So after looking at the top performing content from our social media pros, what can we determine?

If we take a look at the posts based on the total number of 25 -- we are able to see the following trends.

If timed correctly, sharing industry-specific updates can still prove to be a great way to get your content shared across social media.

If this is information your fans or community haven't seen before -- it will be even more likely to be shared by others (since it will be considered newsworthy).

As we can see from the chart above, out of our 25 pros, 28% of the top performing posts were industry-related.

Next we have personal posts -- which are posts that showcase the individual or team behind the Page.

These types of posts offer you the chance to build those deeper relationships with your fans, since they get to see and know the person or team behind the logo.

This type of content should be an important part of your overall social media strategy. After all, relationship building is key in order to grow.

While we can see that out of the 25 top performing posts, only 20% of the viral posts were personal -- the fact that this type of post has been shared many times means it still has the chance to go viral (so don't ignore sharing these types of images).

Lastly, we have the most popular type of content that has gone viral for our social media pros -- QUOTES.

This type of content comes across as the most effective when looking to boost your engagement and virality.

52% of our social media pros achieved a higher number of likes and shares using this type of content.

However -- this doesn't mean you can go out and start sharing all the memes and quotes you like.

It's important to understand that these particular quotes and meme-style posts received a high number of shares because they were tailored to suit the niche and behaviors of each Page's audience.

The type of quotes shared also reflects the personality of the brand or individual sharing the message.

For example -- if a hunting Page shares a meme about Facebook marketing, you could understand how the image would probably lose its effectiveness.

The key is to tailor your messages to suit your personality and the niche of your audience.

Actions You Need to Take
I completely understand that we have only taken a small sample of posts into consideration here.
The reason we chose 25 social media pros for this experiment is so we could all gain an insight into how they use their years of experience to create and craft the best types of content to engage their fans.
These viral posts can be replicated to suit any niche.
In order to gain this type of visibility for your own Facebook page -- it's important you continue to test a mixture of the viral photos seen above.
Not all images will resonate with your fans -- and that's why it's important to continue with your current content marketing strategy until you find that perfect fit.
Summary

Tailoring your content to suit your target market (while at the same time timing the content just right) will help put your Facebook Page on the path to many more likes, comments, and shares (which can even increase your virality).
There are many other factors that come into play when going viral too -- such as looking at who is sharing the content (not just how much it's being shared).
In rare cases, if your content has been picked up by an influencer, you have the ability to go viral almost overnight.
When it comes to timing -- be sure to keep an eye on current events and trends to maximize the impact of your posts.
Test a range of content to see what works for you!