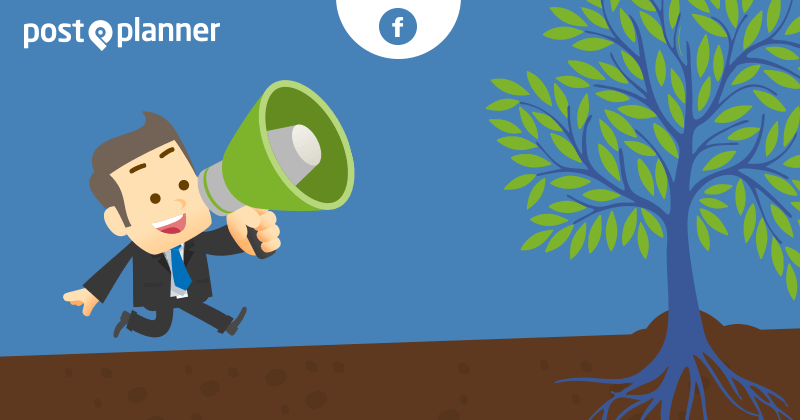 Having a tough time building a strong Facebook presence for your business?
Want to finally get the results you've been working so hard to achieve?
We know it can be frustrating -- and it's not your fault.
Facebook's organic reach continues to plummet, leaving many businesses dazed and confused.
Questions about how to get seen, cut through the noise and capture audience attention are top of mind.
Have you found yourself searching for answers to those same questions? I suspect you have.
And there's little wonder why.
According to Locowise, the average organic reach of Facebook page posts is currently 10.59%. Some pages with over 100,000 fans are seeing numbers as low as 5%.1
Those are scary statistics given the amount of time and effort put into Facebook marketing.
But what if you could change that?
Facebook remains the most dominant social network by a long shot. There are a whopping 1.04 billion daily users.
Facebook accounts for more than 50% of the total social referral traffic to websites. In addition to that, 64% of total social revenue comes from Facebook.2
Facebook also has the highest conversion rate for social media traffic.3
Regardless of the challenges -- it's important to have a business presence there.
What if you can increase your organic reach and build a thriving page after all?
It's definitely possible. Look at the organic reach on this image we posted on our Facebook page 2 weeks ago.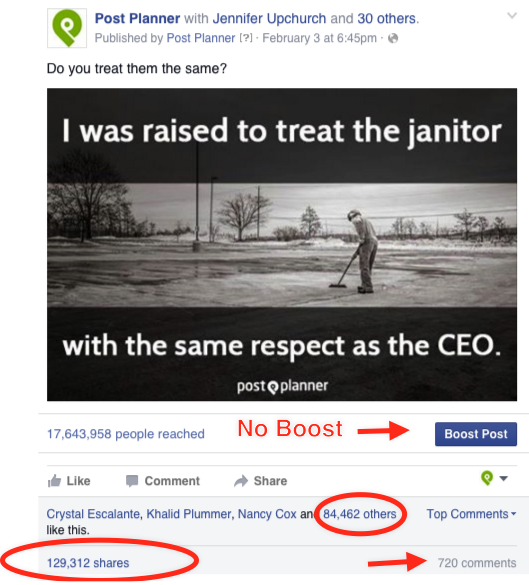 We can help you increase your ROI on Facebook too -- and make it worth your time again.
That's where the Facebook 30 Day Challenge comes in!
It's an interactive guide specifically designed to help struggling Facebook marketers build a thriving page.
Think of it as step-by-step guidance to improved engagement, traffic, leads and sales.
We'll show you exactly how to use Facebook for business in a way that gets results.
Join our 30 Day Challenge and get your Facebook goals back on track for 2016!
30 Day Challenge: How to Use Facebook for Business
30 Day Challenge: How to Use #Facebook for Business - bit.ly/1SQzhDM (by @adamsconsulting on @PostPlanner)

Click to Tweet
You'll learn how to build a page the RIGHT way -- the way that will get you noticed in the news feed by the RIGHT people.
At the end of the 30 Day Challenge, you'll see more likes and comments on your posts.
You'll see more referral traffic to your website or blog from Facebook.
And best of all -- you'll start to see an improvement in leads and sales.
Finally start attracting people who are actually interested in what you have to offer!
Want to Know How It Works?
If You're Ready -- Reserve Your Spot Below
Once you accept the challenge and sign up for this free training -- you'll receive 30 strategic Facebook tips for 30 consecutive days.
You'll be able to benchmark your beginning and track your success throughout the whole challenge!
Whether you want to build a new Facebook business page from scratch, or you want to revitalize your existing page, these daily tips will provide the info you need to finally get the results you want.
Each tip is road-tested and vetted by social media experts -- and each tip comes with training materials to download.
These tips are designed with the small business, entrepreneur and solopreneur in mind knowing that with a daily plan in place, it is possible to achieve Facebook success with tangible and quantifiable results.
What Will I Learn?
Details of the 30 Day Challenge Include:
How to create an indelible mark in the mind of your Facebook audience

How to spice up your page with live, interactive and streaming video

How to find, plan and post predictive content that organically boosts engagement

How to analyze and leverage Facebook Insights

and MUCH MORE!
The Facebook 30 Day Challenge has the ability to take a page from obscure and obsolete to inviting and inspiring. It's the difference between focused results and spinning your wheels. -Rebekah Radice
Imagine what it would be like to have a growing, thriving Facebook page in a month from now.
Your Facebook marketing will be fun again -- instead of feeling like a daily struggle.
Join us for the Facebook 30 Day Challenge by clicking the button below.
This value-packed free training could be exactly what you've been looking for.
We're excited for you to be a part of it. Let's do this!