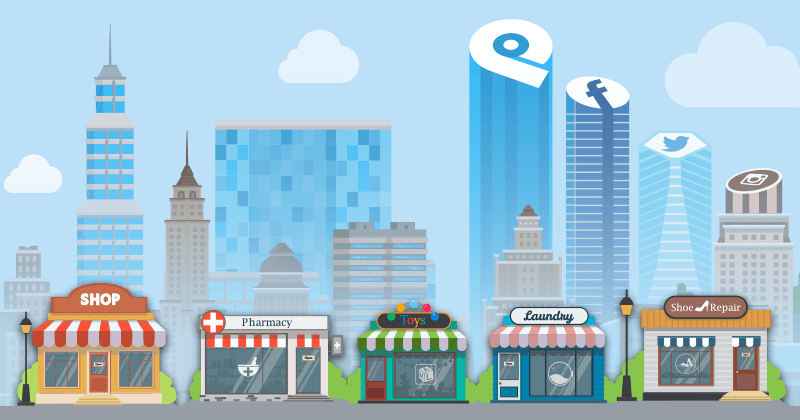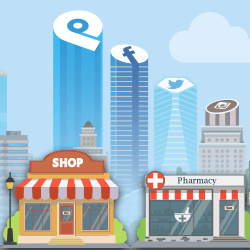 Want to use social media for your small business, but struggling to gain traction?
Wondering how to jumpstart your efforts, but not sure where to begin?
It can be confusing.
In fact, only 53% of small businesses say they actively use social media. The rest? They claim they don't have the bandwidth, resources, time, money or energy.
And I get it. As a small business, running the day to day can leave you feeling stretched thin.
Add to that the overwhelm of marketing your business and you have the makings of a meltdown.
But here's the upside. Using social media for your small business isn't rocket science. In fact, it's pretty simple once you know a few insider secrets.
That's where this week's bootcamp training comes in.
During week 6 of our training, I had the opportunity to sit down with Peg Fitzpatrick.
Peg is the co-author of Art of Social Media and works daily with Guy Kawasaki. Between her booming business and Guy's, she manages a whopping 13 million followers.
Holy wow, right? Peg knows her stuff and she came ready to share her top tips.
If you're ready to make social media work for your small business, read on.
How to Use Social Media for Your Small Business [Infographic]
1. Build a Credible Reputation
Building a credible presence for your business on social media isn't as complicated as it sounds.
Want to know why?
Because you don't have to have a huge following to do it!
As a local business, instead of connecting with a lot of people -- you just need to connect with the RIGHT people.
You can begin this process by building brand awareness. The best way to do this is to create an online presence that's a perfect representation of who you are both online and offline.
Start by translating your brand through visual marketing. From your logo to your website, blog and social media graphics - you need to design a look and feel that matches your persona.
Find someone who can help create graphics that match that essence. Create captivating and professional visuals that represent you and your business.
There are so many people who can help you with this process -- and you'll be able to find someone regardless of what your budget is.
Or, if you have more time than money -- you can choose from a myriad of tools (many of them free) and learn how to do it yourself.
If you do decide to tackle these graphics yourself, our ebook can teach you how to go about it. You can grab that at How to Create Visual Content for Maximum Social Media Impact.
Peg's tip is to learn from the big brands!
Get inspiration from really big marketing campaigns and spin that around for your own business in a way that's affordable.
2. Attract Potential Clients
During this training, Peg told the story of her hairdresser, Betsy. Betsy owns B & B Style Salon in New Hampshire.
Betsy wanted to learn how to use social media for her small business -- and Peg suggested that she use Facebook and Instagram to attract potential new clients.
If you'd like to do this for your local business also, the first step is to make sure the geotagging on your Facebook Business Page is setup properly.
You want people to be able to check-in when they're at your business. Each time someone does that, it's free advertising for you since all their friends will see their check-in.
The average Facebook user has 100 friends (and most are local) -- so think of each check-in as advertising to 100 new potential clients!
Plus, that type of post is better advertising than a boosted post since it's a check-in from a real customer (not a boosted post or ad).
Want even more check-ins? Offer special incentives for people to check-in at your business.
For example, in Betsy's case, she posted a small sign that says those who check-in get $5 off their next haircut. You can give any bonus you'd like!
Peg's advice...
Get into the hands of your customers. This means get on their phones!
Betsy also wanted to do a girl's night out to promote herself as a hairdresser in her small town.
She updated her Facebook cover photo -- plus she posted a Facebook post and an Instagram post.
By doing those 3 things, with zero budget, she was able to fill her event!
This is a great example of how a small business owner was able to attract the right customers.
Instead of trying to cast a wide net and attracting a bunch of people who may or may not be interested in her services, she focused on connecting with her target market.
The takeaway -- even small changes can make a huge impact on your social media marketing!
3. Connect With Like-Minded Business Professionals
In the social media world, relationships are everything.
Whether you're on LinkedIn building your professional network or responding to your tweets -- it's important to set aside some time to connect with like-minded professionals.
As a small business owner, you're probably cringing at the thought of spending valuable time engaging with peers on social media.
No worries! Peg has some great advice for how to make it work.
She suggests you dedicate 1 chunk of time each week to work on your content for the following week (she does this every Sunday). This means find or create the content you want and schedule it.
Why does this help you?
Now that your content is setup for the whole week -- you can pop onto social media 15 minutes in the morning and 15 minutes at night to respond to comments, answer questions and reach out to like-minded business professionals.
This will allow you to make those important connections since you'll be focused on people during the time you're online!
4. Diversify Your Marketing Efforts
We've all heard the saying, "Don't put all your eggs in one basket."
Just like with your offline marketing, you should definitely diversify your online marketing efforts.
Does this mean you should build a presence on every social media site?
Absolutely not.
What this means is that you should become laser-focused about who your target audience is.
Instead of focusing on the demographic of the customers you HAVE -- consider focusing on the customers you WANT.
That information will tell you which social networks you should be spending time on.
As you learn more about how to use social media for your small business, the social sites you should be on will become almost obvious to you.
If you don't have a clear understanding about which social networks to be on, Peg recommends you start with a presence on:
Facebook (be sure to setup the geotargeting)

Instagram (excellent for small business)

LinkedIn (like an international Rotary Club!)

Twitter (listening to the conversations on Twitter will provide valuable insight)



Once you decide which social networks you'll use -- be sure to cross promote that content in your other online marketing and PR pieces also!
By diversifying your online marketing, you'll expand the reach of your business further than you can even imagine.
5. Repurpose Top Content
As you learn how to use social media for your small business -- you're very quickly going to see how time consuming it is to create new content.
For that reason, Peg suggests that you become a repurposing master!!
We make this a daily habit here at Post Planner. We think repurposing content is a brilliant way to keep putting new forms of content out there without recreating the wheel.
Let me explain.
Let's say you send a tweet about something that you and your audience are passionate about.
Did you know you can repurpose that tweet into at least 13 other pieces of content?
Yep, you can!
Read 13 Ways to Repurpose a Single Tweet to learn more about how to do this.
Have you ever seen someone on social media who seems to come up with new, original content over and over and over? You start to wonder if that person ever sleeps, right?
That is someone who knows how to repurpose content. You can be that person too!
Peg has one word of caution here…
Don't confuse repurposing content with duplicating your posts on every social network.
If you do that -- people won't have a reason to follow you everywhere because they'll see the exact same content from you everywhere.
Instead, learn the language of each platform.
Give people a reason to follow you everywhere! Don't duplicate your content exactly.
Look at each piece of content in a different way for each social platform.
For example, pull a quote out of an evergreen blog post you tweeted and create a quote graphic to post on Instagram.
Or take that helpful tip you gave someone on Facebook and use it to create a 2-minute tutorial on Facebook Live Video or scope it. You can even embed that video in a blog post.
Or take your notes from a recent presentation and create an infographic with that info. The options for repurposing are endless!
To learn more, you can click over to this post by Peg about how to repurpose your content.
6. Make Your Time and Money Count
As a small business owner -- you know time IS money.
We've all had those days when we get on Facebook to work, but then we see a post from a friend… and suddenly 2 hours goes by. Sound familiar?
If you want to use social media for your small business in the most efficient way possible, it's important to FOCUS each time you log onto social media.
Sure, there's time for posting those fun pictures and goofing off -- but when it's during your workday, be sure to focus on your goals!
If you find yourself getting off track, remind yourself why you're on social media in the first place.
Be accountable… to yourself.
When it comes to money -- you can make an impact with Facebook Ads with only a few dollars (which is very do-able for small business).
You can stay within budget and still make it work for you!
7. Drive Traffic to Your Website/Blog
Your website/blog is the foundation of all your online marketing efforts.
It's the place where your potential customers will go when they're deciding whether or not to do business with you.
It's what people will remember when they think of your business.
You can read 15 Ways to Get Leads on Social Media (Marketer's Guide) to get an understanding about how to drive traffic back to your website/blog effectively.
The best advice -- do your research!
Here at Post Planner, we think about "intent."
In other words, we ask ourselves, "What would people who are looking for our app search for on Google?"
Then we optimize our blog for those phrases. Our blog headlines answer that intent question.
Use whatever system works best for you -- but do your research.
If you want to drive a significant amount of traffic back to your website/blog, you can't base your strategy on guesswork.
Like we always say here at Post Planner, be DATA-DRIVEN!!!
You can read more about that at Top Ways to Manage Social Media (and Avoid Burnout).
8. Use the Right Tools
As a small business owner -- the right tools can be your best friends.
They'll help you get organized and create a method to the madness.
Using the right tools will save you time, money and a whole lot of frustration.
Some tools that Peg uses are:
You can also click over to 13 Must-Have Marketing Tools for Engaging Facebook Images to find even more.
Conclusion
If there's one theme in Peg's tips -- it's that small changes can make a huge impact on the success of your social media marketing.
You don't need a huge following or social media presence on every site.
You just need to put some data, strategy and tools behind your efforts!
Soon you'll see that you can use social media for your small business without feeling overwhelmed or breaking the bank.
The infographic below summaries these tips. We recommend you print it and keep it handy as a reminder that you can do this!
Join us for our next live training on February 17th at 11am PT | 2pm ET by clicking the orange "Reserve My Spot" button below.
We'll see you there!
Watch the Full Training Replay

Share this Image On Your Site