When you think of a professional recruiting network, LinkedIn immediately comes to mind.

But that might be about to change.

Facebook recently announced the introduction of new job features, including job opening posts. This gives applicants the ability to post and apply right on Facebook.
As TechCrunch points out,
"They [new job features] could hurt LinkedIn's growth prospects and divert recruiting ad dollars."

Intrigued?
Here's what you need to know about Facebook Jobs and how it impacts your business page.
Ready to kick your Facebook engagement up a notch? We're sharing 101 easy ways to get your fans clicking, liking, and sharing!
Facebook is Launching Job Opening Posts: Should LinkedIn Be Worried?
A Close Look at Facebook Job Opening Posts
Facebook has been testing this feature since November.

Now they've officially begun rolling out job opening posts for business pages - starting with the USA and Canada.

The idea behind the release is to simplify the job application process.

According to Facebook, 40% of small businesses in the United States say filling jobs is more difficult than they expected.

That's where this new process comes in.

Job seekers can find and hire talented prospects simply by posting a job listing the same way they would a status update.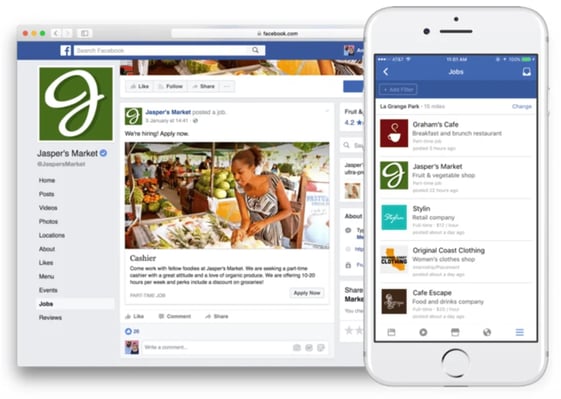 Source: Facebook
As Facebook stated:

"We're focused on building new ways to help make it easier for businesses to interact with the over 1 billion people visiting Pages every month. Businesses and people already use Facebook to fill and find jobs, so we're rolling out new features that allow job posting and application directly on Facebook."

The company also noted that:
"This new experience will help businesses find qualified people where they're already spending their time—on Facebook and on mobile."
How Facebook Job Opening Posts Work
If you want to tap into Facebook job posts and use them to recruit new talents, you'll need to create a job posting. This can be done inside the composer, just like any other social post.

Write an intro, upload a photo, and provide some basic information such as:
Job title
Details
Salary
Type
Source: Facebook
The posting is free but will expire in 30 days.

As soon as the job listing is published, it will show up under the Jobs tab on the business page, along with any other job openings posted by the company.
The listing will also appear in the feeds of those who follow the page. It can also be found on facebook.com/jobs (a new section that lets users search for a job by location, industry, and job type).
Source: Facebook
There's also an option of paying to have the job posting appear in the news feeds of more people.

Each job posting will include an "Apply Now" button, which users can click to open up a standard application form.
It will be pre-populated with information from a user's public profile, speeding up the application process.

As soon as the application is submitted, you'll be able to access it and contact the applicant through the Facebook Manager.
Remember how we said Facebook is working towards keeping all conversations within Facebook?
This is another step in that direction.
The Future of Facebook Job Opening Posts
Over the next few weeks, Facebook will make the Job Posts feature available to different business pages in the US and Canada.
It's just a matter of time before they extend it to the rest of the world.

One thing is clear though: the future is looking pretty bright for Facebook Jobs.

It solves one of the big problems brands have - finding people to hire. That means that brands will have a new reason to drive traffic to their Facebook Page, besides just promoting their product or service.

Posting such ads may even boost Page Likes. As people like a brand they'd love to work for, those listings will stay front and center in their news feed.

There's also huge room for growth and improvement.
For one, Facebook could introduce new job ad-specific targeting options. This would make it possible to reach people who hold similar positions or have similar profiles as your current employers.
There's a lot of potential there.

And that means that Facebook could become a real threat to LinkedIn and other job recruiting sites such as Work4, Craigslist, Workable, and Jobscore.
Is Facebook Jobs The New LinkedIn?
While it may seem that Facebook is directly competing with LinkedIn, that is not necessarily the case… at least for now.

The two don't function in the same way and will, most likely, attract different types of job seekers.

LinkedIn is a professional job recruiting network that generally attracts medium and high-skilled individuals.
Most of these people only visit the network to update their profile or to look for a new job.

Facebook, on the other hand, will target lower-skilled individuals or part-time workers who just stumbled upon the job posting while looking through their news feed.

That's right - Facebook will be able to reach people who may not even be looking for a job at the moment.
They might see the job listing in their feed and apply for the chance at a higher salary or better conditions.
Source: TechCrunch
Another thing that differentiates the two networks is the content of the profile.

LinkedIn is built to showcase an individual's professional side (their achievements, previously held positions, etc).

Facebook, on the other hand focuses more on a personal side (shared memories, family photos, views, interesting article, etc).
One may simply not want the employer to see all that personal info.

The two networks are very different in that sense.
Final Thoughts
Facebook is just getting started with Job opening posts.
Time will only tell if their popularity rises enough to overtake LinkedIn.
BUT, one thing is clear:
At the rate and direction Facebook is going, the likelihood of that happening is very real.

What do you think? Will Facebook become the next LinkedIn?