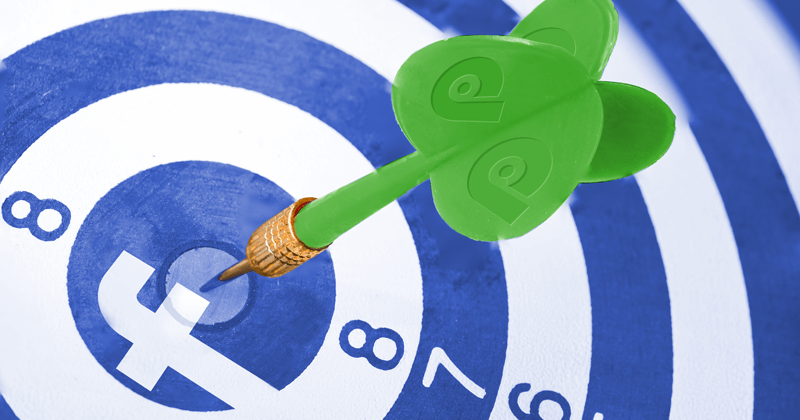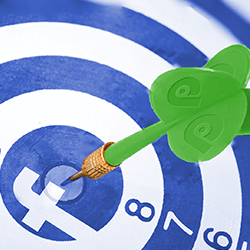 You've got all the right products and a great web store.
Now you just need some customers!
The question is, how can you use your company's Facebook page to get more views and sales?
That's what we're going to talk about in this post.
Forget everything you know about typical one-liner announcements from the company's point of view.
So impersonal!
Today people would much rather see the creative and more human side of posts on Facebook.
It makes sense. Interacting with other human beings is what social media is all about.
The main thing to focus on is using a fresh strategy to humanize your business on Facebook.
Here are 5 tactics that will help promote your latest product on Facebook. It's time to bring out the sparkle that your products deserve!
5 Brilliant Ways to Promote Your Latest Product on Facebook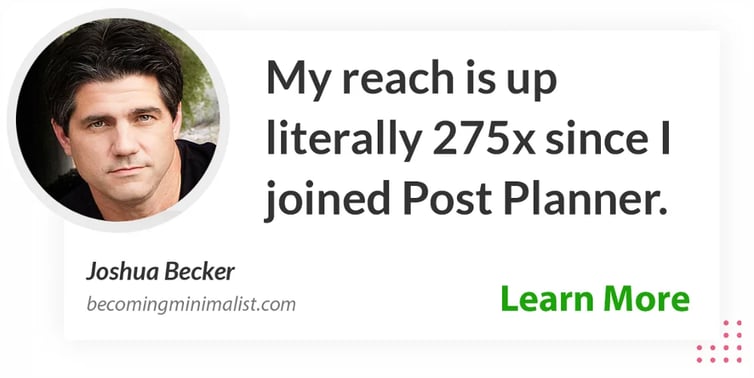 1. Education with a Dash of Entertainment
Inspiration is everything!
This is especially true on Facebook, where high quality images and content are essential to getting engagement.
What are the typical assets you would use here? Maybe images and videos?
These types of posts aren't groundbreaking until you innovate the way you use them!
Here's how you can make your content more magical and drive the level of engagement you seek.
Say No to Contrived Stock Images
Santoro is a lovely example of a brand that finds creative ways to promote their products without using stock or generic images.
Instead of posting professional photos of your products, show how your products look in reality.
Show how people can use them in their every day lives. Santoro even suggests outfits that go well with their accessories.
Share Tutorials from Influencers
I know, you may think "okay, sure, but that's driving traffic from my page to another!"
Not necessarily.
You can position yourself as an expert in your field, just like Teen Magazine did in this scarf fashion video.
They shared an influencer's practical advice with their audience about wearing a scarf in unique and trendy ways.
Jump on the Latest Video Trends
Share videos from YouTube, Vimeo, or upload directly to Facebook.
You can stir up major excitement and give a unique feeling by using the 360° video feature on Facebook.
Let people take a private tour of your office, like in this video of the Jordan store.
One extra tip: You can take advantage of the new live video feature on Facebook where you and other employees can talk about new arrivals to your store.
Recommend beautiful ideas for wear or display. Talk about the best or most interesting ways to use your products.
This is a great way to show off the faces who make your company great!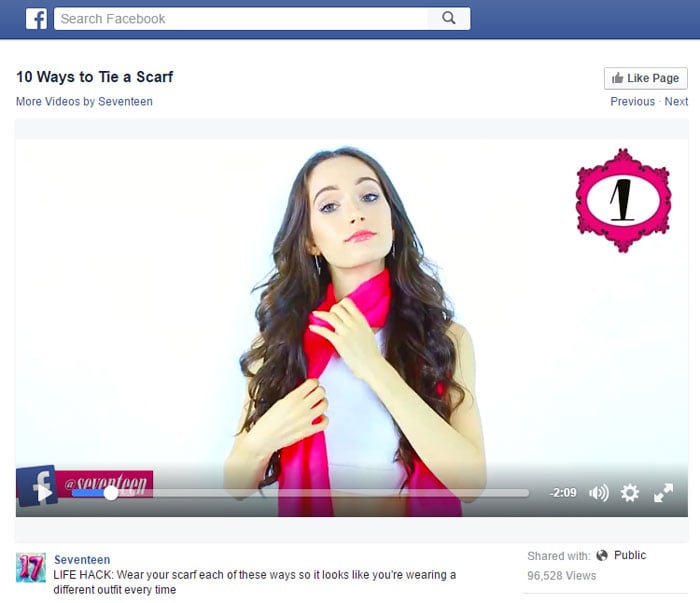 Seventeen Magazine uploaded a video to their Facebook page which shows their readers' fancy ways to wear a scarf. (Image source)
2. Show how your (satisfied!) customers use your products
Now we'll enter the world of user-generated content. This type of content helps you in 2 important ways.
First of all, you're keeping your special clients happy by letting them know you appreciate their posts and product shout-outs.
Secondly, by showing these photos to others, new and potential customers will know that you already have happy customers.
They'll see that your products are real and in use!
But how you can get the desired content from your customers?
Here are two ideas:
Run a Facebook Contest
PurrfectlyYappy.com created a giveaway on their site. People can win a pet carrier and briefcase worth £450.
You can do the same thing by asking participants to post photos with your products in a similar Facebook contest or giveaway.
It's a great incentive for your followers to participate!
Encourage Customers to Use Your Hashtags
When you publish posts about your products or run campaigns -- incorporate hashtags.
This helps customers see your related posts. It also encourages them to use the hashtags when they show off your product in a post or participate in your campaign.
Certain hashtags can also help your target audience find you.
For example, if you sell dog supplies, use the #cutepuppy hashtag with some of your photos. Then your post will be visible under that hashtag.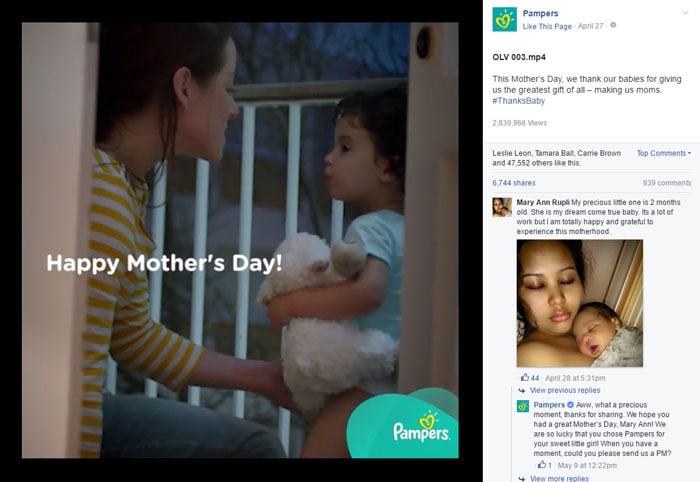 Pampers created this #ThanksBaby campaign for Mother's' Day, which helped them collect re-postable and cute content. It also positioned their brand as caring and lovable. (Image source)
3. Incentivize Social Activities from Your Online Store (that's right!)
This is a great way to promote your latest product on Facebook!
Reward customers who follow you on Facebook or share your products.
Wait... what?

Sure, you can offer promotions or contests that run exclusively on your Facebook page.
That strategy can boost sharing for you, but it has limits. According to Facebook's guidelines, you can't set actions (such as page follows or likes) as a requirement for entry.
Reward programs (like what we've built at Antavo) give customers points for certain social activities like:
Following your Facebook page
This option allows you to grow your following. A larger following means more people will see your updates. It also gives you the opportunity to fine-tune your promoted posts on Facebook.
Sharing your Product Pages
Giving points in return for sharing your products pages (or any kind of page in your store) is the perfect way to get the attention of your current customers' friends.

Inviting New Customers through Social
Take the last step a bit further by rewarding customers who invite their friends through Facebook to your store.
When the newly-invited friend makes a purchase, both of them get discounts.
It's a win-win!
Why is it worth it for customers to do these things?
In a word -- points.
Your customers can collect points and redeem them for rewards like discounts or exclusive opportunities.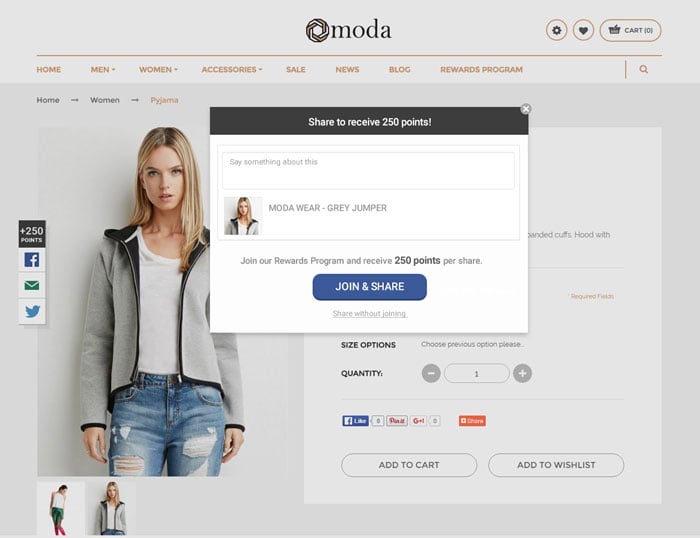 In this example, a customer can share a product for 250 loyalty points in this web store. Once the share happens, the customer receives his points. (Image source)
4. Don't Be Shy -- Ask for Ratings
If you already have a great following (or at least a few special clients who love what you're selling) thank them for their business.
Ask if they're willing to give you a rating or review on your Facebook page.
You'll get value even if you only have 1 or 2 reviews. Never underestimate the power of a couple of 5-stars on your Facebook page.
Reviews can show up in search results when customers need more info about your brand.
That's important.
You should always assume that your target consumers are doing their research! According to Moz research, 67.7% of respondents in their survey said that reviews have an impact on their purchase decisions.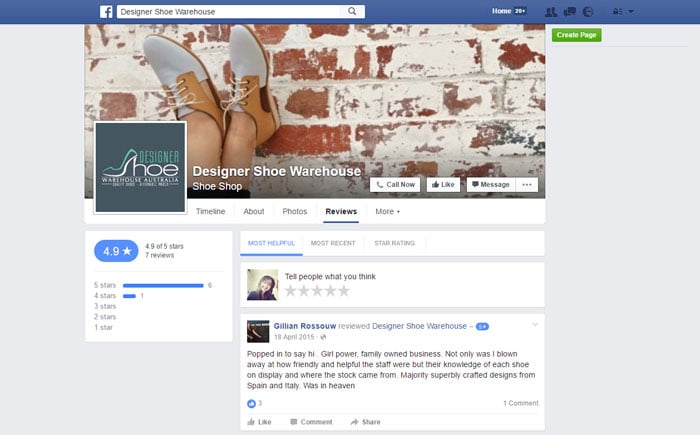 Think of this as a way to build loyalty. A few good reviews may be just the thing that brings you more attention. Later on, it may even be the reason you'll have hundreds (or even thousands) of customers raving about your store. (Image source)
5. Ads, Ads, Ads
Facebook is one of the best advertising platforms available to companies. Over 1.65 billion active users monthly share everything from demographic information, to location, to specific interests and likes.
Use this information to promote your specific posts, Facebook page or website more precisely. Target interests, demographics and geography.
Try incorporating the new Shop section feature on Facebook into your advertising strategy. If you've already added a Shop section to your Facebook page, you can actually boost individual products through Facebook advertising, too.
Consider brands and products that complement what you offer. Target each ad carefully. Think about the lifestyle your products embody and target those interests too.
Consider the magazines your customers read, the activities they participate in or the places they travel. For more info about targeting your ads with precision, check out Social Media Examiner's advice on the subject.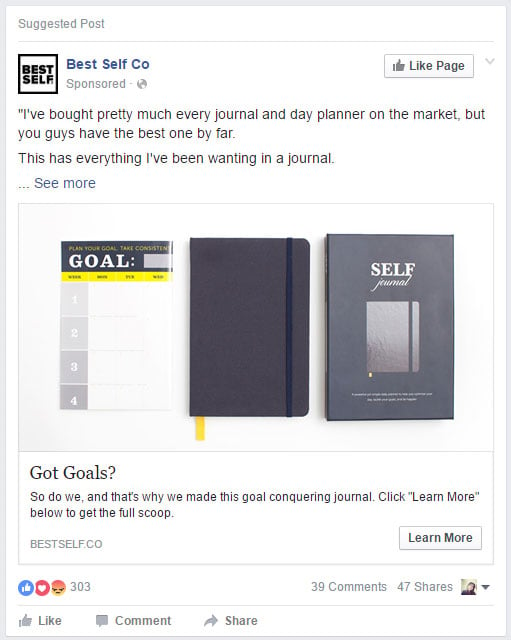 Use well-created or attractive curated images along with your ads. Choose ones that show what your products or store is all about. That way, you'll attract relevant clicks from people who are actually interested in your products. (Image source)
Conclusion
It all comes down to people and personality. From a content standpoint, get out there and be yourself!
Focus on being informative and entertaining, but don't be afraid of letting a little personality shine through.
Make sure you incorporate your customers' personality (and your team) too! Find ways to share what they're saying about your products.
Let customers have some fun at their own pace with a loyalty program! Don't hold back when asking for their honest opinion in reviews and ratings.

And finally, incorporate that personality into your advertising strategy by focusing in on specific groups of people and their interests.
Which one of these tactics will you use to promote your latest product on Facebook?
Let us know! We'll keep an eye out.
Who knows, maybe you'll be our next great example!