Expiring content is on fire.

First it was Snapchat, then Instagram and Facebook Stories, and then WhatsApp.

Now, it's finally coming to Facebook Messenger.

That's right... Facebook just announced that it's launching "Messenger Day," a Snapchat clone.

How so?
A few of the new Messenger Day features include:
Snapping photos and videos
Adding text, doodles, or facial filters
Sharing images with friends that disappear in 24 hours time
In other words, Facebook Messenger Day is designed with Snapchat users in mind.
And they're making it as easy as possible for disenchanted Snapchatters to make the move over.
In a matter of moments, you can find friends, begin chatting, and share your day in Messenger.
Want to increase your Facebook Engagement overnight? Try these 101 creative ideas and watch your engagement soar!
Facebook Launches Messenger Day - Is It Another Snapchat Clone?
A Close Look at Facebook Messenger Day
Although Facebook just announced the launch, the company has been testing Facebook Messenger Day for quite some time.
Poland, Australia, and dozens of other countries have had a chance to try it out.

Now, it's finally been released worldwide. Woohoo!

Users all over the world will now be able to access the new features inside Facebook Messenger on iOS and Android.
Source: Facebook
Here's how you can start using it:
First, make sure you've updated your Messenger app so you have the latest version.
Open Messenger, and tap on the camera highlighted with a sun to celebrate this launch. Doing so drops you right into the full-screen camera. Or, tap the "Add to your day" button at the top of your inbox to get started.
Snap a quick selfie or take a photo or video of what's around you.
To add art and effects, tap the smiley face icon in the top right and then tap to add to your photo or video. You can also add text over your images by tapping the "Aa" icon, and you can overlay a drawing by tapping the squiggly line in the top right corner.
Once you have your photo or video the way you want it, tap the arrow in the bottom right corner. You can then add directly to your day, save it to your phone's camera roll, and/or you can choose to send it to a specific person or group of people. The photo or video that you add to your day will be viewable for 24 hours.
You can even add images or videos to your day at any time. You can even do it right from a conversation you're having.

Of course, if you don't want to share these photos with everyone you're chatting with, you don't have to.

Facebook lets you customize who you're sharing that content with. To do that, just tap the "more" icon and choose "Everyone Except" or "Custom."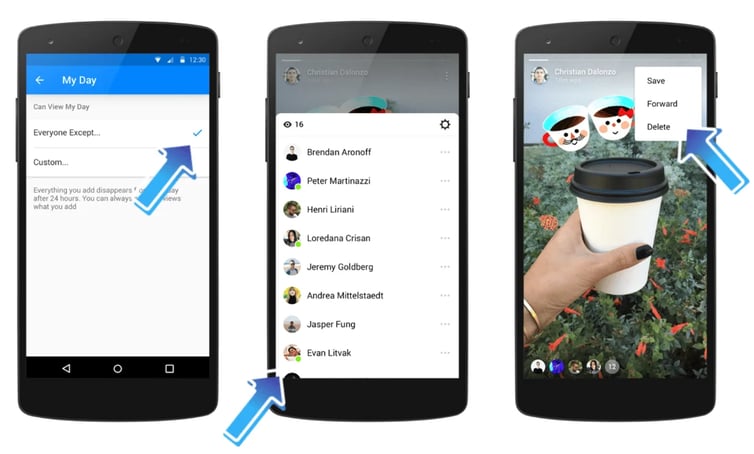 Source: Facebook
This new feature is a fantastic way to share your day with the people you're communicating with and to bring context to any conversation.
What's also cool about Messenger Day is that it can help users break the ice, start a conversation, and even meet up in real life!

Just open up the Messenger, and take a peek at what your friends are up to. Their stories will be displayed in thumbnail format up at the top of Messenger.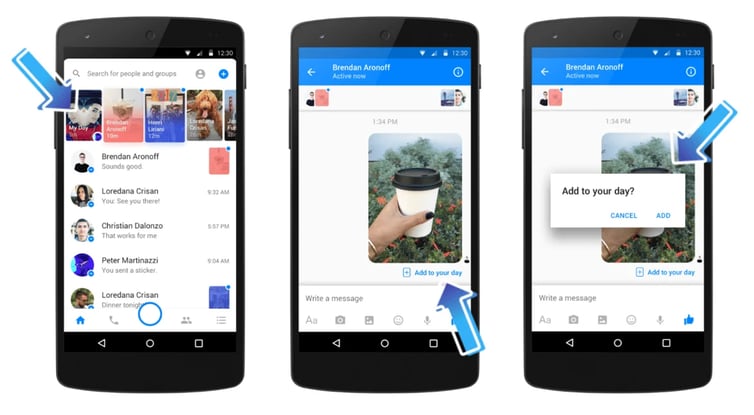 Source: Facebook
The stories are organized in a reverse chronological order, so that you can see who's doing what right now...

And still have time to join or make plans.

Just reply to their story with a comment or an emojji! 🙂❤️
The Future of Facebook Messenger Day

There's no doubt about it: expiring content is hot, and it's easy to see why.

It's extremely simple and inexpensive to create and share.

Because it disappears after 24 hours, it's always relevant - giving your audience an "in the moment" experience.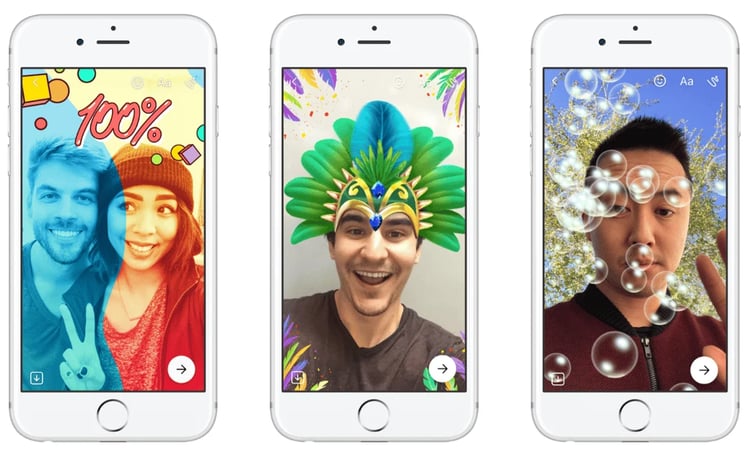 Source: Facebook
But should Snapchat worry? You betcha!

Facebook just took the best that Snapchat had and made it better.

Don't forget that Facebook Messenger already has a huge user base, and doesn't need to build it from scratch like Snapchat did.

One thing is clear: this is only the beginning and we'll probably see many more additions and tweaks to the feature in the future.

As Facebook's VP of messaging David Marcus told TechCrunch, Facebook may also be introducing ads in between the different stories.
How Your Business Can Tap Into Facebook Messenger Day
If you're still not sharing expiring content, it's the perfect time to start. The opportunities for a business are endless.

Here are a few ideas:
Show your Facebook friends bits of the daily life of your company. Everyone loves a behind-the-scenes look.
Share industry-related news. This will help you become a trusted source and an authority. You can share the piece of news and then ask your followers their opinion about it. What a great way to start a conversation!
Share valuable tips your audience will love
Announce product launches and let users catch the first glimpse of a new product, asset, etc.
Create an expiring virtual coupon for your product and service. Just have users reply to the story while it's still stile and take part in the offer.
Final Thoughts
In the beginning of the year, our CMO, Rebekah Radice, shared her thoughts on the Top Trends for 2017.

Surprise, surprise - expiring content was one of the top trends.

Doesn't look like that's going to change anytime soon.

If the success of Snapchat and Instagram stories is any indication, we'll be seeing a lot more of Facebook Messenger Day.

What about you? What are your thoughts on Messenger Day?

Do you think it has what it takes to make it in the social world?