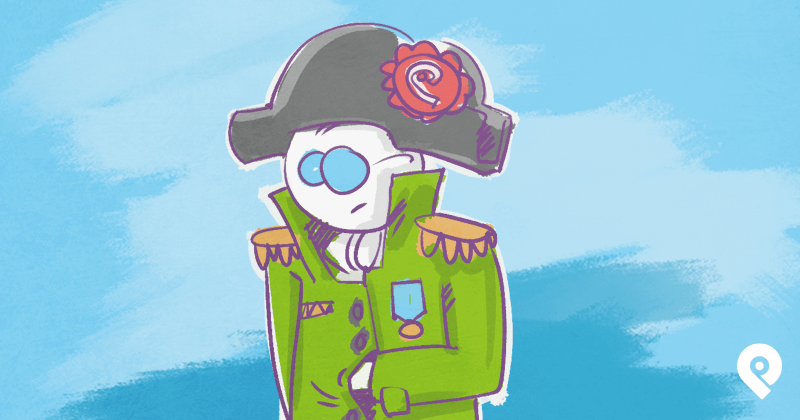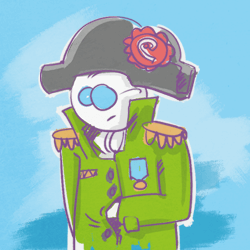 Winston Churchill famously said,
"Those that fail to learn from history, are doomed to repeat it."
There's a lot to learn in looking at past social media trends. It shines a light on what worked, what didn't and more importantly:
It unlocks opportunity for future endeavors.
So what are the trends shaping 2017, and how will they affect your marketing strategy?
Here's a look at the top trends that could make or break your social media marketing in 2017.
My 7 predictions that will rapidly transform how your company uses social media.
7 Social Media Trends That Will Change Your Marketing Strategy
7 Social Media Trends That Will Change Your Marketing Strategy http://bit.ly/2fccTDo (by @RebekahRadice on @PostPlanner)

Click to Tweet
1. Omni-Channel Marketing
Multi-channel marketing is, by now, a well recognized and essential strategy. it connects users with the content they're seeking, no matter the platform.
Multichannel marketing is the ability to interact with potential customers on various platforms. In this sense, a channel might be a print ad, a retail location, a website, a promotional event, a products package or even word of mouth. Multichannel marketing is about choice. - Wikipedia
But omni-channel marketing is still emerging.
And after my latest presentation at Hubspot's #Inbound16 on omni-channel marketing, it's easy to see why there's confusion between the two.
While multi-channel diversifies a marketing strategy, omni-channel pulls it all together.
With omni-channel, you take your customer on a journey. No matter where they find you or how they interact with your product, the experience is seamless.
From online to offline, one device to the next, omni-channel is fluid.
Whether shopping online, in store, on social media, a tablet, phone, or desktop...
...Each customer touchpoint and platform is blended together perfectly.
And the good news? It's easier to implement than you might think.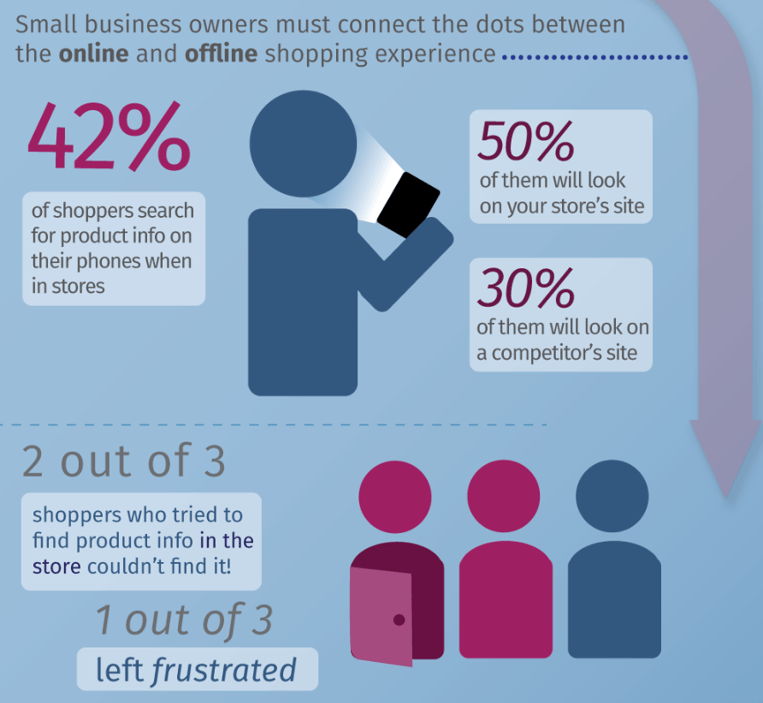 Getting Started Ideas:
1. Create a branded experience from your logo to colors, fonts, message and more across all channels. For physical items, include multiple photos and reviews to add context.
2. Use inventory management to know what your business has in stock and analyze the data to understand what people are buying, when and where they're doing it, and why.
3. Check the analytics on potential online customers engaging with your product and turning away or abandoning shopping carts. Why is it happening and how can you offer more information to reduce it?
4. Regularly walk through how a customer perceives your company. How are they engaging with you? Have you created any blockers? Now work to improve your interactions and the buying experience.
2. Live Streaming Video
Last year saw a monumental shift in live streaming video.
No longer inaccessible, live streaming was democratized. From Periscope to Facebook Live, streaming was open source.
And the enthusiasm around it has only continued to pick up steam. Sure, it's had its ups and downs and fair share of failures.
But within those moments rose a platform and medium made for marketing. Oh the potential.
Blog scientist Harsh Agrawal even goes so far as to say,
"I wouldn't be exaggerating if I said live streaming will change social media and the world as we know it."
...The world as we know it. Let that sink in for a moment.
Sure, it's too early to say how much of the market live streaming will capture, but my prediction is this.
Live streaming will change social media as we know it.
It's easy to see where we're headed. Especially when you look at the steady decline traditional TV viewing has seen.
Q2 traditional TV viewing by 18 to 24-year-olds dropped by more than 9 hours per week, or by more than one-and-a-quarter hours per day.
Meanwhile, live streaming continues to soar.
Just take a look at how NASA is using it. Their live stream lets you watch Earth from the International Space Station 24/7.. And believe it or not, an average of 3,000 people around the world watch it at any given time.
So what benefits does live streaming offer your business?
Benefits include:
More authentic interaction with your audience
Brings a human element to digital marketing
Creates a library of content that can be viewed or repurposed later
Facilitates learning from real-time audience feedback
Product story communication directly from product experts (source: BrandLive)
Many companies are adding video to their marketing campaigns because it offers a relational perspective into the company and helps explain concepts in a simpler way than words or pictures.
What live streaming channel should you choose?
Although Facebook Live is still the most popular live video channel, other brands are rising in the ranks.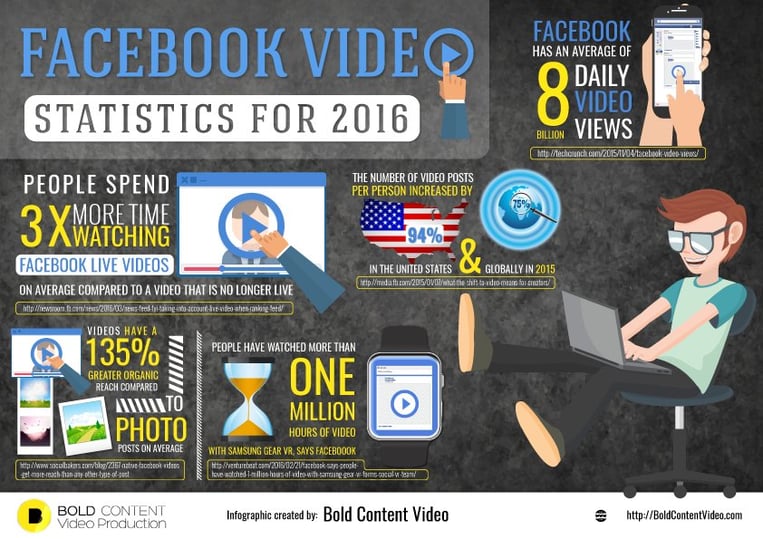 Periscope gets a respectable 29% of the market, but niche sites like Twitch are getting millions of daily users as well.
So how do you harness this technology for your company?
Don't stress - it doesn't mean you have to go out and hire a video production company.
If you want to do things simply, you can stream a short video to a site like Facebook or YouTube using your phone. Or you can use a video host like Ustream or Lifestream.
The benefit to a host is that you can embed the stream on your own website, pulling traffic there exclusively. Otherwise, your customers will stay on another site like YouTube instead of going to yours.
3. Short Form (Expiring) Content
While Instagram and Snapchat are popular with the 18-24 demographic, each platform is worth billions in its own right.
Not sure if your audience is on either channel? My guess is the answer is a resounding, YES!
With the release of Snapchat feature clone Instagram Stories, live expiring content has become bigger than ever.
The fact that content disappears after 24 hours means it's ultra-relevant, boasting a low production cost as viewers expect an "in the moment" experience.
One of the best brands on Snapchat right now is Warby Parker, the eyeglass frame maker. They've mastered the format's creative, casual vibe by offering a look into their company's offices.
While they show off their trendy reading and sunglass frames, they give a unique insiders view.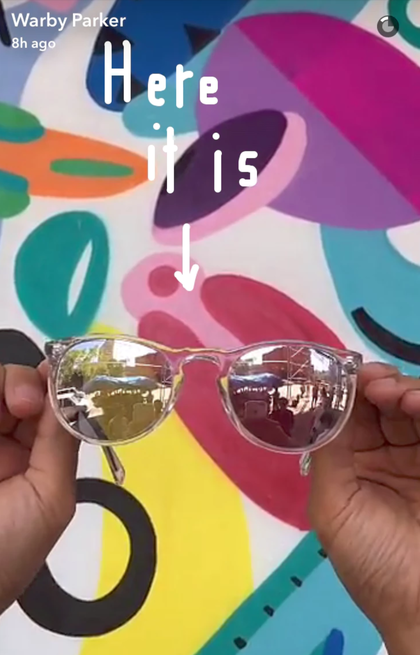 They've even experimented with offering exclusive frame deals to their Snapchat followers, selling limited edition glasses only available through Snapchat. The frames sold out in record time.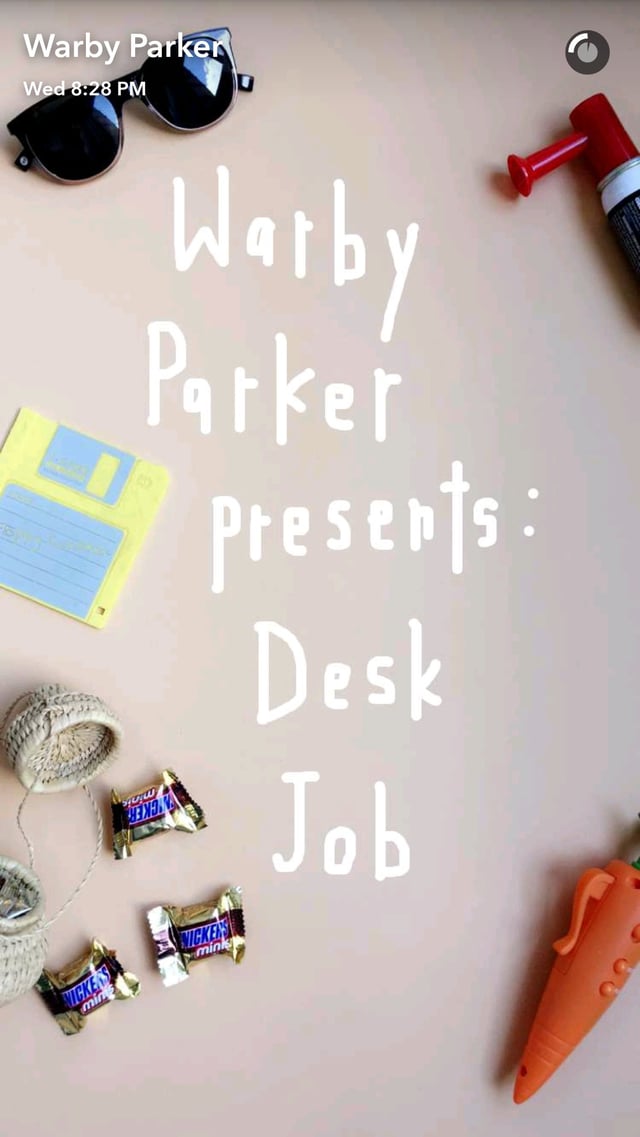 Over on Instagram, brands are molding their images on Instagram Stories and finding new ways to connect with their tribes. In fact, more than 500,000 business advertisers are now on Instagram.
Popular companies like Starbucks, NASA, and National Geographic use Instagram Stories to share more live, unedited content from the brand.
How You Can Use Snapchat and Instagram Stories:
Go behind the scenes
Explain product creation
Interviews with employees or influencers
Intros to your different products
Bite sized, authentic interviews by you about your company's vision
4. Relationship Marketing
Relationship marketing isn't a new term within social media. But what I believe we'll see in 2017 is the return of true community building.
Over the last several years, we've come through a period I refer to as the "transactional mindset." Many saw social media as a one way conversation, never bothering to cultivate a community.
Those days are over and it's reflected in the data.
55% of consumers are willing to pay more for a guaranteed good experience?
But the keyword here is a guaranteed good experience.
Consumers aren't looking for more options; they want the right option available to them.
And they want the buying experience to be personalized.
While building your client base is extremely important, relationship marketing invests in current customers as well.
It works to increase customer loyalty with the understanding that it's much easier and less expensive to maintain customers than find new ones.
This type of marketing appeals to the emotions of your customers. If they associate your brand with value and positive life moments, they will continue to purchase from you.
Coca-Cola is genius at relationship marketing. They've been selling the same basic product for years and yet are the most recognized brand in the world. How?
They link their soda and people with happiness.
How to incorporate this into your business:
Gather data: Find out what's working and what can be improved on from current or past customers.
Discover what your audience prefers most, like watching videos, listening to podcasts, reading blog posts, or other forms of engagement.
Interactions: Provide answers to all your customers' common questions on their preferred social media channels, in friendly language.
And make sure your tech support is flawless!
Personalize: Analyze metrics on people's buying preferences. If they liked one product, offer them a compatible one. If they buy the same product more than once, give a discount on their next one.
Find out what resonates with each segment of your audience and market directly to them, on a 1 to 1 ratio.
5) Quality Reigns Supreme
It's not enough to slap whatever you'd like up on social media these days; it all must be part of a thoughtful strategy.
2017 will bring an even larger appetite for quality content. Not only that, but social media platforms increasingly favor posts of higher perceived relevance than just any low engagement, run of the mill post.
We're saturated with messages from all sides, so for your brand to stand out, you've got to pull away and offer a unique, fresh approach to the solution your company offers to a customers' problem.
Create a customized experience that speaks directly to your audience.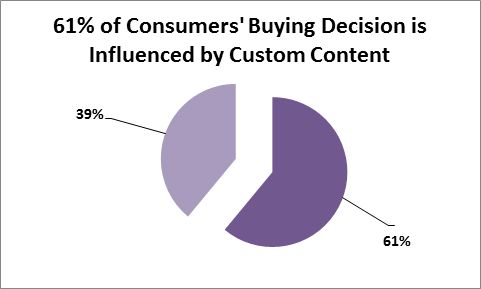 Here's how to do this. Finish the sentence: "Only we ____."
Once you identify how your company stands out, you can also identify what will make your company successful, and why.
Then you can set realistic goals. Document these and keep them prominent in your mind. Instead of more content and less advertising, focus on less quality content and an increased advertising budget.
And take this customized experience one step farther.
Treat your clients like friends and your social media profiles like personal pages to humanize customers' interactions with your brand.
If you can't keep up with questions on all social media channels, consider only using one or two and being great at them instead of mediocre at all.
6) 24/7 Intelligent Customer Service
Even if you have a stellar product, if you stink at customer service, your company will fail.
66% of customers switch companies due to poor service. (Accenture)
Another 53% say they leave because they feel unappreciated. (NewVoice)
What an epic fail to allow more than half of what was - at one time - a happy customer switch to another company.
Imagine if your brand could resolve customers challenges the first time. Think how you might massively increase customer loyalty.
Gone are the days of waiting on hold for a customer service representative who doesn't know how to fix your problem.
Today, an unhappy customer can effectively shout from the rooftops about their bad experience as easily as posting a tweet.
That means no company, including yours, can afford to overlook intelligent customer service. Put a plan in place to quickly provide answers and solutions to empower your customers.
This requires 3 things. That you:
Invest in the right people
Evaluate your current customer success strategy
Implement an agile success plan
1. Invest in the Right People
"Great vision without great people is irrelevant." - Jim Collins
To win the hearts and minds of your customers, you need a team committed to exceeding expectations.
Have a product? Your success team needs to understand capabilities and functionalities end to end.
Providing a service? Ensure each customer service representative is familiar with the benefits most important to potential clients.
If CSR's can't translate your value, how do you expect your customers to grasp it?
2. Evaluate Current Strategy
Answer a few questions to gauge the effectiveness of your customer success strategy:
Are you clearly demonstrating to your customer/clients the 3 core benefits of your company?

Are they receiving a seamless and predictable experience?

When was the last time you calibrated your message with your promise to your customers?

Have you continuously improved/optimized your product and/or service to meet the needs and expectations of your customers?

Is there a small subset of users that provide consistent feedback you can leverage? (e.g. users that offer insight into your product/service)
3. Implement an Agile Plan
Your customer success plan needs to remain agile. Listen to your customers, review the data and get ready to pivot.
What are a few examples of KPI's you might add to your plan?
Answer questions within 1 hour on all social channels.
Treat clients like friends to improve NPS score by 25%.
Humanize customers interactions to increase positive sentiment by 50%.
7. Empathy as an Artform
Empathy is a term we've discussed as long as I've been with Post Planner. But to me, it's not just a term.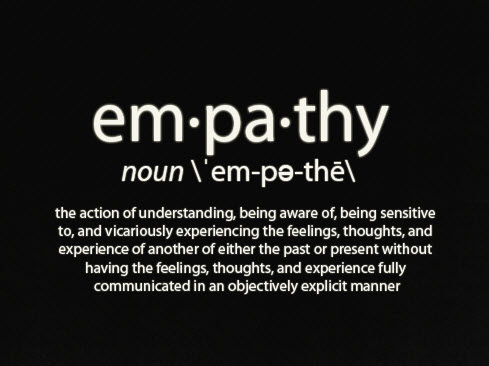 Empathy is a movement. It's a belief system and a culture that must be embraced by every team member.
While there might be a lot of talk around empathy these days, I believe we'll see it reach new heights in 2017.
Companies that take empathy from an idea to an artform will not only survive, but thrive. And the statistics prove it.
The top 10 companies in the Global Empathy Index 2015 increased in value more than twice as much as the bottom 10 and generated 50% more earnings.
Average earnings among the top 10 were up 6% in 2016, while the average earnings of the bottom 10 dropped 9%.
As Bill and Melinda Gates put it,
Take your genius and your optimism and your empathy and go change the world in ways that will make millions of others optimistic as well."
Final thoughts
One thing is certain:
The only thing we can count on is change.
2017 offers an exciting opportunity to create change rather than succumb to it. So get out and test. Try something new.
Get out and rock your 2017!