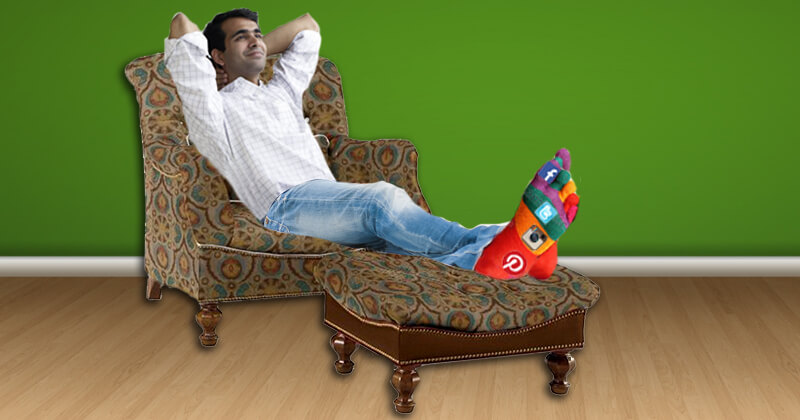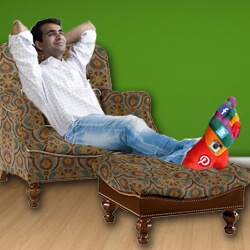 I'm not someone who usually gets blindsided easily in business or life. Especially when it comes to tech or my professional experience.
For context, I spent over a decade at a Big 5 advisory firm learning to mitigate risk -- most of that time on pretty big eBusiness initiatives. Then just under 8 years in the Far East at a super major running their eBusiness.
Since 2008, I've spent my energy working with startups and high growth companies in tech.
As a passionate carpenter, I'm amazed by how quickly things come together in the new business era. I fell in love and haven't looked back since.
Yes, I know what you're thinking. "He's old!" Now back to getting blindsided....
Growing a Brick and Mortar Business with Social Media
So my dad is a retired biologist. He came to the U.S. in 1947. Typical suitcase with 50 bucks in hand and the American dream took over from there kinda story.
He retired in 2005 after a 45 year career with one company and found himself bored out of his mind. I mean how much gardening could the guy do?
So he decided to hang around his brothers' family-owned furniture business. They're comfortable. They're furniture dealers for a couple of well known brands in the Los Angeles basin.
They've had regular foot traffic and centralized marketing from corporate for ages.
After some time, my family's genetic disposition of OCD kicked in. My dad knew they could be doing a lot more!
We've been spending a lot of time together over the past 6 months. One day in late November, he asked:
Sam, what should we be doing to grow
our business on social media?
Wow! There it was. In that moment I was gushing with feelings of pride, happiness, and that I had arrived. But then, blindsided by a strong sense that the pressure was on! I mean this wasn't like the previous iCloud setup, Netflix, or Keurig tests he'd given me.
I needed to think about this in detail. My entire career and credibility were at stake with what would probably prove to be my most difficult client. One thing was for sure! Growing a brick and mortar business with social media was going to be hard but a lot of fun.
So I manned up. Dove right into my usual research, drafted a lean plan, and got right to it!
This series of essays will share the framework of my recommendations to him. I'll share a monthly update on progress in detail. You should be able to pick up a thing or two -- or just have a laugh over a coffee.
I'll focus on outlining:
The situation
A step-by-step approach from concept to completion
Our assumptions, thinking, and tests for validation
Results in real-time
So if you're still on the fence about investing in social media in 2016 -- well, this is for you too!
Growing a Brick and Mortar Business with Social Media - bit.ly/1PBRxK4 (by @samhkpk on @PostPlanner) #socialmedia #casestudy

Click to Tweet
What you need to know before defining a social media marketing plan
It's important to understand the core business first. I had a strong grasp of that already. So let's fast forward to questions to consider before setting your goals.
Your social media marketing goals will depend on many different factors.
For instance:
Is your brand new or established?
Do you sell a product or a service?
Is your business local, national, or online?
Why do your customers buy your products?
How do your customers buy your products?
These are just some of the things to you need to know beforehand.
By the way, notice that I left out "who"? That's because knowing why customers buy from you is more important. I'm looking for causation - not correlation.

See the point?
In my dad's case, they're pretty much a local dealer of an established national brand. They don't have their own website let alone a social media presence. But they all have shiny new iPhones!
Their customers buy well designed, personalized home furnishings without breaking the bank. They love the rich heritage of the brands and the fact that most of the products are still made in the U.S. They're getting a piece of fine crafted Americana, culminating in rich human experiences and memories in their homes. Sometimes lasting generations.
I can attest to many experiences of crashing on the supple chenille couch after a late night. The memories -- not so much. But that's another story.
So I knew their products are on the brands' website, but most folks shop in person at the local dealer.
Alright. Now that I had the basics out of the way. What next?
It was time for me to get some facts and data straight. I needed to prepare since I was going to ask them to hire an agency or full-time marketing staff to execute. For them, it would be an unprecedented investment in new media.
Why should your brand invest in social media marketing in 2016?
Well my first thought, "Dad, it's 2016!"
Then I recalled how McKinsey & Co. put it "If Facebook were a country, it'd be the 3rd largest after China and India!"
They also reported that "social media will be the primary tool for more than 50% of businesses in 2016."
Do you want to get left behind? My pride bolstered by my dad's OCD wouldn't let that happen.
I focused my attention to customer acquisition. What's the most effective and cheapest way to get a new customer? Yep, you guessed it -- referrals! Otherwise known as word-of-mouth marketing online.
It turns out that more than 50% of their business comes from referrals and repeat customers now. Almost 100% of which is offline... no shit, go figure!
I knew where I had to start! The low hanging fruit.
Goal #1: Increase the word-of-mouth referrals from local customers
Social media is the best way to earn passive -- and better yet -- active referrals at scale. People love talking about themselves and showing off. Online showcases are easy to create.
The end game would be to get customers to share compelling stories about their new great rooms. For them to tell stories about the amazing experiences they've had in them!
I knew I was on to something. Yet, I still wanted to dig in to find a benchmark for their current customer acquisition costs (CAC). I chose to keep the math simple rather than build a complex spreadsheet Model.
What's the total investment / costs for all Sales & Marketing efforts now? (salaries, ads, marketing collateral, corp. license fees for marketing, etc.)
What was the total number of new customers in 2015? I also checked 2014.
I divided the total spent by the total new customers for the period to get a rough benchmark.
This habitual exercise of mine yielded a customer acquisition cost of $294. At first that sounded high for a SaaS-y guy like me. Then I learned that their average customer lifetime value (CLTV) is more than $10K. Nice! Here's a tool you can use to calculate the lifetime value of your customers.
Why did I want to know this upfront? So I could measure the return on investment of my social media marketing plan. You should too!
Goal #2: Increase awareness of the local business with prospective customers
My experience to date taught me this was achievable. Nurture prospects along the customer journey first. Over time, create enough interest and desire as they move down the funnel. Move them from the comfort of their devices into their Teslas and to my dad's shops.
Here's interesting data from BI Intelligence that helped me to define this second goal: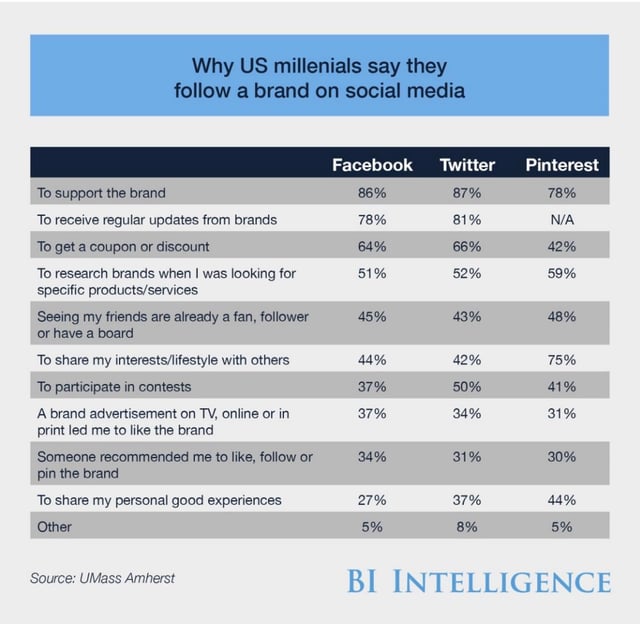 Goal #3: Reduce customer acquisition costs and increase customer lifetime value. This is a derivative of my first two goals
Ultimate Goal: Increase sales to repeat, referral, and new customers while reducing expenses to do so
You've heard the expression right? "If you look up the definition of such and such in the dictionary..."? Well, right next to both skeptic and pessimist is a photo of the Rizvi brothers with big fat grins.
Knowing that, I equipped myself with some more useful information:
84% of U.S. consumers conduct online research before a major purchase (Forrester)
Prospects who had positive customer service experiences on social media spend 20-40% more (Bain)
New businesses and startups use Facebook to cultivate a hyper-targeted audience (Forrester)
Large and luxury brands have been using Instagram to foster loyalty (BI Intelligence)
U.S. consumer spending will reach $334 billion in 2016 (Forrester)
192 million online shoppers from the U.S. will spend an average of $1,738 in 2016 (Forrester)
80% of the online population has purchased something online, 50% are repeat buyers (Invesp)
66% of Americans aged 50+ buy online (Pew)
Tablet users spend 50% more than PC users (Adobe)
Social commerce will reach $20 billion in 2016 (Adweek)
Social commerce is driving huge increases in referral traffic. More than any other channel -- an increase of 200% between the first two quarters of 2014 and 2015. (BI Intelligence)
OK, we're convinced. But, which social networks should we market on?
I'm sure you're not surprised by all the different opinions on this out there! I've read articles from "gurus" suggesting a presence on them all. Facebook, Twitter, LinkedIn, YouTube, Google +, Pinterest, Tumblr, etc.
Then the mobile platforms like Instagram, Snapchat, Periscope, Meerkat, too.
That's bullshit!
Marketing needs focus like any important initiative. Don't spread yourself too thin. Remember, in planning my tactics I needed to align them to achieving my goals.
My tactics include different stages of the customer journey. This is critical. It's not one size fits them all. Don't forget to do the same. Granted, yours may be different than mine, but the approach isn't.
So I needed to figure out and prove stuff like:
What are the options for a website replacement or alternative for a local business?
What's the level of complexity involved for day-to-day management?
What's the largest potential and relevant audience?
Where do our existing customers spend time on social?
Where do our prospective customers spend time on social?
What kind of things do they share?
What influences their buying decisions?
How would we engage folks on social?
How would we nurture them?
Which social networks provide cost-effective paid acquisition?
Which social networks are driving offline conversions?
Which social networks are driving online social referral traffic? Social commerce conversions?
What are the differences in demographics for the social networks?
Being in the industry helped to hone my research based on experience and assumptions. I framed my hypotheses in my head and set out to confirm them. Just like in 8th grade science class.
For this part of the exercise, I created a simple spreadsheet for comparison purposes. I depended on public data from credible sources. I also invested in a premium report from BI Intelligence.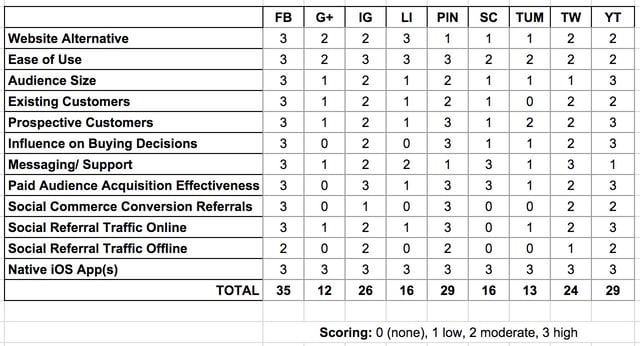 Here's the results which formed the reasoning for my recommendation.
Facebook is the best choice for brands, retailers and social commerce
Facebook Pages provided an easy way to set up a website alternative fast. It's simple to add many locations to the same Page too. Managing a Facebook Page isn't rocket science. Plus they have excellent educational programs for newbies.
Facebook represents the largest potential audience across all demographics. Nurturing prospects and handling inquiries in real-time is easy via Messenger. Another benefit is you can run everything from an iPhone.
Below is a Facebook Page that I used as an example of best practices. It's what I showed my dad and uncles during my pitch: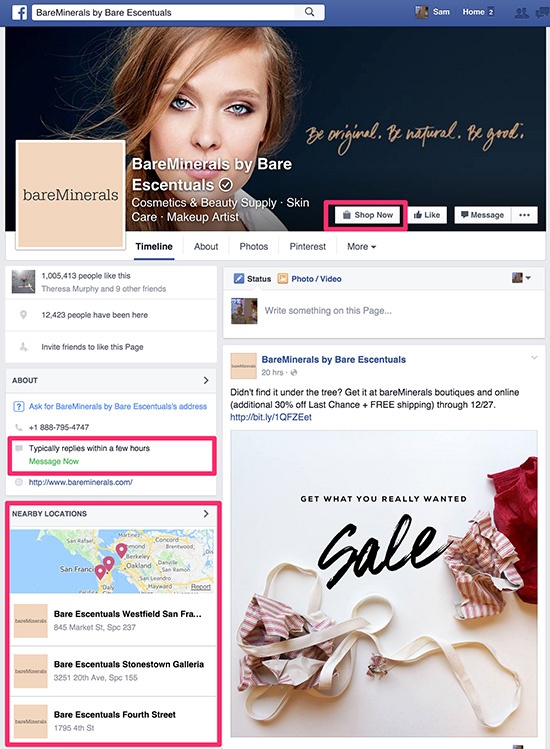 Now to confirm the important stuff! How will Facebook support my conversion-oriented tactics to achieve my goals?
Facebook is the dominant social player. It accounts for more than 50% of total social referral traffic to websites. (BI Intelligence)
Facebook accounts for 64% of total social revenue. This is online not even factoring offline purchases. (BI Intelligence)
39% of Facebook users Like brand Pages so they can research products (Mobstac)
85% of orders from social media come from Facebook (Adweek, 2014)
83% of Home & Garden related orders from social media come from Facebook (Adweek, 2014)
Facebook has the highest conversion rate for social media traffic (Shopify, 2013)
Facebook has cost-effective paid audience acquisition options for local businesses
Southern California is in their pilot program for the new Buy button on ad units too
Facebook users love #humblebragging and talking about themselves
They broadcast everything about their lives, often in real-time
Visual content from their business/brand is easy to create and cross-pollinate
User-generated content would be easy too
Pinterest -- not Twitter -- is the second best social network for influencing buying decisions
I'm a little biased when it comes to this question. It was hard for me to be fair. I did my best during my evaluation. To be clear -- despite the length of this post -- I'm a visual guy. Pinterest is so cool to browse!
I still don't get the 140 character thing. I hear that's changing to 10,000.
I guess I'm old school. I have no idea what the hell "Hey @samhkpk dis is bnn rgt?" means.
Yep, real tweet! Translated by my millennial cousin to "This is bananas right?"
So back to objectivity then. My research found that Pinterest and Instagram usage had doubled since 2012. While Twitter stagnated and remains less than 1/3 of Facebook's usage. Check out the chart from Pew: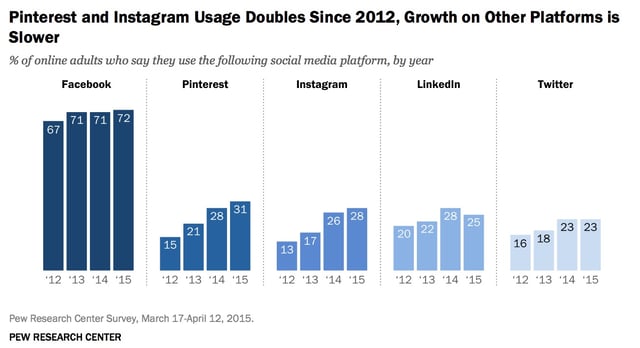 In fact, Twitter usage is on a serious decline. I believe that the wide use of Twitter to distribute porn is a reason for brands to abandon it too. Objectionable content still exists on all the social networks. At least the others are doing something about it.
More support for Pinterest from the data I gathered:
Pinterest drives 16% of social commerce revenue despite its small user base (BI Intelligence)
Keep in mind, it's 30x smaller than Facebook and 6.5x smaller than Twitter so that first bullet is big
There's over 60 million "shop-able" pins on the site as of October 2015 (SmallBizTrends)
In general retail, Pinterest social commerce transactions averaged $123.50, that's 126% more than Facebook's! (SmallBizTrends)
32% of active users have been influenced to make an offline purchase (Pinterest)
Did I mention how cool Pinterest is to browse? Again, thinking along the lines of visual content, showcases, etc.
30% of active users have made an online purchase after browsing Pinterest content (Pinterest)
50% of active U.S. millennials have bought a product after liking or sharing it on Pinterest

(BI Intelligence)
Why I selected Instagram over YouTube to market our family-owned retail business
During my research, YouTube was a clear winner based on data. Tied with Pinterest. It came down to the ease of generating content fast and cost-effectively. Compelling video content in context is just too hard to create right now.
Instagram is seeing significant gains by large and luxury brands. This falls right in line with the business' needs and broader branding goals.
It's the perfect lifestyle platform we need for generating visual content. Of course, it accelerates the possibility of engaging existing or prospective customers too! Again, cross-pollination to Facebook and even Pinterest was a big bonus.
I know right? See what I mean...
They've got a cool advertising platform for business. A broad network of partners too. I'm loving their new Buy button on ad units. I've used it twice!

I've included other reasons here to share my thought process:
400mm+ users and closely integrated to Facebook
It's a gorgeous visual platform. Exactly what we need to get started with our content marketing
The average order value from social media referrers was $65 from Instagram, 2nd only to Polyvore
Instagram's ad platform has been working only with high end brands - a perfect fit. #killercasestudies
It's the go to social network for younger generations (BI Intelligence)
32% of teens name it as the most important social network (Piper Jaffray Semi-Annual Survey)
It's the 2nd most popular social network amongst the older millennial demo too (BI Intelligence)
They're rolling out a whole new suite of call-to-action buttons on ad units
In short, Instagram will be used for content creation, curation, and user-generated content. We'll use this to cross-pollinate on Facebook and Pinterest.
So Facebook, Pinterest, and Instagram are the social commerce platforms of choice. Now what?
That's right! After a pretty thorough analysis it just makes sense.
We're going to start Lean and remain agile. In summary:
Content Strategy:
We didn't talk about this much but I sprinkled glimpses of it throughout.
Time is of the essence so we'll manage this iteratively via organic and paid channels. Visual content will be key. We're definitely going to borrow ideas from our friends at Post Planner too!
We know that people come to social networks to connect with friends. They also follow brands they love to be dazzled by amazing content.
We've begun the process of hiring a professional photographer. S/he'll be creating a portfolio of our showroom products first. Then visiting with 40+ gracious customers to capture their in-home experiences. Palisades here we come!
We're optimistic about getting some of them to spread the word for us too.
In phase 1, we're shooting for a big library of high quality evergreen photos and Instagram videos. We'll market these across all three social networks. We're going to grow our audience(s) first. We're also targeting existing customers.
We'll be launching a Shopify powered Facebook Store in phase 2. The in-house designers and outsourced writers will create evergreen blog posts too -- giving away their wealth of interior design knowledge and experience for free.
Here's the crux of our strategy. Find, create, and share amazing content. Increase engagement. Get more clicks to our Page. More traffic to the stores. Which we assume will lead to more sales.
Facebook:
Facebook will be the primary platform for the business' presence online. We'll probably work with Aericon -- our agency -- to assist with the branding and identity.
We're going to focus on building a strong local Fan base first.
We're going to have our in-house design professionals create an open Facebook Group. It will be for local professional interior decorators and designers. This group will be moderated but anyone with relevant credentials may join and take part.
Facebook will also serve as the primary nurturing channel for any prospects. We're going to check out Messenger integration for support/FAQ/ etc. too.
Content from Pinterest and Instagram will be cross-pollinated and published to Facebook by default. When possible vice-versa.
In phase 1, our conversion goals are:
Building a large local audience. Fans of our Page. A mix of prospects and existing customers.
We'll build rapport and trust with prospects. Engage them with gorgeous visual content. Stuff that will make them say "I want to cozy up on that!"
Over time we'll connect with existing customers. With them, our goals are to create virality. Then of course qualified foot traffic to the store(s).
We won't be pitching or selling anything (on our Page) in phase 1, which I expect to take 6-8 months.
In phase 2, we'll seek to convert some sales online via the Shopify integration I mentioned.
Pinterest:
We're going to use Pinterest to share original and Evergreen visual content. Also to find amazing content to cross-pollinate.
We plan to find as many local interior designers and decorators to follow too. Of course any known customers.
We'll build up our boards with a similar content strategy to Facebook. What I like about Pinterest is how you can organize boards by rooms.
We'll be testing "shop-able" pins in phase 2 once we've built up a sizable audience which is job one.
Instagram:
With Instagram, we'll start by following a bunch of the right people:
Interior decorators and designers
Passionate home owners (prospects and customers)
Real Estate Staging professionals
Set designers
Brands that complement the lifestyle
Influencers
We'll be sharing the original photography we've invested in. Focusing on building up our audience first. We'll be using short Instagram videos to capture testimonials and in-home experiences. They'll be shared a lot on Facebook as well.
An overarching goal with all our efforts will be user-generated content. It's much better to have other people talk about you. That will speed up the process of word-of-mouth marketing.
Summary of what we're doing to get started on social media in 2016
We completed our research then got everyone on the same page. Alignment and understanding is essential before these kinds of initiatives.
We've honed in on Facebook for our primary online presence. We'll focus on Facebook, Pinterest, and Instagram to achieve our goals. Once we're successful and have a tangible ROI, we'll expand to YouTube and explore other mobile platforms.
We're clear that in phase 1 we need to build our targeted online audiences first. So you know, we've set the following key results:
25,000 Facebook Fans. Most of them local through paid acquisition with a budget of $10,000 for Facebook Ads. We hope for a lot more organic Fan Page Likes too using our content strategy.
5,000 Instagram Followers. As many local as we can.
5,000 Pinterest Followers. Same local focus which is harder on Pinterest, but we're going for it.
We're in the final stage of retaining the agency to assist with branding and identity updates. We'll then build our Facebook Page, Instagram Business Profile, and Pinterest for Business Profile.
Then it's on to content creation, curation, and distribution. We'll have to find a viable tool / platform to assist with that. Know any? :)
I'll dig into that process more in my next essay leaving my bias aside.
So speaking of what's next -- I'm looking forward to sharing:
The social profiles we've created
Why we branded them the way we did
How we're using Facebook Ads to get and pinpoint our audience
The content we created
The selection process for a tool(s) to assist in the process
Some initial results
Analyses and insights gleaned from the first couple of weeks of tests
Action taken based on data
Measurement and validation of the model to prove assumptions
How we plan to scale the strategy
Sound like a date?
By the way, I'd love to hear any ideas and or experiences of your own via comments. Or hit me up on Twitter. Glad you made it this far in the essay and rock on!
Sources: U.S. Social Commerce - Statistics & Trends: Adweek, The Social Commerce Report: How social platforms are driving up retailer sales and boosting direct-response activity: Business Insider, E-commerce and the future of Retail: 2015: Business Insider, The Social Media Demographics Report: Differences in age, gender, and income at the top platforms: Business Insider, Are You Ready for Tweet to Buy?: eBay Enterprise, Online Marketing For Small Businesses - Statistics and Trends: invesp, Demystifying social media: McKinsey & Co, Mobile Messaging and Social Media 2015: Pew Research Center, 75 eCommerce Facts, Quotes & Statistics that Will Blow Your Mind: Receiptful, Which Social Media Platforms Drive the Most Sales?: Shopify, Will 2016 Be the Year for Social Commerce?: Small Business Trends, 13 Startling Social Customer Service Statistics: Social Media Today, The Social Commerce Report 2015: How social platforms are driving up retailer sales and boosting direct-response activity: Business Insider, Shocking Statistics Reveal Top Five Reasons to Consider Implementing Order Management Software into Your Ecommerce Hub: True Ship