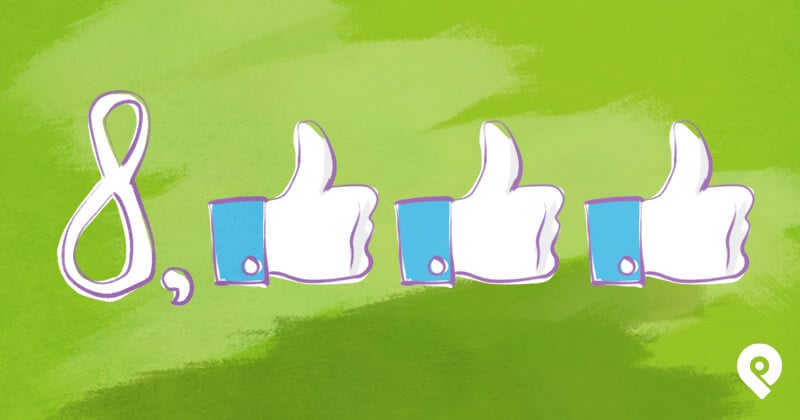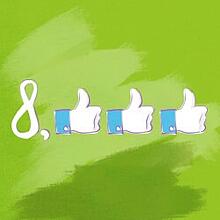 Most Facebook page managers want ONE thing...
And they focus on it more than anything else:
GETTING MORE LIKES!
But there's one thing page managers love even more than getting more Likes.
Yep, getting more Likes for FREE!
I know I've been saying for a while now that the days of growing a Facebook page without spending money on Like ads are gone.
And I still stand by this statement for the most part. Facebook ads help you grow a page quickly & get targeted Likes (which are key!).
But I gotta say -- the recent results on our Post Planner fan page are really blowing my mind.
We recently got over 8,000 Facebook Likes in 30 days -- all because of our posting strategy -- and without spending a dime on Like ads.
Don't believe me? Here's proof.
How a Facebook Page Got 8,000 LIKES with Almost NO Ads
At first, I didn't believe it myself!
The Post Planner Facebook page went from 65k to 73k Likes in fewer than 30 days.
>> Click to Tweet <<
I noticed when the Like count suddenly shot north of 70k.
And here's what I found when I checked out the Insights: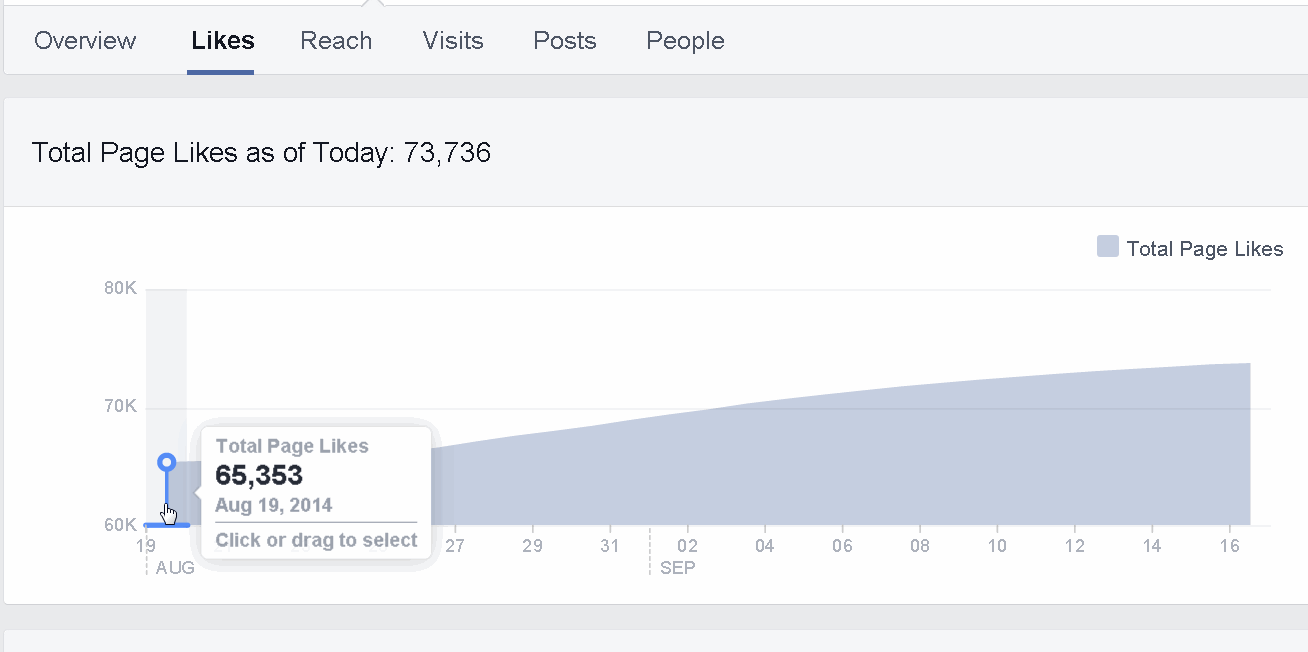 On about August 27, the page started growing by roughly 500 Likes per day.
I thought we must be running Facebook Page Like ads -- so I sent Josh a message asking him what kind of ads we were running.
He said we weren't running Like ads!
Whut?!
Here are the organic Like numbers I was looking at: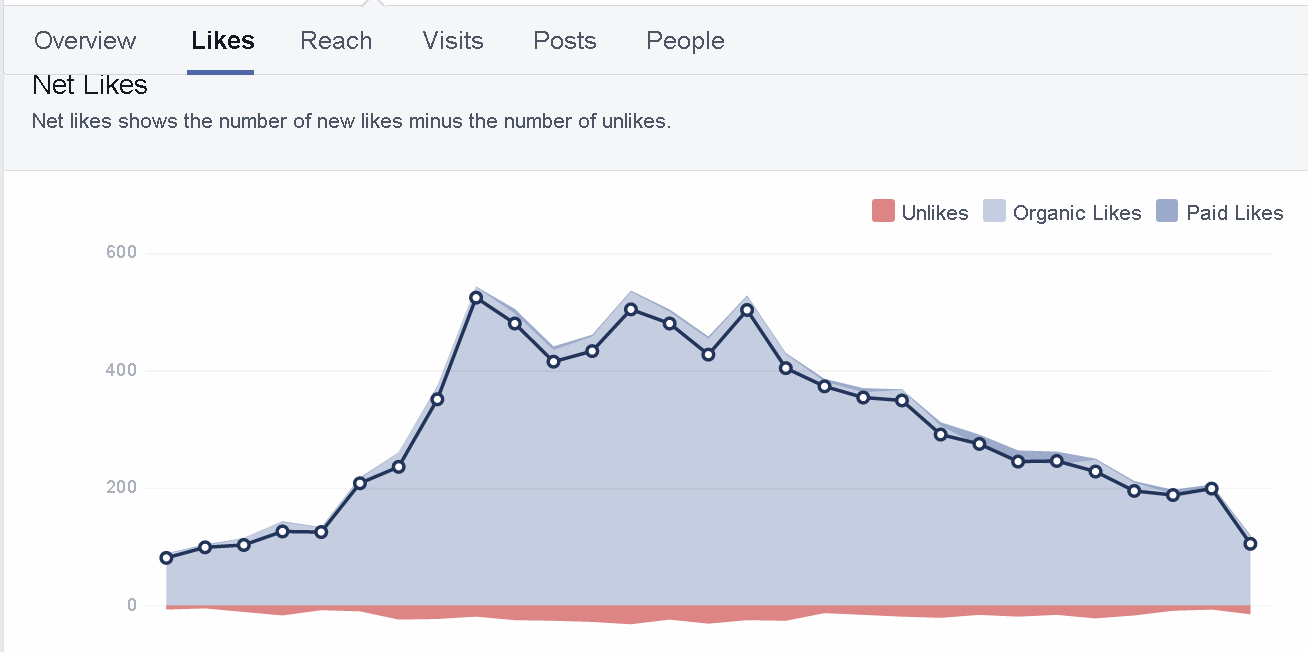 As you can see, almost every Like during this time came organically.
Wow!
Where the 8,000 Likes Came From
Let's be clear, Post Planner bought Facebook ads during this time. And those ads helped generate a few new Likes.
But they weren't Page Like Ads. These were app install ads sending people to our website or app.
And the results show they clearly didn't generate many page likes.
To see where Likes came from, take a look at the peak day in August: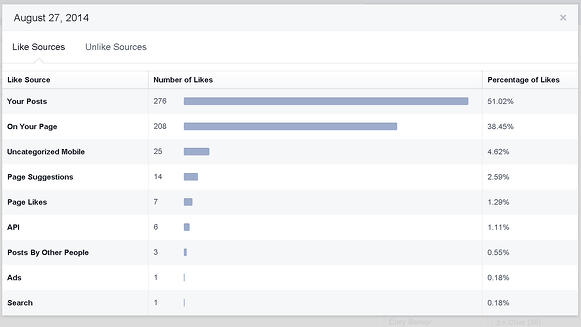 We got 541 new Likes & only ONE came from a Facebook ad!
>> Click to Tweet <<
The rest of the Likes were from:
posts
people visiting our page
page suggestions
other activity
In 30 days, ads accounted for only about 1% of our new Likes. And on August 27, about 51% of new Likes came from our posts.
This got me curious to see what we posted that day -- and how much fan engagement we got.
Here's the top performing post from that day. It reached more than 61k people & got about 4,100 Likes, comments & shares: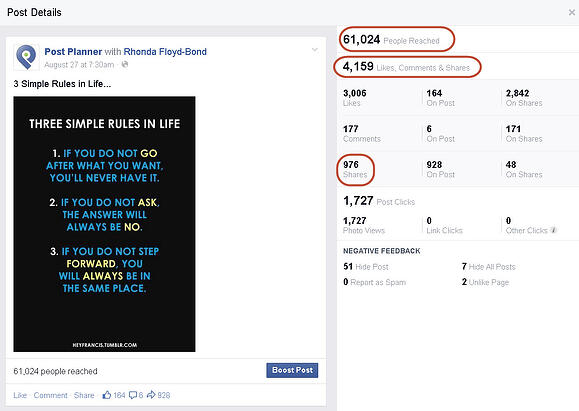 The post with the next highest engagement that day was a link to a blog post about Instagram:
That post reached about 22k people, but didn't get as many Likes, comments & shares as the first one.
With this post, we wanted traffic to the blog post more than anything. So 75 shares is a win in our book. That's 75 people who shared our blog post on Facebook.
Here's a snapshot of the entire day: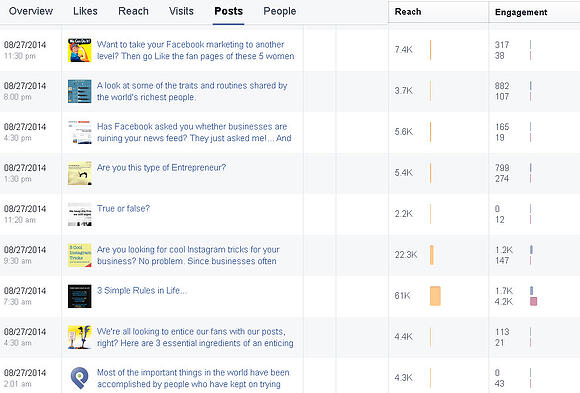 Have a Strong Posting Strategy
The Post Planner Facebook page is pretty active.
There were 9 posts on August 27!
We publish mostly a mix of:
photos
text updates
links to our blog posts
And it works!
Our posts on August 27 reached 116k Facebook users -- which was not much more than the average.
Walk the Walk
In my opinion, one of the worst things an entrepreneur can do is create a product and then not use it!
>> Click to Tweet <<
Almost all the posts on the Post Planner page were published via our app -- text updates, photos & links.
We use Post Planner's Viral Photos tool to find most every photo on our page.
We kick the tires hard, baby!
Here's our most viral photo ever:
We won't always get this kind of response, sure.
But a strong & consistent posting strategy can help you hit an occasional home run like this
Key Takeaways
Here are the 4 main things I hoped you learned from this article: