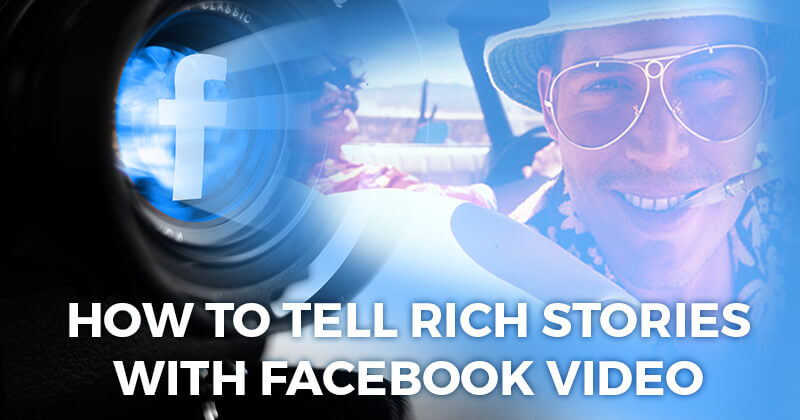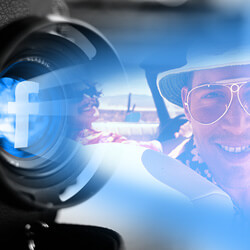 Facebook Video has been on fire this past year -- check these stats:
Video posts per person have increased 75% globally
Video posts per person in the USA have grown 94%
The number of videos in the News Feed has more than tripled year-over-year
Since June 2014, Facebook has averaged more than 4 BILLION video views every day
50% of people in the USA watch at least 1 video per day on Facebook
65% of video views happen on mobile devices
Videos now make up 30% of the stories on the News Feed
Needless to say, Page managers would be wise to post more videos to Facebook (and perhaps focus less on YouTube).
But before you whip out your smart phone and get started... there are a few things to consider.
>> Click to Tweet <<
How to Tell Rich Stories with Facebook Video
First for the filming -- here are 3 must-follow tips for getting the most engagement from your Facebook videos -- and for telling the best story to your followers.
Focus on quality from the 1st frame -- those first few seconds are crucial to draw and hold attention
Premiere exclusive video content -- show off new products or developments
Provide context -- Keep your text update with the video short and pull a key quote from the video
What to do next?
Here are 4 steps you can take to get the show started...
1. Upload your videos to Facebook
You can upload videos from either your desktop or from a mobile device. There are plenty of video editing programs available to help make your videos stand out.
Here are some important points to remember:
Videos will play automatically in News Feed, but viewers will have to tap on the video to turn the sound on in full screen mode
Facebook gives you View Counts, and videos made Public show view counts to help others discover it
Videos uploaded to Facebook cannot exceed 20 min in length
All content posted to Facebook must respect the Community Standards and Page Guidelines
2. Add a video CTA buttion
Facebook has added a really sweet tool to Pages that upload videos -- a Call to Action (CTA) button.
With a CTA button, you can send viewers to your website, product offering, blog posts -- wherever the next step you want them to take lies.
Facebook lets you choose from a few different buttons: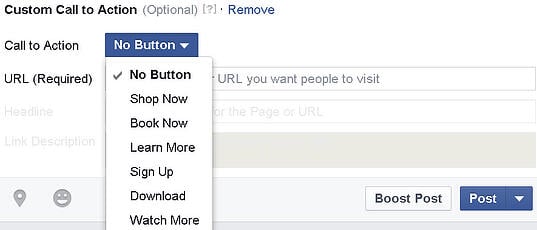 After choosing what you want the CTA button to say, you can modify several parameters:
Add the URL you want people to visit
Add a headline for the Page or URL
Add a link description
(Once you add the URL, Facebook will generate the headline and link description based on the website you enter, but you can edit that information.)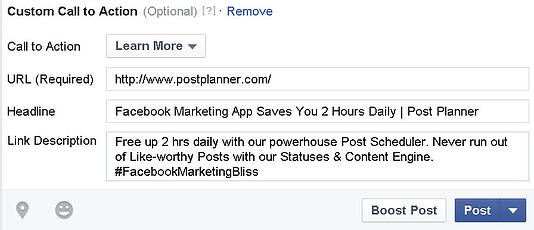 The CTA shows after the video has been completely viewed: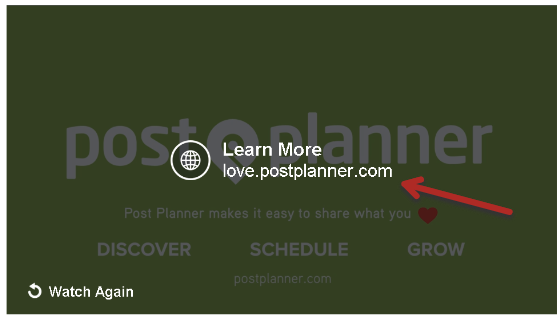 3. Tag other Pages in your video posts
Be smart here and only tag Pages or people actually in your videos.
The worst thing you can do is to tag others who have nothing to do with the post, just so you can get your video a wider showing. That's spam -- and it makes you look like a douche -- so don't do it!
But tagging correctly can drive the Organic Reach of your video.
Mark Zuckerberg was smart to tag Bill Gates in his ALS Ice Bucket Challenge video!
Mark Zuckerberg challenged me to dump a bucket of ice water on my head to raise awareness for ALS.I'm always up for a challenge.Now I'm passing it on to On Air with Ryan Seacrest, Chris Anderson from TED, and Elon Musk. You have 24 hours…

Posted by Bill Gates on Friday, August 15, 2014
>> Click to Tweet <<
4. Pay attention to video Insights
Facebook Insights gives you some pretty nice stats for every video you post.
Things like:
Average Duration of Video Viewed
Video Views
Unique Video Views
Paid and Organic Views
Video Views to 95% (audience retention)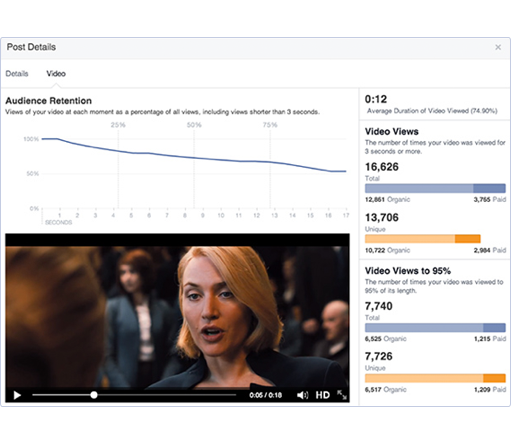 How to Tell Rich Stories with Facebook Video -- Wrapping it Up
With the introduction of live streaming apps like Periscope, Meerkat, Blab, and now Facebook Mentions -- video will become more and more important for marketing on social media.
Even for small businesses.
Maybe you're a realtor and do walk-thrus of homes and post to Facebook. Or you're a mechanic and you do how-to videos for your followers. The opportunities are limited only by your brain!
Applying these strategies will help you tell your story better. Here's the list of suggestions I've made:
Focus on quality from the 1st frame
Premiere exclusive video content
Provide context, but keep it short
Play by the rules when you upload video to Facebook
Add a CTA Button to match your marketing funnel
Tag other Pages strategically
Watch your Insights
If you have a video you've posted to Facebook that's crushing it, post a link in the comments so I can check it out.
Now... let's start filming!