Have you fallen victim to an Instagram Reel addiction?
You're not alone!
Your Instagram followers are hooked as well!
They're getting SUCKED into this addictive content too.
It's easy to see why. Reels are great entertainment!
And they're also a great emerging opportunity for marketers and brand builders!
How to Make Instagram Reels in 6 Easy Steps
This post will take a closer look at Instagram Reels and how you can use them as a brand-building tool.
You'll learn:
What are Instagram Reels?
Instagram Reels allow you to shoot and edit short video clips (15 to 30 seconds each) with stickers, music, text, visual filters, and other special effects.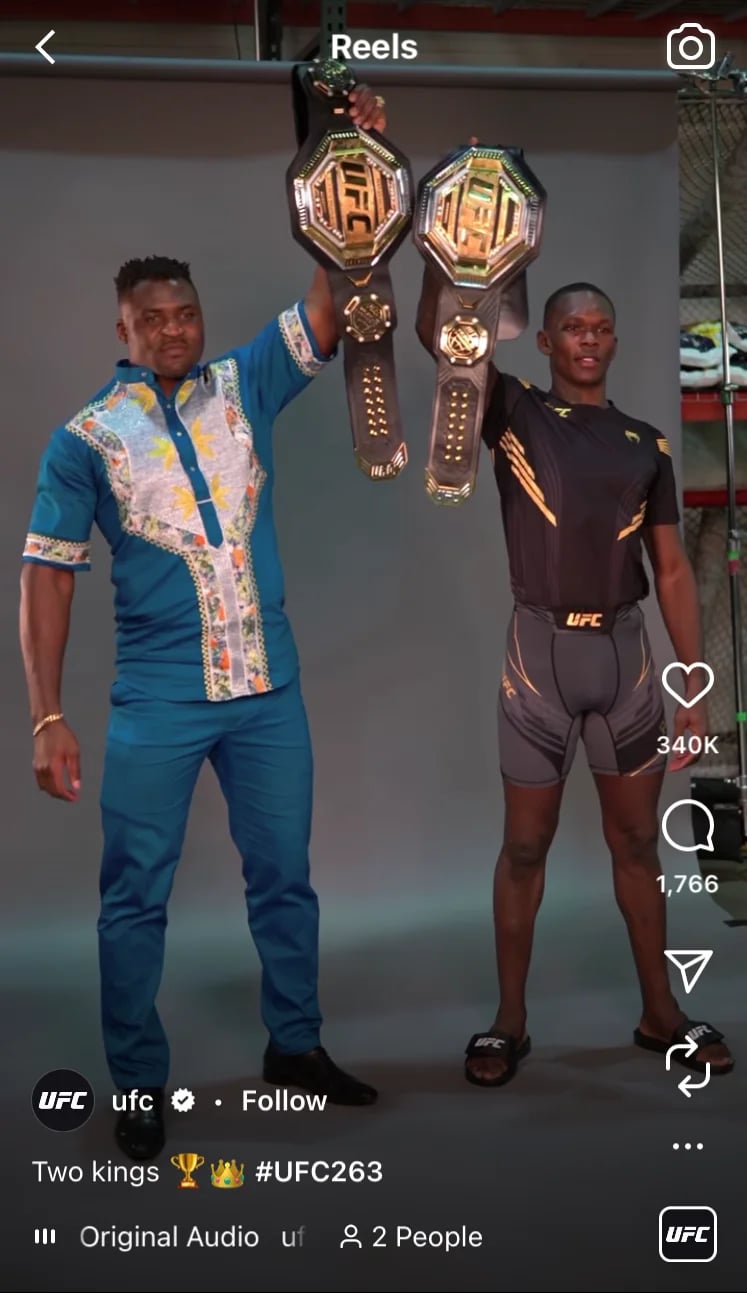 You can share the Reels with your followers through the Feed or with the public through the Explore option.
Instagram also has a separate feed for exploring the Reels — it's pretty similar to TikTok's 'For You' page.
The Explore feature lets you access a never-ending feed of Reels.
Just tap the clapperboard-shaped icon at the bottom of the screen.
Reels are another addition to Instagram's selection of video forms (joining Stories, 1-minute videos on the Feed, and the long-form IGTV posts).
How to create and publish Instagram Reels
There are 2 ways you can create a Reel:
Hold the Record button in Instagram's camera to begin capturing video

Upload a pre-recorded video from your device
A Reel can be made from a series of short clips uploaded sequentially, or it can be just one long video.
Whatever method of uploading and editing you choose, you should keep the following in mind:
All Reels are in full portrait mode (9:16 aspect ratio)

A Reel can last between 3 and 30 seconds

You can only upload Reels on mobile devices
6 Steps to create & upload IG Reels that ROCK
Now that we've got the basics covered...
Here's a quick step-by-step guide to publishing an Instagram Reel!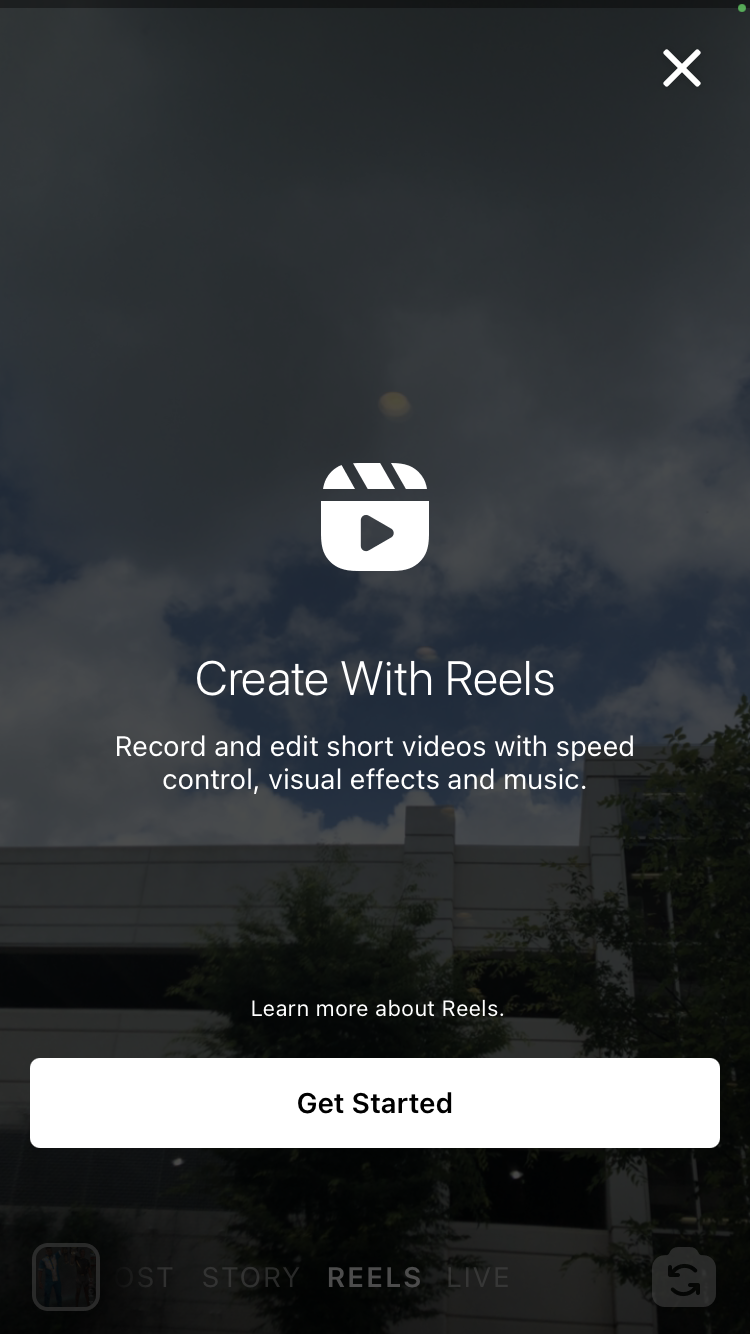 1. In your iOS or Android Instagram app, tap the + button to create a new post. Navigate to the Reels section at the bottom of the screen.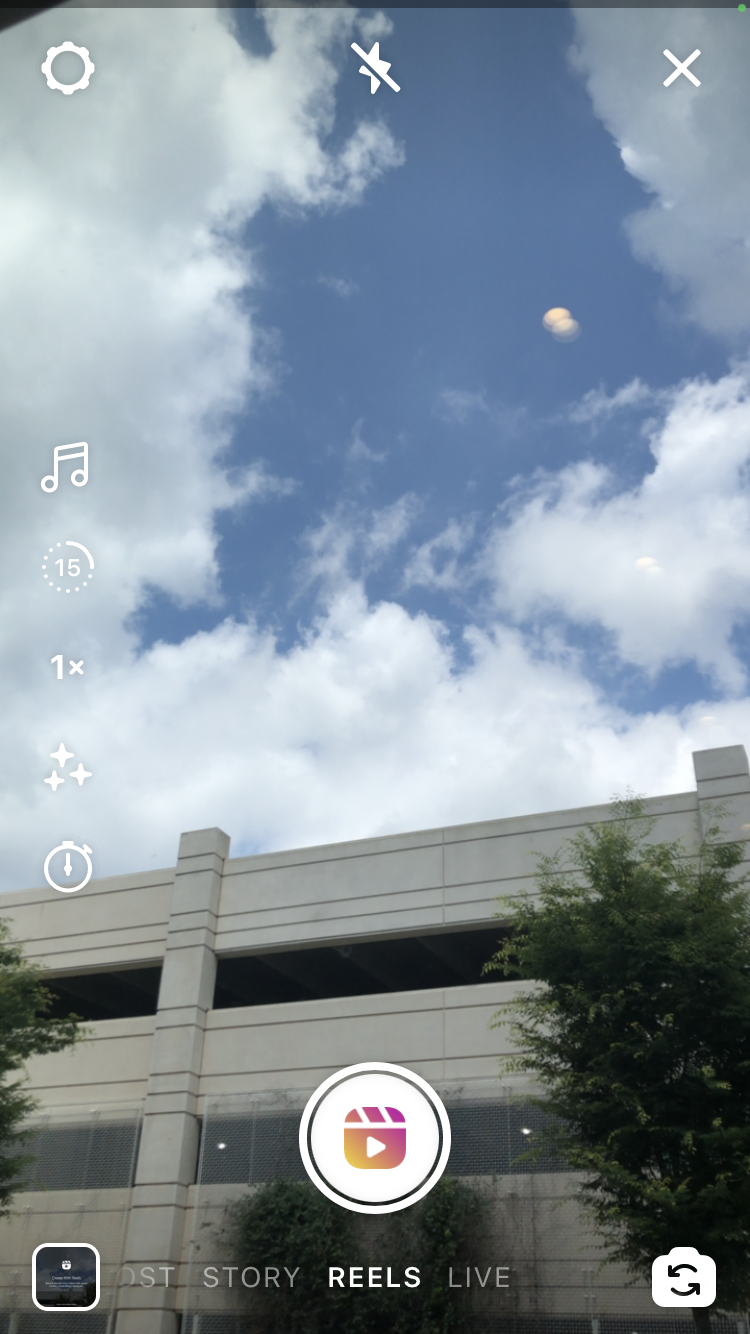 2. Use these available options to customize your Reels:
Music — allows you to search and add tracks to your Reel

Effects — will enable you to add Instagram filters and goofy effects

Speed — enables slow-motion and speeding up your footage

Timer — lets you choose how long the Reel will be and adds a countdown before recording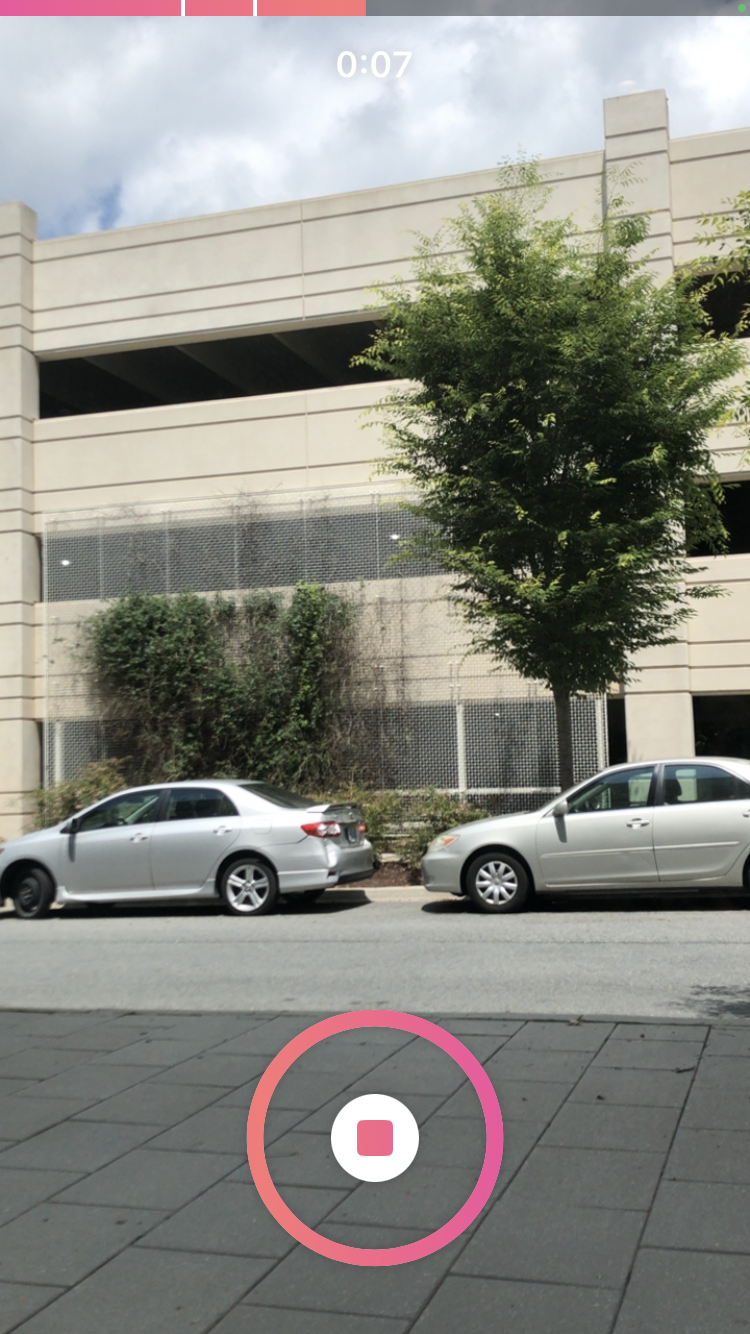 3. Hold the Record button. If you set a timer, this will start the countdown.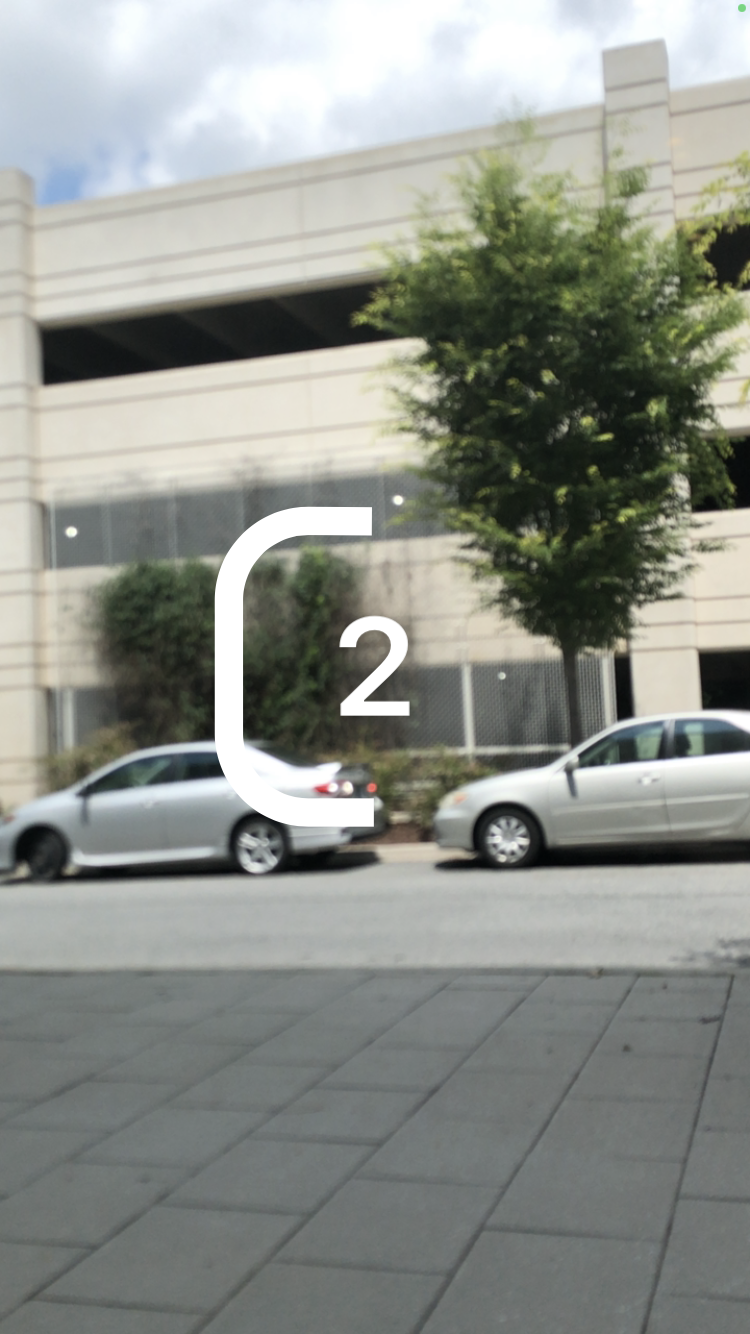 4. If you use the Timer function, the recording will stop once the preset time runs out. Or you can press the 'Record' button again to end the clip.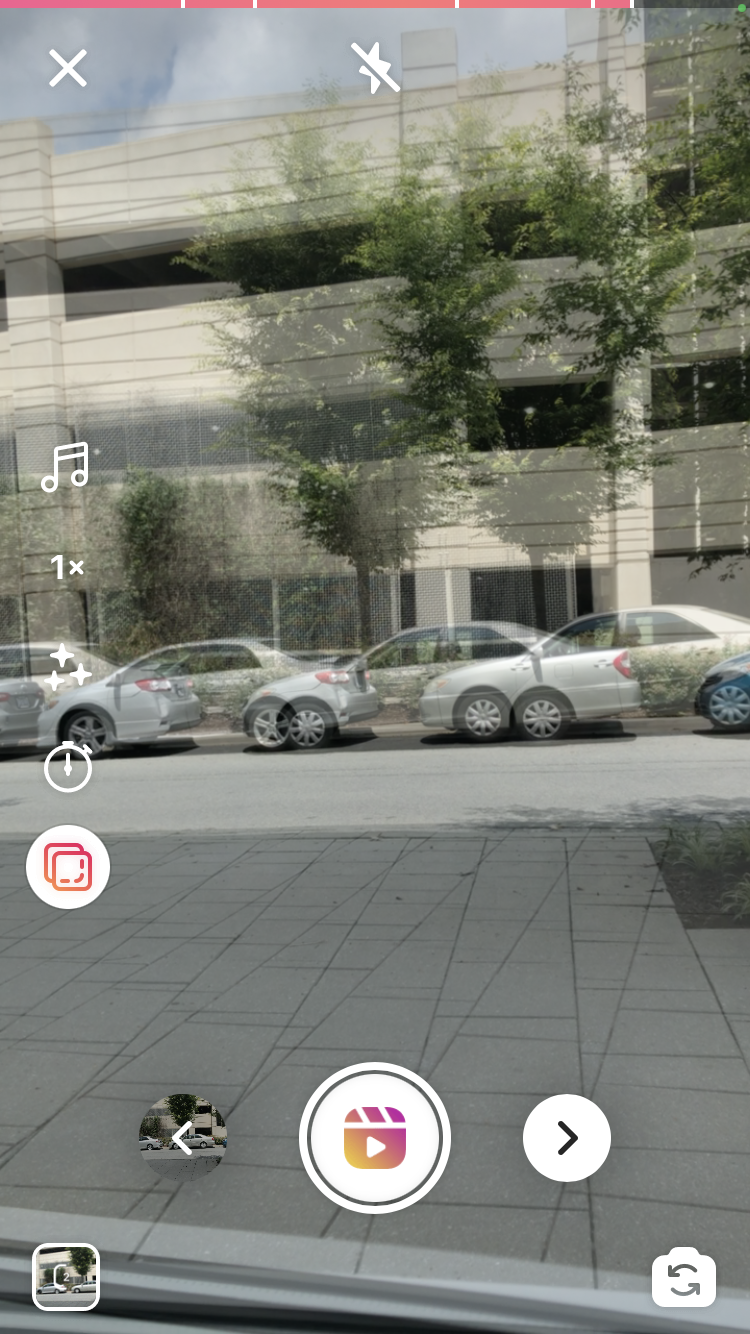 5. Once you've recorded a clip, the Align button will show up. This button lets you create transitions between individual clips in your Reel by aligning objects from the previous clip.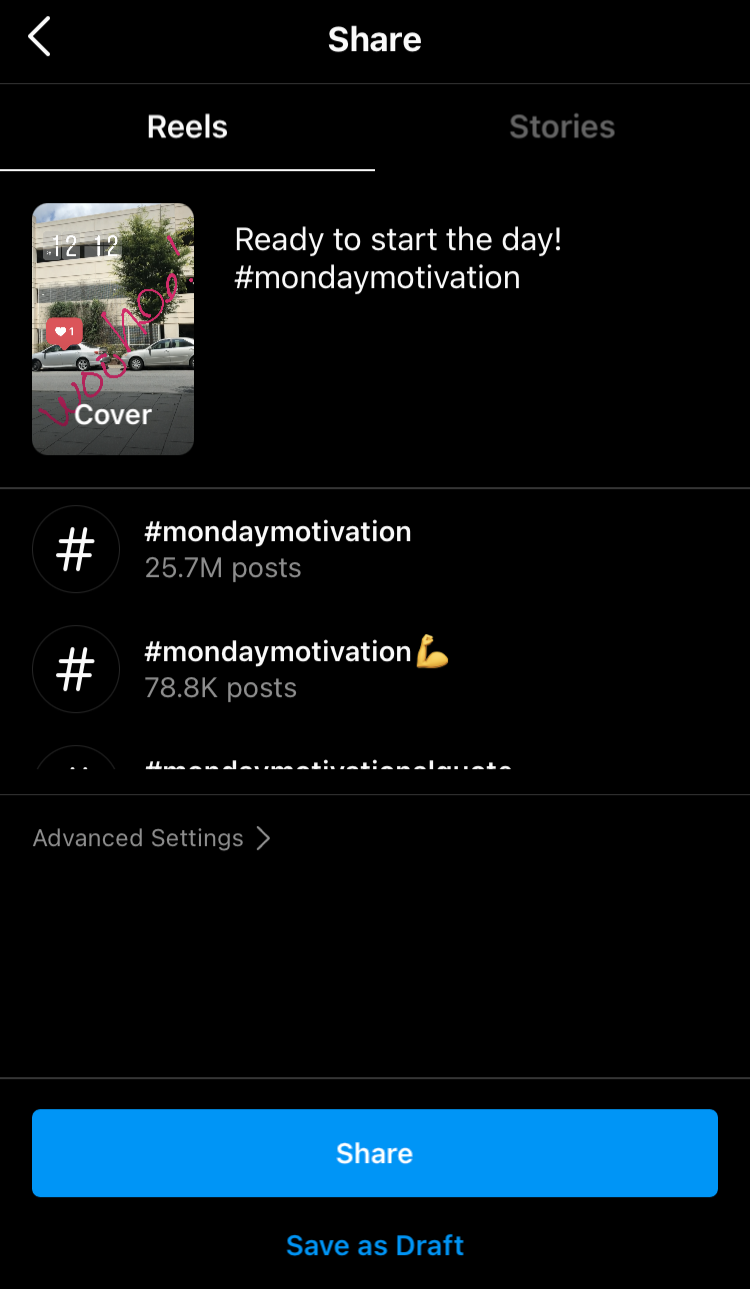 6. Once you're done recording your Reel, you can enhance it with stickers, text, and drawings. The > button in the bottom right corner lets you publish the Reel.
Instagram chooses a selection of public Reels to feature on the Explore page to help users discover new content.
If your Reel is selected and featured in Explore, Instagram will send you a notification.
NOTE: You need a public account to have your Instagram Reels featured on the Explore page. Granted, if you're running a business, your account should be public.
Why Reels can be a game-changer for your brand identity
Don't have Reels on your radar?
No?
Then it might be time to rethink your digital marketing and branding strategy!
Let's take a look at 3 reasons why.
1. Staying trendy leads to social media success!
Things change quickly in today's world.
And trends become VIRAL sensations overnight!
The creators, influencers, brands, and marketing agencies that get in on the action EARLY are rewarded.
In other words, the quicker you accept new trends the better.
Keeping up with trends is the key to staying relevant and the recipe for social media success.
And staying relevant is key to success, especially if your customer base includes zoomers and millennials.
2. More social media success leads to MORE business success
Gaining more Instagram followers is a step toward achieving more conversions and long-term customers.
Really?? Yes!
Consider these stats:
According to Oberlo, there are 3.5 billion social media users globally.
The average user spends about 3 hours a day on various social media platforms.
Roughly half of the users spend their social media time researching products.
Over 70% say that having a positive experience with a brand on social media would make them more likely to recommend it to friends.
73% of marketers think social media marketing is effective in growing their business.
3. Short-form video content > Instagram Reels > TikTok
OK, social media marketing's usefulness has been a no-brainer for a while, but what about Reels specifically?
Reels is essentially the Silicone-Valley-backed version of TikTok.
(Thanks, Mark Zuckerberg!)
And TikTok makes the significance of short-form video content VERY apparent.
Think about it:
TikTok has managed to amass almost 700 million monthly active users.
Arguably, the appeal to users of this addictive type of content seems to be the fact that ANYONE can go viral with some snappy entertainment.
Side note:
I'm also willing to bet that Instagram's algorithm is set to favor accounts that regularly publish and engage with Reels (to be more competitive with TikTok).
There's no official confirmation of this, of course, but let's call it an educated guess.
How to make Instagram Reels that build brands
Getting your brand in front of as many faces as possible isn't the only reason to use Reels.
You can and should use Instagram's latest feature to:
educate your audience

build your brand by showcasing your values and personality

show what makes your products or services stand out from the pack.
More on that below!
Educate your audience
Many social media marketers talk about engagement so much...
...that they forget to mention one of marketing's core principles:
Education!
Here's the deal:
Educated prospects are far more engaged and more likely to complete a purchase.
So if your content marketing isn't educating — you're making a BIG (and costly) mistake.
Unfortunately, educating today's zoomer internet users isn't so easy since their attention spans keep getting shorter.
Creating Reels is the optimal way to command your audience's attention and spread your message as wide as possible (thanks to their quick and digestible format).
Use Reels to create tutorials and give tips within your industry or audience!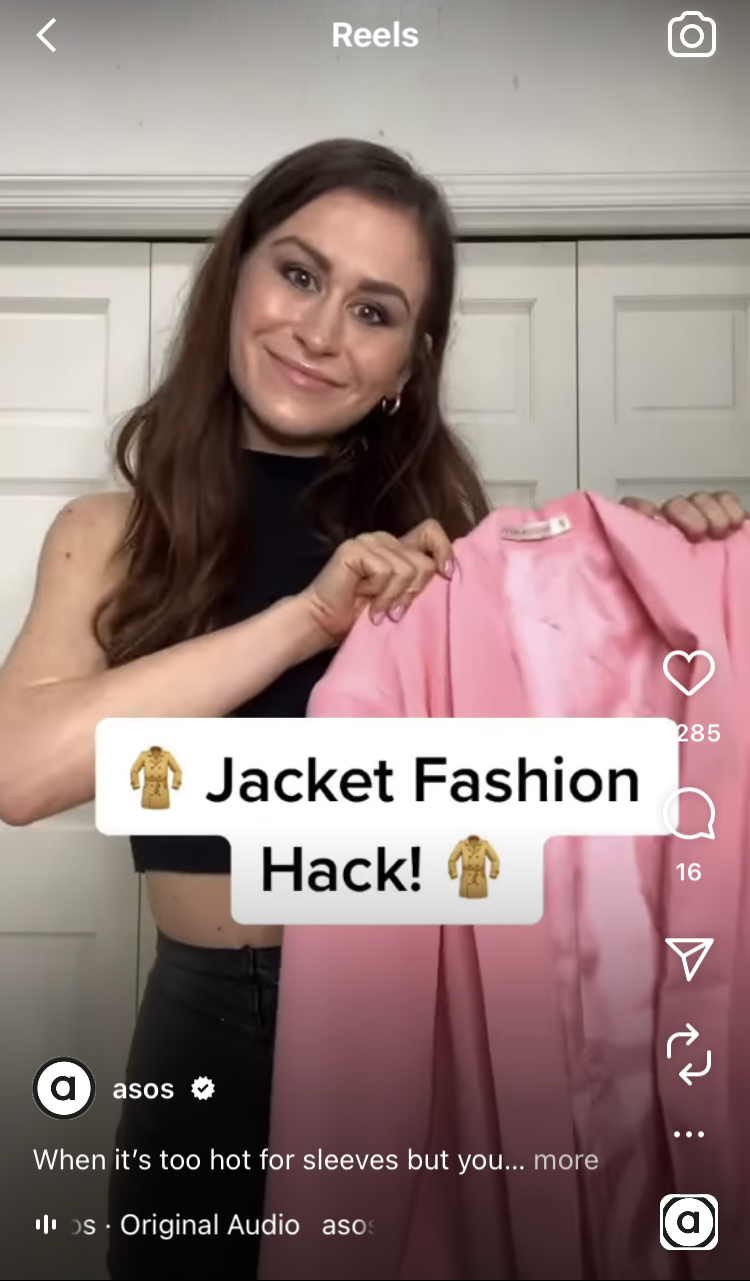 Here's @asos doing just that with this Reel giving a tip on how to wear a jacket when it's too hot!
Showcase your brand'
s
values and personality
Social media marketing relies on personal connection and communication with prospects — much more than hard-selling!
Use Reels to craft an authentic voice for your brand that truly resonates with your target audience.
You'll be much more likely to find success!
The most successful social media marketers show customers that their values are similar.
Instead of focusing on trying to sell, this form of marketing is about inviting your audience to join an exclusive club.
Your audience WANTS to become part of a group that reflects who they are and whom they hope to be.
A carefully planned and crafted Instagram Reel can be one of the most effective tools for showcasing your brand's value and personality.
Which will build trust and engage your audience!
So don't be afraid to get creative AND relatable.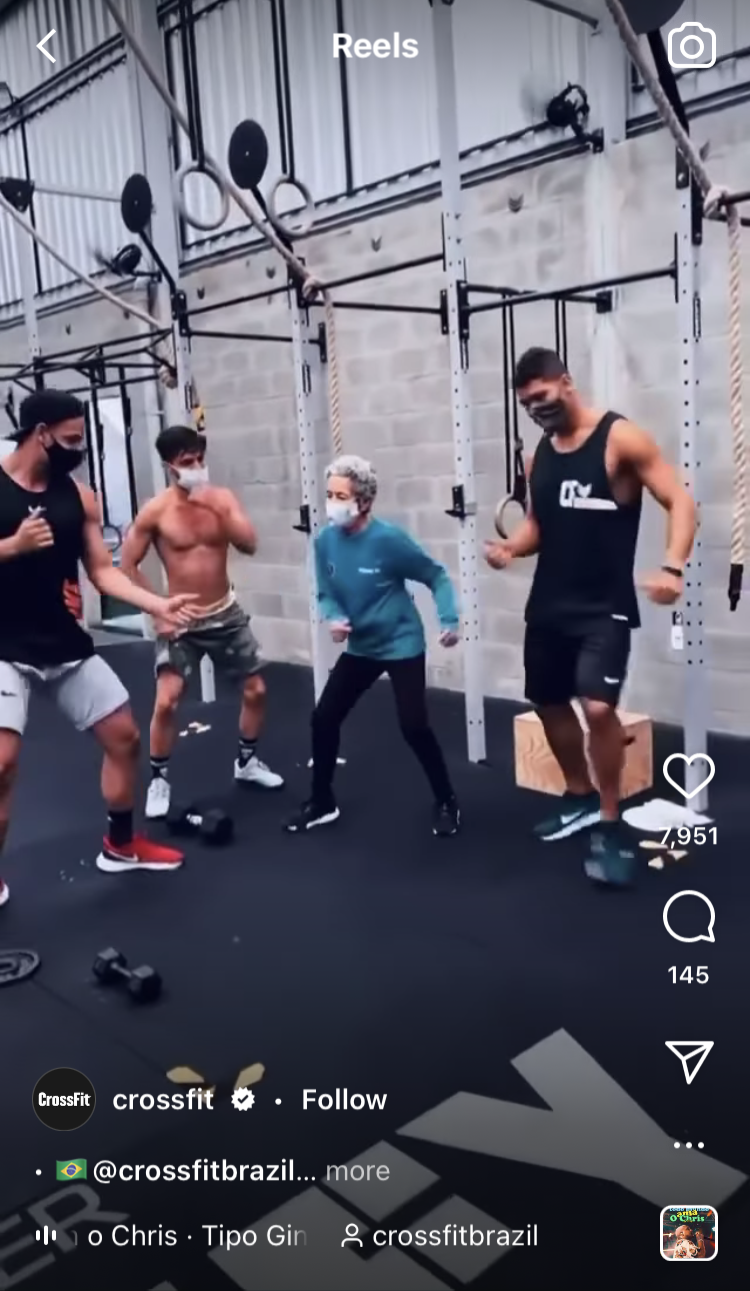 Here's a Reel from @crossfitbrazil where they show people of all ages having fun in their gym!
Highlight your product or service
Why should people buy your product or use your service?
What is it that your brand offers that others don't?
Use Reels to highlight the differences between your products and those of the competition!
It's the perfect opportunity to create creative videos and capitalize on the attention and interest of your audience.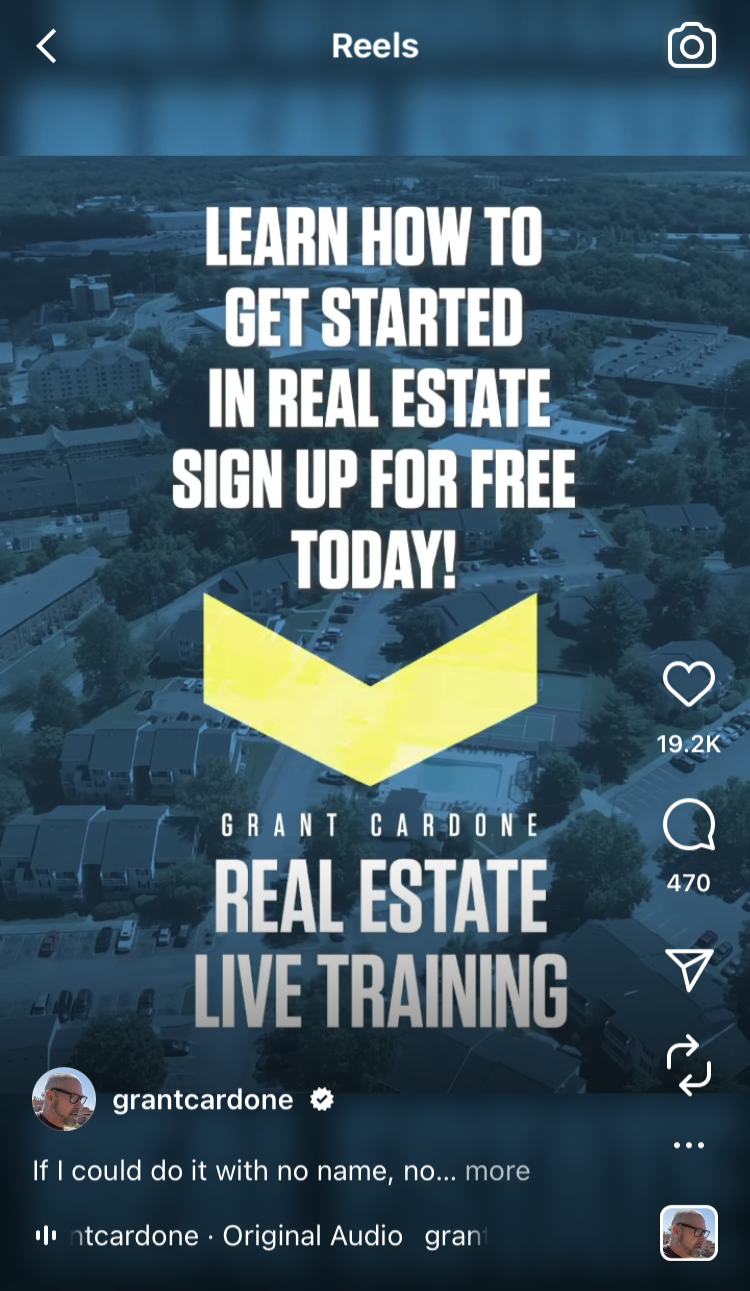 @grantcardone used this IG Reel to get leads to his live real estate training. Brilliant!
How to get the most out of Instagram Reels
Instagram's new feature might be quick and snappy.
But if you want to be successful — there's more to it than just grabbing your phone and shooting a short video.
Using the Reels feature to its full potential requires some preparation (as is the case with any marketing channel).
But no worries, the good news is that once you've laid the foundation and found your style, you'll find it increasingly easy to reach and attract new audiences.
Here are some ways to get the most out of Instagram Reels.
Do your research
Before you even begin conceptualizing your Reels, you need to do a bit of preparation.
Reels may be a relatively new feature.
But countless videos have already been published using it, amassing millions of views.
If you know who your target demographic is, the first step is to watch a few (or more) Reels popular among this demographic.
Don't yet know who your target audience is?
Then start with customer and audience research.
Think:
What is your audience's goal?

What are they interested in?

What problems are they currently facing?

What's their demographic?

What are their personalities like?
Once you've seen what works with your ideal customers, check out what your competition is doing with Reels.
There are 2 things you could learn from this:
If your main competitors are using Reels, you could see what they're doing right or wrong and use the information to create a better strategy.

If your main competitors aren't using Reels yet, you have this entire marketing channel to yourself (at least for a little while, so take advantage of the opportunity).
Create storyboards
Reels aren't Stories.
So they aren't meant to have the same spontaneous feel to them.
Don't shy away from storyboarding your Reel ideas before you begin shooting.
Begin by setting a clear objective for your clip and mapping out how you will achieve it shot by shot.
Don't get carried away, though — you only have 30 seconds at your disposal.
Stick to no more than 3 tips or points in one Reel.
Make genuinely valuable content
Focus on capturing your audience's attention by offering useful tips or engaging content, rather than trying to push your product at any cost.
If you can establish your brand as the industry authority, you'll have users organically flocking toward you, and your brand identity will grow naturally.
Here are 7 ideas to educate and provide value to your audience:
Try to use Reels to show your users creative ways to use your products

Create a quick how-to guide

Give away free tips that'll help your audience

Show results that your customers have got from using your product or service

Give your take on recent events in your industry

Turn a successful blog post into a 30 second (engaging) video

Repurpose long-form video content into a short Reel
Take advantage of Instagram Reels NOW!
Social media is an ever-evolving marketing channel, but one thing about it remains consistent:
Its popularity.
Every new feature from Instagram and other social media platforms gives brands another opportunity to capture a new audience.
If you're willing to adapt your social media marketing strategy (and if you want to be successful, you should be), give Instagram Reels a shot.
Instagram's response to TikTok offers a quick and easy way to engage and relate with your audience by inspiring and teaching them.
Who knows, you might go viral and make it big!
Have you made a viral TikTok or Reel? Please tell us about it in the comments below!