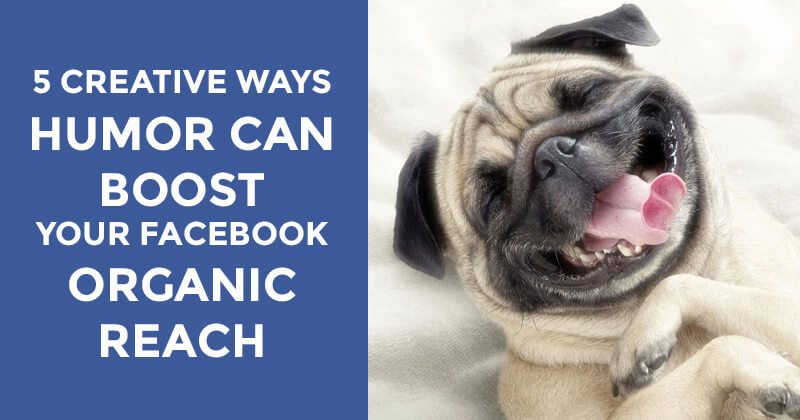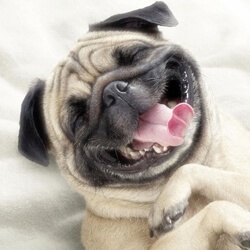 Why is Facebook like a refrigerator?
Because every few minutes you keep looking to see if there is anything else worth consuming in there!
Humor helps us connect with others -- and that's just as true for businesses as for individuals.
Finding funny things to post on Facebook can not only humanize your brand but also add an emotional layer to your content -- and the more you touch the emotions, the more you'll be remembered.
Where do you find humorous ideas? Everywhere! Once you become open to the possibility, you'll have to be careful you don't use too much of the funny stuff. Finding it won't be a problem!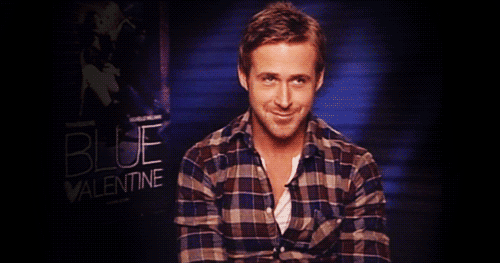 In this post, let's look at how to reach a larger audience with Facebook -- and have FUN doing it!
>> Click to Tweet <<
5 Creative Ways Humor Can Boost Your Facebook Organic Reach
1. Mixing in some humor can endear you to your fans
Displaying a sense of humor in your Facebook content is a great way to get alongside your fans. Just make sure the type of humor you choose is relevant, fits the voice of your business and doesn't offend your audience.
Better to err on the safe side than come off as crass. Finding the right balance can showcase your lighter side and foster more interaction.
Everybody loves a good laugh. Give them one!
Here's how Old Spice used humor (and the correct tone of voice) to draw attention to their new line of hair care products:
2. Using humor appropriately can help you tell your story (and make it memorable)
Getting your story out there working for you is essential to brand building. You don't want to sound too corporate (and bore your audience), but neither do you want to be so funny that your fans don't take you seriously.
To keep your brand story balanced, don't use humor throughout the entire journey. Rather, add elements of humor into your marketing message. That's the way to capture attention and grow your fan base.
Here's how Dollar Shave Club lightens things up to get their message across -- pretty cool, right?
3. Finding funny things to post on Facebook humanizes your brand
We all know that behind every brand there's a person (or a team) who manages it. Mixing humor with your content helps add personality and life to your Page.
A joke here and there not only gives fans a way to engage with a different side of the business, but can also bring out the personalities of the people behind the brand. That builds stronger connections with your audience.
Here we see how Charmin used humor as a fun way to endear themselves to their fans: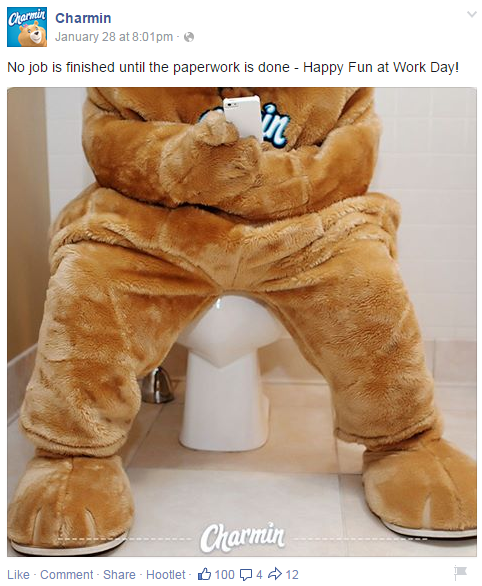 4. Adding bits of humorous reality gives your fans something to talk about
Humor, combined with real-time events, can help drive engagement and reach on your Facebook Page.
For example, keep up with online trends and look for humorous ways to tie those trends to your brand's content or focus. That can be an excellent way to engage both new and existing Facebook fans. Be sure to use the correct hashtags to include those who are following that particular topic or trend.
It's also important to note that your business shouldn't try to create content based on a story... simply because it is trending. You want to look at the top online discussions and see which are in line with your business and brand.
The other thing about well-timed content is that it encourages others to share! Here is how a pistachio seller used humor to engage fans during Shark Week: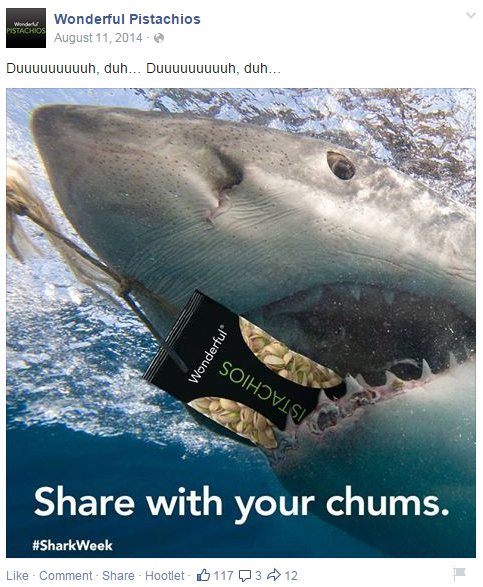 >> Shout out to the Wonderful Shark! <<
5. Leveraging humor is a great way to invite interaction
Humor is contagious. When you share something funny, others are encouraged to either remark or share something of their own.
Encourage your fans to hop on in and join the fun. Humor makes it easy for them to interact with your Facebook Page and share content they find amusing. It lets them know the brand appreciates their input (which helps to increase share-ability even more).
Here's how Eat24 used this technique to showcase a humorous meme from a Facebook fan (based on the release of a new brand of headphones).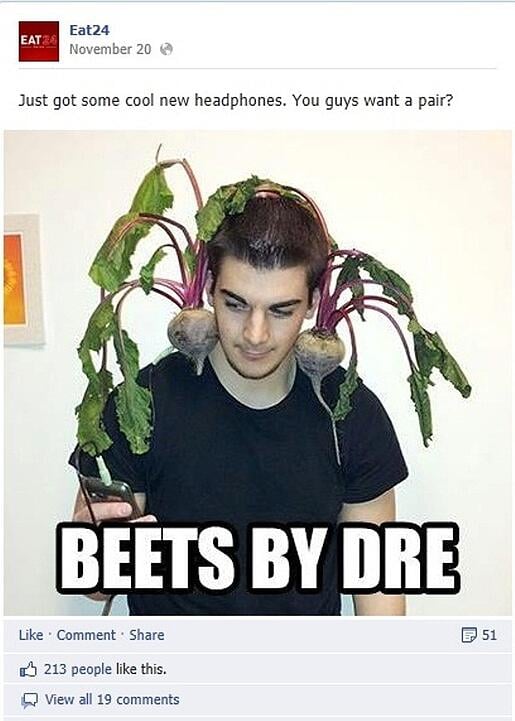 5 Creative Ways Humor Can Boost Your Facebook Organic Reach (Conclusion)
Creating and sharing humorous content (as long as it's in line with your brand voice) is a super good idea for social media managers.
In this article, we've seen that finding funny things to post on Facebook can help in a bunch of ways:
Humor creates connections with others
It helps humanize your brand
Humor adds an emotional layer to your content
Funny things help you stay in the reader's memory
Humor can help you tell the brand story
Wit adds personality and life to your Page
Joking helps drive engagement
Humor tends to help get more shares
Do you have a funny Facebook post to share -- or a story to tell about how humor works to help get your brand story out?
Comments are open! Let's talk about it...