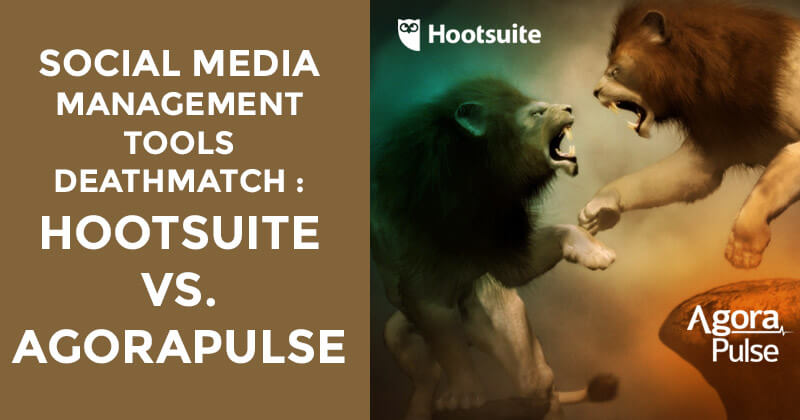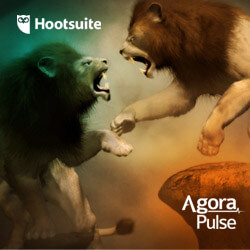 Let's start off with some questions:
Do you use Hootsuite to manage all your social profiles?
Do you feel overwhelmed by the interface and the number of tabs?
Is it difficult following up with your Facebook Page activity and conversations?
Do you find yourself missing Facebook comments?
What if there was a more efficient solution to staying on top of your social media accounts? Would you like to save time AND be more efficient?

I sure would!

For the past 3 years, I have used Hootsuite, Agorapulse, Tweetdeck, Buffer and more!

One thing I can say for sure: Each tool has its pros and cons.

Tweetdeck is great for Twitter management and Buffer is an awesome social media publishing tool... but what if you're looking for an all-in-one social media management tool?

For a long time, the only serious answer for an all-around tool was Hootsuite -- but it would appear that situation has changed. Agorapulse is a serious alternative for managing a business presence on social media.

I compared Hootsuite to Agorapulse, and I now believe Agorapulse could be the best choice for many small or medium-sized businesses and agencies.

Here are 10 COMPELLING features I investigated that make me think every social media manager should take a close look at Agorapulse.

>> Click to Tweet <<
Social Media Management Tools Deathmatch: Hootsuite vs Agorapulse
1. Managing your social media accounts
The first thing that stands out when you use Hootsuite is its tabular design (similar to TweetDeck).
On Hootsuite each social media account is separated by tabs. Different feeds in the same account are also separated by tabs or what Hootsuite calls "streams."
I personally like Hootsuite for the ability to see everything in one place.
That being said, there are a few things I found limited or restrained because of Hootsuite's design.
First, I often find myself forgetting how I've organized these tabs (the problem is really apparent if I've been on vacation). The clutter can be quite frustrating until I get used to it again.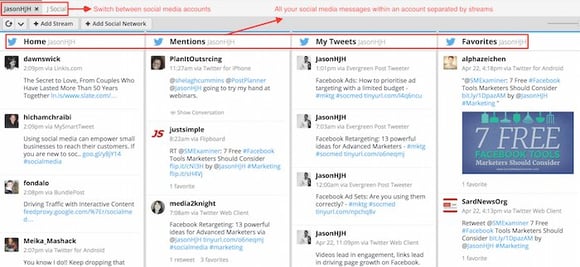 The second problem is the visual space constraint.
You can only cram so many accounts and feeds within your screen, so the overflow of tabs and streams can get quite annoying.


Try to manage much at all, and you will have a very condensed row of tabs at the top. (The number of streams you can squeeze into the top row depends on the length of each column's name.)


Also, you can only see up to 4 tabs for each social media account within the screen.
If you have more than 4 tabs, you'll have to scroll horizontally to look at those streams, which I don't find intuitive. (I have the same problem with Trello.)
Let's see how Agorapulse fares in this respect.
>> Click to Tweet <<
Observations on the Agorapulse interface
Agorapulse brings all your social media accounts under one presentable dashboard.
It resembles your mobile phone screen, with each app representing a social media account tagged with the number of notifications on each app.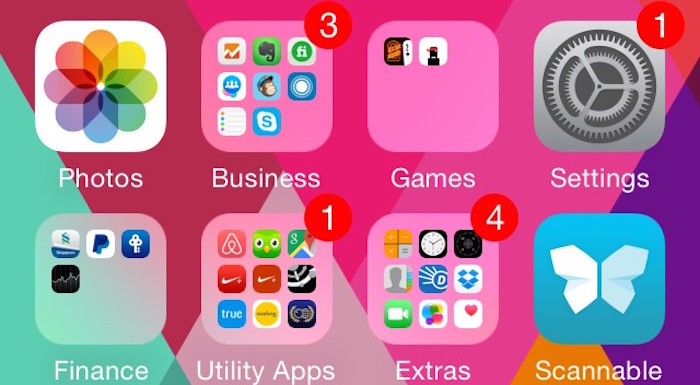 On the dashboard, you'll be able to see how many items require your attention.
Each icon represents a social media account and each account has a unified (1) Inbox and (2) Monitoring feed.
The inbox is where all messages "to" you (private messages, @ mentions, comments on your content, replies to comments and such) are found. Since they will likely require action, they are all grouped together.
On the other hand, the monitoring feed is where all the messages "about" you are kept (retweets, Page mentions, shared content, keyword monitoring and similar).


Personally, I find Agorapulse's dashboard less cluttered and more organized than Hootsuite's, especially if you manage multiple accounts on multiple social networks.
Ultimately, of course, design is subjective and personal preference makes a huge difference in satisfaction.
2. Staying on top of your social media conversations
Here again, both tools have very different ways of displaying the conversations on your social media accounts.

For Hootsuite, you'll need up to 5 different streams (columns) for each social media account.
On Twitter, for instance, you'll need to install an inbox message stream for your inbound direct messages, an outbox stream for your outbound direct messages, a mentions stream for the tweets mentioning your Twitter name, a retweet stream for your retweets and one stream per keyword search.
That makes for a lot of stream-hopping!



On Facebook, you'll need a stream for private messages, one stream for timeline content, one stream for fan posts, one stream for unpublished posts (if you're advertising on Facebook) and one stream for activity (the latest comments).
So we're looking at 5 different streams for any given Facebook Page.
As an example, if you're managing one Twitter account and one Facebook Page -- plus you're monitoring 3 keywords on Twitter -- you'll have to create (and regularly check) a minimum of 12 streams to get the full picture.
If you have 3 Facebook Pages and 3 Twitter accounts, you'll be looking at 31 streams every time. That can become exasperating really fast!


Agorapulse (as we've already seen) organizes conversations differently. It groups all the messages sent TO YOU in one unified message inbox -- and all the posts ABOUT YOU in another.
Both areas are organized like an email inbox.
All the messages are combined and listed in chronological order, so it is easy to see the latest interactions with your social accounts.
Perhaps the best part about the inbox concept is that you can easily see and understand the context of a message and reply to it. You can also assign the message to a team member. If a message doesn't require any follow-up action, you can mark it as reviewed.
These features make the entire inbox review process very systematic. Since I tend to be organized and structured in my work -- this concept really appeals to me.
For the busy social media manager, marking items as reviewed (or replying to them) will progressively empty your "to review" filter -- and that can give you a huge sense of achievement when you finally hit "inbox zero."
Love it!


3. Monitoring competitors' social activity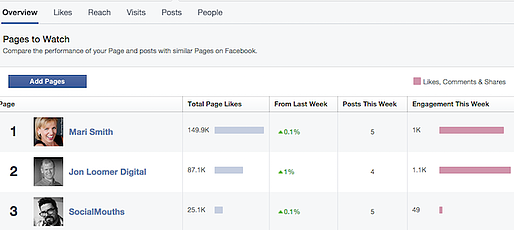 With Facebook Pages, you can watch competitors and compare their activity, engagement and audience growth with your own.
However, as you can see from the screenshot above, Facebook only provides data for the last 7 days. In addition, the engagement metric is measured in absolute terms, which may be less meaningful than engagement measured as a proportion of the size of the fan base (i.e. engagement rate in %).
But what about Hootsuite and Agorapulse? Do they offer anything better than Facebook's native Page management?


Hootsuite draws a goose egg in this regard. The feature is not offered at all -- something I find quite disappointing.

On the other hand, Agorapulse is outstanding in this department.
Apart from allowing you to do what you can already do with Facebook's platform, Agorapulse also shows you several other metrics from your competitors' Pages: PTAT (People Talking About This), number of interactions and Page posts for example.
Engagement is also measured as a proportion of the respective Page's fan base, which some of you may find more useful than the absolute number of engagements.
In addition, you may also view historical data on a month-by-month basis, dating back to MORE THAN A YEAR! These historical records may help you spot and analyze trends in your competitors' social media activity, thereby allowing you to devise counter-strategies.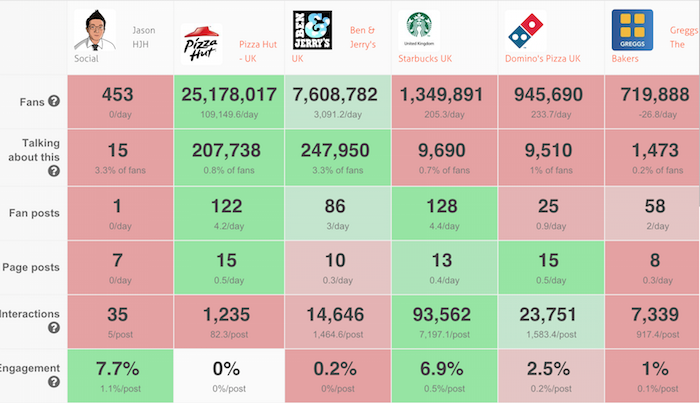 I recently had a word with Emeric Ernoult, the founder of Agorapulse. He pointed out that customers can watch competitors on Twitter and Instagram as well.
If your agency or social business needs to watch your competitors' social media activity closely, then Agorapulse may be the right tool for you!
>> Give Emeric a SHOUT <<
4. Listening in on social media
Listening to and monitoring online conversations about your business or brand is so important that this alone has compelled many businesses to establish a social presence.
In the initial stage, listening tools like Radian6 were expensive and only available to larger enterprises. Smaller firms and agencies had to make do with free solutions, like SocialMention, which weren't really that productive or useful for a social media manager.
Thankfully, that has changed today. Both Hootsuite and Agorapulse include listening capabilities in their toolboxes.

Hootsuite's social listening tool allows you to create streams of PUBLIC social media messages that include certain keywords. 4 platforms (Facebook, Google+, Linkedin, and Twitter) are supported.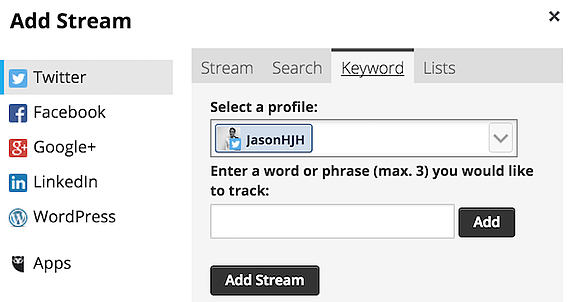 All you have to do is add a stream, select the "Keyword" tab, the social profile, and enter the word or phrase you want to track.
To keep track of the conversations going on, you will have to regularly check the stream.
Since Hootsuite synchronizes your social media messages ONLY when you're logged in, you won't receive notifications when a relevant conversation is happening. Instead, your stream will be automatically updated when you're logged in and you'll have to check regularly to keep track of conversations.
This is an important disadvantage for Hootsuite users, and it's why I've given them only 3 stars for this feature.
The online world expects to receive responses quickly -- especially for customer complaints. How do you respond in a timely manner if you're not notified when someone posts a concern?
Although Hootsuite hasn't come up with a complete solution to resolve this, they have at least made it easier to do by introducing a mobile app. It lets you log in remotely to listen in on social media.

On the other hand, Agorapulse synchronizes with your social media accounts 24/7, regardless whether you're logged in. They also deliver notifications to your email inbox, which makes it incredibly useful when it comes to social media management.
Contrary to Hootsuite's social listening tool, Agorapulse's keyword monitoring tool works similarly to Google Alerts and looks more advanced.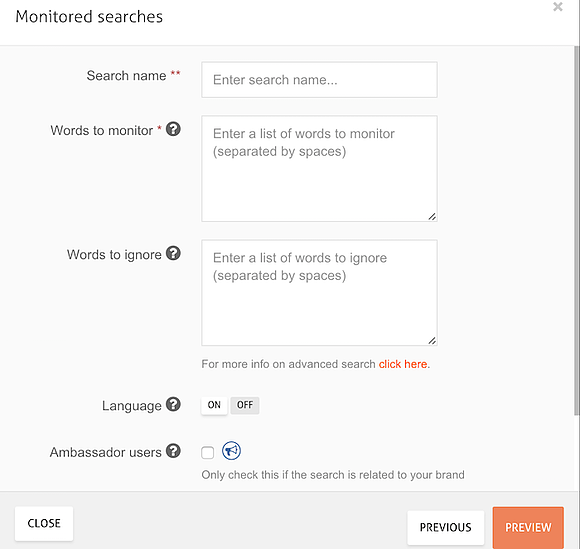 You can monitor any combination of key phrases or words:
Contains "fast and furious"
But ignore "watched"
Using these combinations, you may be able to track and find specific conversations happening in real time you can join in for revenue-making opportunities or other purposes that you can think of.
5. Synchronizing accounts: Part 1
Earlier I mentioned that Hootsuite only synchronizes your social media accounts when you're logged in, while Agorapulse does it 24/7.
I'll go into detail to explain what I mean here.
There are two aspects to consider when we discuss account synchronization.
The first aspect - whether account synchronization happens 24/7 or only when you log in - affects the notifications you will receive for new updates, messages, and interactions (like tweet mentions).

On this point, I found that Hootsuite only synchronizes your social media accounts when you're actively logged into the platform. Leaving Hootsuite open in a browser tab will not even do the trick as Hootsuite will go to "sleep" after 30 minutes of account inactivity.
In other words, you won't receive notifications about new messages, tweets, or inquiries that you need to attend to unless you're logged in (and active on) the platform at that point in time.
The immediate impact of this is that you'll have stay logged in and active while you're at work or during office/customer service hours.
It's probably doable if you're a social media professional and managing social media accounts is your day job. But this isn't a sustainable solution if social media is not your main task and you've other things to do!
What some of you might find as a good thing about this is that you'll not see notifications as long as you're logged off, which means when you're at an important meeting or on a holiday, you'll not be disturbed or distracted.

On the other hand, Agorapulse synchronizes your social media accounts 24/7. When you're logged off from the tool, you'll still be able to know when you receive a tweet, private message or inquiry.
It means that you can technically be accessible and in the know 24/7, but you'll have to manage your own time to know what you should attend to immediately.
6. Synchronizing accounts: Part 2
Earlier I mentioned there are 2 aspects to consider when we discuss account synchronization.
The second aspect - the stuff that gets synchronized - impacts how your business uses the tool and manages your social media accounts.
The truth is, not everything is synched between social networks and any of the all-in-one social media management tools.
Some are disallowed by API (posting to Instagram, for instance) but some are just features the platform doesn't offer.
For example, one of my friends needed to be able to manage private messages with a social media management tool. Because the tool being used wasn't supporting that, a change was in order.
So I ran a test to see what was synchronized on both platforms. You can see the results below. I've included only the most commonly used features as a social media manager.
If there's something you want to know about the two tools that I haven't captured below, please leave a note in the comments and I'll check it out for you!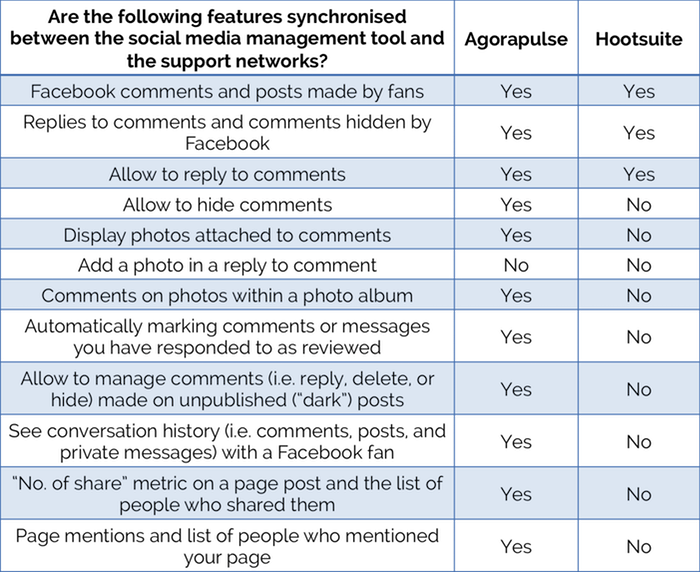 There's one thing I'd highlight from the test above.
Based on my knowledge, only Agorapulse currently synchronizes the posts that are shared with Facebook -- which means you'll be notified when someone shares your post on Facebook and you can view those posts within Agorapulse.
Should you want to reply or interact on that post, you can click on the link to view the post on Facebook. This is incredibly handy when you want to monitor your Page posts that people are sharing and also interact with those who share your post.
7. Creating Facebook apps
Facebook apps are not dead. They're still very handy if you include a Page in your Facebook marketing strategy.
These tools help you inject more life into your Page.
An occasional product giveaway spices things up -- or a sequential contest can help you generate countless ideas, collect feedback, and drive up brand engagement.
That's why I think Facebook apps are still useful tools a marketer can use to reach specific marketing or community objectives.


Unfortunately, Hootsuite doesn't include app creation or support as part of its offering. You'll have to use another specialized app-making tool like Shortstack or Antavo for this.

Since Agorapulse first started as a Facebook apps-driven tool, they offer a basic yet comprehensive range of apps that allows you to run contests, promotions, giveaways, quizzes and many more!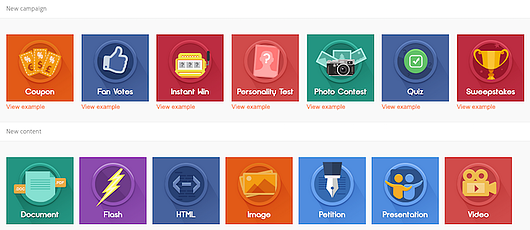 Any emails or leads you collect through these apps will also be qualified and collected within Agorapulse's CRM system. You can then tag and identify these users on Facebook -- adding to the functionality of CRM.
The only downside (and reason why Agorapulse doesn't score 5 out of 5 stars in this department) is that these apps are not entirely sufficient if you need highly customized apps, then Shortstack or Antavo could be better options.
8. Taking advantage of CRM options
I haven't rated both Hootsuite and Agorapulse on their Customer Relationship Management (CRM) features because they have different approaches:
Hootsuite
If you want to take advantage of CRM features on Hootsuite, you'll need to fork out an additional $15 per month per user to make use of Nimble. There is no native option on Hootsuite, so if you want CRM capability (viewing the conversation history between your Page and a user on Facebook or Twitter, for example) you'll need to get the addon.
Nimble is integrated with Hootsuite and will allow you to manage ALL of your social media account contacts and combine all of their social identities plus email addresses into one.
The benefit of using Nimble is that it'll enable you to track your social media contacts from prospect to customer.
Agorapulse
If your business doesn't need advanced CRM functionalities right now, and you don't want to fork out extra pennies to manage your contacts on social media, then Agorapulse could be a good fit.
Agorapulse features an internal CRM system that allows you to identify fans and followers that most frequently post, comment, or engage with your posts in other ways.
In this system, your fans and followers will be categorized under one of 3 groups:
Facebook

Engaged - Someone who has published a post to your Page, commented on one of your posts, or sent you a private message
Ambassador - Someone who has mentioned you or shared one of your posts
Liker - Someone who liked more than 5 of your posts

Twitter

Engaged - Someone who has mentioned you or sent you a direct message (DM)
Ambassador - Someone who has retweeted you or tweeted a link to your website
Influencer - Someone who was retweeted more than 20 times in the last 30 days
I think this identification system will be very helpful to community managers!
Apart from identifying these people and getting to know who they are, you can also create custom tags so you can follow up with them in the future. (You can do the same for Instagram.)
Furthermore, the system is designed to work with the Agorapulse suite of Facebook apps, which means that anybody who participates in your contests or other mini-campaigns will also be captured, identified, and available for adding to your list.
9. Preparing reports

Hootsuite offers 2 kinds of social media reports: basic and enhanced.
If you're using the Pro version of Hootsuite, you'll get an enhanced report plus 3 basic reports each month.
Here's the BIG problem.
Social analytic reports are incredibly important if you want to keep a close look on your performance and understand what to optimize or review. If you manage more than 4 social profiles, you cannot even generate 1 report per profile each month.
Each additional report (up to a max of 10 per month) is going to cost you $50.
That's EXORBITANT.

In this aspect, Agorapulse makes Hootsuite look really bad.
With Agorapulse you can create an UNLIMITED number of reports, regardless the number of social profiles you're managing.
Agorapulse also records how much work you've done. The report includes tasks like the number of tweets reviewed by you and your team along with typical response rates and time. That can give your client or boss a good sense of the work you have accomplished.
10. Keeping the price reasonable
Looking at Hootsuite's plans, it seems as though they're geared more towards social media publishing than an all-in-one social media management tool.
The Pro plan, which starts at $9.99 per month ($8.99 if you bill annually), supports at least 50 social profiles, provides advanced message scheduling features and unlimited RSS feeds monitoring and publishing.
For the Pro plan, there's an upward limit of 10 team members. Each extra member (3-10) will cost you $15 per month.
There are also various other charges for optional features such as message archives and social analytic reports.
Hootsuite's prices are really EXPENSIVE, but let's hold our judgment until we compare both Hootsuite and Agorapulse side-by-side with a couple of examples.
Assume you have an average team of 10 members handling 40 social profiles. In your agency you manage mainly Facebook and Twitter accounts, since these are the only 2 common social networks supported by both tools. You also need to generate 1 social analytic report per profile per month for each client.
Here's what it will cost you roughly:

This is only a generic price comparison. If you have more customized needs, then you can head over to Hootsuite's and Agorapulse's pricing pages to see for yourself.
I think Hootsuite's pricing model is extremely flexible and affordable, especially for very small agencies or businesses handling their own social profiles.
With a small team and fewer needs for analytic reports, the cost per month is likely to be about $50 to $60 a month.
If you need to archive social media messages, add additional team members, using link shorterners and more, then you can expect prices to rise reasonably fast.
On the other hand, if you're a medium-sized or even large agency (or a huge group with multiple brands under your wing) then Agorapulse could be more cost-effective -- since you pay a single price to access all the features available within the tool.
Solo-preneurs and small businesses will want to compare options for themselves. Always consider how much value the tool will bring to YOUR business.
Social Media Management Tools Deathmatch: Hootsuite vs Agorapulse... Concluding Remarks
There are plenty of features on both platforms that I haven't been able to include, so as not to sound too long-winded!
Ian Gray summed up some of these comparisons very well in his twin articles: "7 reasons why you should use Hootsuite" and "7 reasons why you should NOT use Hootsuite."
In this post, I've highlighted some of the salient differences between Hootsuite and Agorapulse.
In recent months, Agorapulse has shown itself to be a capable and ambitious social media management tool.
Hootsuite is a flexible platform that's able to cater to changing team sizes and client needs. I haven't seen many improvements from Hootsuite recently.
Agorapulse is like the industrial revolution: a tool fully packed with features to help increase team productivity. The deep integration between Agorapulse and social networks means users can manage most or all of their social media interactions from a single dashboard.
And Agorapulse's real-time synchronization keeps you notified of important conversations so you can react quickly. And THAT means a ton.
What's your take? I'd love to hear your opinions and get your observations. Comments are open!