The actual number of Facebook likes is a vanity metric.
But you already knew that, right?
Engagement is a much better indicator of your overall success.
Asking questions is an easy and effective way to spark a conversation, create a sense of community and increase social media engagement.
Asking a question triggers a natural answering reflex in human beings.
People subconsciously try to find an answer.
That means that even if they don't engage, questions will encourage them to stop and read your update to find the answer.
Grammarly is a great example of this.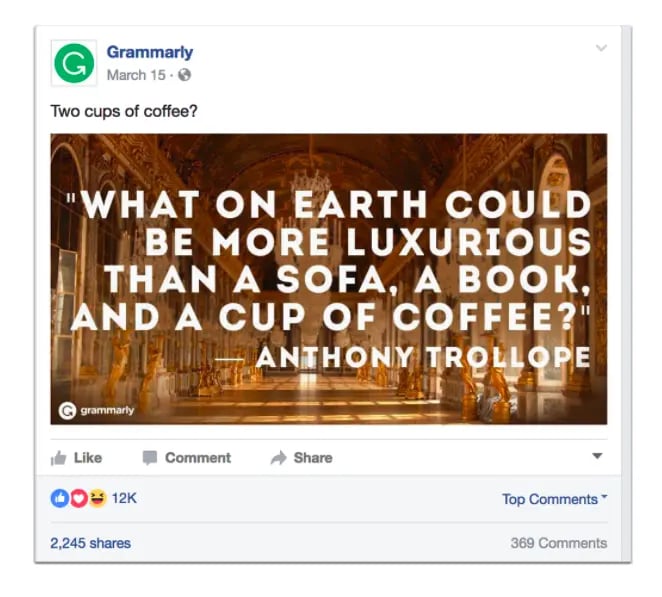 And the best part? You can do the exact same!
Keep reading to find out how.
These Questions Will Boost Your Social Media Engagement

Find Popular Questions in Your Niche
The first step is to research which questions are floating around in your industry. This will help direct your further actions and give you a little bit more insight into your niche too.
Research Niche Q&A With Bloomberry
Bloomberry is one of the newest tools that provide insights into what people ask in forums, Q&A sites, discussion boards and more.
They index hundreds of question and answer databases including Amazon Q&A section (which is admittedly my favorite part because it focuses on buyers' questions which means it's perfect for ecommerce sites).
Just search your main keyword and scroll through the results.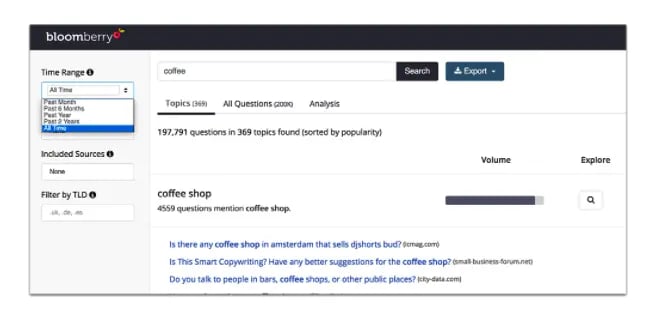 Mind that Bloomberry won't limit results to your exact query. The tool will use semantic analysis and suggest related phrases and terms.
This always helps my creativity!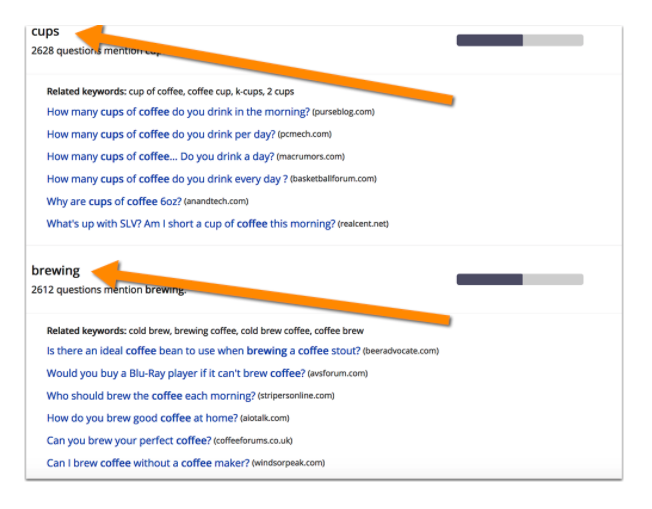 (Note: Bloomberry is in public beta, so it's currently free, but you may want to register to be able to search more. The public site limits you to just a couple of runs).
Research Which Questions Your Customers Type in Google with Serpstat
Another helpful tool to research niche questions is Serpstat. Search for your core term, and then switch to "Search questions" behind "Content Marketing" tab.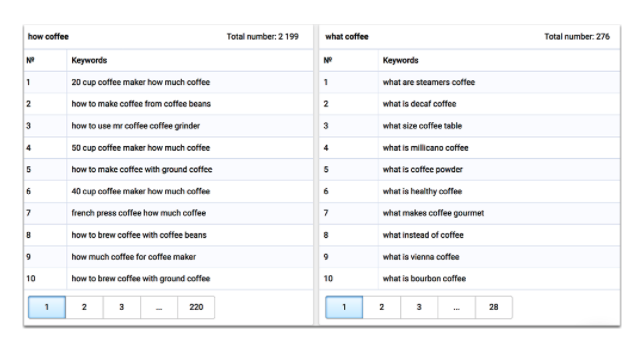 If you register and login, you'll be able to export all these helpful ideas. There's also a helpful tag cloud showing you the most frequent words that come up in the questions.
These help you direct your research further, showing you the closest neighboring topics.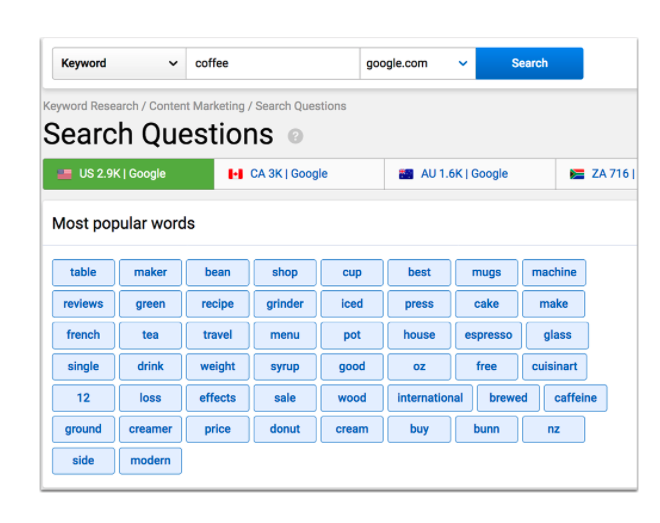 Furthermore, you can check Serpstat's keyword research section and filter search results by "Special elements in SERP:"
"Also Ask for" to find search queries that trigger "People also ask": box in Google search results.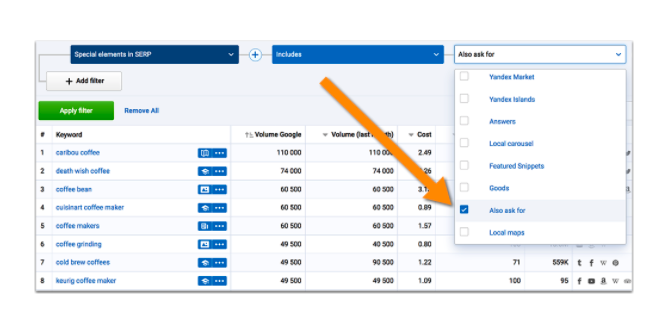 Each search will show related questions in Google which work well for inspiration too.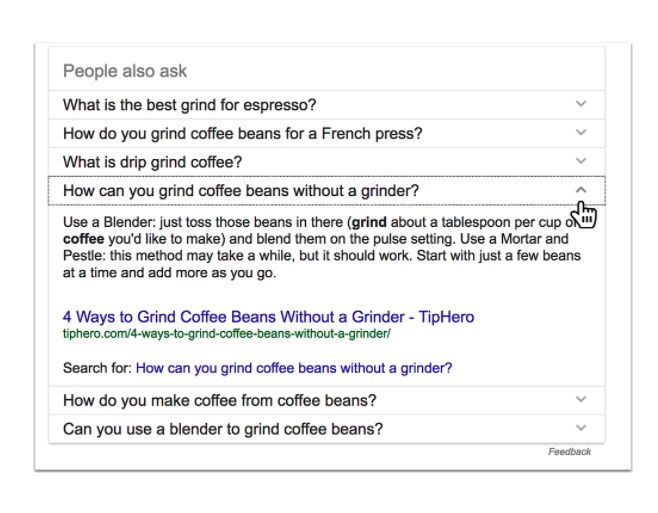 See What Your Competitors Are Doing with Buzzsumo
Another great way to get inspired is to see what your competitors (or even simply other brands) are doing in terms of engaging their followers with questions.
Buzzsumo is a perfect tool for that. Their "Facebook Analyzer" indexes public Facebook updates and allows you to use all kinds of operators to search through them.
You can search by a keyword or you can search for specific brand updates.

The search filter you're looking for is called "Questions" and it's located to the bottom-left of search results.
Just uncheck all other filters to force the tool to focus on brand updates containing questions.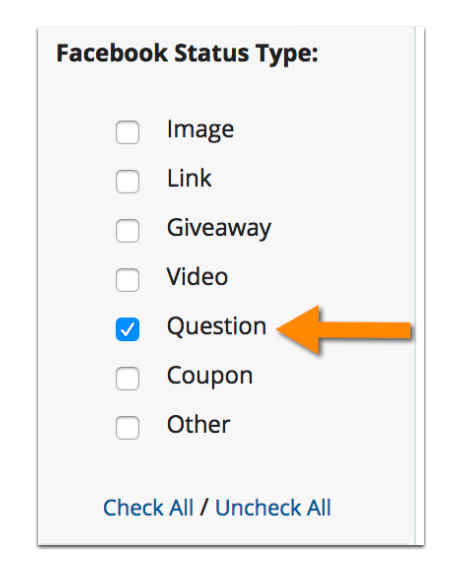 Finally, you can sort results by likes, comments or shares to see the questions that triggered the highest engagement.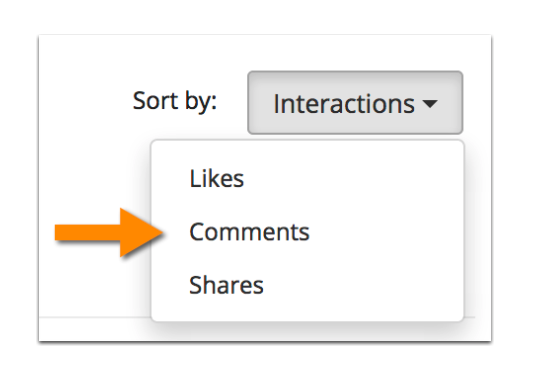 This is a great tool to search for engaging Facebook questions on any topic to try and improve on other brands' success.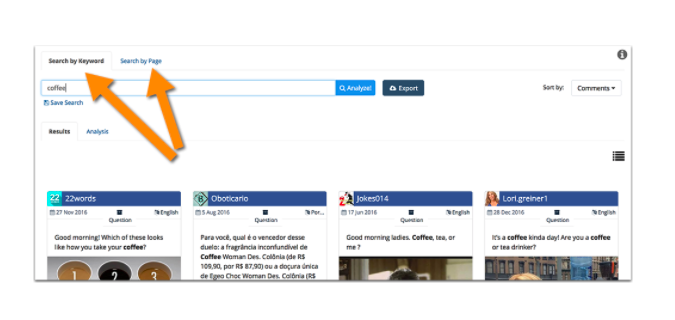 Use Your Own Site to Find More Questions
Your own site is your most useful tool in understanding your customers.
Which questions do people post in comments?
Which questions to customers email your customer service team?
Which questions does your sales team have to deal with?
Which questions do your site users type in the search box when navigating within your site?
It's a good idea to invite your site users to share their questions using various survey and feedback plugins. Here's a good collection of those.
Find Question Inspiration on Twitter
Twitter is the only social media network allowing you to search and monitor questions. All you need to do is to search [keyword ?] and make sure there's a space in-between.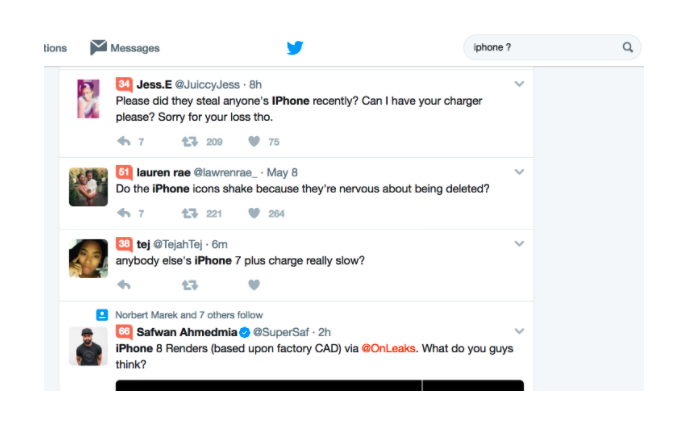 You can then use your preferred social media management platform to monitor the questions, engage with them and create your own once inspired.
I use Cyfe because they create unlimited archives of Twitter search results.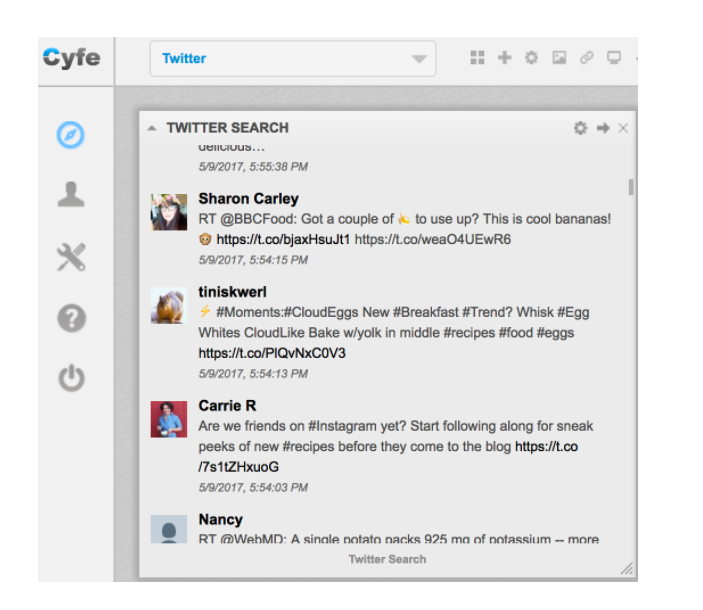 Play with Different Types of Questions
Don't let your Facebook audience get bored. Diversify your feed with different types of questions.
The more you experiment, the better you understand your audience and the better results you achieve.

Ask close-ended questions for easier engagement
The easier it is to answer the question, the more people will answer. Closed-ended questions (i.e. those that can be answered with one of the options - yes or no, one or another, true or false, etc.) are the easiest and quickest to answer.
Mind that close-ended questions can easily become biased and thus can trigger negative emotions (Example: "Is caffeine unhealthy" sounds like you assume it really is unhealthy).
Keep them as neutral as you can. (Example: "Coffee for lunch: Yes or No")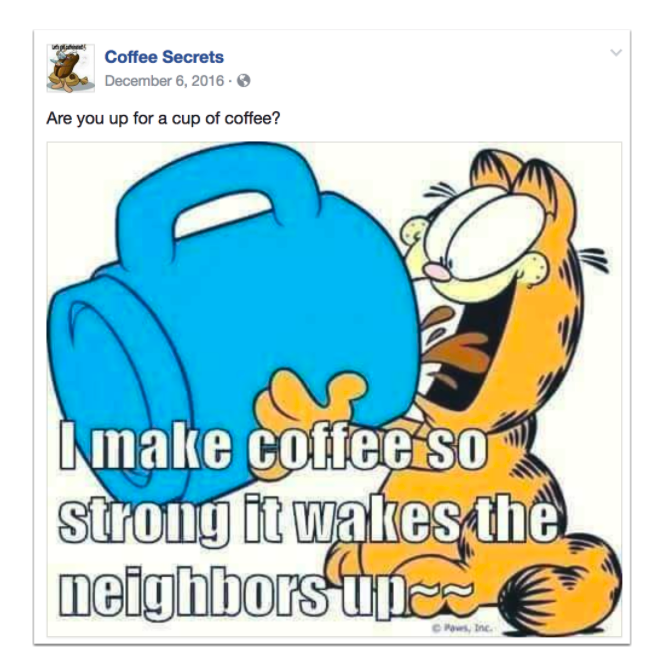 Ask multiple choice questions and list the choices as A, B, C
Another great example of a closed-end question that makes you pause for a minute, think and then share your answer, is a multiple choice question.
Ask timely questions
Ask timely questions based on:
Current Facebook trends (Avoid edgy topics that can provoke negativity)
Upcoming big holidays (It is wise use all kinds of calendars to plan these out in advance)
Seasons and weather, or even time of the day (morning and evening updates can easily address issues people tend to have at the current part of the day)
Here's a perfect example of a seasonal post that also correlates with the brand and promotes the product in a most subtle, unintrusive way by implying that it's a good time to buy some coffee.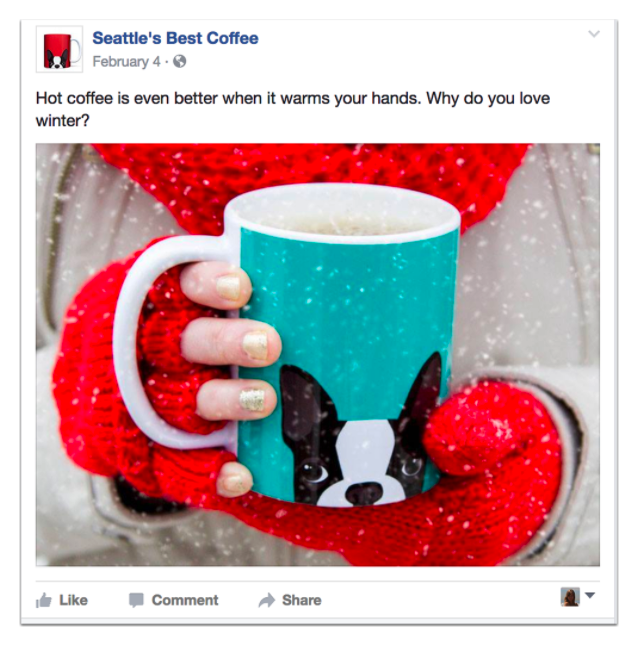 Here's another example of a timely update shifting the discussion in a relevant to the brand direction.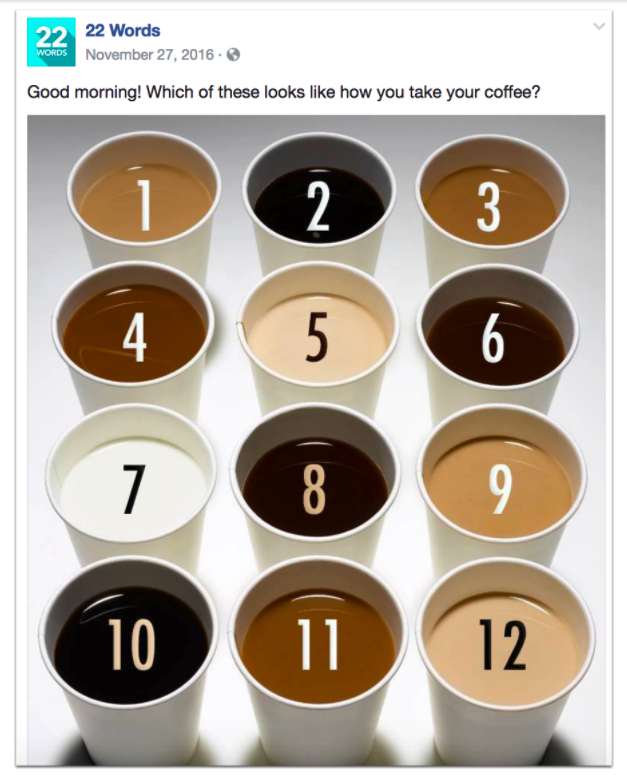 Ask your customers to define your brand identity
Make your customers feel part of your brand by letting them choose your logos, mascots, conference gifts, etc.
This will foster a stronger feeling of community among your customers.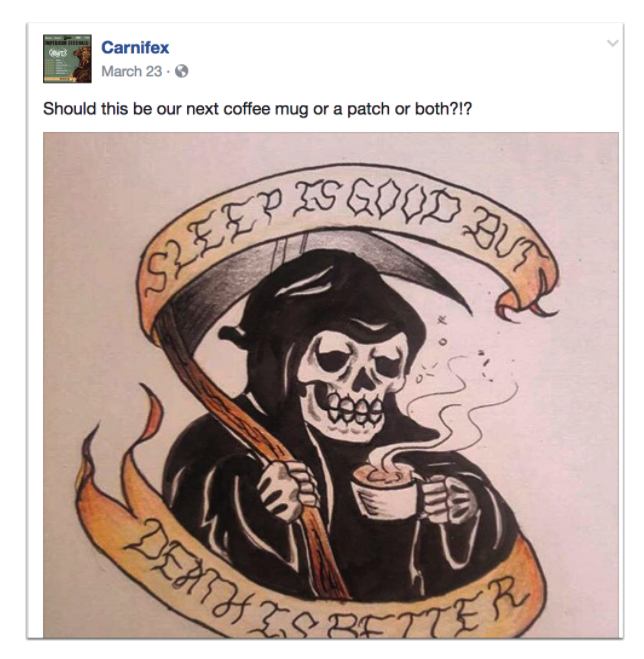 Other types of questions to play with:
Ask true or false questions
Ask "fill-in the blank" questions
Lighten up: Ask humorous and funny questions
Here are a few more examples and ideas: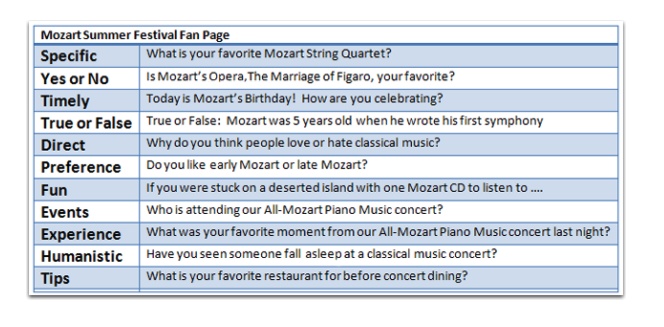 Image source:
Kissmetrics
Social Media Question No-Nos
Avoid Asking Too Specific (Possibly Embarrassing) Personal Questions
Good questions make your followers feel valued but not like they're part of a focus group. For example,
Asking people about their favorite holiday activities will get them talking.

Asking people how they avoid putting on weight over the holidays is just too personal.

Many people may already feel bad about the possibility, it doesn't do your brand any good reminding them of that.
Avoid Asking Edgy (Offensive, Political) Questions
Don't post questions that are too offensive and may start an argument. While it may boost your page engagement, it may be too damaging for your brand image. At some point you'll be requested to voice your opinion, as a brand, to take sides, to moderate, etc. There are so many ways an edgy discussion can go wrong. And while it's OK for most personal profiles, it's usually hard to handle on a brand page.
As we have witnessed time and again, few companies can get away with discussing religious or political questions, even in the heat of election season. In our increasingly polarized political world, the best thing brands can do is to try and distance themselves from the controversy staying away from heated discussions to avoid any potential brand reputation crisis.
Stick to questions that are engaging without being too heated.
Conclusion: Brand-Oriented Questions
Questions are a great way to increase interactions with your Facebook page but they don't have to do just that. A well-balanced social media marketing strategy is still a marketing strategy. You want to increase sales and a good social media update targets several inter-connected objectives at a time:
Engage your customer base
Boost brand awareness
Increase sales
Keep your questions well-branded, relevant and more often than not slightly sales-oriented by keeping your images in brand colors and adding a logo: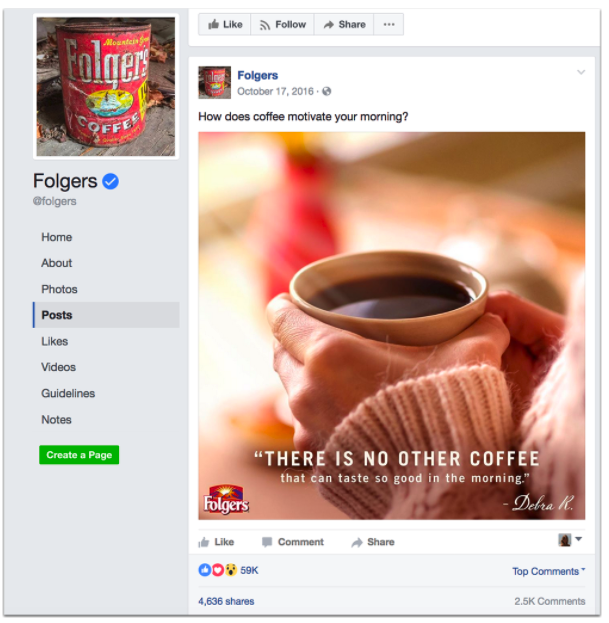 Have you ever asked your social media followers a question? Please share your tips and experience!