Facebook is competitive!
You have to be creative to stand out from the crowd and get the attention of your target audience.
That means you have to pay close attention to your Facebook cover photo.
Why?
Because your Facebook cover photo dominates your page and gives new visitors their first impression of your page and brand!
Your Facebook cover is like your business card on Facebook -- and choosing an eye-catching and informative cover is a must.
In this post, you'll find 22 tips for your Facebook cover photo: quotes, sizes, examples and more!
22 Tips for Facebook Cover Photos: Quotes, Sizes & More
Types of Facebook Cover Photos and Recommended Sizes
First things first: Before choosing a perfect photo for your Facebook cover, you need to know Facebook dimensions.
When you upload an image smaller than the recommended dimensions, Facebook stretches it to fit which makes your photo look blurry.
Plus, the recommended sizes depend on whether you're creating a cover for a Facebook profile, page, group or event:
Profile cover photo: 2037px by 754px
Business page cover photo: 1958px by 745px
Group cover photo: 1640px by 922px
Event cover photo: 1000px by 524 px
Note that cover photos display at different sizes on desktop and mobile, so it's important to keep your image and text in the middle safe zone.
Luckily, you can use Facebook cover templates to make sure your cover photos are the right size without putting much time or effort.
Where to get Facebook Cover Photo Quotes
The best place to get quotes for your Facebook cover photo is the massive quote library in the Post Planner app.
Just head to the app here: Post Planner app
Then go to the FIND section and click on "Status Ideas"
You can then enter any keyword or author to pull the best quotes to choose from. There are thousands and thousand of quotes to choose from.... so don't get lost! 😂
Ok, now let's dive into the tips for Facebook Cover Photo tips for your:
Personal Profile
Fan Page
Group
Event
We'll start with your Personal Profile...
Facebook Cover Photos: Your Personal Profile
Obviously you need an account on Facebook to do any of this!
Your Facebook account is your personal profile. And you can add a cover photo to your personal profile.
If you're looking for proven ways to upgrade your Facebook cover on your profile, you're in the right place.
Let's start with our 22 tips for Facebook profile covers:
Keep in mind that your cover photo is public
Match your cover photo to your profile picture
Choose something meaningful
Tell more about your business achievements
Write a caption to encourage a conversation
Be active in the comment section
Find a high-resolution background image
Keep a right-aligned focus
Promote your brand hashtag
Create a Facebook video cover to explain how to use your product
Take followers behind the scenes
Draw attention to your action button
Include a link in the caption
Tell about the mission of your group
Include branding elements
Write a strong CTA
Add information about your event
Create a custom cover image
Optimize for mobile users
Draw inspiration from others
Use online design tools
Update your cover regularly
If you're about to upload or change your profile cover photo, this information is VERY important.
Your profile cover is set to public by default. Always. For anybody on or off Facebook.
Not only can anyone click on it to see it full-size, but people can also see likes and comments.
In short, never post a cover photo you want to keep private.
Do you want to make a good impression on your Facebook friends and visitors?
Think about keeping your cover photo and profile picture cohesive.
Why? Around 65% of people are visual learners which means they perceive visual information better and it has a positive influence on them.
When you match your cover photo to your profile picture, you make your profile look professional, interesting, and exciting. The easiest way to match these images is to stick to the same color palette.
Believe it or not, your Facebook profile cover photo can tell more about you, your preferences, values, and beliefs. In short, it's a story behind you.
It's you who decides what information your cover photo will deliver, but it's important to choose something meaningful that showcases your personality.
Here's a great example of this strategy in action from Sonia Pardini Chef: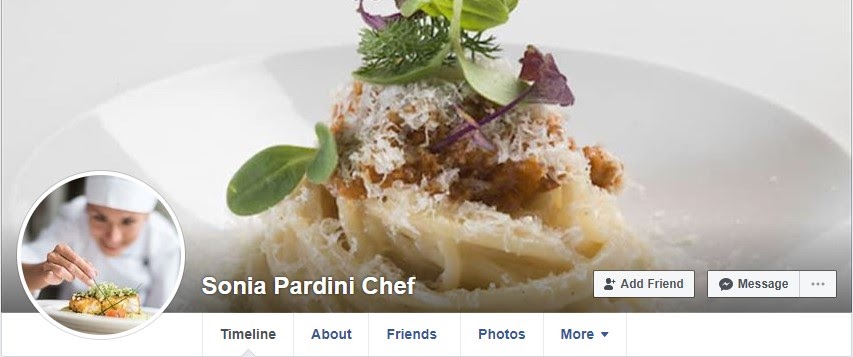 Choosing something meaningful for your cover photo means finding something that represents who you are or what you care about.
With the popularity of Facebook, this platform is great for professional networking. Whether you want to get a job offer, promote your services, or find new clients, Facebook is a good place to start.
Your profile cover photo can help you a lot if you tell about your business achievements.
For example, Shane Barker is a digital marketing consultant who uses his Facebook profile for promoting his business services.
It's no wonder that he puts all important information about his business achievements on the cover photo to acquire new clients.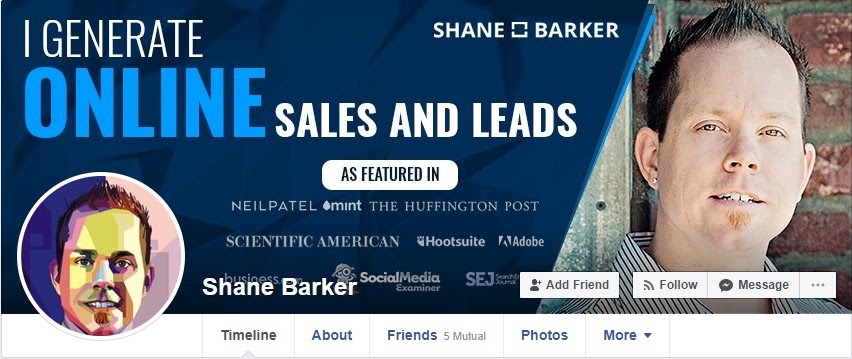 If you have chosen an eye-catching cover photo, that's great. It's more likely your audience will click on it for a larger version and it's a great way to start a conversation with your followers or visitors.
The easiest way to engage these interested users is to include a caption when uploading a cover photo. Here's how it works for Facebook CEO, Mark Zuckerberg:

But if you're not a popular celebrity with thousands of followers, you need to include a call to action in your caption to get more feedback from your Facebook friends.
It's in human nature to crave communication with other people.
When we publish comments, we want to be heard. When you reply to your followers' comments, you satisfy their needs and wants.
Thus, it's important to be active in the comment section below your profile cover photo.
Moreover, it's a great way to establish a long-term connection with your followers and give them a solid reason to trust you.
Facebook Page Covers
Facebook has great potential for businesses of all sizes and shapes.
Any proof needed? The list of social media statistics speaks for itself:
93% of businesses are active on Facebook
49% of users like Facebook business pages to support their favorite brands
1.6 billion Facebook users follow at least one small business on the platform
Simply put, there are many benefits of a Facebook business page, so it's important to learn more tips on creating Facebook page covers, too.
Running Facebook for business, you need to prove your niche expertise and look professional. Thus, it's important to choose high-quality background images that won't look blurry.
If you can hire a professional photographer or designer to create a high-resolution image for you, that's great.
But if you're a small business with a limited budget, it's a good idea to use a royalty-free microstock photography agency like Depositphotos to find background images and repurpose them for your Facebook page cover by adding brand logos, fonts, and texts.
When logging into your Facebook account on a personal computer, your profile picture appears on the left-hand side which means your cover photo must keep a right-aligned focus to bring balance to your Facebook page.
Moreover, many marketers believe that keeping a right-aligned focus helps to draw attention to the message of your text or image.
And Andrea Vahl, Facebook Marketing expert and speaker, recommends to use this image wisely:
"One of the biggest pieces of visual real estate on your Page is your Cover photo so make sure you use it wisely. The image size is 851 x 315 px and be careful to hide anything important behind the profile photo or interfere with the readability of your Facebook Page name at the bottom of the cover photo."
Here's a good example of a right-aligned page cover photo from WHOOP:

In short, the right-aligned cover photo not only is more informative for visitors but it's also more aesthetically pleasing.
Brand hashtags have many benefits, and they help you increase brand awareness, boost reach, encourage user-generated content, and much more.
However, it's important to promote your brand hashtag if you want to make the most out of it.
When it comes to using Facebook for business, putting your brand hashtag on your cover photo is just another way to use hashtags on Facebook. Here's how Calvin Klein promotes its brand hashtag to get more user-generated content on social media:

The popularity of video content on its rise. Not only do videos include more information, but they also keep your target audience hooked and engaged.
According to 'The State of Video Marketing' report, more than 50% of consumers watch a video before choosing a brand and Facebook is the number one platform for customers to watch brand videos.
To get more customers, consider creating a Facebook cover video that explains what your product is and how to use it, just how Post Planner did it:

If you want to create a similar cover video for your Facebook page, here are several things you should keep in mind:
Your Facebook cover video must be 828px by 315px
Keep your video between 20 and 90 seconds
Stick to a resolution of 1080p
Here comes the ugly truth: your Facebook fans crave authenticity.
In the era of sponsored posts and brand content, there's no better way to increase brand loyalty and trust than put a human face on your brand. How? Take your followers behind the scenes!
Just take a look at how Sendible did it:

Whether you want to highlight your CEO or feature your team, the main idea is to use your cover photo to show people behind your brand and product.
Want to drive business objectives? Use your cover photo to draw attention to your CTA button that appears under your cover photo in the bottom right corner.
If you run a Facebook business page, you can choose from seven options (Shop Now, Book Now, Use App, etc.) and think about creative ways to make it more eye-catching.
For example, Serpstat keeps a right-align focus and shows the benefits of using its software that draws attention to the action button

Wouldn't it be great if you could drive more website traffic? Your Facebook cover photo can help!
Here's what Marie Lamonde, content marketing specialist at DashThis, recommends:
"Most of the time, the cover photo description is left blank, which is really a missed opportunity. You should always include content about what's depicted on your cover photo (the product or service portrayed, for example) with a link to your website. By simply adding a link, you can drive quality traffic to your website very easily."
Just take a look at how Lulu uses the caption link to promote its digital downloads: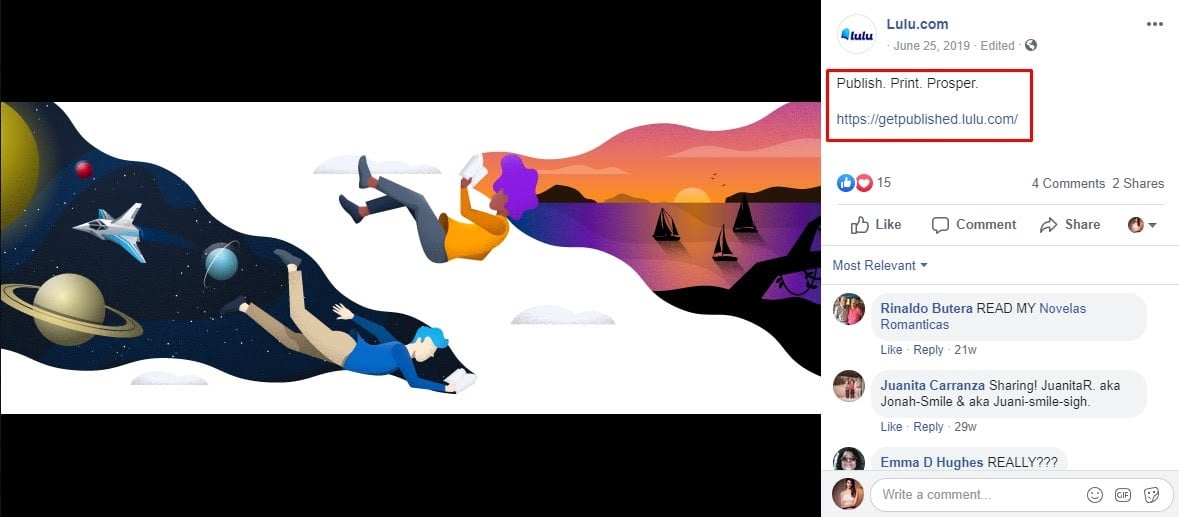 There are many creative ideas on how to turn your Facebook followers into website visitors and therefore drive website traffic with ease, but the secret to website traffic is to post a link that resonates with your target audience.
Facebook Group Covers
Do you want to connect to like-minded people? Join a Facebook group of your choice!
Today, there are over 1.8 billion Facebook groups, so you can find a community that meets your needs and wants.
However, you can also create your Facebook group, and there are some tips on making a cover photo for your Facebook group.
Want to attract more people who share your views, values, and ideas?
Tell them about the mission of your group!Whether your Facebook group is private or public, your cover image is visible, so it's a great place to write a few words about your mission and therefore encourage visitors to join your group.
Do you have a branded Facebook group? Awesome!It's a proven way to build brand awareness, increase loyalty and trust, and find potential customers.
However, it's important to show your visitors who stand behind the group, so using branding elements is a great idea. From brand logos to brand slogans and much more, there are many ways on how to use branding in your group cover photo.
Let's take CXL, for example. Not only does the company include branding elements, but it also keeps its group cover authentic by highlighting its employees:

If you have a Facebook group, it's more likely you want to attract more participants, right?
There's no better way to get more people to join your group than writing a strong Call to Action on the cover photo that shows what your visitors should do next.
Just like the example below.

This group is private, so visitors can scroll its Feed to decide whether it suits their needs or not.
However, Blogging for New Bloggers knows how to encourage people to join the group: Using a strong call to action on the cover image that gives visitors a solid reason to join the group.
Facebook Event Covers
If you organize and promote events, chances are that you know about Facebook events, a feature that allows people to find interesting occasions and get notifications from them. Plus, the calendar connection helps users get reminders on their smartphones.
For event organizers, this means an opportunity to spread the word about the event and attract more attendees.
And a Facebook event cover is a visit card that tells more about your event, motivating people to learn more about it or not.
Since the Facebook event cover appears at the top of your event, it's the first thing that draws visitors' attention. To interest more people, do your best to create a photo that speaks a thousand words. When it comes to event organization, adding information about your event is a must.
Just take a look at the Social Media Marketing World. It doesn't take much time or effort to understand who is the organizer, what is the location of the event, and its dates: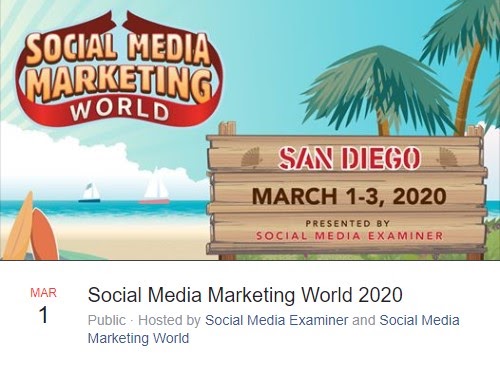 What is more, you can use your business page to promote your event, and here's what Ana Gotter, expert business writer, says:
"If you have a free webinar, a conference, or even a social contest that's coming up soon, don't be afraid to feature it in your Facebook cover photo. It's an effective way to let new users know about it right away."
The competition is high on Facebook, so you need to stay creative if you hope for the attention of your target audience.
When it comes to making event cover photos, it's a good idea to customize your image and make it eye-catching.
Not only should your event photo be creative, but it also should represent your business. Check out how Passion Planner does it in the image below: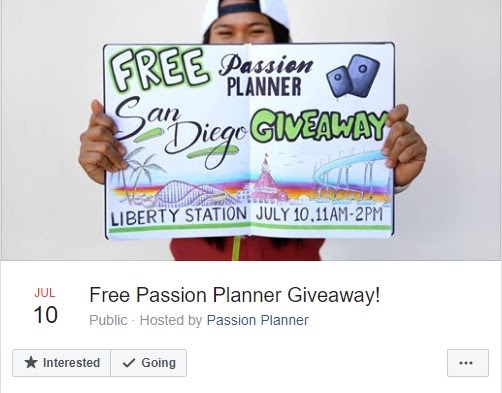 When you check out your Facebook profile, what device do you use more often?
Let me guess… It's more likely you use your smartphone, right?
If the answer is 'no', you're the black sheep. As specified in the latest report by Statista, 98% of active user accounts worldwide visit Facebook via any kind of mobile phone.
As you can see, the number of mobile users is HUGE. Thus, you need to optimize your event cover photo for mobile devices.
There is a slight cropping on the sides, top, and bottom when viewing your cover photo on mobile. This means some parts of your photo will disappear on mobile, so it's important to keep your information in the safe area and check it out on mobile before uploading.
Bonus Tips
Do you want to get more tips? Okay, we're here to help you!
Creativity is a must. To upload creative Facebook cover photos, you may need to find an idea that grabs your target audience's attention.
Thus, you may want to boost inspiration, and it's absolutely normal.
There's nothing new under the sun, so you can analyze your competitors and other successful brands on the platform to see more ways on how to use your Facebook cover photos.
With a variety of online design tools, there's no need to hire expensive designers to create your custom Facebook cover photo.
Every person can let the creativity run wild and make a photo that suits his or her needs and wants in just a few clicks.
For example, Crello offers over 20,000 ready-to-use templates and the drag-and-drop feature that allows users to upload images, logos, fonts, etc.
Moreover, it's available in both free and paid plans, so every person can use this graphic design tool to create eye-catching Facebook cover photos with ease.
Your Facebook cover photo is a picture that is worth a thousand words, whether it's your personal profile, business page, or event. To make the most out of it, you need to update it regularly as it's a proven way to share up-to-date news and keep your audience engaged.
For example, you can change your cover photo once a month or when you have something new to show and say.
Final Thoughts
Phew! That's all for now.
The bottom line? Your Facebook cover photo matters.
Whether you want to upgrade your personal profile or achieve business goals with your Facebook page, put time and effort into creating an amazing Facebook cover photo.
After all, it's not just about sticking to the recommended dimensions; it's about showing off your personality and attracting the RIGHT audience.
Do you pay close attention to your Facebook cover photo? Have we left something off the list?
Please share your tips and tricks in the comments below.
I hope the above-mentioned tips will help you create a stunning Facebook cover photo!