Should your business invest in a Facebook business page?
The answer is YES! And below are the Top 10 reasons why.
—
I'm seeing a lot of gripes about Facebook lately.
People are saying Facebook is dying because of the news feed algorithm. They're saying it's becoming harder and harder to get more Likes on Facebook.
Some "experts" are saying it's not necessary to even have a Facebook business page.
I completely disagree!
Facebook continues to be the best social network to set up camp on as a business. It's an absolute no-brainer to be on there.
What exactly are the benefits of having a Facebook business page?
Glad you asked. 😉
Top 10 Benefits of a Facebook Business Page
1. Reach BILLIONS of potential customers
3 BILLION USERS!!
Need I say more?
This is the number of your fellow earthlings who login to Facebook at least once a month.
"Once a month??.... That's not very often!" you may say.
I agree. So how about this number:
2 BILLION USERS!
That's the number of Daily Active Users (DAU) on FB in late 2021.
Yes, 2 BILLION people login to Facebook every. Single. Day.
If that's not enough potential customers for your business, you should rethink your line of business... or rethink your thinking!
A Facebook business page is hands-down the best way to gain access to this massive number of potential customers across the world!
More importantly, it's the best way to reach people in your community. Forget the world! 🤠
Here are some more mind-blowing stats about the incredible scale of Facebook:
3 billion monthly active users (8% growth, year-over-year)
2 billion daily active users (9% growth, year-over-year)
3 billion family daily active users (11% growth, year-over-year)
Users 65 years and older are the fastest-growing group on Facebook
Only 10% of Facebook users live in the US or Canada
75% of Facebook users are high-income earners
FB users in U.S. are on the site 1.5 hrs per day
2. Build a HUGE email list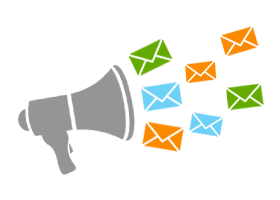 Getting people to Like your page isn't enough to give your business a long-term, sustainable path to success.
What if Facebook does in fact disappear one day?
What if Facebook drastically reduces business capabilities on the platform?... or drastically increases ad costs?
If they do, and you haven't made a connection with your followers outside of Facebook, then you'll be in trouble.
That's why smart businesses collect emails from Facebook fans -- so they can contact their community outside of Facebook.
Most businesses do this through contests, giveaways and newsletters.
And it's a proven system.
But you also need to be careful about how you use your leads.
For example, don't hammer fans with daily emails peddling affiliate products and other junk -- unless that's what they signed up for.
Email them consistently once or twice a week with helpful information that also leads them to your website -- where they hopefully will become customers.
3. Lower your marketing expenses
Starting a Facebook business page costs you exactly $0.
Sure, you may pay a graphic artist to design a profile picture and cover photo -- but that's not a necessity.
Using photographs you take of your business works just fine -- and in some cases it's better than a creative image from a designer.
My point is that getting rolling with a page costs you nothing until you start paying for ads to get page Likes, boosting posts and running Sponsored Stories -- all of which you should be doing with your page.
Facebook ads are relatively inexpensive when compared to traditional print, radio or TV ads -- and are 1,000x more targeted.
There are countless case studies of businesses using Facebook Like Ads and other ad types to drive business results.
One great example is the Pura Vida page.
The artisanal jewelry company showed Facebook photo ads to a lookalike audience in a campaign to attract new customers and increase sales.
The campaign resulted a 2.8X lift in return on ad spend!
Pura Vida had a simple goal: increase holiday sales.
More specifically, they wanted to double the number of new customers acquired between Black Friday and Cyber Monday 2019, compared to the same period the previous year.
You can read more about how they accomplished their goal here.
But suffice it to say, they got:
2.8x lift in return on ad spend
2x increase in sales, compared to previous sales record
28% increase in average order value, compared to 2018
Impressive!
Why could you lower do the same and lower the costs of your current, likely inefficient and way-too-expensive marketing efforts?
4. Target audiences by location, demographics, interests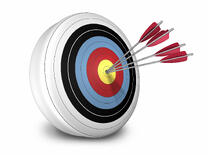 This is a continuation of #3 -- and it's super important.
Just because 1.66 billion people use Facebook every day, it doesn't mean they all want to Like your page.
In fact, you don't want all of them to Like your page -- because only a small percentage of them will actually engage with your posts.
As shown in the example above, you can get huge results by targeting your ads.
If you're a local business, I recommend directing your ads to target customers within a 10-15 mile radius.
The ads might cost you more, but the Likes and potential customers are laser targeted.
If you run an ad on TV, during say an airing of "The Voice," you'd be hard pressed to know with certainty whether your ad targeted the right kinds of people for your business.
With Facebook ads, you can be certain -- if you target the ad correctly.
Btw, you can also target your Facebook posts. I mean the organic, free ones!
Post Planner makes targeting your scheduled posts easy, in fact.
5. Gain insights on your audience
Not all of us are numbers people.
But you don't have to be a numbers person to love the new Facebook Insights provided on Facebook business pages.
Why?
Because they're easy to understand -- even for non-technical people. And they provide great information for business owners.
Taking a quick look at the Insights on the Post Planner fan page below.
Just on the Page Overview, you can see at a glance:
Page Views
Post Reach (not too shabby, right?)
New Page Likes
and much more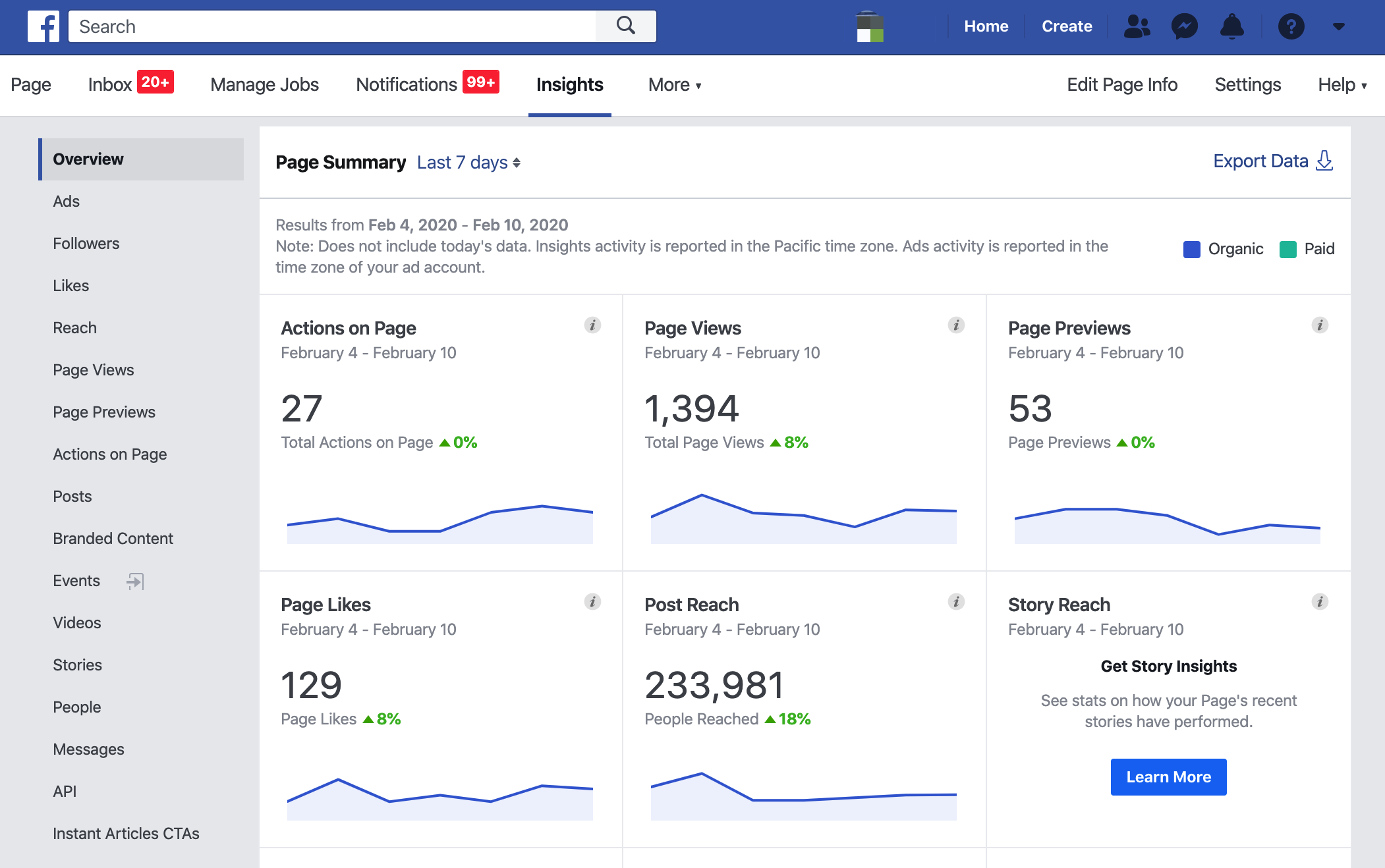 You can dig around in the left sidebar and drilldown to find out how specific posts are performing, the demographics of your fans, etc.
And you can download your insights to really dive in deep. But you don't have to -- and most of you don't need to worry about that.
The results in the overview are usually sufficient.
Compare this to running an ad in your local paper. Are you given any comparable stats in terms of how many people visited your store/website based on the ad?
No chance.
6. Build brand loyalty
Besides being a place to build a customer base and sell products, a Facebook business page can do wonders for helping you build brand loyalty.
What exactly does that mean?
Well, if you consistently provide valuable and entertaining content, your followers will stay loyal -- even when you make mistakes.
These days, people look online to find businesses to buy from -- and they often search social media.
If your followers see you being active & responsive, they're much more likely to do business with you than a company with no Facebook presence or a poorly run page.
For example, consider the amazing example of Airbnb's Facebook page.
Airbnb relies big time on user-generated content from their happy customers to fill their feed.
This lets them to show off amazing, exotic locations that their followers can fall in love with.
And since Facebook's algorithm LOVES visual content compared to simple links, Airbnb's strategy seriously boosted their organic post reach.
Additionally, the brand uses every campaign as an chance to interact with customers.
By highlighting customer care and getting to know their fans' wants and needs by asking questions, Airbnb's posts get tons of engagement as a result.
7. Increase your website traffic
Smart Facebook page owners use their pages to drive traffic to their websites.
If all you're doing on Facebook is getting engagement on your posts, then you're not really achieving many business goals.
You're just being an entertainer.
So start using link posts to drive traffic to your site.
The great thing about link posts is Facebook generates a nice big full-sized image if your website makes one available.
These wide images get clicked A LOT!
This post from the Post Planner fan page is a good example. Notice the vibrant, bright and compelling featured image on the link post: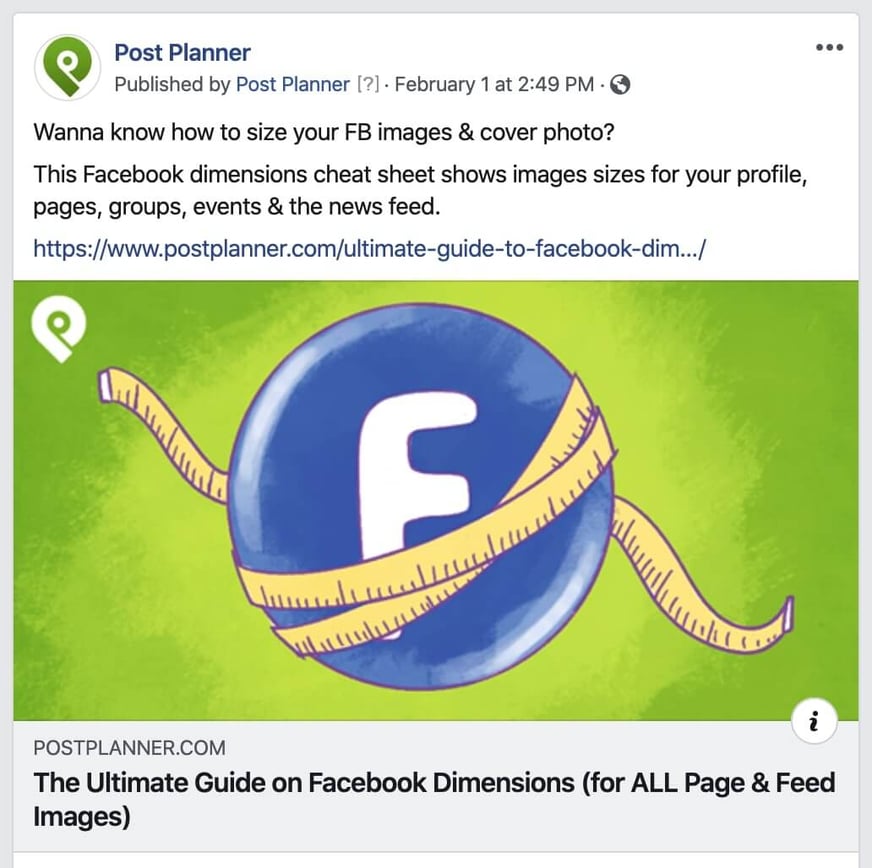 Posting links to your website is an essential part of any Facebook content strategy.
On the Post Planner page, you'll notice we post links to blog posts 2-3 times per day and mix in 2-3 light-hearted posts to get people talking.
The Likes, comments and shares are lower on the link posts -- and that's fine -- because our goal is to drive traffic with those posts, not necessarily get engagement on Facebook.
Bottom line -- having a Facebook page will greatly increase your web traffic if you use the right posting strategies.
8. Boost SEO
The topic of SEO and Facebook gets debated quite a bit.
Some argue that the information in the About section of a business page is scraped and thus searchable by Google.
It's hard to accurately verify or dispute this claim.
I've tried searching with various keywords for our page and do not find results related to Post Planner's Facebook page.
But when someone searches for "Post Planner" -- our Facebook page shows up on page 1 of the Google search results.
I believe the more ways people can find you the better!
9. Reach people on their phones
The vast majority of Facebook users are accessing the site via their mobile devices -- many of them only with a mobile device.
As this trend grows -- it becomes more and more important for your business to have a presence on Facebook.
The great thing about a Facebook page is Facebook does the heavy lifting for you! -- optimizing your page for both desktop and mobile devices.
When people view your Facebook page on a mobile device it shows users:
Hours of operation
Address
Reviews
Phone number to call directly from the Facebook mobile app
This is why it's so essential to get all your contact information on your Facebook page.
You don't want customers to have to search around to find out how to give you money!
10. Spy on your competitors
An interesting new feature on Facebook pages lets businesses spy on competitors.
Now this doesn't mean you can look over their shoulders and check out sales or results from their ads -- but it's a great way to see how others in your area and niche are growing on Facebook.
Just go to your page's Insights overview (see the Insights screenshot above) and then scroll to the bottom.
Once you add some competitor pages, you'll see something like this: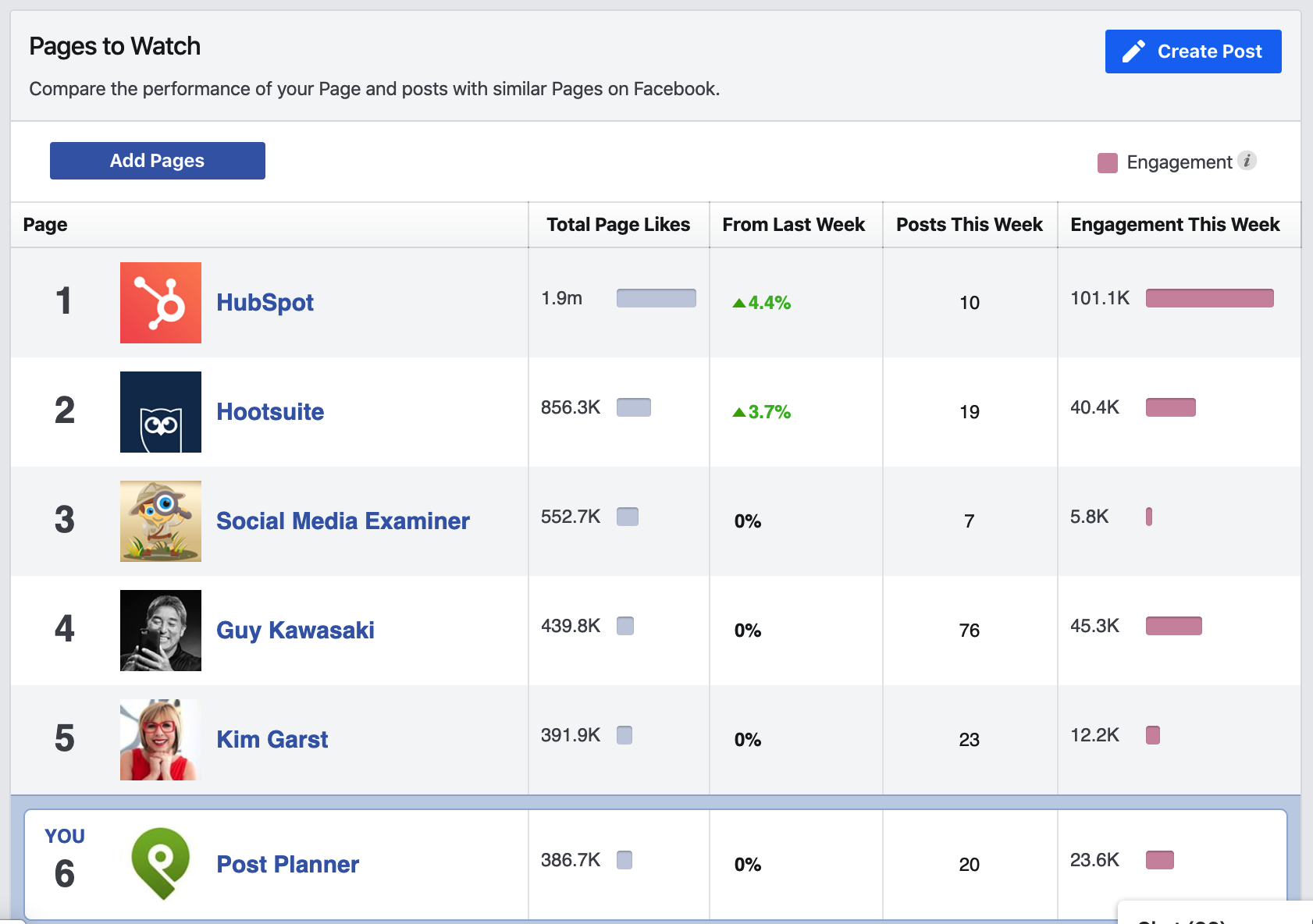 You can add multiple pages to keep an eye on. 😉
If you have a hard time finding competitors, Facebook will suggest pages based on competition in your area or industry. Choose pages by clicking "Watch Page" or search for pages in the search box.
Then you can benchmark your page performance against competitors.
For example, I can quickly see that our competitor Hootsuite is getting about 70% more engagements than us.
But i can also see that they have 120% more fans.
So I think we're holding our own!
"Pages to Watch" is also great for getting posting ideas.
For example, if you see a page has exploded and gained lots of new Likes, you can visit that page to see what they're doing right.
Perhaps a post had huge success and you can copy what they are doing on your page to gain more Likes.
This may not give you a ton of insight, but sometimes just a little motivation can cause you to break bad habits on Facebook and improve your posting and advertising.
After all, no company wants a competitor beating them to the Likes!
Convinced of the benefits of a FB Business Page yet?
Hopefully these 10 benefits have convinced you that having a Facebook business page is an absolute no-brainer.
I personally can't imagine running a business and NOT having a Facebook page.
For those of you who already have pages -- I hope you've been motivated to improve your page!
First step: post better content using Post Planner! :)