It seems Twitter had a change of heart about Moments.
Having placed high hopes on it just over a year ago, Twitter announced that it will replace Moments with a new Twitter Explore tab.

But don't worry - Moments aren't going anywhere. At least not yet.

The feature that let you keep track of important things happening around the world is still there.
But going forward, you'll find it under the new Twitter Explore tab.
It will be right alongside a consolidated tab, including Live Video, Search, and Trending Hashtags.

Seems pretty handy, right? No more fumbling around.
Instead, you can find all search and discovery features in one place.

Why did Twitter make the switch, and what does it mean?

Let's take a close look at how it impacts your business.
Ready to see an increase in engagement, traffic, and reach? Share these 11 Types of Content on Twitter!
Twitter Replaces Moments With Explore: Here's Why it Matters
Some Twitter users are already beginning to notice the change.

The Moments' lightning bolt icon is gone.

In its place, right between the home and notifications buttons, sits a brand new magnifying glass - the Explore icon.
What is Explore?
With the help of Twitter Explore, you can scroll to see all major headlines of the day.
This is without having to bounce from one place to the next to find each feature.
Now, Moments and the Live Videos will get the most visibility - each of them receiving a larger header.
Under Moments and Live Videos, you'll see the 'Trending Now' hashtags, and below those - 'Today's Moments' and 'Explore All.'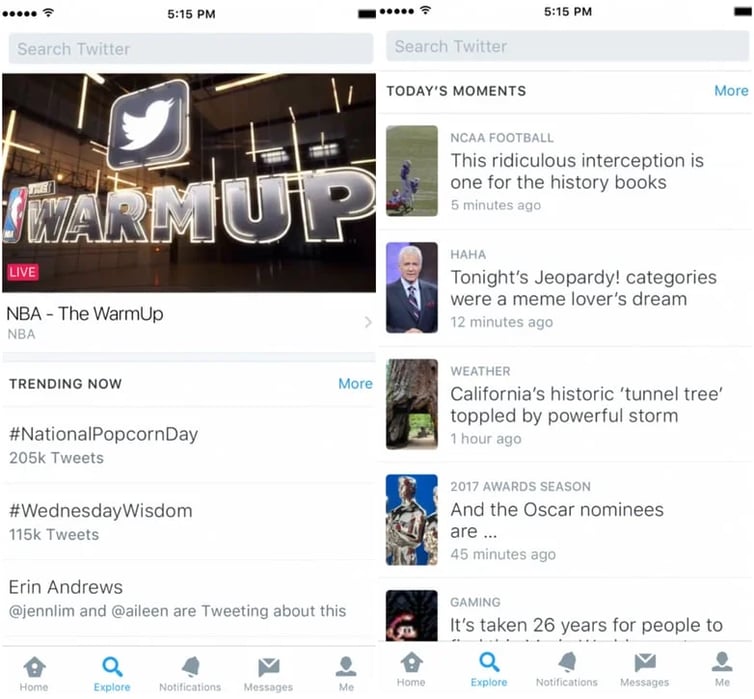 You can simply scroll through the headlines of the day and discover the most trending and viral content in minutes.
Why Change Moments to the Explore Tab?
This news isn't that new. In fact, Twitter has been testing it out for quite some time.

As Angela Lam, Twitter's Product Designer stated:

"Over the past year, we've been exploring different ways to make it simpler for people to find and use trends, Moments, and search. During our research process, people told us that the new Explore tab helped them easily find news, what's trending, and what's popular right now. Nothing is going away – we're just making it easier to find what you want."

And that seems to be Twitter's main goal: to streamline the discovery process and make it easier for users to find awesome content without ever leaving Twitter.

But why the sudden shift away from Moments?

After all, Twitter originally placed very high hopes on 'Project Lightning.' They even ran their first ever TV ad!

But, it seems that Moments never gained the momentum the Twitter team hoped it would.

Users simply weren't engaging with Moments enough to dedicate a whole tab to it.
When to Expect to See the Explore Tab
Good news - Twitter has already started rolling out Explore on Twitter for iOS.

As for Android users, they'll get the update within the next several weeks.

But, make sure you have the latest version of the Twitter app!
Final Thoughts


Twitter has always been a news platform - the place to go for newsworthy exchanges, the most viral posts and images, and trending topics.

But the network has constantly had a problem presenting that content and making it easily available to users, especially if they weren't following relevant accounts.

That's why the Explore tab is a step in the right direction.

It makes it easier to keep up to date on all the trending and viral news, and tap into it while it's still trending. 😉
So, what are your thoughts on Twitter Explore? Was it the right choice for Twitter?