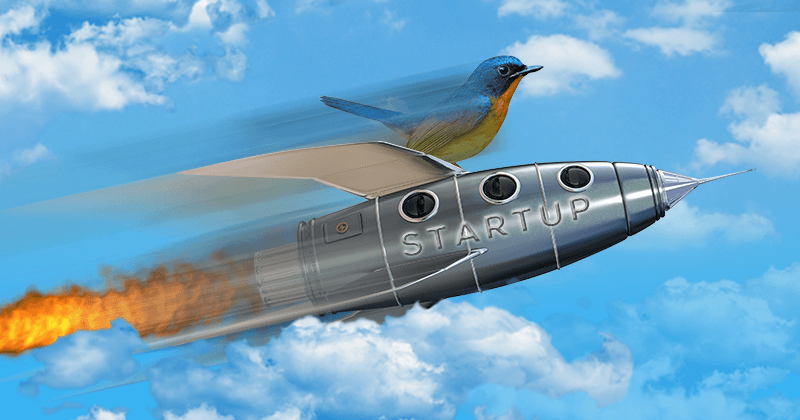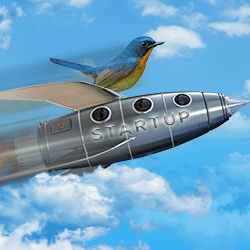 If you're involved with a startup -- you know marketing is everything.
Even if you have a great product, if your marketing is a fail, you could be in for a long uphill battle.
There are countless examples of this in the tech world. You can read about a few of them at Great Products That Failed Because of Poor Marketing.
So how do you make sure you master startup marketing?
It can be an overwhelming challenge when you're already faced with a shortage of time and money.
Let's make it simple -- you can get a jump start on your competitors by learning how to use Twitter for your startup's success.
This doesn't mean using Twitter as a broadcasting tool to blast your brand's message to as many people as possible.
Instead, it means leveraging the power of Twitter to make an impact in the minds of your customers and potential customers. I'm talking about making real connections.
In this post, I'd like to share 6 reasons Twitter can be a secret weapon for your startup's success.
>> Click to Tweet <<
6 Reasons to Use Twitter for Your Startup
Every startup wants the same things -- press, growth, customer acquisition and rabid fans.
What startups don't have -- time and money.
So how can startups reach a global audience while still bootstrapping?
There are many answers to this question. In my experience working with and mentoring startups, one of the best routes for marketing success is Twitter.
Startup marketing is definitely a science.
How so?
The trick is to properly combine the right marketing channels of content and PR.
Of course Twitter shouldn't be the only social media platform you use in your marketing strategy. But it is certainly a great place to start.
Twitter offers a tremendous amount of opportunity for startups.
I'm going to be bold here and give you what I think is a strong startup marketing equation...
Twitter + active blog on your company's site + one other social platform = marketing success
Why is Twitter the secret sauce for startups?
The answer is surprisingly simple.
It's because any startup will quickly become irrelevant if they can't answer their potential customers and current customers in real time.
What startup doesn't want to reach -
Investors
Journalists
Bloggers
Influencers
Users
Potential customers
Current customers
Guess what? All of these people are on Twitter.
So let's get started...
1. Twitter Is Free
Sure -- you could argue that Twitter takes time -- and time is in short supply just like money.
But Twitter doesn't require serious capital to reach and engage with a global audience.
The impact of your startup's exposure on Twitter (if done right) compared to the monetary price tag is arguably one of the biggest reasons you should market your startup on Twitter.
2. Twitter Is Simple & Searchable
Of all the social media platforms, Twitter is by far the easiest to learn.
Why?
Unlike a full blog, Twitter is comprised of a series of short pieces of consumable, shareable, focused content.
That's much easier to handle than sitting down to write an entire blog post.
And once you get the hang of it -- typing and even thinking in 140 characters or less is a piece of cake!
But with great simplicity comes great responsibility...
Tweeting (as with all digital marketing) requires consistency in a voice that represents the startup.
Twitter is also searchable! Many social media channels aren't.
Any startup can easily conduct some initial competitive analysis, find topics of interests within their industry, and join in real-time conversations with a global yet targeted audience.
Is your startup looking to tweet for a specific purpose? Trying to reach others interested in startups, entrepreneurship and tech?
It's all just a quick Twitter search away! (just go to search.twitter.com in your browser)
Or you can use a tool like Zoomph to find influencers in your niche (ranked by Z-points). Zoomph also allows you to track and analyze your content.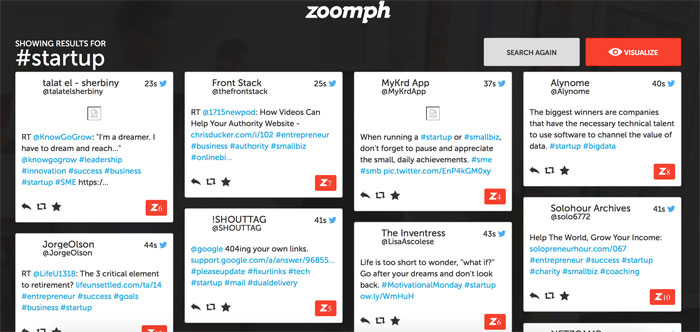 Pro Tip: please don't spam and push your content without context
Looking for real time trends?
Doing a quick search or looking at the trends on the native Twitter page will provide any startup with good direction.
For example, on September 9th, when Apple hosted #appleevent (a startup in the tech/app space) -- it would have been wise to jump in on the conversation and engage with other like-minded people.
Keep in mind, engaging doesn't mean selling. It means contributing to the conversation.
3. Twitter Is a Source of Great Content
For your startup to succeed both online and offline, you need to be able to respond to industry trends and current issues in peer conversations.
How will you do that? The best way is to provide relevant, valuable content.
In today's tough market, I suggest you stand out in the sea of startups by producing and curating high quality content that resonates with the people in your niche.
Your challenge will be to produce a consistent stream of valuable content. Focus on quality, but quantity is important too. It can be time consuming.
Good news -- Twitter also helps in this area.
News breaks on Twitter. Twitter is a great starting point if you want to respond to the latest breakthroughs and share your newest thoughts and ideas.
Consider curating a Twitter list of influencers and thought leaders in your industry.
Follow your own list, and you'll have a highly targeted and consistent stream of content and trending topics that outperform any RSS feed.
This strategy enables you to see the ideas and thoughts of industry leaders -- and the links and developing trends already within the stream.
You can click over to Using Twitter Lists in the Twitter Help Center to learn more about creating and using lists.
If you would like another tool to complement Twitter for finding great content, we of course suggest Post Planner.
Our tool will help you find, plan and post content that is scientifically proven to increase your social media engagement.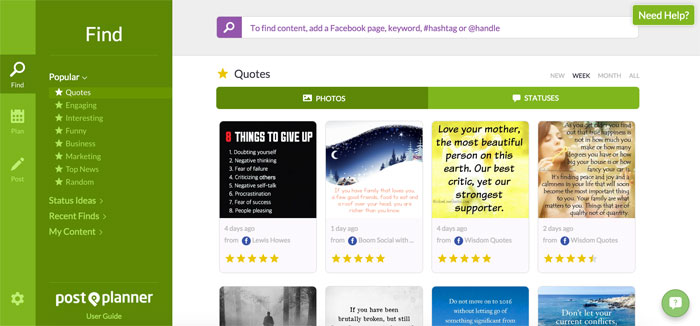 Not to mention, you're busy developing your product, right?
It can be burdensome coming up with interesting and relevant content to tweet every day. Lighten this heavy load by retweeting the exceptional content of others.
This also helps startups build their audience and list of thought leaders. After all, nothing says, "I love you" like a retweet every now and then.
Need more help? Here's a list of 42 Things to Tweet When You're Completely Out of Ideas.
4. A New Kind of Networking
People buy from people.
Like Bob Burg's famous quote, "All things being equal, people do business with, and refer business to people they know, like and trust."
This is why Twitter (and social media in general) is so powerful -- it breaks down the initial barriers associated with networking.
In fact, you'll find that Twitter creates opportunities to connect with those high-level, otherwise unreachable people.
Networking is the name of the game for today's startups.
Everyone wants to meet new people -- but time is the most precious commodity.
Twitter enables my clients to secure new business opportunities (financial partnerships, content collaboration, new clients) and to create the initial context for a meeting in real-life.
Brian Fanzo, my Twitter friend and colleague, has an interesting perspective about this.
He says that in the past, golf courses were used to create informal relationships -- but now Twitter offers brands a much broader relationship-building platform. This won't replace the initial handshake, but it will turn the first handshake into a hug.
How's that for an effective relationship-building strategy for startups?
Use Twitter to break the ice and make the board meeting much more focused and professional.
Let's face it -- pitching clients is difficult. With Twitter, a startup can add value by directing prospects to relevant content.
Which is more effective.. a startup that is always pitching or a startup that is adding value to a prospect's conversation?
The answer is obvious.
Also, consider joining a few relevant Twitter chats each week to supersize your networking efforts on Twitter.
Twitter chats are an easy way to connect with current and potential customers, position yourself as a leader in your industry and share relevant content in your niche.
You are always welcome to join Post Planner's #ViralChat on Thursdays at 6pm PST | 9pm EST. Just follow the hashtag and join the conversation.
You will most likely see your followers and your engagement go up during Twitter chats. Do you want even more engagement for your startup? Grab a copy of our free infographic to learn how to ramp up your retweets almost immediately.
5. Customer Delight
Building trust is a cornerstone of Twitter success. One way to build trust online is to humanize your brand.
A simple way for you to humanize your startup is to maintain an open line of communication with your community.
If you respond to user comments and feedback -- you will strengthen your relationship with your users.
Twitter gives startups a cost effective solution to double customer delight teams (aka customer support) with social media managers.
Aside from saving money on labor costs -- the user generated content is great fodder for your content marketing strategy.
To set up a Twitter customer delight flow, integrate social listening into your daily social media management routine.
Set up some social streams of keywords and track all brand mentions as they appear in real time.
The next step for rocking your startup social media suite is to incorporate a brand sentiment analysis.
This will help you isolate negative or neutral mentions of your startup and enable you to respond to any necessary issues.
There are several different tools that can help you with this. One that I can recommend is Talkwalker.
Talkwalker's intelligence platform helps you make the best decisions based on social listening and analytics. It is also an official Twitter partner.
You can click over to A Review of TalkWalker: From Social Monitoring to Business Intelligence to read my full review.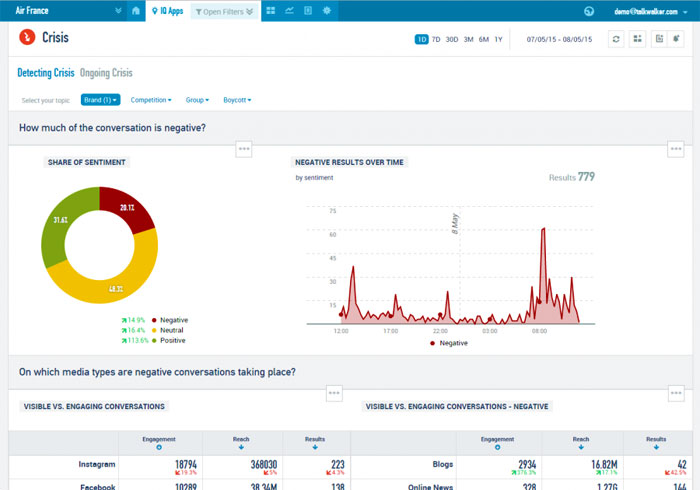 Successful startups know that automation doesn't work when it comes to customer service.
Customer delight teams and super marketing strategies are only as effective as the person behind the tweets.
Twitter offers startups an opportunity to personalize their brand and take customer service to a whole new level.
Showing your face and telling your startup story is an extremely powerful way to outsmart your competition.
Startups can use Twitter to identify power users and turn them into brand ambassadors.
These ambassadors are the ideal strategy to help your startup gain global recognition without being pushy or overselling.
6. Brand Awareness on Steroids
An essential ingredient for startup success is learning how to generate brand awareness. In some cases, it can determine the success or failure of your new venture.
A startup strategy can't and shouldn't be to go viral. Unfortunately, "going viral" is an aspiration at best.
Instead, focus on more long-term strategies for building brand awareness. There are infinite opportunities to do this -- and most don't involve an inflated budget.
The key is consistency, persistence and commitment to your marketing efforts.
Every startup is unique and constantly looking to build its brand presence.
If your startup has a website or a blog -- Twitter can be a significant traffic generating platform. Some of my clients have seen close to 30% of their site traffic come from Twitter.
Remember to respect and consider how YOU would want to be engaged with on Twitter. Be positive and helpful.
Niche media outlets love to write articles about startups that benefit their audience. If you want to be on the receiving end of this love -- then reflect that love by respecting others on Twitter.
Conclusion
Bootstrapped startups struggle with limited resources -- especially resources that can be allocated for marketing.
Don't let this hold you back. Consider unlocking the benefits of Twitter.
Twitter can unleash great opportunities for any new venture. The key is to learn how to use Twitter effectively (which is unfortunately not how many startups use it).
If you'd like to see some examples of how brands are using Twitter the right way, click over to 19 Best Examples of How Top Brands Use Twitter.
Those 19 case studies will give you a general understanding about how to leverage Twitter for your specific needs.
And as you discover creative ways to use Twitter along your journey -- you'll start to see what's possible.
It takes time to build a large, loyal, engaged Twitter audience. But it's definitely time well spent!
If you have any questions about how you can use these strategies for your startup, don't hesitate to hit me up on Twitter. You can find me at @mordecaiholtz.
So now what? Are you ready to start using Twitter like a pro?
Grab your copy of our free infographic below. It has 9 Twitter hacks designed to make your life easier (and save you time on Twitter).
You'll be glad you did! :)