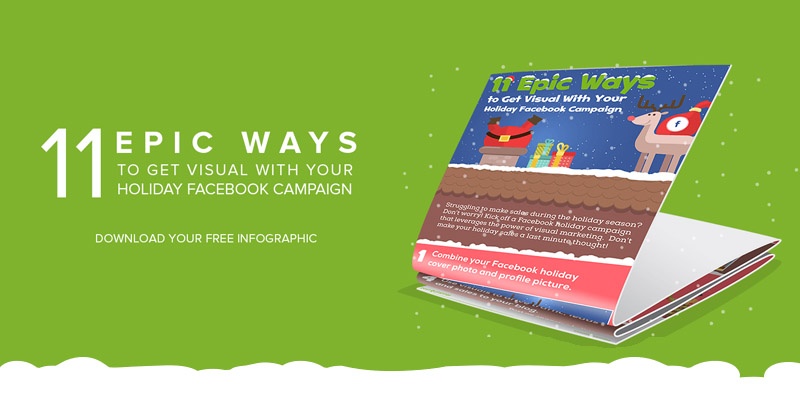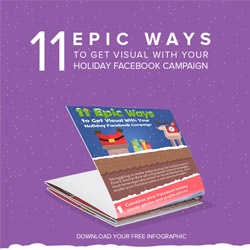 Worried that you waited too long to launch your holiday Facebook campaign?
I have some great news -- you haven't!
There is still time to leverage Facebook to increase your sales this season, but the time to get started is TODAY!
Experts say almost half of all holiday shopping this year (window shopping and buying) will be done online!
This means you have a huge opportunity to increase your revenue through Facebook over the holidays.
One of the most powerful ways to get noticed online this season is to use stunning holiday visuals in your Facebook campaign to drive additional sales.
In this infographic, we'll show you 11 epic (and very festive) ways to get visual with your holiday Facebook campaign!
>> Click to Tweet <<
11 Epic Ways to Get Visual With Your Holiday Facebook Campaign​ [Infographic]
It's all about getting laser-focused on what you want to achieve, and then optimizing your time and effort to get you there through visual marketing.
There are unlimited ways to get creative with your holiday visuals, but when you combine your visual marketing strategies with the already existing Facebook features -- that's when the magic happens.
If done well, your holiday visuals will significantly boost your Facebook engagement too!
Whether you want to create a trippy effect with your photos, use visuals to highlight your call-to-action or even leverage visuals to hack the Facebook algorithm, we've got you covered in our jam-packed infographic.
If you need help finding viral, visual content to post on Facebook this season, we of course recommend the Viral Photos feature in the Post Planner app.
Our Viral Photos tool will allow you to quickly and easily find all the viral, visual content you need for your holiday Facebook campaign!
You might also find 4 Last-Minute Holiday Facebook Contests You Can Launch in 30 Minutes to be helpful too.
11 Epic Ways to Get Visual With Your Holiday Facebook Campaign [Infographic]​ -- Download Here
Download your copy today!

Are you ready to make more money than you spend this holiday season?

If the answer is yes -- it's time for you to up your visual game on Facebook today.

Too busy to read this infographic right now?

No worries!

Click the white "DOWNLOAD NOW" button below and save this infographic to your desktop so you can check it out later.

There is a limited amount of time left this season -- don't let it pass you by!

The best news is -- once you master these techniques -- you'll be able to use them right into the new year. It's the gift that just keeps on giving!

Get this information now, and use it to make your holiday Facebook campaign a jolly success.

After all -- it's FREE!