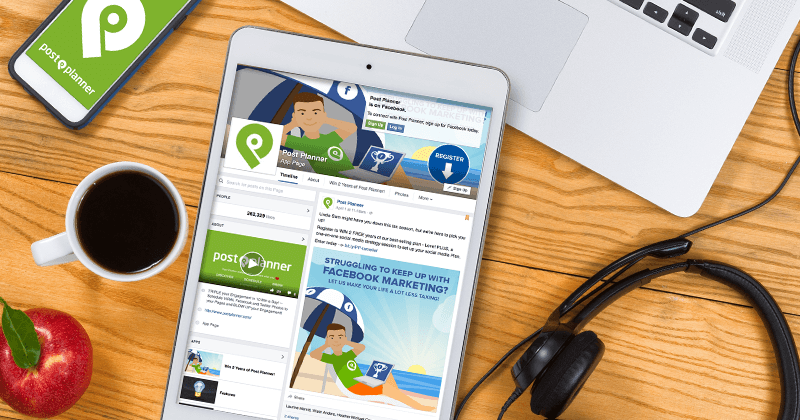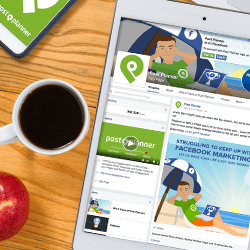 As a Facebook marketer, the last several weeks have rocked your world.
From Instant Articles to Live Video, there's been a barrage of Facebook changes.
Feeling overwhelmed by the updates? Can't stop your head from spinning? We're here to help!
Below we share insight into the latest Facebook updates. Plus, find out what they mean to your business.
While some have arrived and others are coming to a desktop or Facebook app near you, one thing is certain.
Each of these 6 big updates to Facebook will impact your marketing.
Note: Since these are all new Facebook features, you may get access to them at different times. Some may have been available to you for the last couple of months -- and you may have to wait a couple months for others to become available to you. With these latest Facebook updates, patience is key.
What the Latest Facebook Updates Mean to Your Business
What the Latest #Facebook Updates Mean to Your Business - http://bit.ly/23q2bMX (by @kikolani on @PostPlanner)

Click to Tweet
Latest Facebook Update #1: Use Facebook as Your Page is Going Away
If you've enjoyed using Facebook as your page to engage with your audience on other pages -- you'll be sad to know this feature is slowly going away.
If you still have it, enjoy it while it lasts.
Once it's gone -- if you want to like another page with your page, you'll have to use this option under the three dots.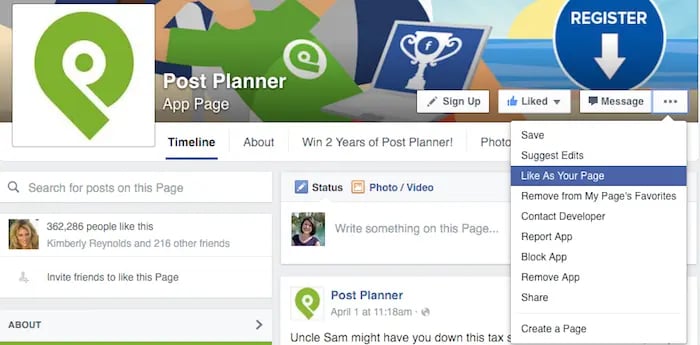 Then you'll select the page you want to like the page as.

If you want to post on a page's wall or comment on a page's post -- you'll need to use the dropdown at the top right of the update box to switch from your personal profile to your page.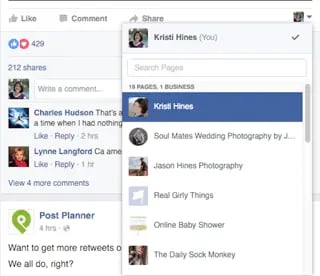 If your page is managed inside Business Manager, it's on this same list.
You'll just need to scroll all the way to the bottom of this list to find your Business Manager account, click on it, then select your page.
To see all the updates from the pages you've liked with your page, you'll need to go to your page and click on the See or View Pages Feed link.
If your page is managed inside Business Manager, you'll have to be logged into Business Manager, then visit your page to find this link.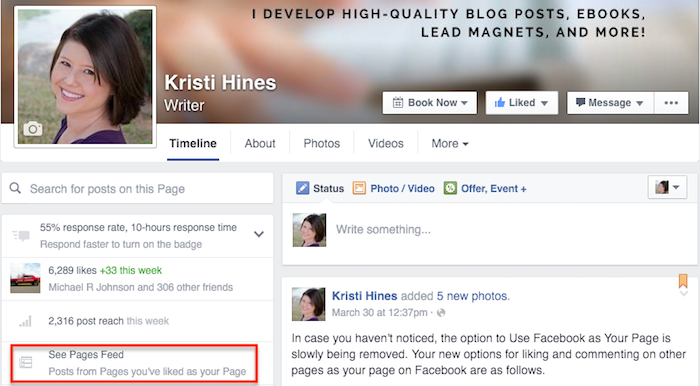 From the "Pages Feed" shown below, you can like, comment, and share posts as your page.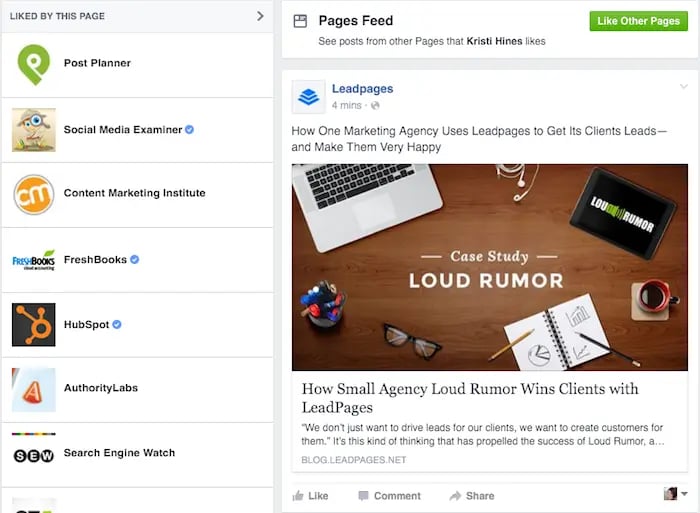 If you click on the Home link at the top of your Facebook screen, you'll be back to using Facebook as your personal profile again.
Latest Facebook Update #2:

Facebook Instant Articles Are Coming
You may have noticed while browsing articles on your Facebook app that some articles take you to the publisher's website as usual, like the Inc. article below on the left.
Others load at the speed of light inside the Facebook app itself, like the BuzzFeed article below on the right.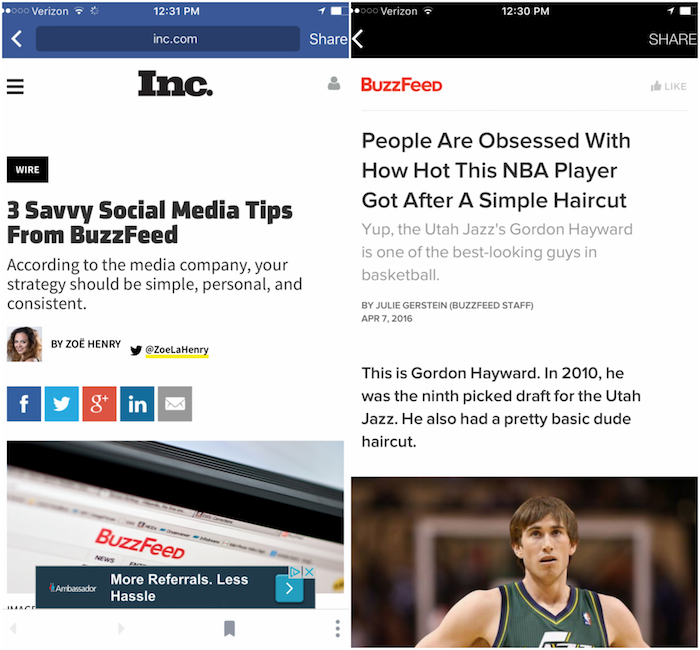 The latter is an example of an Facebook Instant Article.
While currently only available to a select number of publishers -- this features will be released to everyone on April 12th.
Here are some things worth noting about Facebook Instant Articles:
It's meant for publishers who create a lot of content. To get approved for the program, you have to submit a minimum of 50 articles that are optimized for Facebook Instant Articles. You can read more about the requirements here.
WordPress (self-hosted) users rejoice! There are many plugins to guide you through the process of getting Facebook Instant Article ready. This includes a plugin by the creators of WordPress. It's called Automattic. There's also one by PageFrog that includes Google AMP optimization.
Non-WordPress users will need to wait and see if their platform will support Facebook Instant Article coding. Or add the Facebook Instant Article code themselves using the Developer Docs.
If you like the way your articles are delivered now, there's nothing to fret about this new feature.
If you prefer that visitors who click on your articles in the Facebook app go to your website -- you may not want to invest in Facebook Instant Articles at first.
There are 2 questions I have about Facebook Instant Articles, Google AMP and Pinterest How-to Pins (which are all geared at making content load instantly for mobile users).
How accustomed will mobile users become to this instant content delivery? And how will that affect websites that don't deliver their content as fast?
Latest Facebook Update #3:

Facebook Live Video is Taking Out Its Competitors
Facebook live video broadcasting started out as a feature available to celebrities and public figures only in the Facebook Mentions app.
But when other broadcasting networks like Periscope, Meerkat, and Blab starting letting everyone in on the game, Facebook decided they should as well.
So Facebook started allowing people to broadcast live video through the main Facebook app on their personal profile.
Then they went a step further and started letting pages broadcast live video.
Now, Facebook live video has gone even further and opened the door to live video broadcasting from your personal profile to your groups and event pages.
And that's just the start.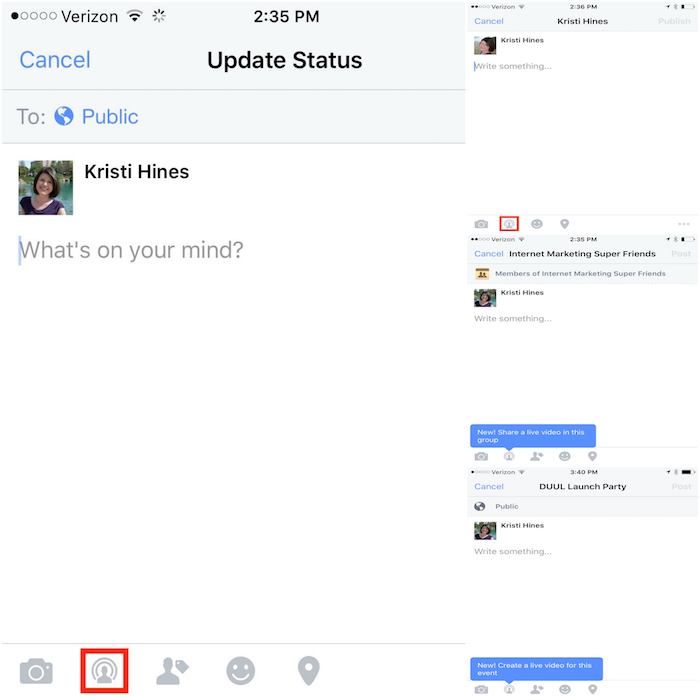 Page owners are starting to see insights from their live video broadcasts and the posts containing the live video replays.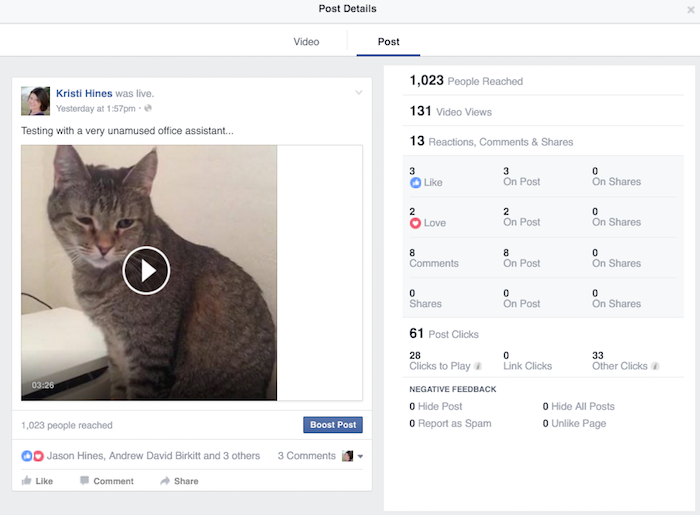 Facebook also plans on adding Snapchat-like filters and editing tools to the mix so you can get even more creative with your videos. The following image is from Facebook's media assets.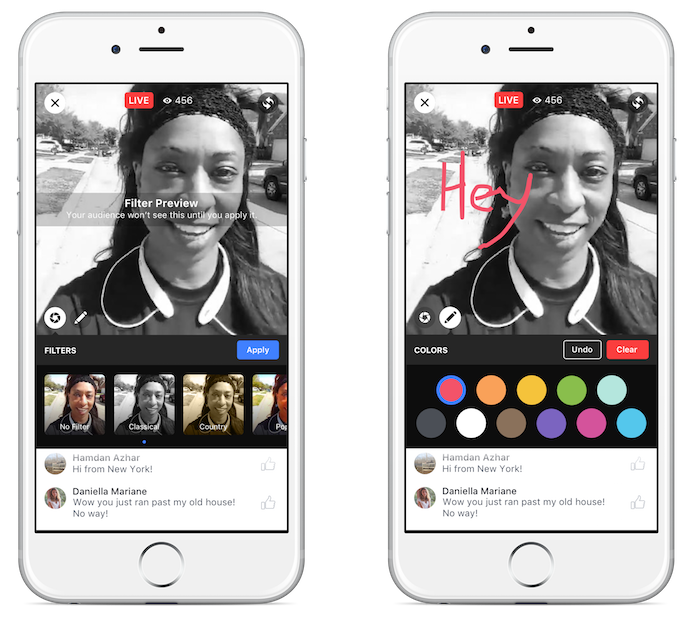 They also plan to make live video easier to discover.
They'll do this with an update to the Facebook app that will replace the messenger button with a video discovery button.
Desktop users can already start discovering live video broadcasters using the Live Map feature.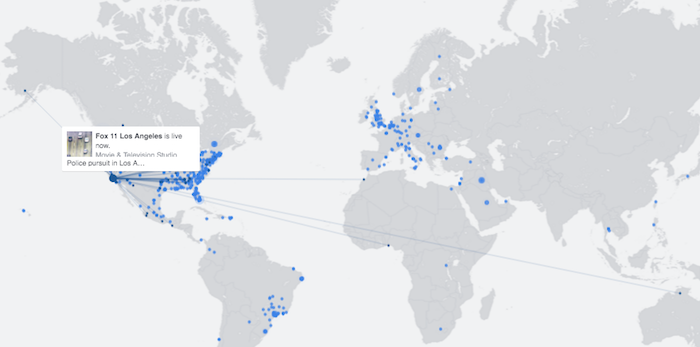 Keep in mind -- these broadcasts are not always safe for work!
Speaking of which, if you are a group or event admin, you'll have to keep an eye out on the live video broadcasts that appear in your groups and on your event pages.
Depending on who you have as members, you may want to consider turning on the option to have admin approval of posts before they go live. This will prevent anything dicey from showing up in your communities.
Latest Facebook Update #4:

Facebook Shop Sections & Service Tabs Are Popping Up
Back in September, Facebook announced a several new features for Facebook Pages.
2 of these were the ability to add Shop Sections and Service tabs to your Page (based on your Page category).
Both of these are starting to roll out and randomly appear to page owners. If you have the ability to add a Shop Section, it will appear like this.

When you add a Shop Section to your Page, it will allow you to offer featured products that appear above your wall posts on your timeline.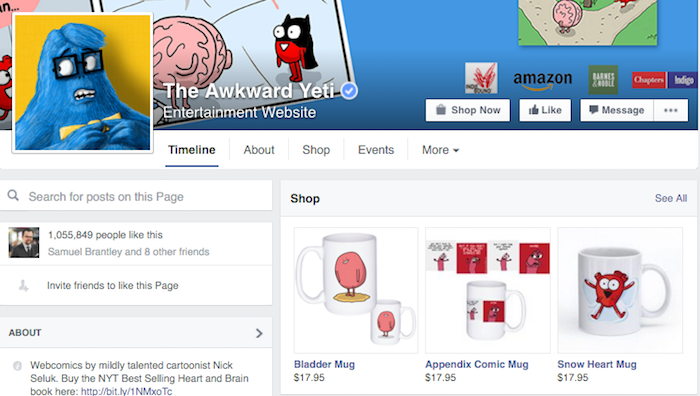 You will also get the ability to display a wide range of products on your Shop tab.
You can configure each item with multiple photos and a detailed description.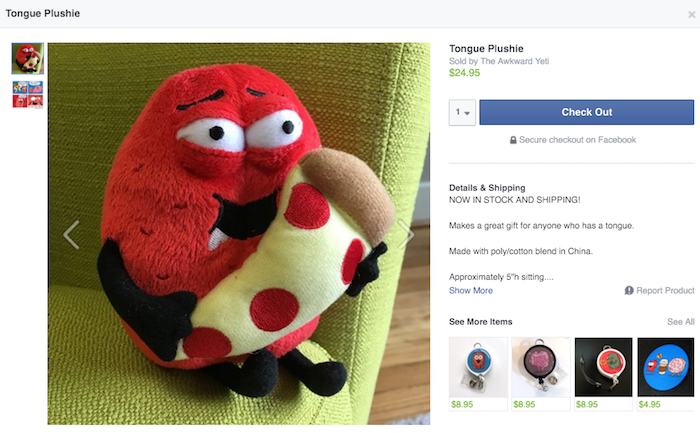 Visitors to your Facebook Page will be able to buy your items quickly without even having to leave Facebook.
If they've made a purchase on Facebook before, their shipping and credit card information will be stored from past purchases.
This will make the process hassle free -- increasing your odds of an impulse buy conversion!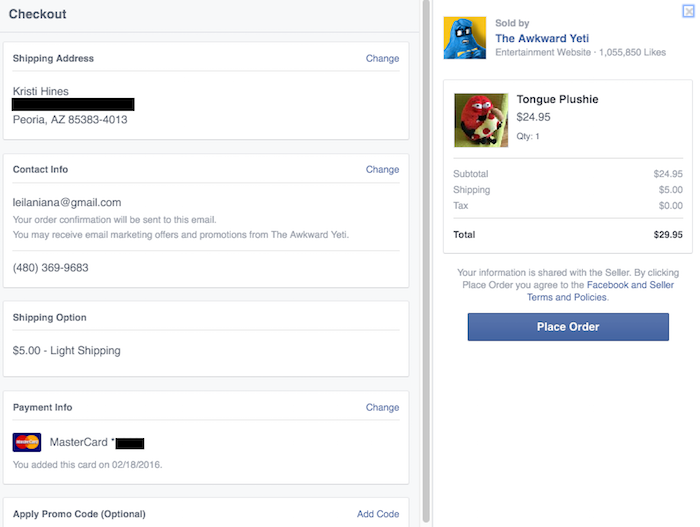 From there, you'll be able to manage your orders via your page's Publishing Tools.
That's where you can add new products, manage inventory, mark items as shipped. You'll also be able to enter tracking codes, send messages to buyers, and manage your Shop settings.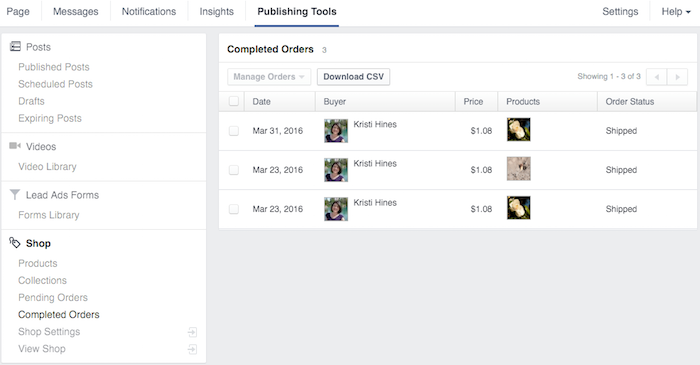 You can read all about adding a Shop Section to your Page here, and get a refresher course on what is and is not allowed on Facebook here.
On the other hand, if you have the ability to add a Services tab, it will appear like this.

The Services tab isn't quite as fancy as the Shop Section. Similar to the Shop Section, it will allow you to offer featured services that appear above your wall posts on your timeline.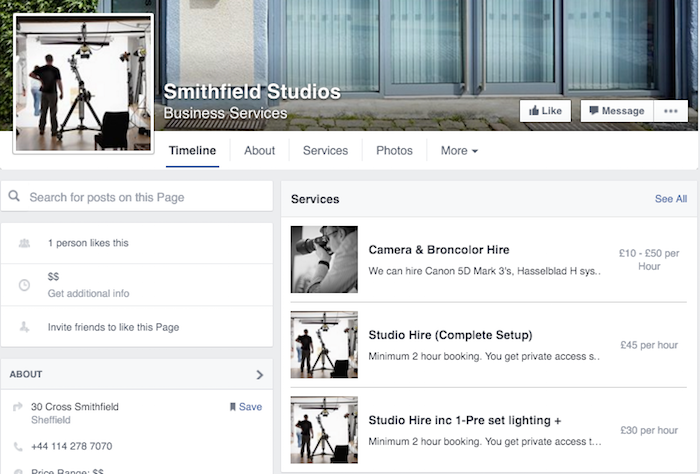 You'll also get the ability to display a wide range of products on your Services tab.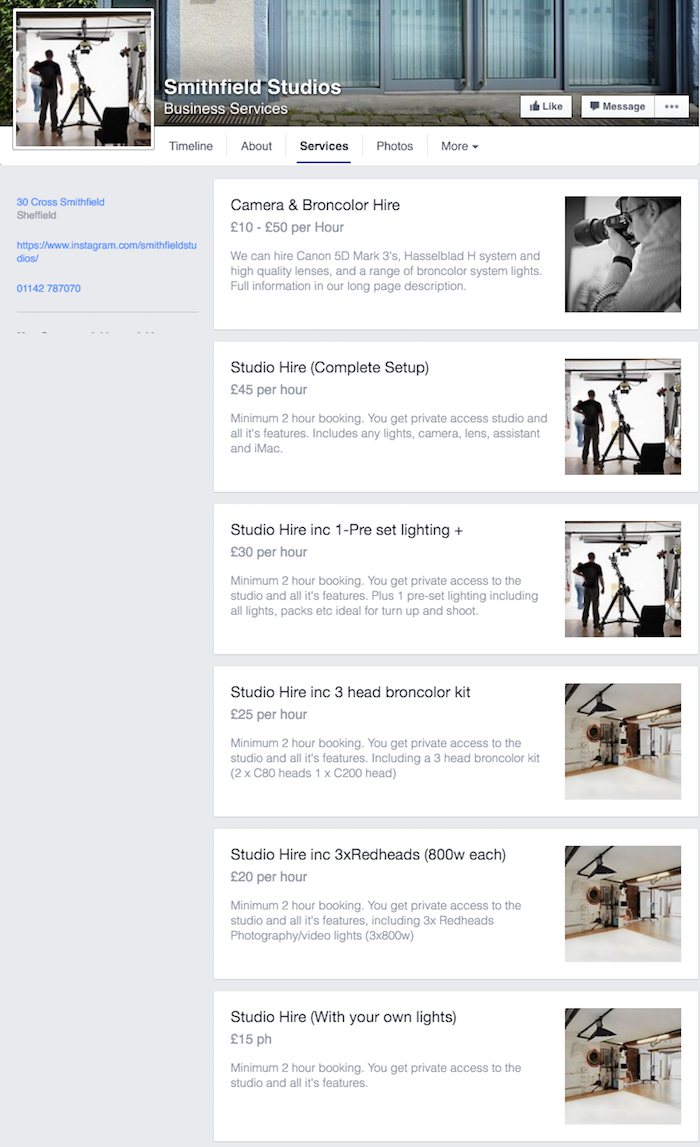 You can configure each service with a photo and short description.

Unfortunately from there, all Facebook page visitors can do is use the call to action buttons on your Facebook Page, call you if your phone number is listed or click through to your website to contact you about those services.
Unlike the Shop Section, there's no way to purchase a service through your Facebook page.
If you're interested in getting the Shop Section or Services tab on your Facebook page but do not see them immediately, you can try changing your Page's category.
To do this, go to your page's About tab and edit the category and subcategory.
In my experience, I have gotten the Services tab to appear with some categories, but I haven't gotten the Shop Section to appear.
Note that when you change your page category, it can affect other settings on your page.
So if you do this, be sure to look at your timeline - particularly the left sidebar.
See if you've gone from a standard Facebook page to a Facebook page that asks for all your Local Business information, or vice versa.
Then decide if those changes are worth having the Shop Section or Services tab. Or maybe find an alternate but relevant category that works instead.
Latest Facebook Update #5:

Facebook Messenger is Getting Down to Business
If you haven't looked at your Facebook page's Message Inbox lately, have a look! Facebook has made a lot of changes to it in the last couple months. And there are many great changes still coming.
For example -- you now have the option to personalize Instant Replies and Greetings for people who are sending a message to your page for the first time, based on your preferences.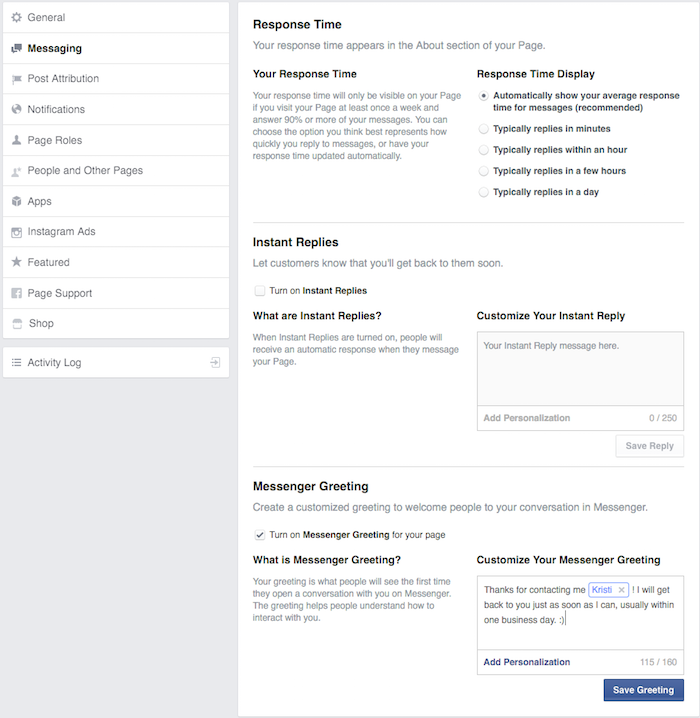 When people send you messages, you can learn more about them in your page's inbox.
This information will tell you where they are located, what time it is in their neck of the woods, and when they liked their page.
You can even add notes for other page admins to review if more than one of you are handling communications with clients.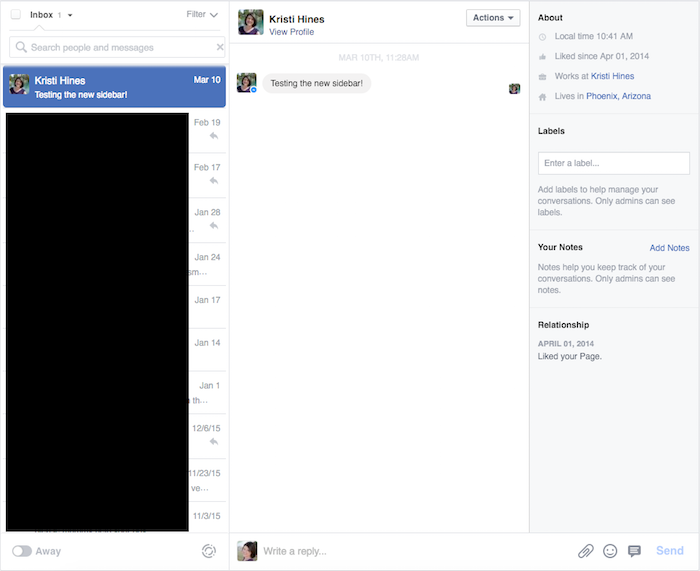 If you're working from your mobile device through the Facebook Pages app, you can get the same information about the person who messaged your page.
Do this by clicking on the info icon at the top right of the message.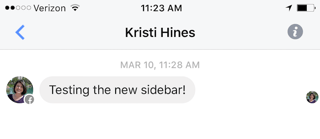 If you like it when people message you through your Facebook page, good news... Facebook is going to make it even easier for people to do it!
For starters, people can search in their Facebook Messenger app for your business by name.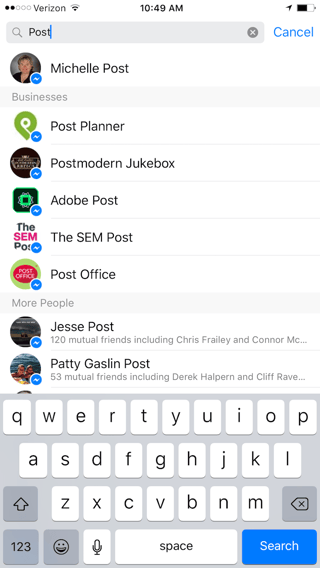 You can share a custom link that any Facebook user can use to start a private conversation with you on Facebook by clicking on the Message dropdown on your page and selecting the Copy Messaging Link.

You will then get a confirmation that your link has been copied to your clipboard.

This link works for almost any profile or page that allows messages to be received from others.
Just replace the username at the end of the URL with the username of the profile or page you want to receive messages from or that you want to send a message.
Note that if you send messages to other personal profiles that you are not friends with by using this URL, your message could end up in their Filtered Requests folder.
On a side note, you should probably visit yours right now since you likely have dozens of legit messages that you've missed out over the last several months.
You'll find this same folder in the Messenger App if you go to your Settings > People > Message Requests > See filtered requests.
In the not too distant future (probably after the F8 conference), Facebook also plans to compete with Snapchat by launching Messenger Codes.
You can use these to make it easy for others to message your personal profile or your page, as shown in this preview from the Facebook for Business blog.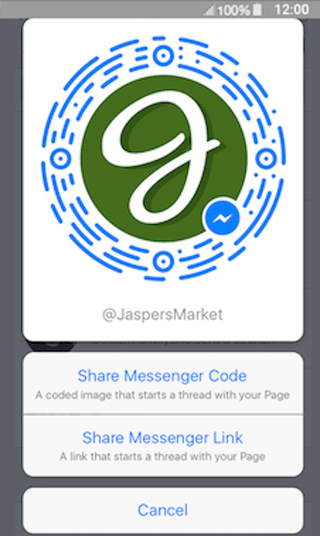 Latest Facebook Update #6:

Facebook Profile Pic Frames May Get Branded
This one may not seem like much for businesses, but it's definitely something to keep an eye one.
Right now, you can go to the Change Your Profile Picture page and temporarily change the profile photo for your personal profile or pages to support special causes, sports teams, or other things Facebook is focused upon at the time.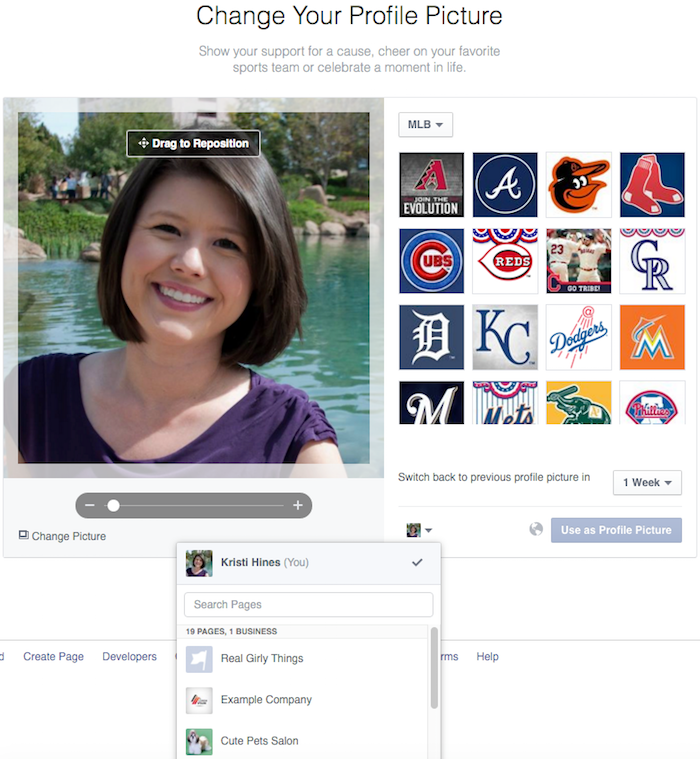 Why should you keep your eye on these as a business?
For starters, if your business is related to sports or entertainment, temporarily changing your page's profile photo to a championship winning team or newly released movie could get some exposure for your page in the news feed.
This is exposure that could lead visitors to click on your page and lead them to, say, your newly added Shop Section with featured products from that team or that movie. Hint hint.
Also, Facebook has casually mentioned that they may have plans to allow pages to create their own branded frames as a self-service platform in the coming months.
That could definitely be a game changer if brands could encourage their fans to add their logo or other imagery to their profile photos!
Final Thoughts
As you can see, there are a lot of changes with these latest Facebook updates! And after the F8 conference, there are likely to be a lot more.
It's an exciting time to be a Facebook marketer! The site continues to improve and open new opportunities for us to connect with our customers and potential customers.
As these updates become available to you -- dig into them right away and use them to your advantage. Experiment with them and figure out new ways to use them to become an even more effective marketer.
Keep your eye out Facebook marketers! These 6 changes are only the beginning.