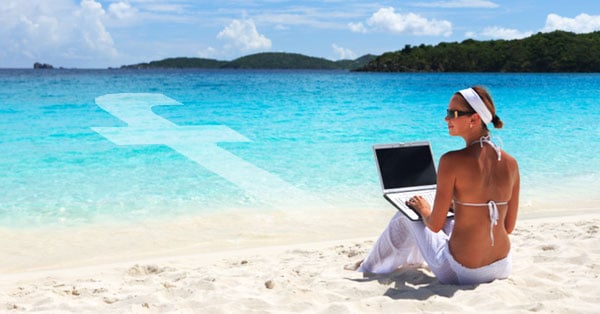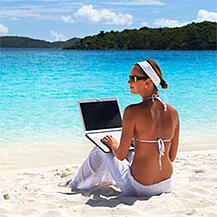 I recently had a 4-day family vacation at a Texas beach.
Yes, there ARE beaches in Texas!
We had a great time & made some lasting memories.
And as I soaked up the sun, none of my Facebook pages went dark.
I answered questions & my social media engagement stayed high as I put my toes in the sand & watched my kids build castles.
So how did I do it?
How to Boost Social Media Engagement While Lying on a Beach
There are a few tools that make running a business while on vacation super easy.
Some are free -- but all of them helped make it effortless for me to engage with followers & customers while I was away.
1. Post Planner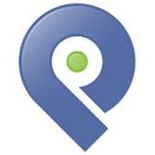 Of course I use Post Planner -- I love this app. And I was using it long before I joined the payroll.
Monday morning, before I left town, I used Post Planner to schedule 8 days worth of status updates, photos & links to my Facebook pages -- including the Post Planner page.
I spent about 2 hours scheduling posts for a half-dozen pages.
I'd already used Post Planner's queue feature to determine the best times to post & what types of posts to schedule when. With Post Planner, there's no guesswork & I don't have to worry about accidentally scheduling posts on top of one another or missing an entire day.
I start with the Status Ideas engine & bounce between the Questions, Fill-in-the-Blank & Deep Thoughts categories.
Then I use Post Planner's Viral Photos tool to find images that got strong engagement on other pages -- and I queue those up.
Last, I use the Trending Content engine to share articles relevant to my followers -- and I use my Sharebar to brand those pages however I like.
That's it! It took 2 hours to supply 6 pages with strong content for 8 days straight. Killer!
>> Click to Tweet <<
On my personal profile & my Bigfoot page I've queued many links & have set them to re-queue so they repeat & I don't have to schedule the posts again.
Don't do this with every post, but it's a great way to expose more people to your evergreen content.
Here's how to re-queue a post with Post Planner:

These posts are now on autopilot. I won't have to schedule them ever again.
The content will post, then get sent to the end of the queue again -- to post in the next available slot. And re-queuing 40 to 50 posts means the material will see a new set of eyeballs almost every time.
Fun fact: we have almost 250 evergreen blogposts set to re-queue on the Post Planner fan page. That's 3 posts a day for about 3 months!
2. Pages Manager App
Now that these outstanding posts are scheduled, I need to make sure I engage with anyone who comments on my pages.
While on vacation, I used Facebook's Pages Manager app on my Samsung Galazy S5 to respond to comments, messages & posts.
Facebook notified me when there was activity on my pages.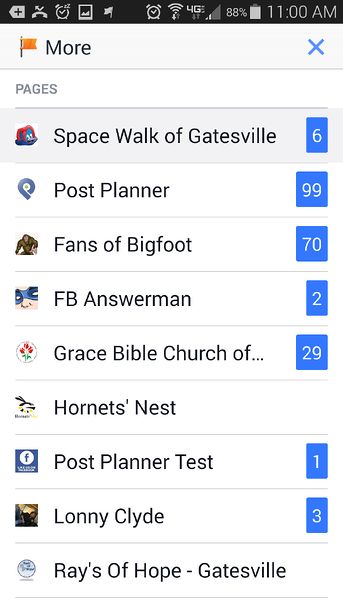 That lets me visit the activity via the notification or respond to users using the page list shown above.
As I kicked it on the beach, I received notifications, quickly responded & went back to enjoying the sun!
But don't feel like you have to immediately reply to every comment. People are usually cool if it takes a few hours to respond.
I was on the beach when I replied to this member of our experts group: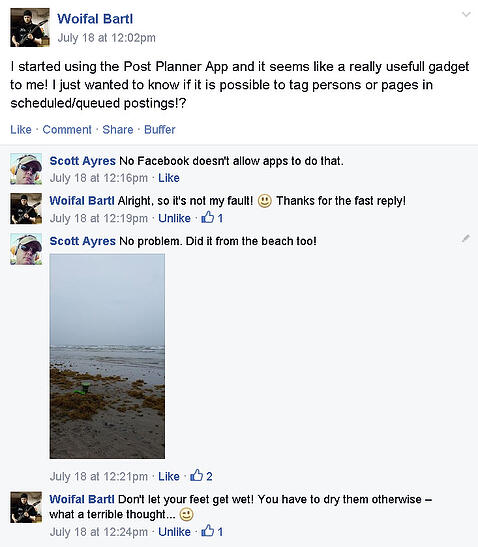 There are many ways to respond to customers while on the go. But this one works like a charm!
3. Customer Support Tools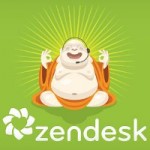 Everyone at Post Planner helps with support. I cover most daytime hours in the US -- checking support tickets several times throughout the day.
And we mostly use Zendesk.
Typically, I do support on my desktop. But there's a Zendesk app that makes it easy to respond to tickets while on the go. You can respond via your phone & you know your response was sent quickly.
I used the mobile app & my Chromebook to do support while on vacation.
Customers won't care that you're at the beach, just that you quickly responded to their inquiry.
4. Twitter App
I have several Twitter accounts for business & pleasure. One personal & 4 business-related accounts.
And I kept social media engagement high on those accounts while I was away -- thanks to notifications I received on my phone.
You can add multiple accounts to your Twitter app & effortlessly switch accounts on a whim: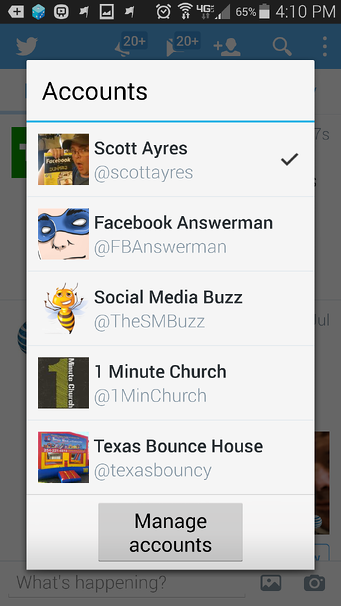 My main concern on Twitter is responding to mentions & retweets. I checked each account once or twice a day while on vacation.
Interact with people who engage with your tweets. It takes 5 minutes & the impact on your followers will last.
>> Click to Tweet <<
Do it on the toilet if you don't want to interfere with family time!!
TMI???
5. Skype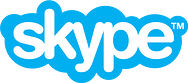 Post Planner workers are spread around the globe. We have team members in California, Bulgaria, Malaysia & Texas.
There's constant communication -- and Skype is where we stay connected.
Luckily, the Skype mobile app made the program easy to use from my phone while I was away.
An alternative to Skype is a program called HipChat. It does everything Skype does & more. And Google Hangouts of course work great.
Enjoy Your Vacation
This mix of tools made it easy to monitor social media & engage with fans & customers while on vacation.
But don't be that person sitting at breakfast working while your family is eating -- put down the phone!
>> Click to Tweet <<
Take a few minutes in the morning & a few at night -- and your followers will have no idea that you're actually chugging brews from a funnel on the beach!! ;)